The "A Lot Like Love" Apartment Building
Feb 8th, 2011 | By
Lindsay
| Category:
Movie Locations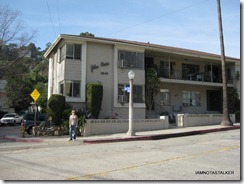 A couple of weeks ago, fellow stalker Geoff, from the 90210locations website, tweeted me to let me know that he had just tracked down the apartment building where Oliver Martin (aka Ashton Kutcher) lived in fave movie A Lot Like Love.  As I have mentioned quite a few times before on this blog, A Lot Like Love is one of my all-time favorite romantic comedies and I have stalked pretty much every location featured in it – every location, that is, except for Oliver's apartment building.  So I was BEYOND excited to receive Geoff's tweet and while out and about doing some stalking in the Hollywood area this past weekend, I dragged the Grim Cheaper right on out to stalk the place. 
The building, which is called the Glen Oaks in real life, was actually featured only once in A Lot Like Love in the scene in which Oliver and Emily (aka Amanda Peet) return home after a New Year's Eve party.  It is when they walk into Oliver's empty apartment that Emily discovers that he is moving to San Francisco the very next morning, just when, as she says, "I'm starting to like you".  The following morning, Emily awakens to discover that Oliver is already gone, but that he has left behind his beloved camera, which prompts her to begin a career in photography.
And it is obvious from the way the movie was shot that the real life interior of the apartment was also used in the filming.
I am very happy to report that the Glen Oaks building still looks much the same today as it did when A Lot Like Love was filmed back in 2005.  The exterior paint color has since been changed, but the property is still very recognizable from the movie
The building also boasts an AMAZING view of the Hollywood sign.
In A Lot Like Love, Oliver lived in the building's southwestern-most corner, bottom floor unit which is pictured above. 
Big THANK YOU to Geoff, from the 90210locations website, for finding this location!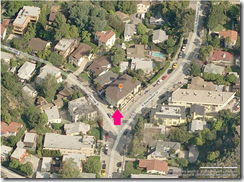 Stalk It: Oliver's apartment building from A Lot Like Love is located at 2649 North Beachwood Drive, at the corner of North Beachwood Drive and Glen Oak Street, in Hollywood.  Oliver lived in the building's southwestern-most unit on the bottom floor, which is denoted with the pink arrow in the above aerial view.
28901