Boardner's of Hollywood from "Beverly Hills, 90210"
Feb 18th, 2011 | By
Lindsay
| Category:
90210 & Beverly Hills, 90210 Filming Locations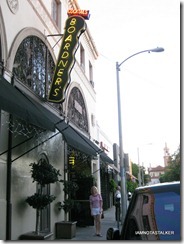 Another destination included on the Grim Cheaper's Valentine's Day scavenger hunt was Boardner's of Hollywood, a historic bar which was recommended to me by fellow stalker John who lives in the Bay Area.  John had emailed me quite a few months back to let me know that the legendary watering hole had been featured in countless productions over the years, including my fave show Beverly Hills, 90210, and that it was a very cool place to hang out.  So, because the GC loves anyplace with a history, I decided to add the bar to his hunt and we headed out there to grab a cocktail this past Saturday evening.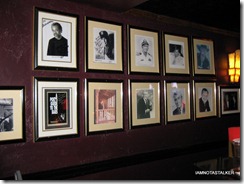 The space which now houses Boardner's was first opened in the 1930's by legendary singer Gene Austin in a Moorish-style, L-shaped building designed by architect Norman Alpaugh and was known at the time as the "My Blue Heaven" night club.  After Austin sold the watering hole, it went through several different incarnations, including a restaurant named Padres and a gay bar named Cherokee House, until January of 1944 when a young man named Steve Boardner purchased the place and renamed it Boardner's.  Boardner's became an immediate success with the Hollywood crowd and such luminaries as Errol Flynn, W.C. Fields, Walter E. Scott (aka "Death Valley Scotty"), Elizabeth Short (aka "The Black Dahlia"), Robert Mitchum, Mickey Cohen, Jack Dragna, Andy Griffith, Donald Sutherland, Ed Wood, Jimmy Stewart, George Burns, Mickey Mantle, and Joe DiMaggio all hung out there.  Steve remained the proprietor of Boardner's for just over three decades, until 1980, when he retired to Palm Springs and sold his beloved bar to a man named Dave Hadley. Sadly, the place was completely remodeled with an Art Deco-theme in March of 2006 and, despite being known as "one of the oldest bars in Hollywood", does not look anything like it did back in the heyday of Tinseltown.
  Don't get me wrong – Boardner's is still a VERY cool place to hang out and the food is absolutely FABULOUS (especially the crab cakes!), but it would be an even cooler place to hang out if it had retained its historic interior.  As I have mentioned a few times before on this blog, I am not big on change, especially when said change involves altering a filming location in some way!  Sigh!  Boardner's has remained popular with the Hollywood set despite the remodel, though, and just a few of the celebs who have been spotted there in more recent years include Drew Barrymore, Holly Madison, Hugh Hefner, Bridget Marquardt, Kendra Wilkinson, Nicole Kidman, Slash, Axl Rose, Courtney Love, Scott Wolfe, Piper Perabo, Rose McGowan, Fran Dresher, Jason Patric, Tommy Lee, John Lennon, Ben Affleck, Paul Bettany, Jake Gyllenhaal, Vince Vaughn, Keifer Sutherland, Heath Ledger, Bela Lugosi Jr., Jared Leto, Tim McGraw, Lee Majors, Miley Cyrus, and Pete Wentz.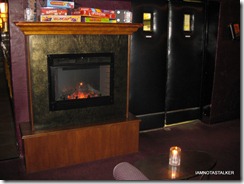 The back of the bar boasts a super-cute little hearth area, complete with a plush couch, a coffee table, and board games.  So adorable!
And, each Saturday night, Boardner's Moroccan-tiled back patio area . . . 
. . . and its private events space, which is named the Casablanca Room, are transformed into an extremely popular gothic-themed nightclub known as Bar Sinister.  The Casablanca Room has also become a popular wrap party venue over the years.
While stalking Boardner's, I asked the bartender if she happened to know which episode of Beverly Hills, 90210 had been filmed on the premises, but, unfortunately, because she did not work there at the time, she was not sure.  And because I only watched the first four seasons of the series, before the characters were of drinking age, I was absolutely stumped on this one.  So, I called on Geoff, from the 90210locations website, who pretty much immediately figured out that Boardner's had been used in the Season 8 episode of the series titled "That's the Guy", as the spot where Dylan McKay (aka Luke Perry) sought out information about the man who raped Kelly Taylor (aka Jennie Garth).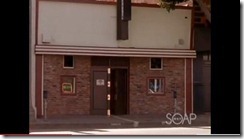 The establishing shot of the bar which appeared in that episode was filmed at another location altogether, though, and looks nothing like the actual exterior of Boardner's.
Boardner's also popped up in 1994's Ed Wood, as the spot where fledgling film director Ed Wood (aka Johnny Depp) grabbed a drink just before meeting Bela Lugosi (aka Martin Landau) for the first time.  Interestingly enough, the real Ed Wood had been a regular at Boardner's throughout most of his lifetime, which is most likely how the bar ended up being chosen as a filming location for the flick.
Boardner's was also the spot where Dudley Smith (aka James Cromwell) met up with Bud White (aka Russell Crowe) in order to return his badge and his gun towards the beginning of 1997's L.A. Confidential.
The exterior of Boardner's was also used very briefly as the exterior of a cowboy-themed gay bar that Mick Dundee (aka Paul Hogan) and Jacko (aka Alec Wilson) attempt to visit in 2001's Crocodile Dundee in Los Angeles.
In the 2003 movie Hollywood Homicide, Boardner's was the regular hangout of Sergeant Joe Gavilan (aka Harrison Ford) and Detective K.C. Calden (aka Josh Harnett).  Boardner's has also appeared in the movie Up Close & Personal and in episodes of the television series Alias, Numb3rs, and Cold Case.  Supposedly, Boardner's was also featured in 1995's Leaving Las Vegas and in 1997's Wag the Dog, but I scanned through both of those movies earlier today while writing this post and did not spot the bar in either one.
Big THANK YOU to fellow stalker John for recommending this location to me and to Geoff, from the 90210locations website, for figuring out which episode of Beverly Hills, 90210 it appeared in! 

Until next time, Happy Stalking! 

Stalk It: Boardner's of Hollywood, from Beverly Hills, 90210, is located at 1652 North Cherokee Avenue in Hollywood.  You can visit the bar's official website here.
29466