Alicia Silverstone's "The Kind Diet" Book Signing
Mar 18th, 2011 | By
Lindsay
| Category:
Celebrity Sightings
This past Wednesday night I dragged the Grim Cheaper out to my favorite local bookstore, Vroman's (which coincidentally just appeared in the most recent episode of Modern Family, but more on that later), to attend the book signing and discussion for Alicia Silverstone's new lifestyle tome The Kind Diet: A Simple Guide to Feeling Great, Losing Weight, and Saving the Planet.  Even though I am not in any way, shape, or form a vegan, I was absolutely DYING to attend the book signing because, as I have mentioned a few times before on this blog, not only is Clueless one of my all-time favorite movies, but Alicia and I happened to grow up in the same hometown – San Mateo, California – so I have always had a very special place in my heart for the actress.  Because I am a diabetic and on a very strict, virtually no-carbohydrate diet, though, and because most vegan diets that I have read about tend to favor carbs, I was not actually interested in purchasing a copy of Alicia's book for myself.  But my good friend Nat, who actually attended San Mateo High School – Alicia's alma mater – is a vegan and she absolutely LOVES Alicia's book – and her lifestyle blog, The Kind Life – so I decided I would purchase a copy for her as a little "just because" present.  Which is how the GC and I found ourselves heading over to Vroman's at about 5 p.m. this past Wednesday night.  And, as always, before the event got started, I sent him outside to snap some photographs of Alicia when she arrived. 

The signing began right on time, at 7 p.m., but for some reason it was VERY strictly monitored.  No photographs WHATSOEVER were allowed during the event – not when Alicia walked into the room, not during the discussion session, and not while standing in line waiting to have our books signed.  We were told shortly before her arrival that each guest would be allowed one – and only one – posed photograph with Alicia (which I could NOT have been more excited about as most celebs will not actually pose for pictures during a signing), but otherwise photographs of any kind would not be allowed.  To enforce this, two quite burly Pasadena policemen were on site and they threatened to remove anyone who was even spotted with a camera in their hands during the event!  So I was extremely thankful that the GC had managed to snap some photographs of Alicia outside of the store.
Alicia, who is currently pregnant, was ABSOLUTELY adorable in person and much taller than I had expected her to be, although she was wearing some fairly tall heels.  She walked directly to the podium upon arrival, introduced herself, and started speaking about why she decided to write The Kind Diet, which was an extremely surreal moment for me as it was like watching the Haitian immigrant debate scene from Clueless (pictured above) come alive before my very eyes.  I kept having to pinch myself to make sure that it was all really happening and that I wasn't actually at home sitting in front of my television set.  I have to say that in person, Alicia reminded me A LOT of Cher, her Clueless alter-ego.  In real life, Alicia has the same mannerisms, facial expressions,  and vocal tendencies that I had grown so familiar with from watching the movie over and over again.  And I can honestly say that I love Alicia even more now than I did before.  The actress came off as extremely charming, warm, genuine, and sweet.  She was also poised, well-read, and wildly knowledgeable about veganism, holistic medicine, and healthy nutrition.  I was riveted listening to her and, while not a vegan, found myself agreeing whole-heartedly with the vast majority of what she had to say.  She also handled herself incredibly well when one of the audience members asked her an asinine question about veganism and pregnancy, in which he tried to make Alicia look bad.  (Honestly, if you don't agree with her lifestyle and are not a fan of hers, then why come to the event????)  Alicia responded to him, though, with honesty, wit, and a bit of snarkiness and ended up making him look like a complete and total moron.  As we left the event, I found myself wondering how she managed to do that!  I cannot tell you how much I would love to be able to tell a rude person off without breaking my cool and all the while seeming poised and charming.  But I digress.  I was most surprised to hear Alicia speak about diabetes and veganism.  As it turns out, her diet does not favor carbohydrates at all and is actually very similar to the diet I am currently on, so it looks like I am now going to have to buy a copy of the book for myself!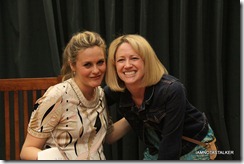 After Alicia's speech, which lasted about thirty minutes, we all lined up to meet the actress.  Alicia really took her time with all of her fans and seemed to have an incredibly warm and open personality.  And, as promised, every guest got to pose for a photograph with her, which I was absolutely floored about! 
Nat's signed book is pictured above.
Alicia's inscription reads, "Dear Natalie, Thank you for loving the book!  <3, Alicia Silverstone".
As I mentioned at the beginning of this post, fave show Modern Family recently did some filming on location at Vroman's Bookstore.  The final scene of the Season 2 episode titled "Two Monkeys and a Panda", in which Mitchell Pritchett (aka Jesse Tyler Ferguson) and Cameron Tucker (aka Eric Stonestreet) peruse various books on parenting, took place near the store's Current Event's section.
Until next time, Happy Stalking! 

Stalk It: Vroman's Bookstore is located at 695 East Colorado Boulevard in Pasadena.  You can check out the store's upcoming signings here.  You can purchase Alicia Silverstone's book The Kind Diet: A Simple Guide to Feeling Great, Losing Weight, and Saving the Planet here.  You can visit Alicia's lifestyle blog, The Kind Life, here.  And you can check out future L.A.-area book signings and other celebrity events on my Upcoming Celebrity Events page here.
30977