Villa Blanca Restaurant from "The Real Housewives of Beverly Hills"
Apr 29th, 2011 | By
Lindsay
| Category:
The Hills Filming Locations
,
TV Locations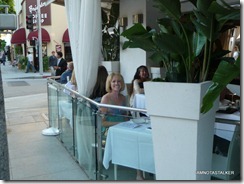 A couple of weeks ago while out doing some stalking in the Beverly Hills area, the Grim Cheaper and I found ourselves hungry so I suggested grabbing a bite to eat at Villa Blanca, the Italian eatery owned by The Real Housewives of Beverly Hills' Lisa Vanderpump and her husband Ken Todd.  Because Lisa is my favorite Housewife (actually, truth be told, there are only three Housewives that I like on the show – Lisa Vanderpump, Camille Grammer, and Adrienne Maloof-Nassif – the rest of the women I absolutely CANNOT stand), Villa Blanca has long been at the top of my To-Stalk list.  Because the restaurant is on the pricier side, though, never in a million years did I ever think the GC would agree to dine there.  But the stars must have been seriously aligned that particular evening because, even after looking at the menu and taking a gander at the prices, he happily acquiesced.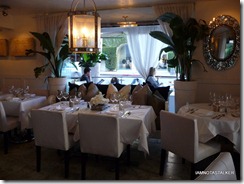 Villa Blanca was actually designed by Lisa, who said, "It's going to be sexy, white, clean, comfortable and inspired . . . gorgeous art, stylish furnishings and creative music selection will bring life and style to the new space.  The ambiance will be extremely important to the experience of eating at Villa Blanca – flowers, lighting, chairs, staff – every aspect will look great.  If the ambiance isn't great, you might as well stay home and order take-out."  And she definitely made good on her promise because Villa Blanca is not only beautiful, but it is also extremely unique, comfortable, and intimate.  As you can see in the above photograph, there are several tucked-away nooks and crannies featuring small tables and cushy couches covered in pillows, which gives off the sense that you are dining in someone's living room and not in a public restaurant.
Villa Blanca's distinctive menu, which was created by executive chef Francis Dimitrius, the former head chef at Koi, features Italian standards made unique thanks to an Asian flair.  The GC and I opted for the Lobster Crisp appetizer, which consisted of mini-corn-taco shells stuffed with Maine lobster salad and guacamole, and I have to say that they were absolutely OUTSTANDING.  In fact, they were easily my favorite part of the entire meal!  YUM!  For my entrée I chose the Japanese Mushroom Chicken – a chicken breast covered with marsala wine sauce and accompanied by shimeji, shiitake, and oyster mushrooms – and I just about had a heart attack over it, it was so good!  The GC had the Sweet & Spicy Butterflied Shrimp which he also absolutely devoured.  The Villa Blanca staff was also incredibly nice and accommodating and answered all of my silly little questions about the filming of The Real Housewives.  I honestly cannot say enough good things about this restaurant!  I loved, loved, loved the place and cannot recommend stalking it enough!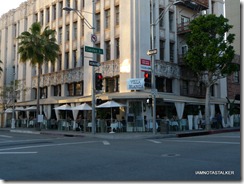 It did not take long for celebrities to discover Villa Blanca.  Just a few of the famous names who have been spotted there recently include Stephanie Pratt, Dancing with the Stars' Karina Smirnoff, Dakota Fanning, David Hasselhoff, AnnaLynne McCord, Twilight's Kiowa Gordon, Paris Hilton, Phoebe Price, LaToya Jackson, Paula Abdul, Sophie Monk, Eva Longoria, David Boreanaz, Patrick Dempsey, Chace Crawford, Dustin Hoffman, Sylvester Stallone, Lo Bosworth, Regis Philbin, Kathy Lee Gifford, Gerard Butler, and Kim and Kris Kardashian.  Unfortunately, the GC and I did not spot any celebs while we were dining, but a couple of paparazzi did stop by at one point during the evening and poked their noses around to see if anyone famous was on the premises.  Love it!
Villa Blanca was featured regularly on TRHOBH, most notably in the episode titled "Payback's a Bitch . . . Just Ask Your Husband", in the scene in which Lisa hosts a fashion show fundraiser for the Children's Burn Foundation.
On the series, Lisa was regularly shown displaying HUGE arrangements of fresh flowers in various places around the restaurant and I was VERY happy to see that, in real life, there were fresh flowers situated all around the eatery, as well.
Villa Blanca was also featured in the Season 6 episode of The Hills titled "This is Goodbye" in the scene in which Kristin Cavallari, Audrina Patridge, and Heidi Montag grab lunch and discuss Heidi's bizarre relationship with her husband Spencer Pratt. You can check out some pictures of the scene being filmed on the Zimbio website here.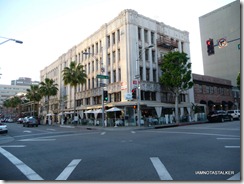 Until next time, Happy Stalking! 

Stalk It: Villa Blanca from The Real Housewives of Beverly Hills is located at 9601 Brighton Way in Beverly Hills.  You can visit the restaurant's official website here.
33022