Marco Salazar's Pretend House from "90210"
May 13th, 2011 | By
Lindsay
| Category:
90210 & Beverly Hills, 90210 Filming Locations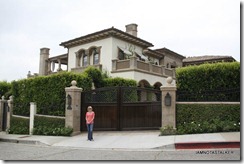 As I mentioned in yesterday's post, located directly across the street from the house belonging to Marla Templeton (aka Sally Kellerman) on fave show 90210 is the mansion where Marco Salazar (aka Freddie Smith) pretended to live in the Season 3 episode of the series titled "Women On The Verge".  So after stalking Marla's home this past Saturday afternoon, the Grim Cheaper and I walked right on over to Marco's faux abode to snap a few pics of the place.  I found this location, yet again, thanks to fellow stalker Geoff, from the 90210Locations website, who somehow managed to track the residence down long before the "Woman On The Verge" episode even aired.  How did he do that, you ask?  Well, this past March, one of the directors of 90210, whom Geoff follows on Twitter (@90210director), tweeted a photograph of the mansion while he was doing some editing of the show.  Geoff took one look at that photograph and immediately set about trying to find the place.  And find it, he did – that very day.  Being that the picture that @90210director tweeted showed an extremely limited view of the property, I was absolutely SHOCKED when Geoff emailed me to let me know that he had found it.  Especially considering that he found it in Bel Air, which is the absolute LAST place on earth  that I ever would have thought to look.  Due to the mansion's newer-looking construction, I would have assumed that it was located somewhere in the Encino area, so my hat is DEFINITELY off to Geoff on this one!
Marco's faux residence is actually not just a filming location, but a former celebrity home as well.  According to my good friend E.J. over at The Movieland Directory website, the property was where legendary singer Peggy Lee, of "Fever" and "Why Don't You Do Right" fame, lived during her later years and was also where the crooner sadly passed away on January 21, 2002 after suffering from a heart attack.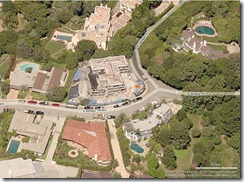 Sadly though, as you can see in the above aerial view, the property has been extensively remodeled in recent years and no longer looks the same as it did when Peggy Lee lived there.  In real life, the Tuscan-style mansion, which was originally built in 1969, boasts 4 bedrooms, 5 baths, and a whopping 6,052 square feet of living space. 
The property first popped up towards the beginning of the "Woman On The Verge" episode of 90210, in the scene in which Teddy Montgomery (aka Trevor Donovan) picks up his new boyfriend, Marco, whom he believes lives on the premises, for a date. 
Later on in the episode, Teddy returns to the mansion in order to confront Marco after discovering that he has been lying to him about his whereabouts.  It is then that Teddy meets the home's actual owner and learns that Marco does not, in fact, live there at all, but that his mother is employed at the property as a housekeeper.  Can you say drama?!? 
Big THANK YOU to fellow stalker Geoff, from the 90210Locations website, for finding this location! 

Until next time, Happy Stalking! 

Stalk It: Marco Salazar's pretend house from 90210 is located at 11404 Bellagio Road in Bel Air.  Here is a link to the property's location on Bing Maps.  (Special thanks to fellow stalker John, from the Bay Area, who suggested that I include a map link in all of my posts, which I will be doing from this point forward. 

)  Marla Templeton's house from 90210 is located just across the street from Marco's at 542 Bellagio Terrace.  Here is a map link to that location.
33562