Barone's Famous Italian Restaurant from "The Office"
Jun 14th, 2011 | By
Lindsay
| Category:
The Office Filming Locations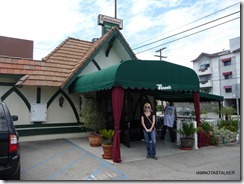 One location that I have been on the lookout for for quite a few weeks now is the Italian restaurant where the Dunder Mifflin gang hosted the annual Dundies Awards ceremony in the Season 7 episode of fave show The Office titled "Michael's Last Dundies".  I had an inkling that the eatery was most likely located somewhere in the Van Nuys area, near Chandler Valley Center Studios where the series is lensed, so one of my first lines of attack was to do a Google search for the terms "Italian restaurant", "Van Nuys", and "filming".  My query kicked back numerous results, most of which pointed to an eatery in Valley Glen named "Barone's Famous Italian Restaurant" and when I looked at an exterior image of the place on fave website LA Time Machines, I saw that it indeed matched up perfectly to what had appeared on The Office.  So I dragged the Grim Cheaper right on out to stalk the place and grab some lunch two Sundays ago.
Barone's Famous Italian restaurant was originally founded way back in 1945 by brothers Tony, Frank, and Mike Arpaia, all of whom had just returned home after finishing a stint in the Air Force during World War II, and their sister, Josephine Barone.  The siblings purchased a defunct eatery named Barto's at the corner of Beverly Glen and Ventura Boulevard in Sherman Oaks and, in order to to save a bit of money, simply dropped the "T" and added an "N" and an "E" to the former restaurant's exterior signage, thus creating "Barone's Famous Italian Restaurant".  The establishment became so popular that just four years later the family was forced to move it to a larger space located at 14151 Ventura Boulevard, where it remained until 2006, at which time it was moved to its current home on the corner of Oxnard Street and Mammoth Avenue in Valley Glen.  It was that Valley Glen location that I set out to stalk two weekends ago.
Barone's Famous Italian restaurant, which has served such luminaries as Huntz Hall, Leo Gorcey, Lucille Ball, John Wayne, and Jane Russell, is still family-owned and operated to this day, 66 years after its inception.  The eatery has long been known for its rectangular-shaped pizzas, an idea which was born out of a need to fit more pies into the restaurant's tiny oven, but because I am diabetic and have to stay away from carbs, the GC and I were unfortunately not able to sample any.  I instead opted for the Chicken Marsala entree, while the GC sampled Barone's "Famous Stuffed Mushrooms" and a Caesar salad, and, sadly, I have to say that none of it was especially tasty. 
I had such high hopes for the place, too!  Being that we saw no less than thirty pies make their way out the door for delivery in the short time that we were dining there, though, I am guessing that it is the pizzas that have kept people coming back to this place time and time again for over six decades.
In the "Michael's Last Dundies" episode of The Office, Michael Scott (aka Steve Carell), Deangelo Vickers (aka Will Ferrell), Pam Beesly (aka Jenna Fischer), Jim Halpert (aka John Krasinksi) and the rest of the Dunder Mifflin Scranton Branch employees gather at the supposed Scranton, Pennsylvania-area Louis Volpe's Italian Restaurant to celebrate the 2011 Dundie Awards.  Chaos, of course, ensues and they all end up getting kicked out of the establishment by the restaurant's manager after Deangelo screams out the word "vomit" numerous times during his acceptance speech.
Upon entering the restaurant, though, I was shocked to discover that it looked NOTHING at all like what had appeared on the show.  From what I was able to discern after talking to the restaurant's super-nice hostess, while the "Michael's Last Dundies" episode did use the exterior of Barone's for some filming, all of the interior scenes were filmed elsewhere – at a location that I am unfortunately still on the hunt for.  UPDATE – fellow stalker Owen recently tracked down one of the series' crew members, who informed him that the interior of Louis Volpe's was in actuality just a set that was built at Chandler Valley Center Studios.
Some filming has taken place inside of the Barone's space over the years, though.  The eatery was the spot where Mark "Rat" Ratner (aka Brian Backer) took Stacey Hamilton (aka Jennifer Jason Leigh) out on a date, for which he forgot his wallet, in the 1982 movie Fast Times at Ridgemont High.  At the time, the restaurant was a German establishment named Hoppe's Old Heidelberg, which was originally founded in 1958.
Thankfully, as you can see in the above screen capture and photograph, even though the establishment has gone through several ownership changes throughout the years, very little of the interior has been altered since Fast Times at Ridgemont High was filmed almost three decades ago.  So incredibly cool!
In 1995, Hoppe's Old Heidelberg was sold to a new owner, Switzerland native and Chef-of-the-Year-awardee Ueli Huegli, who renamed the place Matterhorn Chef and gave the menu a Swiss flair.  In 2005, the restaurant was featured in the Billy Bob Thornton movie Bad News Bears.
Until next time, Happy Stalking! 
Stalk It: Barone's Famous Italian Restaurant, which served as the exterior of Louie Volpe's restaurant from the "Michael's Last Dundies" episode of The Office, is located at 13726 Oxnard Street in Valley Glen.  You can visit the restaurant's official website here.
34946