The Haunted Mansion from "The Three Sisters" Episode of "Knots Landing'
Jul 6th, 2011 | By
Lindsay
| Category:
TV Locations
Way back in January of this year, a fellow stalker named James posted a comment on my site challenging me to find the haunted mansion which appeared in the Season 3 episode of Knots Landing titled "The Three Sisters".  James had found an interview on the Knots Landing website in which Kim Lankford, who played Ginger Ward on the long-running nighttime soap, stated that the estate featured in the episode was located somewhere in Pasadena.  And even though I had never seen "The Three Sisters" episode, nor any episode of KL for that matter, I figured that because the house was so large and historic-looking, it would not be that hard to track down.  Oh, how wrong I was!  I cannot tell you the countless hours I spent looking for this place, all to no avail!  Then last Thursday morning, I decided to enlist the help of fellow stalker Geoff, from the 90210Locations website, and, amazingly enough, he was able to track the place down in thirty minutes flat!  Halleluiah!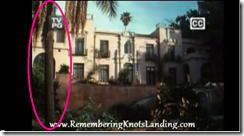 Geoff said that he vaguely remembered coming across aerial views of the mansion while looking for a different location a few months prior and figured that since I had already conducted an exhaustive search within the city limits of Pasadena, that the property must be located in a neighboring environ.  He decided to begin his hunt in Altadena and, after noticing the large palm tree denoted with a pink circle in the above screen capture, realized that there were only a couple of places in the Altadena area where the home could be located.  And, sure enough, he was right.  Yay!  Thank you, Geoff!!!
So I ran right out to stalk the place the very next morning.  And I have to say that the mansion is pretty darn majestic in person!  According to Zillow, the estate, which was originally built in 1915 and sits on over half an acre of land, boasts 5 bedrooms, 6 bathrooms, and 7,176 square feet of living space.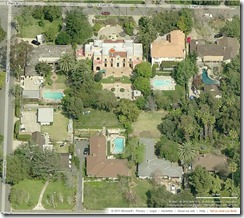 As you can see in the above aerial view, the mansion is so huge that it pretty much dwarfs everything which surrounds it.  And while I was fairly certain that the property had to be historic in some way, amazingly enough, I could find absolutely no information whatsoever about the place online.  I did manage to find some fabulous interior photographs of the property, though, which you can check out here.
In " The Three Sisters" episode of Knots Landing, realtor Laura Avery (aka Constance McCashin) takes the Seaview Circle wives, including Ginger, Val Ewing (aka Joan Van Ark), Abby Cunningham (aka Donna Mills), and Karen Fairgate (aka Michele Lee), to look at an estate that she is currently selling that is rumored to be haunted.  After touring the property and becoming quite spooked, the women get back into their car to head home only to discover that it will not start.  They are subsequently forced to spend the night in the house, whereupon strange things begin to happen.  It is absolutely AMAZING to me that the mansion still looks EXACTLY the same today as it did almost three full decades ago when the Knots Landing episode was filmed.  So incredibly cool!
Big THANK YOU to fellow stalker James for challenging me to find this location and to Geoff, from the 90210Locations website, for being the one to find it!

Until next time, Happy Stalking! 

Stalk It: The haunted mansion from "The Three Sisters" episode of Knots Landing is located at 1366 East Palm Street in Altadena.
35679