The "Bruce Almighty" Party House
Jul 14th, 2011 | By
Lindsay
| Category:
Jennifer Aniston Locations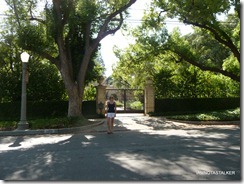 Last week while going through the glove compartment of my car, I came across the Scott's L.A. Audio Tour of Pasadena CD that I had purchased about seven years prior.  For those who have never heard of Scott's L.A., the family-owned company produces a series of audio driving tours of the Southern California area, all of which feature numerous famous locations, including quite a few that have appeared in movies and on television.  Since I had not listened to the CD in years, I decided to spend a couple of hours re-taking the tour.  And I am so glad that I did because there were a few locales mentioned on it that I had completely forgotten about, the most important of which was the party house from the 2003 movie Bruce Almighty.  And even though I was not at all a fan of Bruce Almighty, because my girl Jen had filmed a scene at the house, I figured it was most-definitely stalk- and blog-worthy.
In real life, the Bruce Almighty party mansion is known as the Stern House and it was originally built in 1938 by architects Garrett Van Pelt and Robert E. Alexander.  The Mediterranean-style property, which sits on 0.83 acres of land, boasts 7 bedrooms, 9 bathrooms, and 7,146 square feet of living space.  And even though the residence has a name and seems to be historic in some way, surprisingly I could not find any other information about it online.
In Bruce Almighty, the Channel 7 news team throws Bruce Nolan (aka Jim Carrey) a party at the supposed Vanderbilt Estate in New York in honor of his recent promotion.  When Bruce's girlfriend Grace Connelly (aka Jennifer Aniston) shows up at the party, she catches him kissing his co-anchor Susan Ortega (aka Catherine Bell) and a fight ensues out in front of the mansion.
And while I could not find any photographs of the inside of the property to verify this, I am fairly certain that a different residence was used to film the interior party scenes.
Ironically enough, while scanning through Bruce Almighty yesterday to make screen captures for this post, I noticed that the house belonging to Debbie (aka Lisa Ann Walter) in the flick is the very same property where the Simpson family lived in fave movie She's Out of Control, which I stalked this past May.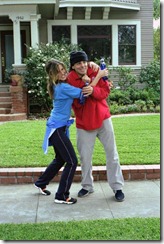 I also came across this super-cute photograph on IMDB of my girl Jen and Bruce Almighty director Tom Shadyac  which was taken out in front of the She's Out of Control house.  Love it!
Until next time, Happy Stalking! 

Stalk It: The Bruce Almighty party house is located at 1395 Ridge Way in Pasadena.  You can visit the Scott's L.A. website and purchase the company's various tour CDs here.
36094