Charlie Rich's Former Palm Springs Estate
Jul 26th, 2011 | By
Lindsay
| Category:
Celebrity Homes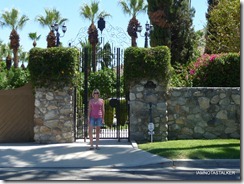 Another location that Jennifer Grant spoke fondly of in Good Stuff, the memoir about her late father, actor Cary Grant, was the Palm Springs estate belonging to Cary's good friend, Las Vegas Dunes Hotel owner Charlie "Kewpie" Rich.  Many weekends of Jennifer's childhood were spent at "Uncle Charlie's" lush, four-acre Coachella Valley oasis, which the Beverly Hills, 90210 actress described as "my adolescent wonderland" and a "desert Disneyland".  In the book, Jennifer writes, "Our number-one weekend getaway was to Uncle Charlie's Palm Springs estate. Uncle Charlie was a staple in our life. Kewpie was maybe five feet tall, bald as they come, with a year-round tan (sometimes orange out of the Coppertone bottle – which Dad heckled him for) and a heart that never stopped giving. Uncle Charlie lived in a Spanish adobe on several acres of manicured, palm-tree-lined property. I learned to drive a golf cart and play putt-putt on that lawn. We stayed in the pool house, near the good-for-guppy-hunting pond and gorgeous rose gardens."  Well, as you can imagine, as soon as I read those words, I became absolutely obsessed with tracking the place down.  And while vacationing in the Desert two weekends ago, I spent quite a few hours doing just that.  I ran into a few snags along the way, though, as I was originally under the very incorrect assumption that Charlie "Kewpie" Rich, hotel owner, and Charlie Rich, country crooner, were one in the same.  As it turns out, they are most definitely not!
Charlie Rich's Palm Springs House–Villa Paradiso
It was not until I came across the YouTube video posted above that I realized my mistake.  Thankfully, said video lead me to a real estate listing for the estate formerly belonging to the correct Charlie Rich, complete with an address!  Yay!  So I immediately dragged the Grim Cheaper right on our to stalk the place – in 108-degree weather, no less!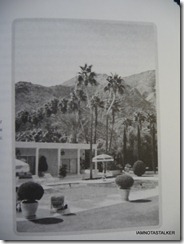 Charlie Rich's former home, which Cary Grant dubbed "Villa Paradiso", was originally built in 1928 and features 8 bedrooms, 14 bathrooms (not kidding!!!), 13,000 square feet of living space, a four-car garage, a climate-controlled fur-storage-closet (also not kidding!!!), a swimming pool, a pond, over one hundred palm trees, several eighty-year-old Cypress trees, sweeping mountain views, and 3 stand-alone guest houses, one of which was built by Uncle Charlie especially for Cary Grant.  Cary's guest house boasts a formal living room, a fireplace, a large bar, a kitchen, two bathrooms, and one large bedroom.  A photograph of that guest house circa 1970 was featured in Good Stuff and I was absolutely FLOORED to discover a recent picture of the structure on the property's real estate listing in which it still looks almost exactly the same as it did when Cary and Jennifer vacationed there.  SO INCREDIBLY COOL!  According to the real estate listing, Howard Hughes also spent quite a bit of time at the property.
Sadly, not much of the ultra-private estate, which is currently for sale for a cool $8,950,000, is visible from the street.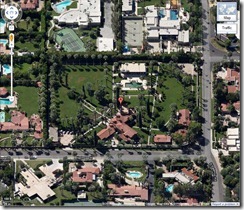 Thank god for aerial views!  As you can see above, the place is pretty darn magnificent and majorly dwarfs everything which surrounds it.  I cannot even imagine owning a home like that!  Sigh!  You can visit two of the property's real estate listings and see some great close-up photographs of it here and here.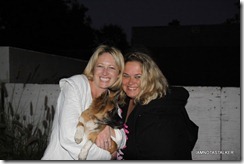 On a stalking side note – fellow stalker/celebrity enthusiast Pinky Lovejoy, of the Thinking Pink blog, her dog Sammy, the GC, and I were lucky enough to  run into a few stars while hanging out together this past Saturday night in Beverly Hills.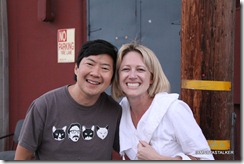 While walking to our cars after grabbing dinner, Pinky happened to spot The Hangover star Ken Jeong, who could not have been nicer or funnier!  He practically did an entire, private stand-up comedy routine for us, right there on the sidewalk.  So incredibly cool!  And he gave Pinky a kiss on the cheek after posing for a pic with her!  How cute is that?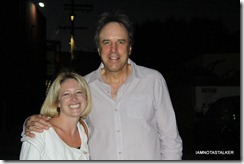 We spotted Kevin Nealon a few minutes later and he was also a total sweetheart and even remembered meeting Pinky at the Sundance Film Festival a couple of years ago.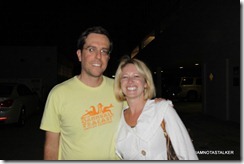 And last, but definitely not least, we saw Ed Helms from The Office and The Hangover.  I had previously heard that Ed is not especially fan-friendly, but I am very happy to report that that information is not accurate as he was super sweet to Pinky and me and happily posed for a picture with both of us.  Mine sadly came out a little blurry, which I did not realize until after I got home.  Such a bummer, but I am stoked nonetheless to have gotten a picture at all.
Until next time, Happy Stalking! 

Stalk It: Charlie Rich's former home is located at 457 West Hermosa Place in Palm Springs.
36220