The Miramonte Resort & Spa in Indian Wells
Aug 3rd, 2011 | By
Lindsay
| Category:
TV Locations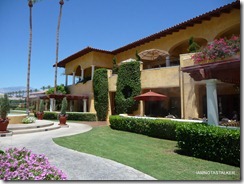 One Palm-Springs-area hotel that I have long wanted to vacation at – not because it is a filming location, but because it is just simply beautiful – is the Miramonte Resort & Spa in Indian Wells.  The Grim Cheaper and I ate dinner at the resort once upon a time many years back and I have been enamored of the place ever since.  So for our recent Coachella Valley getaway two weekends ago, I begged the GC to book us a room there.  And even though the rates weren't exactly inexpensive despite the intense summer heat, he readily agreed!  Shocking, I  know!  It was not until the very end of our stay, as we were checking out of the hotel, that I discovered, thanks to the super nice concierge on duty, that the resort was not only something of a celebrity hot-spot, but also a filming location!  They say that the more you think about something, the more you attract that thing to you and in this particular instance that was definitely the case.  It seems I always find myself stalking, even when I am not necessarily intending to. 

The Miramonte Resort & Spa, which has been awarded Four Diamond status from AAA, boasts 215 spacious guest rooms sprawled throughout an 11-acre piece of property that has been designed to resemble a Tuscan villa.  The well-manicured grounds include several flower and herb gardens, outdoor fireplaces and piazzas, meandering pathways, hammocks tucked away in shaded little spaces, sparkling fountains, 24-hour room service (LOVE it!), a two-story, 12,000-square-foot spa, which was named the "#1 Resort Spa in North America & Caribbean" by Conde Nast Traveler, two 18-hole championship golf courses, two pools, including an adults-only pool, and over 30,000 square feet of event and meeting space.  And while the resort is quite large and boasts countless amenities, it somehow manages to retain an intimate, secluded, and quiet ambiance.  Both the GC and I absolutely loved the place!
Best of all, we somehow got upgraded to a 425-square-foot "Estate Room" during our stay, which featured a full marble bathroom, two queen-sized 'Desert Dream Beds', a sitting area, free wireless internet (which the GC was absolutely floored about), a 42-inch flat screen TV, and striking views of the Santa Rosa Mountains.
The Miramonte's SUPER-nice concierge, who spent about twenty minutes speaking with me about filming locations and my website, informed me that The Real Housewives of Orange County had once filmed at the hotel.  In the Season 6 episode titled "Body Shots", Housewife Peggy Tanous and her husband, Micah, spent the weekend with their two daughters, Capri and London, in the Miramonte's Presidential Suite.  It was while laying by the resort's pool that baby Capri cut her finger and had to be rushed to the hospital – which was just a slight overreaction to the situation in my opinion, but I digress.
The concierge also informed me that in the Season 1 episode of Flavor of Love titled "Flav's Trippin'", Flavor Flav took contestants Brooke Thompson, aka "Pumkin", and Nicole Alexander, aka "Hoopz", to the Miramonte for a spa getaway.  Just a few of the other celebrities who have been spotted at the resort include Larry King, three-time Olympic figure skating World Champion Peggy Fleming, Bernie Mac, George Lopez, Tony Bennett, Tommy Hilfiger, Chris Tucker, and Judy Sheindlin, aka "Judge Judy".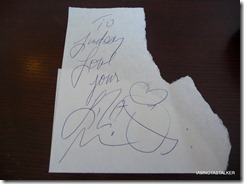 On a side note – while at my parents' new house this past weekend, I came across a few celebrity autographs that I had compiled over the years, including the one pictured above from Miss Liza Minnelli.  And even though, because I have always been far more into photographs than autographs, there are not that many of them, I thought it might be fun to post a few on my site.  So I created a new page titled "Celebrity Guest Book".  You can check it out here.  Enjoy!
And a very big HAPPY ANNIVERSARY goes out to my parents today, who are celebrating a whopping 37 years of marriage!  Congratulations, guys!  I love you!
Until next time, Happy Stalking! 

Stalk It: The Miramonte Resort & Spa is located at 45000 Indian Wells Lane in Indian Wells.  You can visit the hotel's official website here.
36453