Celebrity Guest Book
As most of my fellow stalkers already know, I am not nearly as into celebrity autographs as I am celebrity photographs, but I have managed to snag a couple of them over the years and thought it might be fun to share a few here.  Enjoy!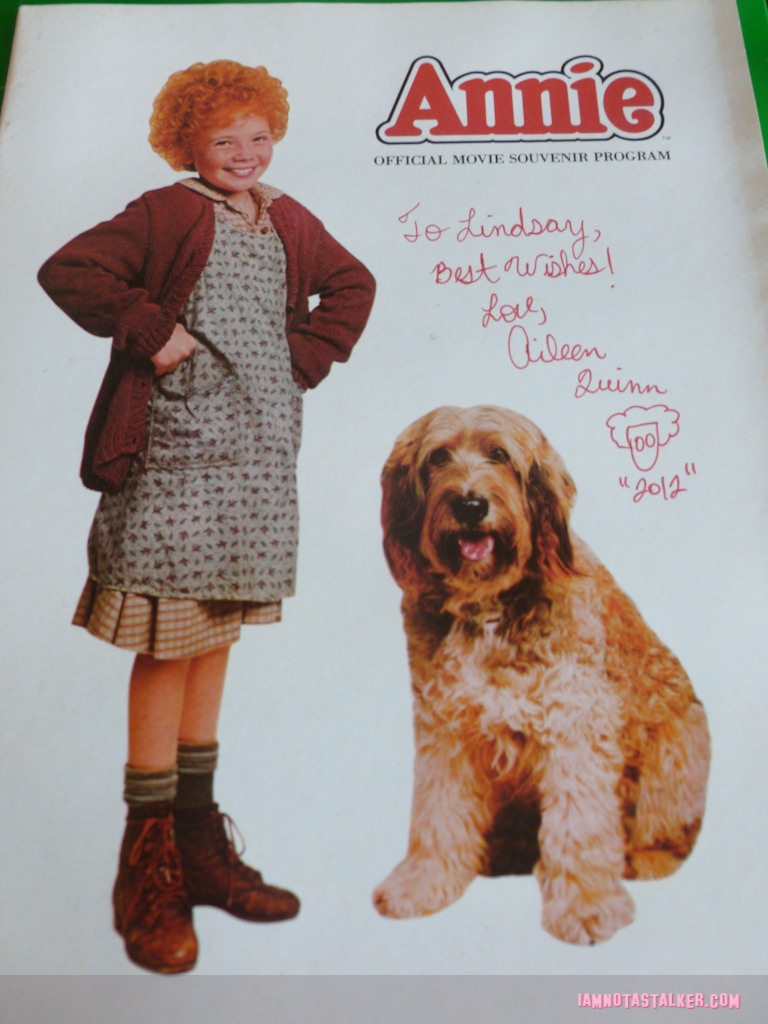 A program from one of my all-time favorite movies Annie signed by star Aileen Quinn, whom I met at the April 2012 Hollywood Show.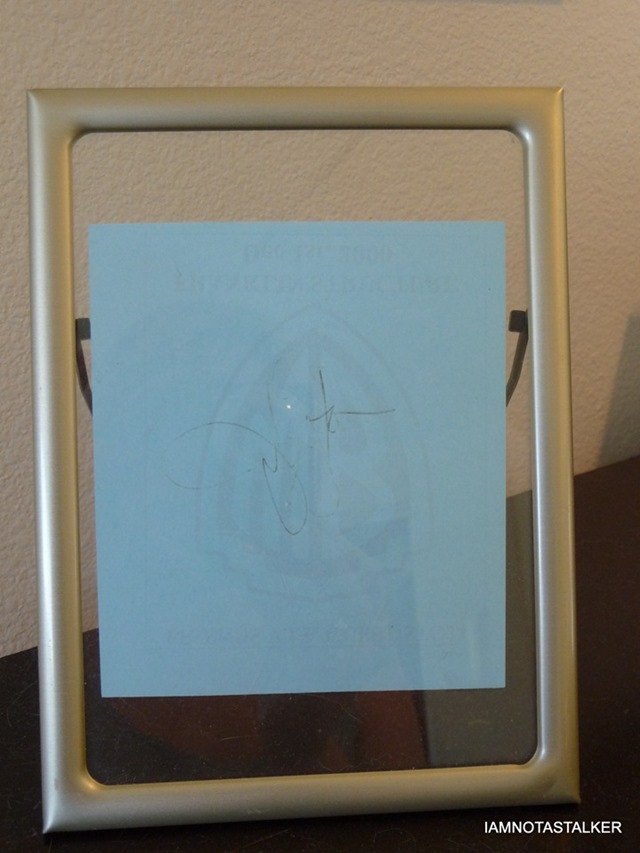 On December 1, 2000, my friend Nancy and I attended a taping of the Season 7 episode of Friends titled "The One With All the Cheesecakes".  A friend of mine who was a longtime cameraman for the show knew about my love for Jen Aniston and had gotten me two VIP tickets for the filming, which, as you can imagine, I could NOT have been more excited about.  Not only did we have fourth row seats for the taping, but when we arrived at the studio, my friend took Nancy and me on a tour of the set, during which we got to sit on Monica and Rachel's couch, play on Joey and Chandler's foozball table, and walk through Chandler's sawed-in-half-bedroom-door.  After the taping ended, we once again got to go down to the stage and my friend introduced us to Jen.  I was so excited I literally could NOT speak.  And let me tell you, it takes a LOT to render me speechless!  I did finally manage to shake Jen's hand, though, and tell her that she was my favorite actress of all time and I also had her sign my VIP pass (pictured above).  Because no cameras were allowed in the studio, I sadly was not able to get a photograph with the star, but, as you can imagine, it was one of the best experiences of my life, nevertheless.  I still cannot watch that episode without getting butterflies in my stomach.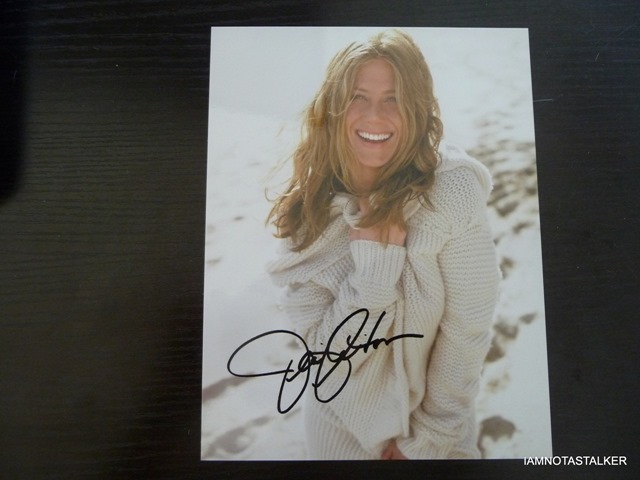 Two Decembers ago, fellow stalker (and big-time sweetheart) Owen purchased an 8 x 10 copy of my very favorite Jennifer Aniston photograph, sent it to the actress with a self-addressed, stamped envelope and a letter stating that I was her biggest fan, and asked her to personalize it for me.  A little over a year later, she sent back a different signed photograph, the one pictured above, along with the unsigned one that he had originally sent her, and, even though he was a little disappointed that neither picture had been personalized, Owen presented them both to me for my birthday this past June.  Personalized or not, I was absolutely FLOORED to receive them!  I still cannot believe that he went to all of that trouble to get me a signed picture of my favorite star. That is easily one of the nicest things anyone has ever done for me!  What a complete and total sweetheart!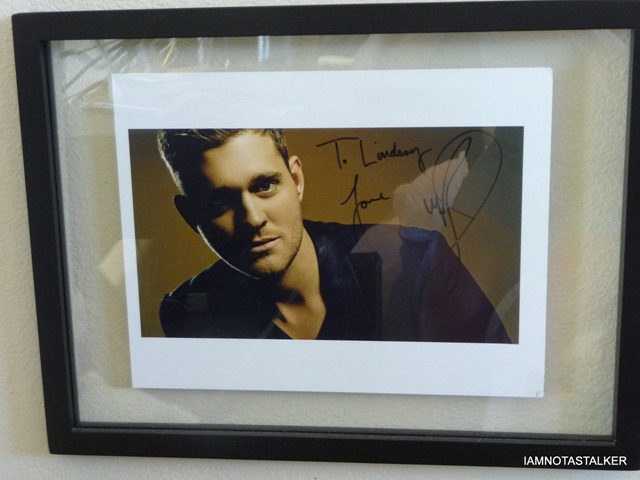 For my birthday the previous year, thanks to a connection that he has at Saturday Night Live, Owen once again presented me with a once-in-a-lifetime gift – a personalized autograph from my man, Mr. Michael Buble.  Best.Birthday.Present.Ever.  I literally almost passed out when I opened it and I still get chills every time I look at it!  So incredibly cool!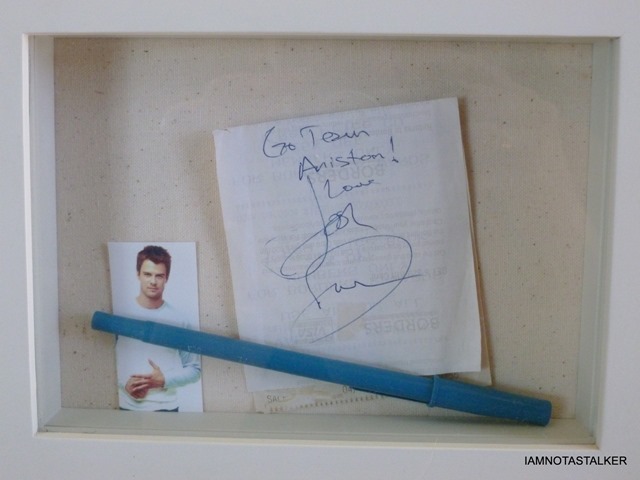 Back in 2005, I happened to spot Josh Duhamel, who was my favorite actor at the time (this was before the whole refusing-to-stop-texting-on-an-airplane thing), eating just a few tables away from the Grim Cheaper and me at a restaurant in West L.A.  After he finished dining, I followed him outside to introduce myself.  Josh could NOT have been nicer and because I did not have my camera with me at the time (and this is why one should ALWAYS carry a camera when in Los Angeles), I asked him to sign a Borders Books receipt that I happened to have in my wallet.  I was wearing my "Team Aniston" sweatshirt that evening and before he signed, Josh asked me what the sweatshirt referred to.  When I explained the whole "Team Aniston" vs. "Team Jolie" t-shirt face-off, he told me that he absolutely loved it and promptly signed my autograph, "Go Team Aniston!  Love, Josh Duhamel".  Sigh!  LOVE IT!  Best autograph ever!  And yes, I saved the pen he used to sign it and put it in the frame with the autograph.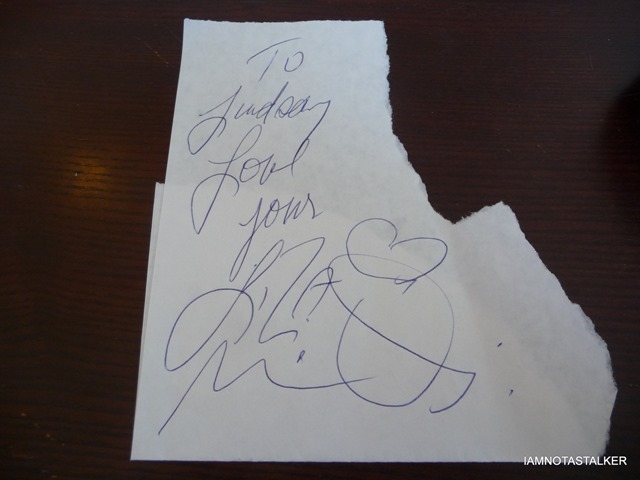 In December of 2005, my parents happened to run into legendary actress/singer Liza Minnelli at a restaurant in New York.  My dad went up to Liza to tell her what a fan of hers he was and she promptly invited my parents to join her for lunch.  I'm not kidding – this actually happened!!!  My parents spent the next couple of hours hanging out with Liza, during which time they became quite friendly.  My dad had a very serious heart surgery scheduled in Manhattan later that month, a few days before Christmas, and Liza told my dad that if he was feeling up to it, my parents should have dinner on New Year's Eve at the same restaurant where they were enjoying lunch.  Liza said that if my parents showed up, she would sing at midnight.  She also signed the above-pictured autograph for me on the restaurant's paper tablecloth.  It reads, " To Lindsay.  Love, Your Liza".  So cute!  We did end up having New Year's Eve dinner at the restaurant, during which Liza came over to our table to sit with us for a bit.  Sadly though, my dad was not doing very well at all (that surgery was pretty much the beginning of all of his major health problems), so we were not able to stick around until midnight to hear Liza sing. 
It was still an amazing experience, though, and Liza was a complete and total sweetheart!
A couple of years ago, I ran into Kate Bosworth and her then-boyfriend James Rousseau at the Sunset Tower Hotel in West Hollywood.  I sadly did not have my camera with me at the time (you'd think I would have learned by then!!!), but I introduced myself to Kate and had her sign a brochure from the hotel.  Kate was so incredibly kind and genuine and when I told her that Win a Date with Tad Hamilton was one of my very favorite movies, she said, "And right now you're acting just like I did when I met Tad in the movie." 
So cute.  Her autograph reads, " Dear Lindsay, So nice to meet you!  With Love + Thanks, Kate Bosworth".  You can see a really bad picture that I snapped of Kate that night with my Blackberry phone here.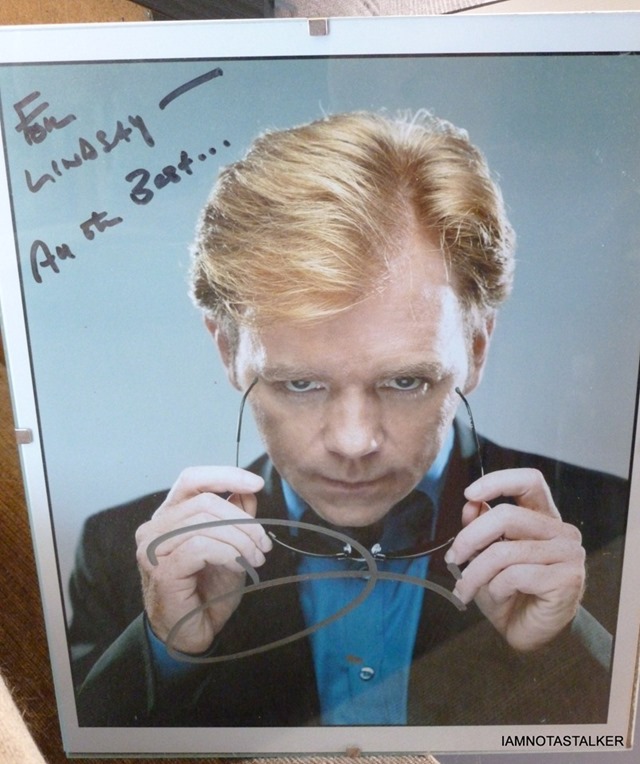 In January of 2009, my dad and I were lucky enough to get to watch the filming of CSI: Miami while the show was on location in Pasadena just a few blocks from where my parents used to live.  While there we got to meet my dad's hero, David Caruso, who, as luck would have it, turned out to be the friendliest celebrity that either of us had then or has now ever encountered!  The guy is easily the NICEST guy in all of Hollywood!  David ended up autographing quite a few things for us, including the photograph pictured above.  You can read more about our time on the CSI: Miami set here.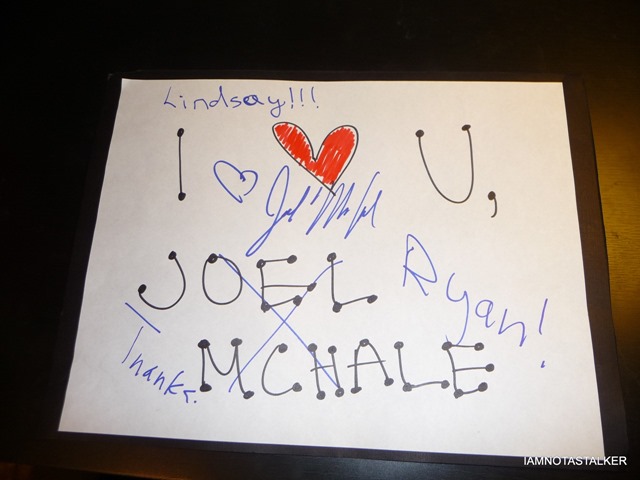 This one I have already blogged about, but it was too cool not to include here.  I met Joel McHale at an Emmy Week event at which The Soup host was appearing this past June and made the above-pictured sign in the hopes that it would catch his attention so that he would pose for a picture with me.  Well, not only did he pose, but he also autographed the sign!  Because Joel sometimes jokingly signs autographs "Ryan Seacrest", I told him that I should have written "I <3 U, Ryan Seacrest" on the sign, after which he promptly crossed out his name and wrote in Ryan's.  LOVE, LOVE, LOVE it!  You can read more about my meeting Joel and see the photographs we took together here.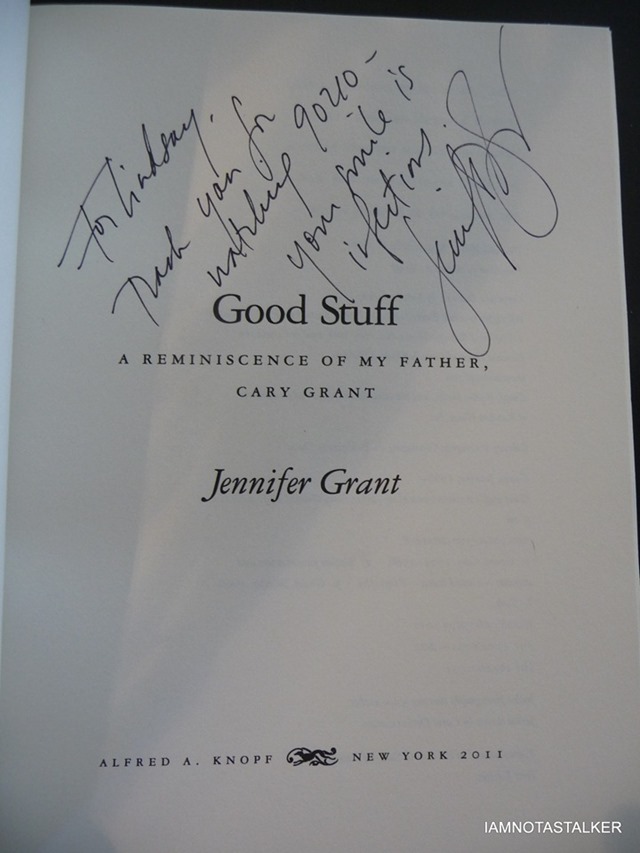 Back in June I attended Beverly Hills, 90210-star Jennifer Grant's book signing for Good Stuff, the memoir of her late father, movie icon Cary Grant.   Jennifer, who could not have been more of a sweetheart, signed the book, "For Lindsay – Thank you for watching 90210 – your smile is infectious.  Jennifer Grant".  Best inscription ever!  You can read more about the signing and see my picture with Jennifer here.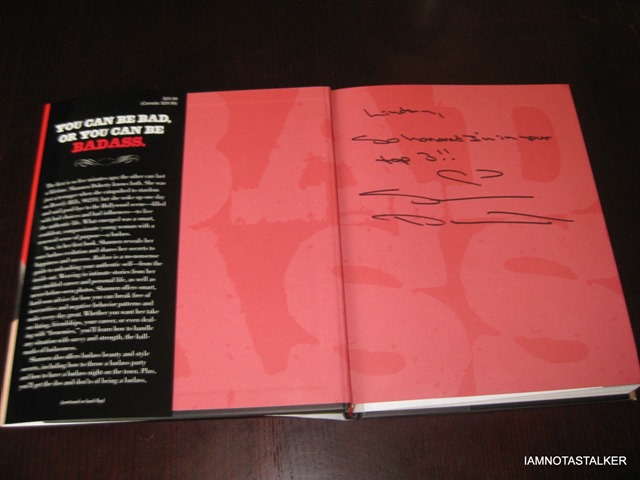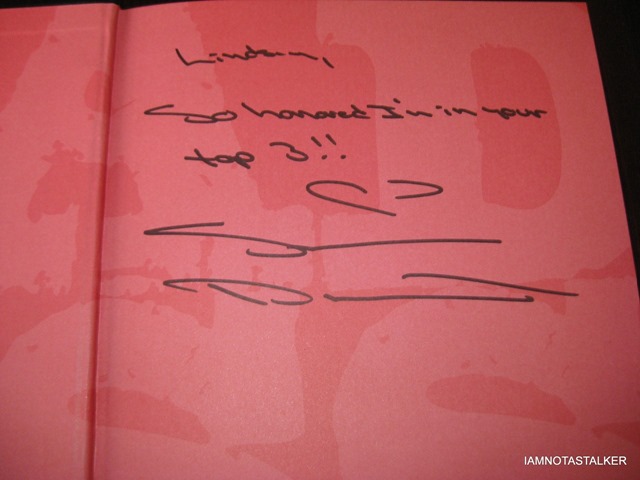 This past December, I attended Shannen Doherty's signing for her book Badass.  As most of my fellow stalkers already know, I have long idolized both Shannen and the character she played on 90210, Brenda Walsh.  While meeting Shannen, I mentioned that, along with Jennifer Aniston and Michael Buble, she was one of three celebrities that I would just about die to meet.  Her inscription to me reads, "Lindsay, So honored to be in your top 3!!  <3 Shannen Doherty".  You can read about my experience at the signing and see my pictures with Shannen here.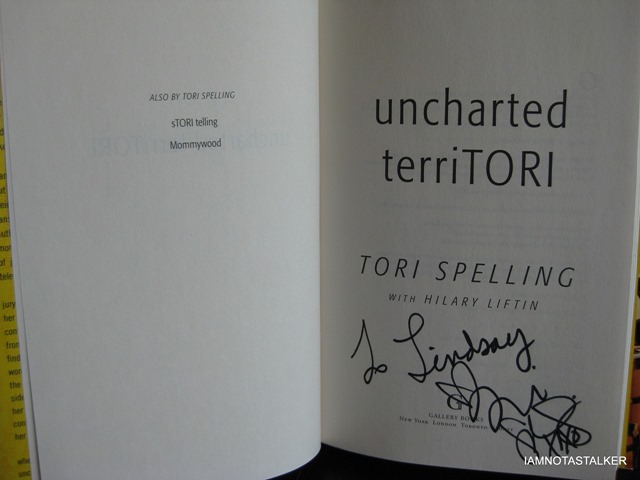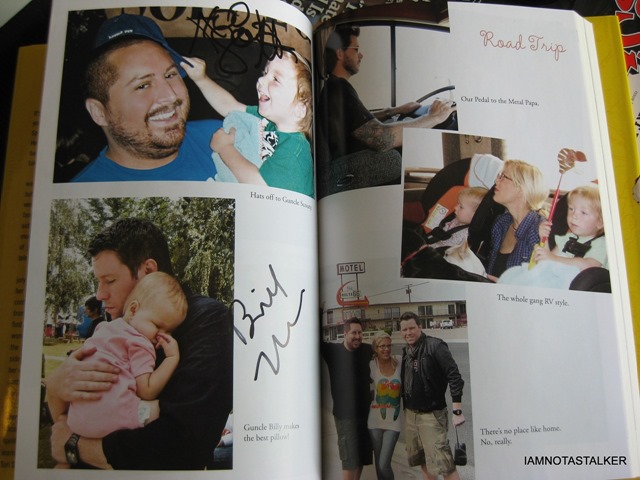 Last summer I attended Tori Spelling's signing for her then-new book uncharted terriTORI. Tori was a sweetheart and her autograph is pictured above. Her friends Bill Horn and Scout Masterson, aka "The Guncles", also signed the book.  You can read more about that event here.