Lance's House from "Pulp Fiction"
Aug 17th, 2011 | By
Lindsay
| Category:
Movie Locations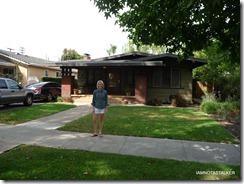 Last month, fellow stalker Chas, from the It'sFilmedThere website, came to town, along with his super-sweet mom, for a little filming locations vacation, and the three of us spent a whole day together, stalking pretty much all of Los Angeles, from one end of the city to the other.  For this adventure, Chas had compiled an extensively detailed list of various movie locales, along with maps to each and a driving timeline.  I know – it was all so Monica Gellar of him.  LOVE it! 

Anyway, one of the locations on Chas' list was the Craftsman-style residence where drug-dealer Lance (aka Eric Stoltz) and his wife, Jody (aka Rosanna Arquette), lived – and where Vincent Vega (aka John Travolta) saved Mia Wallace's (aka Uma Thurman's) life – in the 1994 black comedy Pulp Fiction.  Chas found the house, thanks to a very helpful crew member, in early 2010 while attempting to track down all of the locations from the movie – an endeavor at which, I am very happy to report, he succeeded.  You can check out Chas' extensive Pulp Fiction filming locations page here.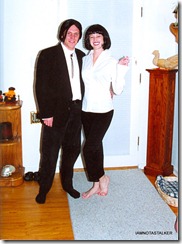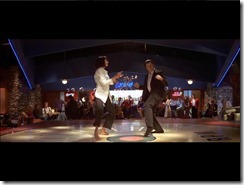 Because the Grim Cheaper and I had once dressed up as Vincent Vega and Mia Wallace for Halloween many, many moons ago, I was extremely excited to stalk Lance's house.  (Sorry for the poor quality of the above photograph – it was taken on actual film so I had to scan it in order to post it here.)
Lance's house was featured in a very brief, but very memorable scene, during the "Vincent Vega & Marsellus Wallace's Wife" portion of Pulp Fiction, in which after visiting Jack Rabbit Slims restaurant, which I blogged about back in March, Mia accidentally overdoses on some heroin that Vincent had stashed in his jacket pocket.  When Vincent discovers Mia on the floor, unconscious and unresponsive, he drives her to his drug dealer, Lance's, home in the hopes that Lance can help her.  It is there that Vincent winds up giving Mia an adrenaline shot, saving her life.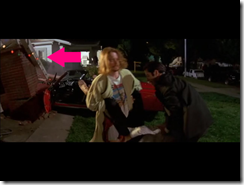 In the scene, Vincent crashes his car into the front of Lance's house, destroying the roof and part of the porch.
I am very happy to report that the residence's roof and porch are currently intact and that, despite the property's shabby appearance onscreen, as you can see above, it is actually quite adorable in person.
And while the apartment building across the street from Lance's house still looks very much the same as it did in the movie;
there is now, sadly, a fence located on the eastern side of the property, which blocks the neighboring lawn that is pictured in the above screen capture from view.
And while I am fairly certain that the real life interior of the residence was also used in the filming, I, unfortunately, could not find any photographs online to verify that hunch.
Big THANK YOU to fellow stalker Chas, from the It'sFilmedThere website, for finding this location.  You can check out Chas' extensive Pulp Fiction filming locations page here.
Until next time, Happy Stalking! 

Stalk It: Lance's house from Pulp Fiction is located at 3519 La Clede Avenue in the Atwater Village neighborhood of Los Angeles.
36984