Lucille's House from "Bye Bye Love"
Aug 19th, 2011 | By
Lindsay
| Category:
Movie Locations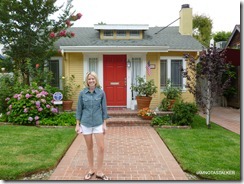 Another location that fellow stalker Chas, from the It'sFilmedThere website, had on his extensively detailed list of places to stalk during our day together in L.A. this past July (and there were over 30 locales on that list, by the way; as I said it was quite extensive!) was the residence where Lucille (aka Janeane Garofalo) lived in the 1995 film Bye Bye Love.  And while I had never actually seen Bye Bye Love at that point in time, I absolutely fell in love with the house as soon as we drove up to it.  So much so that I immediately added the flick to my list of movies to rent and finally did so this past week – which I think may have actually been a first for me.  I do not believe that I have ever before watched a movie solely based on the fact that I liked a location featured in it.  Ladies and gentlemen, I have reached a new level of stalking! 
I have to say, though, that I was not too crazy about Bye Bye Love.  While it was heartwarming, it was also extremely sad and, as I have mentioned before, I am not too keen on depressing flicks.  Never in my life have I been more thankful that my parents never divorced than I was while watching that movie.  And, surprisingly enough, while I typically cannot stand Janeane Garofalo – actually, to be completely honest, I absolutely abhor the woman; she's right up there with Jessica Simpson on my list of least favorite celebrities – I LOVED her in Bye Bye Love.  She had me laughing out loud on several occasions, especially when she continually tried to utilize the passenger controls in Vic Damico's (aka Randy Quaid's) Driver's Education car.  But I digress.
Lucille's house was only featured briefly in Bye Bye Love and, surprisingly, very little of the property was ever shown. You would think producers would have utilized more of the place being that it is so completely adorable. The residence first showed up in the scene in which Vic picks Lucille up for their blind date.  Immediately after opening the door and meeting for the first time, Vic says to Lucille, "Nice place!", to which she responds, "Yes, thank you.  Buying this place was the only smart thing that son-of-a-b*tch ex-husband of mine ever did!"  LOL
It later shows up when Vic drives Lucille home after suffering through a horrible dinner with her, only to discover that she has locked her keys inside the property and cannot get in.
And even though the house is absolutely ADORABLE in person, I actually prefer the blue color it was painted in Bye Bye Love to the yellow/red combination that it is painted now.  The home, which was originally built in 1920, is not actually as small as its façade would lead you to believe.  According to fave website Zillow, the residence boasts 3 bedrooms, 3 bathrooms, and 1,596 square feet of living space.
Big THANK YOU to fellow stalker Chas, from the It'sFilmedThere website, for finding this location.  You can check out Chas' extensive Bye Bye Love filming locations page here.
Until next time, Happy Stalking! 

Stalk It: Lucille's house from Bye Bye Love is located at 1612 Courtney Avenue in Los Angeles.
37129