The Cliffhouse Restaurant from "City of Industry"
Aug 26th, 2011 | By
Lindsay
| Category:
Movie Locations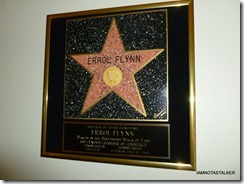 For our first wedding anniversary this past weekend, the Grim Cheaper and I headed out to the desert to spend a few days at the La Quinta Resort & Club, a historic hotel and popular celebrity hangout which I blogged about extensively last December.  The GC's brother, who works for the Hilton Hotels chain, which owns the resort, hooked us up royally with a Friends-and-Family discount so we were able to book a suite at an amazingly low rate – a suite that turned out to be the property's Errol Flynn room!  When I first walked through the doors and saw Errol's star hanging on the wall, I just about had a heart attack!  (As I mentioned in my December post, in each room where a celebrity has once stayed, the hotel posts a replica of that celebrity's Hollywood Walk of Fame star.) A super-nice concierge that we later spoke with also informed us that comedian Red Skelton had once vacationed in our suite.   But for some reason, even though Red Skelton was actually honored with two Walk of Fame stars during his lifetime – one for radio and one for TV – only a replica of Errol's star was posted in our room.
We absolutely fell in love with our little Spanish-style suite, which featured two bathrooms and two patios and was situated in an adorable trellised courtyard.  So much so that we ended up extending our stay at the last minute by one more night, as neither of us could bear to leave.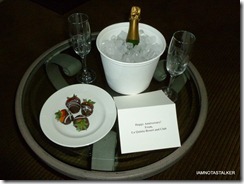 Just to explain the kind of place La Quinta Resort is, we were not only sent a split of champagne and chocolate-covered strawberries on the night of our anniversary . . .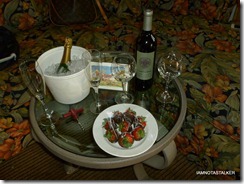 . . . but after deciding to extend our stay, we were sent more champagne, more strawberries, and a bottle of wine!  All while we were paying a room rate that was almost obscenely low.  Needless to say, the La Quinta Resort & Club is all about customer service.  I absolutely LOVE the place and cannot more highly recommend staying there!  You can read more about Hollywood's extensive love affair with the hotel in the post I wrote back in December.  And now, on with today's location!
Long before they moved to the desert, my parents discovered a La Quinta-area eatery named the Cliffhouse and it quickly became their favorite local spot to grab a bite to eat.  And while I have dined there quite a few times over the years, it was not until just a couple of weeks ago that, thanks to favorite stalking tome Hollywood Escapes: The Moviegoer's Guide to Exploring Southern California's Great Outdoors, I discovered the restaurant was a filming location!  As it turns out, the ranch-style eatery was featured briefly in the 1997 heist movie City of Industry!  So when my parents mentioned that they wanted to treat me and the GC to dinner there in honor of our anniversary, I could NOT have been more excited!
As you can see in the above aerial view, the Cliffhouse is literally built directly into the side of a small cliff that is known locally as "Point Happy".  The area was named for rancher Norman "Happy" Lundbeck who, in the early 1900s, owned a store and ranch directly across the highway from the small hillside.  Over time, Norman's homestead, which he dubbed "Point Happy Ranch", became a popular hitching post and watering hole for weary gold-seekers traveling from California to the Colorado River.  And the small, but prominent hillside eventually became a landmark to those travelers, letting them know that much-needed food and rest was near.  The Cliffhouse restaurant, which cost $5 million to construct, took over 5 years of planning to complete, and involved a hollowing out of a part of the Point, opened in 1992 and has been a desert staple ever since.  The eatery is not only beautiful and incredibly unique in its architecture, but it also serves up some FABULOUS food, especially the fish tacos, which are INCREDIBLE – and I don't even like fish!  The two-story, 9,000-square foot steakhouse is owned by TS Restaurants and, sadly, the corporation will not be renewing its lease come 2012, which is such an incredible shame I cannot even tell you.  There is hope that a new company will come in and take over the property, keeping the Cliffhouse name and menu, so my fingers are crossed.  I will be extremely sad if this place closes, as will my parents!
In City of Industry, after being double-crossed and shot at by his partner Skip Kovich (aka Stephen Dorff), bank robber Roy Egan (aka Harvey Keitel) climbs up the retaining wall located on the western side of the Cliffhouse and then proceeds to steal a car from the restaurant's parking lot.  Immediately after dining at the Cliffhouse, the GC and I ventured over to my parents' house to watch City of Industry and I have to say that the movie was pretty darn horrible!  We ended up fast-forwarding through the vast majority of it, pausing just long enough to check out the numerous Palm-Springs-area locales which popped up.
Only the parking lot area and the exterior of the restaurant were shown in the movie.  If you were at all a fan of City of Industry (I'm sure there have to be at least a few of you out there

), and would like to stalk the restaurant, I would recommend doing so before December 31st, when it is set to close.
Until next time, Happy Stalking!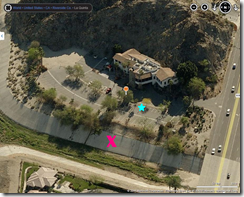 Stalk It: The Cliffhouse restaurant, from City of Industry, is located at 78250 Highway 111 in La Quinta.  The area where Harvey Keitel climbed up the retaining wall in the movie is marked with a pink "X" in the above aerial view.  The area from which he stole the car is marked with a blue star.  You can visit the official Cliffhouse website here.  La Quinta Resort & Club is located at 49-499 Eisenhower Drive, also in La Quinta.  You can visit the hotel's official website here.  The Errol Flynn suite is Room 222.
37230