The Cabazon Dinosaurs from "Pee-wee's Big Adventure"
Sep 12th, 2011 | By
Lindsay
| Category:
Movie Locations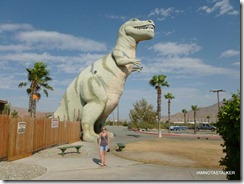 On our way out to visit my parents in Palm Springs two weekends ago, the Grim Cheaper and I made a little stalking stop at the Cabazon Dinosaurs – the two legendary roadside sculptures located just outside of Palm Springs which were featured in the 1985 movie Pee-wee's Big Adventure, among countless other productions. And even though I had passed by the humongous prehistoric creatures countless times on my way too and from the Coachella Valley, for whatever reason, I had never thought to stalk them until just recently.
The infamous Cabazon Dinosaurs were originally designed by a Knott's Berry Farm portrait artist/sculptor named Claude Bell who was looking for a way to attract diners to the Wheel Inn, his roadside restaurant which opened in 1958.  He had visited Lucy the Elephant while growing up in Atlantic City and the image of the six-story tin elephant had stuck with him.
So in 1964, Claude set about building a 150-ton, 45-foot tall, 150-foot long Apatosaurus, whom he later dubbed "Dinny" (pronounced Dine-ee), directly behind his eatery.  He first built a steel framework of the creature, then covered it over with a metal grid in the shape of a dinosaur, and then finally coated it all with spray concrete.  Much of the materials used were procured from scraps left over from construction of the nearby Interstate 10 freeway.  Legend has it that a friend of Bell's painted the entire exterior of Dinny in exchange for $1 and a case of Dr. Pepper.  And while I, too, love me some Dr. Pepper, I seriously doubt I would paint a 150-foot long dinosaur in exchange for a case of it. 

It took eleven years and over $250,000 to complete Dinny and, of his creation which housed a small gift shop, Bell said that it was "the first dinosaur in history, so far as I know, to be used as building".
In 1981, Bell decided to give Dinny a friend and began construction on a 100-ton, 65-foot tall Tyrannosaurus Rex, whom he named "Rex".  His original plans called for a large slide to be installed on Rex's back, but that idea never came to fruition.  Steps were built leading up into the inside of the Tyrannosaurus' mouth, though, enabling visitors to climb to the top of the creature.  Bell had plans to add more reptiles to his roadside creation, but sadly passed away in 1988 before he could do so.  In the mid 1990s, his heirs sold the dinosaurs for $1.2 million to an Orange County developer named Gary Kanter, who, along with a pastor named Robert Darwin Chiles, immediately set about turning the spot into children's exhibit and museum which would promote the theory of creationism.  They added several more dinosaurs, some robotic, to the 60-acre site, as well as an open-air museum, a sand pit where children can dig for fossils, and a non-denominational church.  And while I wanted to venture inside the museum and up into Rex's giant mouth, the GC was, of course, having none of it.
In Pee-wee's Big Adventure, truck driver Large Marge (aka Alice Nunn) drops Pee-wee Herman (aka Paul Reubens) off at the Wheel Inn restaurant, where he discovers that he has lost his wallet and ends up having to wash dishes in order to pay for his meal.
The real life interior of the Wheel Inn was used for the filming of the scene.
And, amazingly enough, it still looks pretty much exactly the same today as it did back in 1985 when Pee-wee's Big Adventure was filmed.
It is while at the Wheel Inn that Pee-wee meets waitress Simone (aka my former acting teacher Diane Salinger), who invites him to watch the sun rise from the inside of Rex's mouth.  That scene was not actually shot inside of Rex's mouth, though, but on a soundstage at Warner Brothers Studio in Burbank.  You can see some great photographs of what Rex's mouth actually looks like here.  In real life, his mouth is not nearly as big as the set replica that Tim Burton created for the film, nor is there a large pink tongue on which to sit.
After watching the sun rise, Simone's very large and very jealous boyfriend Andy (aka Jon Harris) shows up and chases Pee-wee around the dinosaurs.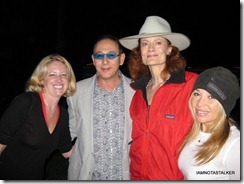 Thanks to Diane, I actually got to meet some of the cast of Pee-wee's Big Adventure a couple of years ago, while attending a screening of the movie at the Hollywood Forever Cemetery.  Pictured above is Diane Salinger, Elizabeth Daily, and the man himself, Paul Reubens.
Thanks to Kim Potts' fabulous write-up of the Cabazon Dinosaurs for the Moviefone website,  I learned that the landmark was featured in quite a few other productions, as well.  At the end of 1989's The Wizard, while driving by the dinosaurs Jimmy Woods (aka Luke Edwards) recognizes them from a childhood visit and jumps out of his step-father's car and up to Dinny.
The actual interior of the dinosaur was used for the filming of that scene.
Miraculously, little of Dinny's interior has changed in the 22-plus years since The Wizard was filmed.
In 1984's Paris, Texas, the Wheel Inn is the supposed-San-Bernardino-area restaurant where Travis Henderson (aka Harry Dean Stanton)and his son Hunter (aka Hunter Carson) stop to use a payphone.
The Cabazon Dinosaurs and Wheel Inn also appeared briefly in the 1985 music video for the Tears for Fears song "Everybody Wants to Rule the World", in the scene in which the band's lead singer Curt Smith stops his Austin-Healey 3000 by the side of the road in order to use a pay phone.
Everybody Wants to Rule the World music video –Filmed at the Cabazon Dinosaurs
You can watch that video by clicking above.
The dinosaurs were featured extensively in the music video for Tonio K's 1988 single "Without Love".
Without Love music video–Filmed at the Cabazon Dinosaurs
You can watch that video by clicking above.
They also appeared in the U.S. version of the music video for the 1994 Oasis song "Supersonic".
Supersonic music video–Filmed at the Cabazon Dinosaurs
You can watch that video by clicking above.
And finally, they made a blink-and-you'll-miss-it appearance in the 2009 music video for Brad Paisley's song "Welcome to the Future".
Welcome to the Future music video–Filmed at the Cabazon Dinosaurs
You can watch that video by clicking above.
Until next time, Happy Stalking and Happy Voting – don't forget to vote for me to be the new face of About Me! 

Stalk It: The Cabazon Dinosaurs, from Pee Wee's Big Adventure, are located at 50770 Seminole Drive in Cabazon.  You can visit the official Cabazon Dinosaurs' website here.  While the museum charges an admission fee, the interior of Dinny houses a gift shop which is free to visit.  The Wheel Inn restaurant is located directly in front of the dinosaurs at 50900 Seminole Drive in Cabazon.
38104