The Surfrider Foundation's 6th Annual Celebrity Expression Session
Sep 13th, 2011 | By
Lindsay
| Category:
Celebrity Sightings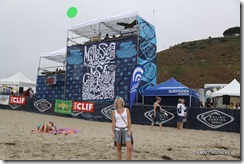 This past Saturday, the fabulous Pinky Lovejoy, from the Thinking Pink blog, invited me and the Grim Cheaper out to Malibu to do a little stalking of one of her very favorite celebrity events – the Surfrider Foundation's 6th Annual Celebrity Expression Session, an hour-long free surf contest which was taking place at First Point at Malibu Lagoon State Beach.  Much to the GC's chagrin, I accepted the invitation which is how the two of us found ourselves heading out to the 'Bu bright and early Saturday morning.  Although, as you can see in the above photograph, the word "bright" is somewhat misleading being that the skies were quite grey when we arrived on the scene.  The day turned out to be one of the best of my entire life, though, and, in what can only be described as an amazing act of divine intervention, we were not only invited to visit and tour the residence used as the Cohen House on fave show The O.C. (on which the sets from the series were very closely based), but we also spent about five hours at the property!  I promise to blog about that INCREDIBLE experience in the very near future, but, for now, on with the Surfrider event!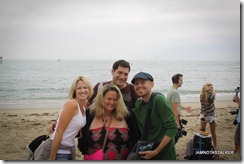 Joining me, Pinky, and the GC in our morning beach-capade were our good friends, fellow stalkers Mikey, from the Mike the Fanboy website, and Scotty, or as Pinky likes to call us, the Motley Crew. 

Despite the fact that it started raining heavily while we were waiting for the celebrity surfers to arrive, we had an absolute blast hanging out together.  As I have said on numerous occasions, when it comes to these types of events, which involve hours upon hours upon hours of waiting around, it is all about the journey.  And I can think of no one else I would rather share that journey with than Pinky's Motley Crew.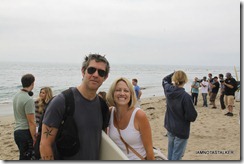 The first celebrity to arrive on the scene was Eric Avery from the band Jane's Addiction.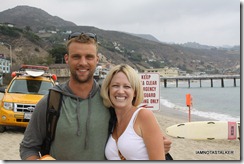 Also in attendance was Jesse Spencer from House (SO cute!  Sigh!);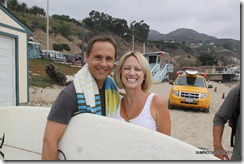 Chad Lowe;
Eric Balfour from The O.C.;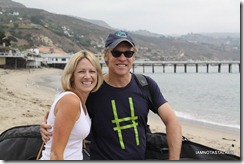 Tate Donovan, also from The O.C. and also my girl Jen Aniston's former main squeeze;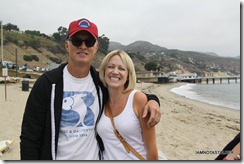 John Slattery, from Mad Men, Desperate Housewives and Sex and the City;
Brian Geraghty from The Hurt Locker;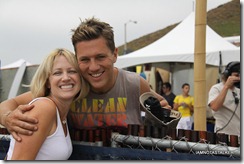 Ross Thomas from Soul Surfer;
and Krysten Ritter – ALL of whom were so incredibly nice and friendly it was almost unbelievable!  I felt like we all truly had a special little moment with each of them. Pinky and I got to chat with Chad Lowe about how much we both enjoyed his brother Rob's autobiography; we joked with John Slattery about his – ahem – shower requests on Sex and the City; Ross Thomas took off his hat and sunglasses in order to provide us with a better photograph; Tate Donovan almost fell over when Scotty quoted several lines to him from Space Camp . . .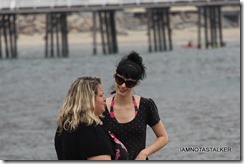 . . . and, as you can see above, Krysten and Pinky even spent some time hanging out together in the surf.  Amazing, amazing day!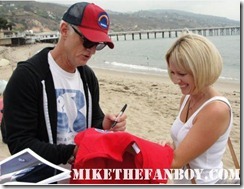 And Mikey managed to snap this super cute pic of me getting his prop "Victor Lang for Mayor" t-shirt from Desperate Housewives signed.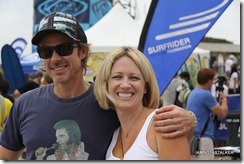 Our main reason for being there, though, was, of course, to see Pinky's sweetheart, Sam Trammell, who plays Sam Merlotte on the hit series True Blood.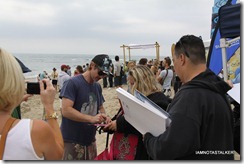 Sam spotted Pinky immediately and, of course, came right over to her to say hi.  I cannot even imagine if one of my favorite celebrities knew me by name and regularly came up to me at events to say hi!  I would absolutely DIE!  Heck, if ANY celebrity knew me by name and came up to me to say hi, I would die!!!  The kicker was when Pinky told Sam that she had finally found a job, he congratulated her and asked where she was working.  The fact that he knew – and remembered – that she had been unemployed the last time they spoke was enough to make me gasp.  SO INCREDIBLY COOL!  That is Sam autographing some photos for Pinky in the above picture – all of which he signed with "much love" or "xoxoxo".  SIGH!
The entire event was extremely low-key and relaxed and all of the celebrities conducted their media interviews right there in the sand.
The surf contest got started at noon and I cannot tell you how much fun it was to watch them all suit up and head out.  (As you can see in the photograph on the top left above, Baywatch star David Chokachi was also in attendance, but since I had already gotten a picture with him at the Pedal on the Pier 100 Mile-a-Thon in June, I did not want to bother him for another.)
Before hitting the water, the group posed for a few publicity shots and, thankfully, the GC got right in there among the press photographers and started snapping away.  I've taught him well, folks. 

Because the GC has gotten seriously into photography as of late, this was one celebrity event that he actually did not mind being dragged to and he managed to snap some pretty fabulous action shots while there.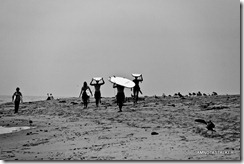 My favorite being the one pictured above, which reminds me of the movie poster for The Endless Summer.  So cool!
Until next time, Happy Stalking and Happy Voting – don't forget to vote for me to be the new face of About Me! 

Stalk It: Malibu Lagoon State Beach, aka Surfrider Beach, is located at 23200 Pacific Coast Highway, just north of the Malibu Pier, in Malibu.  You can visit the Surfrider Foundation's official website here.
38264