Lana Turner's Former House -The Johnny Stompanato Murder Site
Oct 14th, 2011 | By
Lindsay
| Category:
Celebrity Homes
,
Haunted Hollywood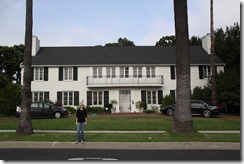 My grandma, who loves reading Hollywood biographies just as much as I do, recently gifted me with a book about the life of legendary film idol Lana Turner, authored by the star's only daughter, Cheryl Crane.  The ginormous tome, which must weigh at least twenty pounds (not kidding!), is named LANA: The Memories, the Myths, the Movies and, prior to reading it, I knew virtually nothing about the 1950s screen siren.  Well, aside, of course, from the fact that she had been embroiled in one of the largest scandals ever to rock Tinseltown – the murder of smalltime gangster Johnny Stompanato, which took place inside of Lana's rented Beverly Hills manse.  So after finishing the book several weeks ago, I decided that the timing could not have been more perfect for me to do some stalking of Lana's former residence and blog about it during my Haunted Hollywood month.
Lana rented the large Colonial-style house pictured above in the Spring of 1958, shortly after returning to Los Angeles from England where she had been filming Another Time, Another Place with actor Sean Connery.  The 6-bedroom, 6-bath, 6,769-square-foot home had originally been built in 1930 for Gone with the Wind actress Laura Hope Crews.  At the time she moved in, Lana had been embroiled in a year-long turbulent romance with Johnny Stompanato, a womanizer who was best known for being mobster Mickey Cohen's bodyguard.  Lana had reportedly been trying to break up with Stompanato for several weeks, all to no avail.  On the night of April 4th, 1958, only three days after she had moved into the residence, Lana had once again thrown in the towel on the relationship.  After hearing the news, Johnny threatened to cut up Lana's face and harm both her mother, "Gran", and 14-year-old Cheryl, who had just returned home from boarding school.  In the book, Cheryl describes what happened next as follows: "After John arrived, I sat in my bedroom writing a term paper while I heard his vicious threats carry through the house.  In a panic I ran downstairs and into the kitchen, where on the sink counter lay one of the knives Mother had bought earlier in the day.  The thought of scaring him away flashed into my mind.  I went back up the stairs to Mother's bedroom and stood outside of her door for a few moments as Stompanato continued threatening to disfigure her.  Suddenly Mother threw open the door.  John came up from behind, his arm raised as if to strike.  I took a step forward and he ran on the knife in my hands.  Stompanato looked at me and said, 'My God, Cheryl, what have you done?' before falling to the floor.  He was dead within moments."
Cheryl was taken to juvenile hall shortly after the killing and a coroner's inquest was opened just a few days later, during which Lana testified.  The coroner's jury, who deliberated for a scant 20 minutes, ending up ruling Johnny's death a justifiable homicide, acquitting Cheryl of all charges.  And while theories abound that Lana was actually the one who did the stabbing and used her daughter as a scapegoat in order to avoid jail time and career ruin, legendary author James Ellroy thinks otherwise.  In a February 2011 Pittsburgh Post-Gazette article, he said, "People love to think something is inherently more dramatic, more secret, crazier, uglier, more vicious and vile.  People love the inside scoop and will deny all the facts even when they are hit directly over the head with them.  It's a very, very, very common phenomenon to ascribe more intrigue to a prosaic event than the prosaic event truly demands."  The world will perhaps never know the exact truth about what happened at 730 North Roxbury Drive on the evening of April 4th, 1958, but I find it absolutely amazing that people are still enthralled with the murder more than five decades later.
According to Cheryl, Lana's bedroom, where the murder took place, was located on the second floor of the home on the far left-hand side.  Lana moved out of the house immediately following the events of April 4th, 1958, only living on the premises a grand total of a few days.  According to my buddy E.J. over at The Movieland Directory website, actress Virginia Bruce also once lived in the home, as did host Merv Griffin.
Cheryl Crane on the Johnny Stompanato Murder
You can watch an interview with Cheryl, in which she talks about the murder, by clicking above.
Big THANK YOU to my grandma for giving me
LANA: The Memories, the Myths, the Movies
, without which I would not have had most of the information with which to write this post. 

Until next time, Happy Stalking! 

Stalk It: Lana Turner's former house, where Johnny Stompanato's murder took place, is located at 730 North Bedford Drive in Beverly Hills.
40631