The "Psycho" Car Dealership
Oct 18th, 2011 | By
Lindsay
| Category:
Haunted Hollywood
,
Movie Locations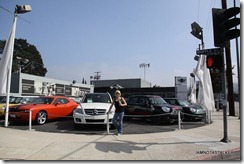 While putting together a list of spooky-type locales to stalk during my Haunted Hollywood month a couple of weeks ago, I decided to peruse through fave book James Dean Died Here: The Locations of America's Pop Culture Landmarks by Chris Epting for a little inspiration.  And, let me tell you, I just about died of excitement when I saw a blurb about the North-Hollywood-area car dealership that appeared in the 1960 Alfred Hitchcock classic Psycho. In the blurb, Epting mentioned that not only was the place still standing, but that it was also still a car dealership – over fifty years later!  How incredibly cool is that?!?  So because Psycho is arguably one of the most well-known and best-loved horror movies of all time, I decided that I just had to include the location in my Haunted Hollywood postings and dragged the Grim Cheaper right on out to the Valley to stalk it a few days later.
In Psycho, Marion Crane (aka Jamie Lee Curtis' mother, Janet Leigh), who is on the run from the police after having stolen $40,000 in cash from her boss in Arizona, stops by the supposed-Bakersfield-area "California Charlie's Used Car Lot" in order to trade her car in for one with California plates.  While there, her brusque, hurried attitude causes California Charlie (aka John Anderson) to say his famous line, "Well, it's the first time the customer ever high-pressured the salesman."  At the time of the filming, the dealership was known as Harry Maher's Used Car Lot and, because the Ford Motor Company was a sponsor of Alfred Hitchcock Presents, Maher was required to swap out his real life inventory with a supply of Fords for the one-day shoot.  Hitchcock was apparently such a perfectionist that, according to a fabulous article written on The Cabinet website, he sent assistant director Hilton A. Green all the way to Bakersfield to photograph real-life used car salesmen in order to see their clothing so that California Charlie's costume would be realistic.  He also commissioned Psycho screenwriter Joseph Stefano to observe car salesmen while writing the script so that Charlie's dialogue would be legitimate.  Talk about attention to detail!
Also according to The Cabinet article, the bathroom scene, in which Marion takes $700 out of her purse in order to pay for her new car, was not filmed on location at Harry Maher's Used Car Lot, as the restroom there was too small to fit an entire camera crew.  Hitch instead decided to shoot that brief scene at Universal Studios, on what I am assuming was just a set that was built on a soundstage.
Today, Harry Maher's Used Car Lot is home to MINI of Universal City and it, sadly, does not look much like it did in 1960 when Psycho was filmed.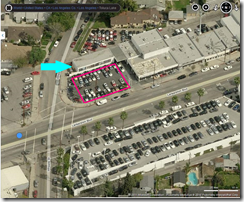 Because the lot has changed so considerably over the years, it was hard to discern the exact spot where filming took place.  But if I had to venture a guess, I would say that the California Charlie's scene was shot in the area denoted with a pink rectangle in the above aerial view.  And I am fairly certain that the building denoted with a blue arrow was not in existence at the time that Psycho was filmed.
It is my guess that the screen capture and photograph pictured above show the same exact area of the lot.  I believe that the California Charlie's sales office is now the MINI dealership's service office . . .
. . . and that the door shown in the screen capture above is in pretty much the same location as the door denoted with a pink arrow in the photograph.
I am also fairly certain that the MINI showroom was built in the portion of the lot that Marion walked through in Psycho . . .
. . . and that the above images show the exact same view, albeit 50 years apart.  Even though the property has changed so drastically in the five-plus decades since the filming of Psycho took place, I was still absolutely elated to be standing on such hallowed ground.  The thought that Alfred Hitchcock had once been in the same spot I was now stalking was literally mind-blowing.  So incredibly cool!
Until next time, Happy Stalking! 

Stalk It: MINI of Universal City, aka the Psycho car dealership, is located at 4270 Lankershim Boulevard in North Hollywood.  You can visit the dealership's official website here.
40913