Linda Vista Community Hospital
Oct 27th, 2011 | By
Lindsay
| Category:
Haunted Hollywood
,
This and That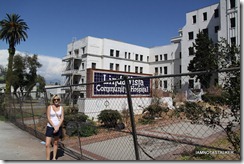 Way back in August, in preparation for my Haunted Hollywood postings, I dragged the Grim Cheaper out to a spot that is, hands down, the spookiest location I have ever visited in all my years of stalking – Linda Vista Community Hospital in Boyle Heights.  Because the property is not only a filming location, but has been abandoned for close to two decades now and is largely rumored to be haunted, I figured it would fit in perfectly with my Halloween-themed month.  And the stalking gods must have agreed because a magical thing happened while we were there!  As fate would have it, we happened to run into one of the hospital's caretakers while we were snapping pictures outside and when he saw my enthusiasm for the place's vast filming history, he invited us in for a private tour!
Linda Vista Community Hospital, which was originally named Santa Fe Coast Lines Hospital or Santa Fe Railroad Hospital, was first built in 1904 as a private infirmary for sick and injured employees of the Santa Fe Railroad Line.  The 6-story, 150-bed property, which was expanded several times after its opening, was transformed into a community hospital in 1937, at which point its name was changed to Linda Vista.  Sadly, as the Boyle Heights area fell upon hard times, the hospital suffered and, in 1989, due to a lack of funds and a drop in Medicare reimbursements, the Linda Vista Emergency Room was closed.  Two years later, in 1991, the hospital shuttered its doors altogether.  And that's when Hollywood came a'knockin'.  Shortly after the closure, Linda Vista's property manager, Francis Kortekaas, decided to lease the site out to film crews in order to offset its high maintenance costs and he has not looked back since!  Due to its vacancy and aged appearance, location scouts cannot seem to stay away from the place.  The hospital, which is on the National Register of Historic Places and is a Los Angeles Historic-Cultural Monument, currently plays host to between 100 and 150 productions each and every year!
Linda Vista Community Hospital is also currently home to the Boyle Heights Paranormal Project, a research team that not only conducts intensive investigations of paranormal activity on site, but hosts regular events on the property – including late-night "flashlight tours" and overnight visits in which those stalkers far more brave than myself can actually spend the night inside of the hospital.  Um, I think I'll pass on that one! 

It was scary enough just being in that place in the broad daylight!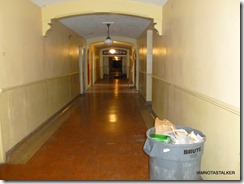 On our tour of Linda Vista Community Hospital, the GC and I were shown most areas of the property, including the hallways;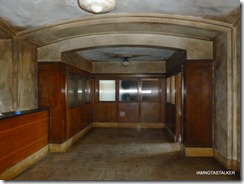 the front lobby;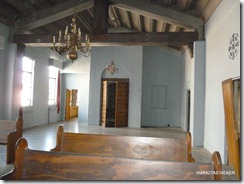 the chapel;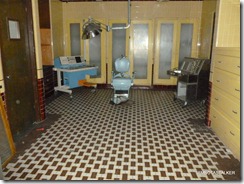 an examination room;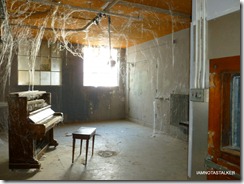 the original morgue, which was dressed for the filming of an Eminem music video that had taken place a few days prior;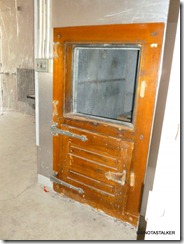 the original morgue freezer;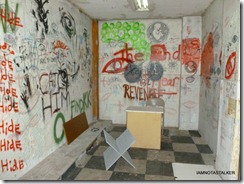 a room where serial killer Richard Ramirez supposedly camped out before he was caught;
and the basement area, which was used extensively in the pilot episode of ER and was the area that I had most wanted to see.
The basement contains a lobby area, which had been dressed with fake blood for a student film;
a kitchen/break room;
a surgical room;
and a fake morgue, which was constructed specifically for filming.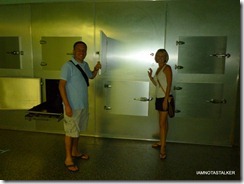 As you can see above, only one of the morgue freezers actually opens, the rest are fake.  SO INCREDIBLY COOL!  And while I have to say that I was scared out of my wits pretty much the entire time, the tour was one of the most exciting experiences of my life.  🙂  You can check out some more interior photographs of Linda Vista Community Hospital here.
Linda Vista Community Hospital has been featured in so many productions over the years that it would be virtually impossible for me to chronicle them all here.  But I will do my best to try.  In a flashback scene in the Season 1 episode of Dexter titled "Let's Give the Boy a Hand", Linda Vista stood in for the Angel of Mercy Hospital where Harry Morgan (aka James Remar) took his son, Dexter (aka Michael C. Hall), to show him where his grandfather worked for thirty years.  Harry and Dexter then posed for a photograph out in front of the hospital.
When the scene then switches back to the present day, Dexter once again heads out to the Angel of Mercy Hospital, which has since been abandoned, where he finds Tony Tucci (aka Brad William Henke) – one of the Ice Truck Killer's victims – alive, but with a severed right foot.
The next episode of Dexter, titled "Love American Style", in which the Miami Metro Police Department investigates the torture of Tony Tucci, was also filmed at Linda Vista.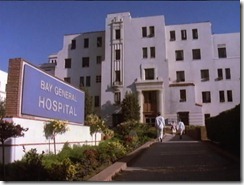 In the Season 1 episode of Charmed titled "Dream Sorcerer", the exterior of Linda Vista stood in for Bay General Hospital where Prue Halliwell (aka my girl Shannen Doherty) recuperated after being in a car accident.
I am not sure, though, if the interior hospital scenes were also filmed at Linda Vista or at a different location.
In the Season 1 episode of FlashForward titled "Goodbye Yellow Brick Road", Linda Vista stood in for the abandoned Raven River Psychiatric Hospital in Arizona, where Dr. Olivia Benford (aka Sonya Walger) and Agent Shelly Vreede (aka Barry Shabaka Henley) investigated former patient Gabriel McDow (aka James Callis).  When Olivia and Shelly first pull up to the hospital, Olivia says, "It's like the setting in one of those slasher movies!"  LOL
In the Season 1 episode of Moonlight titled "Arrested Development", Linda Vista's fake morgue was used as the morgue of St. John Hospital where Mick St. John (aka Alex O'Loughlin) and Beth Turner (aka Sophia Myles) investigated a Jane Doe who had been killed by a vampire.
Linda Vista's former asylum building was also used in that episode, as the supposed-Los-Feliz apartment building where Mick and Beth tried to catch Jane Doe's killer.
The asylum building, which is pictured above, is located just south of the main hospital.
In the second episode of the recently-aired Bachelor Pad 2, Michael Stagliano wins a date in which he takes Erica Rose, Michelle Money, and former-fiancé Holly Durst for an overnight visit to Linda Vista Hospital.  As I said above, I think I'll pass on that one!
While all of the later episodes of the television series ER were shot on a soundstage at Warner Brothers Studios in Burbank, as I mentioned above, the pilot, which was titled "24 Hours", was shot in its entirety at Linda Vista.  And even though I was never a huge fan of ER, I cannot tell you how cool it was to see that area of the hospital!
Linda Vista was one of several different locations used as the exterior of the Honolulu Hospital where Nurse Lt. Evelyn Johnson (aka Kate Beckinsale), Nurse Betty Bayer (aka Jamie King), Nurse Sandra (aka Jennifer Garner), and the rest of the girls worked in Pearl Harbor.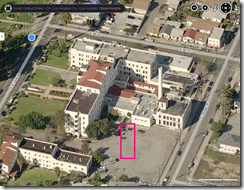 A false front was built on the back side of the hospital, in the area denoted with a pink rectangle above, for the filming.
And while the Pearl Harbor interior hospital scenes also supposedly took place at Linda Vista, I did not see any rooms on our tour that even remotely resembled the rooms pictured above.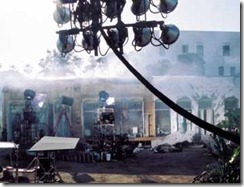 Mike, from MovieShotsLA, happened to be at Linda Vista during the filming of Pearl Harbor and snapped the above photograph while there.  As you can see, there looks to have been some sort of set built in the parking lot area of the hospital and because the window sizes and shapes of that set match up to what appeared onscreen, I am guessing that it is where the interior hospital scenes were filmed.
In 1995's Outbreak, Linda Vista stood in for the hospital in Cedar Creek, California where the massive outbreak first occurred.
In 1999's End of Days, Linda Vista was used as the New York hospital where Christine York (aka Robin Tunney) was born.
It was also where Satan (aka Gabriel Byrne) found and killed Thomas Aquinas (aka Derrick O'Connor).
In 1985's To Live and Die in LA, the hospital, which in a nod to its history was called Santa Fe Hospital, was where prisoner Carl Cody (aka John Turturro) pretended to have a sick relative in order to escape from Secret Service Agent Richard Chance (aka William Peterson).
The 2007 Duran Duran "Falling Down" music video, in which a Britney Spears' inspired starlet is forced into rehab, was shot at Linda Vista Community Hospital.
Duran Duran "Falling Down" Music Video–Filmed at Linda Vista Hospital
You can watch that video by clicking above.
And the 2005 video for the Garbage song "Bleed Like Me" was also filmed at Linda Vista.
Garbage "Bleed Like Me" Music Video–Filmed at Linda Vista Hospital
You can watch that video by clicking above.
Linda Vista Hospital also supposedly appeared in The Cell, but I scanned through the flick earlier today and could not find it anywhere.
Until next time, Happy Stalking! 

Stalk It: Linda Vista Hospital is located at 601 South St. Louis Street in the Boyle Heights area of Los Angeles.  You can visit the hospital's official website here.  You can check out the Boyle Heights Paranormal Project's Facebook page here and you can find out more about their upcoming events and tours here.
41754