Halloween 2011 with Matthew Lillard
Nov 2nd, 2011 | By
Lindsay
| Category:
Celebrity Sightings
,
Haunted Hollywood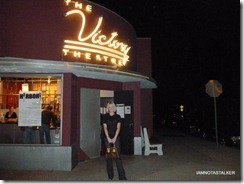 Well, the stalking gods have definitely been smiling down upon me as of late because this year I experienced what was quite simply the Best. Halloween. Ever.  It was an absolute whirlwind and I honestly do not know how any future Halloween can ever compare!  It all started a couple of weeks ago when the fabulous Katie, from the Matthew Lillard Online website, announced that she would be giving away two tickets to the October 28th performance of Harbor, the new play in which the Scooby-Doo-actor stars, along with a meet-and-greet/photo-op.  I, of course, immediately entered my name in the contest and, as fate would have it, I won!  Because this stalker absolutely LOVES herself some Matthew Lillard, I was literally screaming at the top of my lungs when I found out.  What better way could there have possibly been to begin my Halloween weekend than by meeting one of the stars of Scream, my very favorite scary movie of all time?!?!  And while the Grim Cheaper was not nearly as excited about my big win as I was – he is not at all a fan of the theatre, especially Los Angeles theatre which tends to be a bit pretentious – the two of us found ourselves heading out to The Victory Theatre Center in Burbank this past Friday night.  And, let me tell you, I was literally bouncing out of my seat during the entire drive there!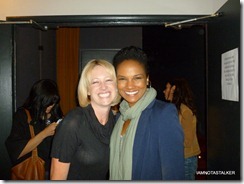 Amazingly enough, the excitement of the evening got started before the lights in the theatre even went down!  While the GC and I were standing in line waiting to pick up our tickets, I just happened to spot Mekia Cox – who not only played Sasha during Season 3 of fave show 90210, but was also one of Michael Jackson's dancers on the ill-fated This Is It tour – standing in line behind us.  I, of course, just had to go up to her to ask for a photo and I am very happy to report that she could NOT have been sweeter.  Mekia said that she could not believe that I had recognized her as she usually does not get spotted when her hair is pulled back.  She obviously didn't realize that she was talking to a stalker. 

I was like, "Are you kidding?  I noticed you the second you walked through the door!"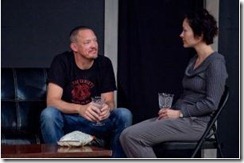 Harbor, which was written by Jon Cellini, Matthew Lillard's college roommate, is the story of a single mother who, upon the death of her father and the subsequent reading of his will, is forced to make contact with her ex-husband and his new wife.  And while it sounds as if that would be some rather depressing subject matter, the play is actually laugh-out-loud hilarious!  And Matthew Lillard absolutely SHINES in it.  His onstage persona is magnetic and he is nothing short of fascinating to watch.  The guy has got some major presence – one look at him onstage and it is entirely obvious how he became a movie star.  Truth be told, though, the entire cast was FABULOUS, the script superb, and the theatre warm and intimate.  I honestly could not have enjoyed the production more.   And I was not the only one!   Let me tell you, I almost fell out of my chair when the lights went up at the end of the show and the GC turned to me and said, "That was the best play I've ever seen in my life!"  I mean, I knew Harbor was good, but the fact that the GC said that speaks volumes!  If you live in the L.A. area or are planning to visit in the near future, you really need to go see this show!!  I honestly cannot recommend it more!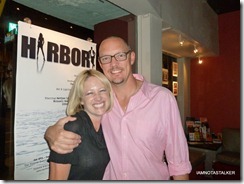 After the play was over, we headed to the lobby to wait for Matthew to come out, whereupon the GC met the producer of the show and promptly told her that Harbor was the best play he had ever seen.  He was so giddy over finally enjoying a live performance, I honestly would not have been surprised if he had started shouting about it from the rooftops!  Anyway, when Matthew came out, I walked up to him to introduce myself as the Matthew Lillard Online contest winner and he immediately said, "Oh!  I'm supposed to take a picture with you!"  Um, LOVE IT!  After posing for the above picture, which turned out ADORABLE (can you tell how excited I was to meet him??), Matthew hung around and chatted with us for quite a long time.  The guy truly could NOT have been nicer and when I told him that the two of us used to frequent the same Starbucks and that I had always tried to (accidentally

) run into him there, he jokingly started calling me a stalker!  Oh, if he only knew. 

Matthew was truly honored that I was such a fan and gave me a huge hug before going off to meet the many other fans of his that were in attendance.  Sigh!  What a complete and total sweetheart!   As I said – the evening could not have been a more magical start to my Halloween weekend.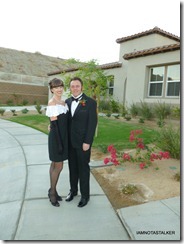 The following night, the GC and I headed out to Palm Desert, where his boss was hosting a prom-themed Halloween party.  And while I had originally wanted to dress up as Ali (aka Christina Aguilera) and Jack (aka Cam Gigandet) from Burlesque this year, as soon I heard the words "prom-themed", my plans immediately changed and we instead went as Brenda Walsh (aka my girl Shannen Doherty) and Dylan McKay (aka Luke Perry) in their outfits from the Season 1 episode of Beverly Hills, 90210 titled "Spring Dance".  As you can imagine, I could NOT have been more excited for this particular costume!
And I, of course, just had to make the GC a vegetable boutonniere like the one Brandon Walsh (aka Jason Priestley) wore in the episode. 

I also just had to re-create the above photograph of Brenda and Dylan.  Oh, the crap I put the Grim Cheaper through!  It is honestly amazing that he ever proposed! 

And my Halloween excitement did not end there because I spent this past Monday night at a place that I am still pinching myself over, but more on that tomorrow. 

A big, huge THANK YOU to Katie, from the Matthew Lillard Online website, for the tickets to Harbor!
Until next time, Happy Stalking! 

Stalk It: Matthew Lillard will be starring in Harbor each Thursday, Friday, and Saturday night now through December 3rd at The Victory Theatre Center, which is located at 3326 West Victory Boulevard in Burbank.  You can purchase tickets to the show here.
42106