Halloween at Dick Van Dyke's House
Nov 3rd, 2011 | By
Lindsay
| Category:
Celebrity Sightings
,
Haunted Hollywood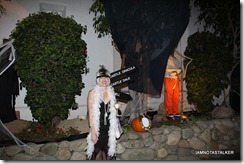 While doing research on the Strode House from Halloween a couple of weeks back, I came across a blog post about the extravagant yard haunt that actor Dick Van Dyke hosts every Halloween at his home in Malibu.  And while you wouldn't think it would be possible, being that I have lived in Southern California for well over a decade, have spent countless hours stalking, and am obsessed with all things Halloween and all things celebrity, until reading that post I had never before heard anything about it!  And, let me tell you, I just about had a heart attack a few minutes later when I discovered that Dick Van Dyke lives inside of the gated Serra Retreat community because some of our good friends just (like literally weeks ago!) moved into that very same community!  I immediately texted said friend to ask if she lived near Dick Van Dyke or knew him at all and started hyperventilating when she wrote back that not only are they next-door neighbors, but that the Grim Cheaper and I were welcome to come to his Halloween party!  Talk about fate!  I mean, do these things actually happen???  Days later, as I sit here typing this, I am still in a bit of shock and can't quite believe that I was actually at Dick Van Dyke's house for Halloween!  And that right there is why I LOVE L.A. – one simply never knows what unthinkable adventure is waiting just around the corner!  (The GC refused to dress up as Dylan again after already dressing up on Saturday night, which is why I am dressed like a flapper above.  I am now thinking of changing his nickname to the "Grim Grumper", by the way. 
)
About two seconds after we arrived at our friends' house on Halloween night, some trick-or-treaters knocked on the door and I just about died when I realized it was none other than James Cameron, dressed as a pirate, and his family!  I kid you not!  I was absolutely DYING inside as he introduced himself to our friends and welcomed them to the neighborhood.  Like really?  As I said above, does this stuff actually happen???  Oh, what I would not give to live in the 'Bu and have James Cameron trick-or-treat at my door!  HOW INCREDIBLY COOL!  I did not ask James for a photograph as I figured it would have been a bit awkward, but I am kind of kicking myself about it now.  As my girl Pinky Lovejoy, of the Thinking Pink blog, constantly admonishes me, when an opportunity presents itself, always, always ask for a picture!  Ah well, maybe next Halloween!  Anyway, shortly after James left, we all headed over to Dick Van Dyke's house and, let me tell you, it was nothing short of AMAZING!  For this Halloween-obsessed stalker, being there was the ultimate experience!
Dick had decorated the entire front of his property – like every single square inch of it – with a myriad of Halloween displays and contraptions and, let me tell you, it was like nothing I had ever seen!  The whole thing was like being in the middle of a horror movie set!  We were there for well over an hour and I still do not think I saw everything.  The spooktacular was comprised of animatronic mannequins, some of which would jump out at people from hidden corners;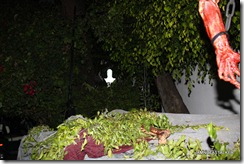 a talking statue, a la the talking statues in the graveyard at Disneyland's Haunted Mansion;
a Pee-Wee Herman lookalike who was controlling an animatronic wolf that would jump out to "attack" each passerby;
and a video-rigged front door that had both a picture of Dick Van Dyke that would change from normal to scary depending on where you were standing and a "window" to an insane asylum in which an inmate with an ax tries to break her way out.
You can watch a video of the door by clicking above.  Notice the marks that show up on the door when the inmate hits it with the ax!  Simply incredible!
My favorite part of the whole thing, though, had to be the graveyard, which consisted of a myriad of tombstones, some of which moved and had animatronic corpses coming out of them.  There was also an invisible screen set up at the back of the graveyard on which was projected a video of cartoon skeletons doing the "Thriller" dance!  SO INCREDIBLY COOL!  Sadly, the GC could not get a good picture of the video, nor could he get a photograph of the glow-in-the-dark monster footprints that had been painted in the street out in front of Dick's house.  AMAZING, AMAZING, AMAZING!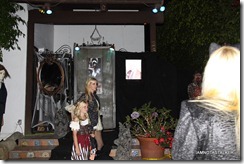 Because so many celebrities live in Serra Retreat, I was keeping my eyes peeled the entire time we were there and was beyond excited when I spotted Camille Grammer from The Real Housewives of Beverly Hills.  As I have mentioned several times before on this blog, I absolutely LOATHE RHOBH star Kyle Richards ("hot, heaping hunks of hate!" as Jerry Stiller would say), and I don't much like her sister Kim or their friend Taylor Armstrong, either.  And while I used to like Lisa Vanderpump, after her high-school-like mean-girl behavior in the recently-aired "The Opposite of Relaxation!" episode,  I don't really care for her either.   The only two on the show that I like are Adrienne Maloof-Nassif and Camille Grammer.  So seeing Camille was especially exciting!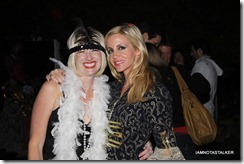 So I, of course, just had to ask her for a pic.  I am very happy to report that Camille was a total sweetheart and even told me that I was beautiful!!!  How nice is that?  And she is absolutely gorgeous in person, far prettier even than she appears to be on TV.  Love her!!  Ironically enough, fellow stalker Chas later told me that Camille had been featured in an interview on TMZ TV on Halloween night in which she was asked what Halloween party she would be attending.  Her response?  "Dick Van Dyke's and his is the best."  LOVE IT!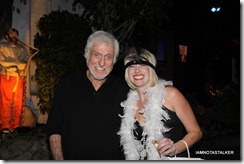 Shortly after I took the pic with Camille, Dick Van Dyke walked outside and I just about died.  I, of course, also asked him for a photo and he happily obliged.  Unfortunately, I did not get to talk to him at all, though, as he was extremely busy and had hoards of neighbors coming up to him, all wanting to say hi.  All in all it was a magical evening and I still cannot quite believe it all happened!  As I said yesterday, between meeting Matthew Lillard on Friday, dressing up as Brenda and Dylan on Saturday, and then spending Halloween night at Dick Van Dyke's house, this was quite simply the Best. Halloween. Ever.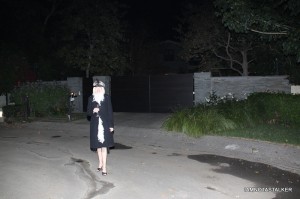 During the party, I also just had to run around the corner to get my picture taken in front of Britney Spears and Kevin Federline's former house.  🙂
You can read a great blog post about decorating Dick Van Dyke's house written by one of his Halloween crew members on the Disney Travel Babble website here.
Until next time, Happy Stalking! 

Stalk It: Unfortunately, because Dick Van Dyke lives inside of Serra Retreat, a gated community that is not open to the public, there is no stalking location for this one.
42235