Julia Harris' House from "Horrible Bosses"
Nov 28th, 2011 | By
Lindsay
| Category:
Jennifer Aniston Locations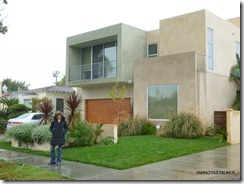 Another location that the Grim Cheaper and I ventured out in the pouring rain to stalk two weekends ago was the ultra-modern abode where Dr. Julia Harris, D.D.S. (aka my girl Jen Aniston) lived in the (horrible) 2011 comedy Horrible Bosses.  I was informed of this location via a text from fellow stalker Chas, of the It'sFilmedThere website, who prefaced giving me the address with the query, "Did you like Horrible Bosses?", to which I wrote back, "Not at all!"  When he asked if my dislike stemmed from the fact that the movie was "too crude", I wrote back, "No!  It stemmed from the fact that it was seriously stupid!" 

The GC and I had gone to see Horrible Bosses on opening night in a theatre, as I do with pretty much every new Jen Aniston movie, and were both so bored to tears that we almost walked out!  I just did not find the flick funny, like at all, and, for some reason, Charlie Day, who played Dr. Harris' dental assistant Dale Arbus, seriously grated on my nerves, especially his gravely voice.  It was like fingernails on a chalkboard to this stalker, but I digress.  Anyway, I was extremely excited to receive Chas' text, regardless of my feelings about the movie, as I am always, always up for stalking a location that has anything whatsoever to do with my girl.
Julia's house actually only shows up twice in Horrible Bosses – first in the scene in which Dale's friend Kurt Buckman (aka Jason Sudeikis) stakes out the property with the intent of murdering Julia and later on in a flashback scene in which he describes what happens while there.  According to the Horrible Bosses production notes, "The deviant doc's house is stylistically similar to her office — that is, what can be seen of it through its wide street-facing picture windows, which afford her the opportunity to put on the kind of show she couldn't get away with at work."
In real life, the five-bedroom, four-bath, 3,906-square-foot home, which was completely rebuilt in 2008, is pretty darn spectacular!  The property features a double-sided fireplace, a floating staircase, an open floor plan, Cherry wood and poured concrete flooring, exposed steel beams, a six-burner range, and three fireplaces.  The property sold on July 22 of this year for $1.73 million.  You can check out some great interior photographs of the place here.
Big THANK YOU to Chas, from the It'sFilmedThere website, for finding this location.  You can check out Chas' extensive Horrible Bosses filming locations page here.
Until next time, Happy Stalking! 

Stalk It: Julia Harris' house from Horrible Bosses is located at 2361 Midvale Avenue in the Westside area of Los Angeles.
42652