The Landmark Screening of "The Way"
Dec 6th, 2011 | By
Lindsay
| Category:
Celebrity Sightings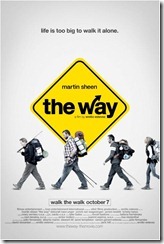 Last Wednesday evening, shortly before a ginormous wind storm took hold of Los Angeles, celebrity aficionado Pinky Lovejoy, of the Thinking Pink blog, and fellow stalker CB, of the Mike the Fanboy website, invited me to be their plus-one at a screening of the new movie The Way, which was to be followed by a question and answer session with the film's director Emilio Estevez, star Martin Sheen, and producer David Alexanian.  Because the event was taking place at the Landmark Theatre located all the way out in Westwood, though, and because The Way has a run-time of 115 minutes, and because this stalker is not a big fan of "films" – I much prefer "movies" to the typically pretentious art house fare usually found at indy theatres – I was not especially looking forward to attending.  But I absolutely love me some Martin Sheen and Emilio Estevez, so I decided that I would just have to bite the bullet and that is how I found myself heading out to the Westside last Wednesday night, just as 85-mile-per-hour winds were beginning to blow.
The Way, which you can watch a preview of by clicking above, turned out to be, by no stretch of the imagination, one of the best movies I have ever seen in my entire life!  I honestly cannot say enough good things about it and was actually very hesitant to write this post as I knew it would take me quite a bit of time to put into words all of the fabulous things that I wanted to express.  The film, which was written and directed by Emilio Estevez, is nothing short of phenomenal in so many ways – it features a completely unique and riveting story, a wonderful script, fabulously rich characters, incredible scenery, remarkable performances, and a touching and profound sentiment.  I do not want to say a lot about The Way as I feel it should be viewed without much prior knowledge, but at its core is the story of El Camino de Santiago, a real-life 500-mile route through France and Spain that pilgrims, or "peregrinos" as they are officially called, walk (yes, walk!) on their way to the Cathedral of Santiago de Compostela, where the remains of Saint James are believed to have been buried.  The journey, which is just as much spiritual as it is physical, lasts about eight weeks with peregrinos walking about twelve to fifteen miles per day.  At night, the travelers stay at refugios, small inns or hostels, where they are provided with a homemade meal and a bed.  The refugios are just as much a part of the journey as the walk itself, as pilgrims break bread with the refugio owners and their fellow travelers, creating new friendships and learning local customs along the way.  I find it unbelievable that prior to watching the film, I had never heard even a mention of El Camino de Santiago.  I am now absolutely fascinated by it, as I am sure all those are who have seen The Way.   If you have yet to see the movie, I cannot more highly recommend doing so.  It is an uplifting adventure and historically-rich journey that you will not be sorry you took.
Immediately following the screening, Martin Sheen, Emilio Estevez, and David Alexanian walked to the front of the theatre and the Q&A session began.  And I have to say that it was almost as fascinating as the movie itself.  Martin talked about how in 2003 he had been approached by his then 19-year-old grandson, Taylor Estevez (Emilio's son), to walk the Camino.  Because Martin was filming The West Wing at the time, he did not have enough weeks off to walk the entire 500-miles, so Martin's wife suggested that the two rent a car and drive along the Camino route.  That way they could see how difficult of a trek it would actually be and prepare themselves for walking it someday in the future.  And that is exactly what Martin and Taylor did.  (Can I just say here how adorable it is that Taylor asked his grandfather to go on this journey with him?  LOVE IT!  Reminds me of the relationship I have with my grandma.)  Things did not exactly go according to plan, though, as one night during their journey, while dining at a refugio, Taylor and the refugio owner's daughter locked eyes and, as Martin said in the Q&A, "they're still looking at each other".  Taylor ended up staying in Spain and marrying the refugio owner's daughter and they are still together to this day.  Their love story and the experiences Taylor and Martin shared on their Camino journey inspired Martin to ask Emilio to write a screenplay about it.  The father/son duo, who live next door to each other, collaborated on the story and The Way is the result of their efforts.
The Way was shot entirely on location along El Camino de Santiago (in chronological order, mind you), with the crew using only the camera equipment and supplies that they could carry on their backs, which makes the behind-the-scenes story almost as amazing as the actual movie.  So basically, while filming a movie about El Camino, the crew was actually taking the journey themselves.  So incredibly cool!
Martin and Emilio honestly could not have been funnier, warmer, or more engaging during the Q&A and I love both of them even more now than I did before.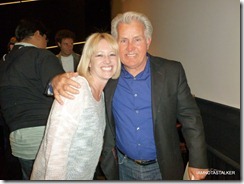 After the Q&A, CB, Pinky, and I went up to Martin, who was EXTREMELY friendly and more than happy to pose for a pic with us.  I was actually an extra in an episode of The West Wing about eleven years ago and had the pleasure of watching Martin perform firsthand.  The man is a phenomenon and I will never forget coming home that night and saying to my mom, "I learned more about acting in one day of observing Martin Sheen than I did in four years of college as a theatre major!"  My mom was not too pleased to hear that, being that she footed my college tuition, but it was absolutely true.  The scene I was an extra in involved Martin's character, President Jed Bartlet, giving a speech to his daughter's college.  The speech was LONG – at least five minutes of continuous dialogue – and Martin knew that thing backwards and forwards.  The filming took over 14 hours (not kidding!) during which Martin had to repeat the monologue over and over and over again and, let me tell you, the guy never faltered or forgot one single word!  And he had just as much energy during Take 1 as he did during Take 103.  It was incredible to witness.  Even more incredible was the fact that every time the director yelled "Cut!", Martin would seamlessly shed his Jed Barlet persona to address all of the extras, regaling us with stories of his life and acting career.  Once the director would yell "Action!", Martin would once again transform into his character and continue on with his speech without missing a beat.  I am still awed by it to this day!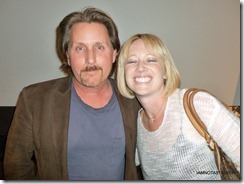 Emilio Estevez also could not have been nicer or more friendly and I have to say that it was pretty incredible getting to tell Gordon Bombay himself that The Mighty Ducks was one of my very favorite movies.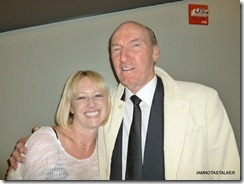 After the show, Pinky, who I swear could spot a celebrity while blind-folded in a snow storm, saw actor Ed Lauter, who played Colonel Glenn in fave movie Girls Just Want to Have Fun.  We, of course, asked Ed for a picture and he happily obliged.  Yay!  All in all, it was a fabulous night and I am SO incredibly glad that I went!
You can read CB's write-up of the event and see some videos he took of the Q&A session on the Mike the Fanboy website here.
Big THANK YOU to Pinky Lovejoy, from the Thinking Pink blog, and CB, of the Mike the Fanboy website, for inviting me to this event.
Until next time, Happy Stalking! 

Stalk It: There is no stalking location for this one, but you can catch The Way in theatres now and you can visit the movie's official website here.
43052