Ryden's House from "Post Grad"
Dec 15th, 2011 | By
Lindsay
| Category:
Movie Locations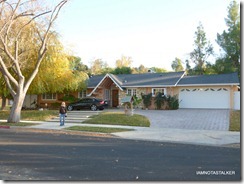 Another location that I dragged the Grim Cheaper out to stalk while in the San Fernando Valley area this past weekend was the ranch-style house where Ryden Malby (aka Alexis Bledel) and her extremely odd, but extremely loveable family – dad Walter (aka Michael Keaton), mom Carmella (aka Jane Lynch), brother Hunter (aka Bobby Coleman), and crazy Grandma Maureen (aka the always fabulous Carol Burnett) – lived in Post Grad.  I saw the 2009 romantic comedy back when it first came out on DVD early last year and absolutely fell in love with it.  So I, of course, immediately started attempting to track down all of its featured locations, especially the Malby residence, but I am sad to say that I was a complete and total failure at the endeavor.  In my defense, though, it was not entirely my fault as the movie did somewhat lead me astray.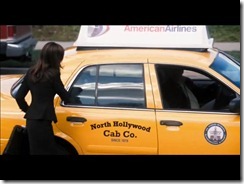 As you can see above, in one of Post Grad's early scenes, Ryden is shown being dropped off by a taxi, on the door of which is written "North Hollywood Cab Co.", so I made the incorrect assumption that the Malby residence was located in that area.  And while I really should have known better, being that movies "cheat" that sort of thing all the time, the home just looked like a North-Hollywood-type residence to me.  So I spent more than a few fruitless hours searching NoHo (as Angelinos are now referring to it) before calling off the hunt.  Enter fellow stalker Chas, of the It'sFilmedThere website, who is pretty much the biggest Gilmore Girls/Alexis Bledel/Lauren Graham fan on the planet and who a few months later had begun his own trek to find the home.  And find it, he did, thanks to a very helpful crew member.  Once Chas told me of the location, I immediately added it to my "To-Stalk" list, but because I rarely get out to Woodland Hills, it took me quite a long time to actually visit the place.
In Post Grad, after losing out on her book-publishing dream job, recent college graduate Ryden Malby is forced to return home to live with her parents in their quirky-looking abode.
I am very happy to report that the Post Grad house, which in real life measures 3 bedrooms, 3 baths, and 2,500 square feet, and was originally built in 1960, looks exactly the same in person as it did onscreen.
I was especially excited to see that the wooden wishing well that was situated in the home's front yard in the movie was actually there in real life, as well.  Love it!
Sadly, the little white fence that flanked the property's front steps was not there, though.
I am fairly certain that the real life interior of the residence was also used in the filming, but I, unfortunately, could not find any photographs of the interior online with which to verify that hunch.
Big THANK YOU to Chas, from the It'sFilmedThere website, for finding this location.  You can check out Chas' extensive Post Grad filming locations page here.
Until next time, Happy Stalking! 

Stalk It: Ryden's house from Post Grad is located at 22200 Tiara Street in Woodland Hills.
43769