Carrie Fisher's House
Jan 3rd, 2012 | By
Lindsay
| Category:
Celebrity Homes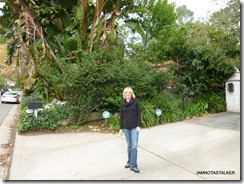 I would like to start off by wishing all of my fellow stalkers a very happy New Year!  I hope that 2012 brings each of you joy, laughter, fulfillment, and much good stalking.  And now, on with the post!  When my good friend, fellow stalker Lavonna, visited Los Angeles back in mid-November, she, along with her daughter Melissa and friends Beth, Kim, and Sandy, attended a taping of The Talk (during which she got a hug from none other than Henry Winkler himself, aka The Fonz!).  The guest on that particular day was Carrie Fisher and all audience members were given a copy of the Star Wars actress' latest book, Shockaholic.  Because Lavonna knows how much this stalker absolutely loves herself some celebrity biographies, she kindly passed her copy along to me and I read the 162-page tome in just a few days.  And while I did not find it particularly enthralling (it is a very odd, sometimes incoherent, rambling collection of stories), one portion that did pique my interest was when Carrie discussed her current home and its famous former owners, one of whom was the legendary Academy-Award-winning costume designer Edith Head (on whom the character of Edna in the 2004 movie The Incredibles was based).  Of the property, and the fact that it is supposedly haunted, Carrie said, " . . . if Edith did happen to roam her once-beloved home, she never floated past me.  Nor did I spot any visions of Bette Davis, who sold the property to Edith, or Robert Armstrong, King Kong's captor in the original film, who built the house and sold it to Bette."  Well, believe you me, once I read those words and learned of how much the property was steeped in Hollywood history, I became just a wee-bit obsessed with stalking the place.  Thankfully, a simple input of the terms "Carrie's Fisher's house" on Google yielded a link to a page on fave website Virtual Globetrotting which featured the home's location.  So I dragged the Grim Cheaper right on out to stalk it the very next weekend.
Carrie's 4-bedroom, 4-bath, 4,210-square-foot home, which sits on over 2.5 acres of land, was originally built in 1933 for actor Robert Armstrong, as I mentioned above.  According to Zillow, Carrie purchased the property in May of 1993 for a cool $13,745,454.  Sadly though, as you can see above, aside from the gate, no part of the house is visible from the street.  There are some rather quirky signs posted on the gate, though, which made me LOL.  The signs read, "Dear Crossing", "Beware of Crabs", and "Public Telephone Within".  I was a bit tempted to ring the buzzer to ask if I could use said public telephone, but the GC ixnayed that idea real fast. 

As you can see in the above aerial views, Carrie Fisher's hacienda-style home is nothing if not private.  The residence sits far back at the end of a long driveway and is surrounded by huge trees and tall hedges.  According to fave book Movie  Star Homes: The Famous to the Forgotten, the property was even more secluded in its early days when it encompassed 5 acres of land, but Edith Head had the lot subdivided sometime during the 1950s.  Thankfully, Carrie showed off the dwelling in the November 2004 issue of Architectural Digest, allowing us stalkers an insider's peek.  Aside from Edith Head, Bette Davis, Robert Armstrong, and Carrie Fisher, singer James Blunt also lived on the premises, in Carrie's guest house, for a time.  He even recorded a song in one of the property's bathrooms – yes, in a bathroom.  Apparently, Carrie has a stand-up piano on display in one of her lavatories because, as she says, "We had no place else to put it and the room has good acoustics."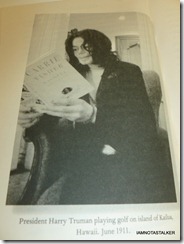 As I mentioned earlier, I did not particularly enjoy Shockaholic, but there was one section that I did absolutely love and would be remiss by not referencing here.  In the beautifully-written chapter titled "The Princess and The King", Carrie discusses her friendship with Michael Jackson and, as you can imagine, I was absolutely drooling while reading it.  One particularly poignant paragraph really hit home for me and I found myself wishing I had written it myself.  The paragraph reads, "The thing is, though, I never thought Michael's whole thing with kids was sexual.  Never.  Granted, it was miles from appropriate, but just because it wasn't normal doesn't mean that it had to be perverse.  Those aren't the only two choices for what can happen between an adult and an unrelated child spending time together.  Even if that adult has had too much plastic surgery and what would appear to be tattooed makeup on his face.  And yes, he had an amusement park, a zoo, a movie theater, popcorn, candy, and an elephant.  But to draw a line under all that and add it up to the assumption that he fiendishly rubbed his hands together as he assembled this giant super spiderweb to lure and trap kids into it is just bad math."  I couldn't agree more, Carrie, I couldn't agree more!  (The photograph pictured above, from Shockaholic, is of MJ reading Carrie's 2008 book Wishful Drinking.  The caption reads, "President Harry Truman playing golf on island of Kailua, Hawaii.  June 1911."  Um, OK.  See what I mean about the book being very odd, sometimes incoherent, and rambling?

)
A big THANK YOU to my good friend, fellow stalker Lavonna for gifting me with her copy of Shockaholic! 

Until next time, Happy Stalking! 

Stalk It: Carrie Fisher's house is located at 1700 Coldwater Canyon Drive in Beverly Hills.  Please keep in mind that the home is private property and do not trespass.
44197