Frank's Coffee Shop and Restaurant from "Larry Crowne"
Jan 4th, 2012 | By
Lindsay
| Category:
Movie Locations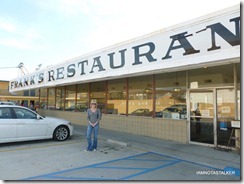 A few days before Christmas, while I was wallowing in a horrible head cold, the Grim Cheaper and I sat down to watch the 2011 flick Larry Crowne. Neither of us had very high hopes for the movie as it had received such horrible reviews, but I am very happy to report that we both ended up loving it. So much so that we watched it again a few days later when my parents came to town to celebrate Christmas with us. The whimsical storyline centers around Larry Crowne (aka Tom Hanks), a middle-aged former Navy chef who is forced to rethink his life after being fired from his job at the local U-Mart Store. He decides to enroll in a nearby community college where he not only makes friends with a group of wildly eccentric and endearing characters, but also finds his life finally start to take shape. If you have yet to see Larry Crowne, I highly recommend ignoring the critics and renting it! Anyway, one of the main locations featured in the flick was Frank's Coffee Shop and Restaurant – a Burbank-area eatery that I had passed by countless times during my ten-plus years of living in Los Angeles, but had, for whatever reason, never dined at. So I immediately added the place to my "To-Stalk" list and dragged the GC right on out there as soon as we returned home from visiting my grandmother in Reno this past weekend.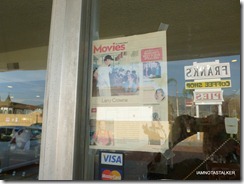 As we pulled up to Frank's Coffee Shop and Restaurant, I spotted an article about Larry Crowne posted on the café's front door and knew right away that I was going to LOVE the place.
And I am very happy to report that I did! Frank's Coffee Shop and Restaurant, which is also sometimes called Frank's Steak House, first opened its doors in 1957 and not much has changed since. Walking into the diner is like stepping back in time about fifty years – and I mean that in the best way possible.
The interior of Frank's, with its dark vinyl booths, popcorn ceiling, and Formica countertops, is straight out of the 1950s and it is not at all hard to see why countless location managers have flocked there over the years. The place also serves up some FABULOUS food at very reasonable prices, which pleased the GC to no end. I opted for a mushroom cheeseburger with French fries and a side of ranch dressing and it was all simply amazing – especially the steak fries, which were extremely thick and seasoned in a way that was reminiscent of the fries served at fave restaurant chain Red Robin. The GC ordered the homemade split pea soup and it was also out of this world.
I was absolutely floored when I spotted a photograph of Tom Hanks posing with Jose, Frank's owner, on display on the wall next to the kitchen. As fate would have it, Jose happened to come over to chat with us while we were dining and, let me tell you, the guy could NOT have been nicer! He sat with us for a good twenty minutes and filled us in on the Larry Crowne shoot, which took six days to complete. Jose informed us that the cast and crew were some of the nicest that he has ever encountered – and he has encountered quite a few. He also told us about the restaurant's vast filming history and showed us countless photographs that he had stored on his cell phone of the various filmings that have taken place on the premises and the numerous celebrities that have posed with him. As you can imagine, I was pretty much drooling the entire time.
In Larry Crowne, Frank's Coffee Shop and Restaurant is featured repeatedly as the eatery where Larry and his scooter-riding friends hang out.
Later on in the movie, Larry gets a job working as a line cook in the restaurant's kitchen.
That kitchen is pictured above.
Jose, who has been a chef for over forty years, actually acted as Tom Hanks' cooking consultant during the filming of Larry Crowne and at one point had to step in to do some chopping for the actor. The hands you see above, which are supposedly Larry's in the movie, are actually Jose's. So incredibly cool!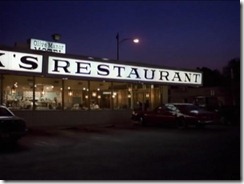 In the Season 5 episode of Beverly Hills, 90210 titled "Squash It", the exterior of Frank's stood in for the Reno, Nevada-area diner where Valerie Malone (aka Tiffani Thiessen) convinced Ray Pruit (aka Jamie Walters) to return to Beverly Hills.
As you can see above, though, a different restaurant was used for the interior filming.
Jose informed us that Frank's Coffee Shop had been featured in no less than 5 episodes of CSI: Crime Scene Investigation, one of which is the upcoming "Willows in the Wind", which just so happens to be Marg Helgenber's final episode.  Unfortunately, Jose was unsure of the titles of the other four episodes filmed on the premises, but I was able to do some digging and tracked down two of them.  Then, after publishing this post, a CSI message board led me to the other two.  Win!  Frank's first appeared in the Season 6 episode titled "Rashomama" as the supposed Las Vegas, Nevada-area coffee shop where the car belonging to Nick Stokes (aka George Eads), as well as all of the crime scene evidence inside of it, was stolen.
And in the Season 7 episode titled "Law of Gravity", Frank's stood in for the restaurant where Michael Keppler (aka Liev Schreiber) ran into Frank McCarty (aka Len Cariou).
In the Season 9 episode titled "Mascara" (CSI's 200th episode), Frank's is where Dr. Raymond Langston (aka Laurence Fishburne) met up a few times with his former thesis student Sylvia Mallick (aka Aimee Deshayes).
And in the Season 11 episode titled "The List", Catherine Willows (aka Marg Helgenberger) met up with Detective Vartann (aka Alex Carter) to discuss the case she was working on.
In the Season 2 episode of Parks and Recreation titled "Ron and Tammy", Frank's stood in for the supposed Pawnee, Indiana-area restaurant where Ron Swanson (aka Nick Offerman) took his ex-wife, Tammy Swanson (aka Megan Mullally), out for lunch.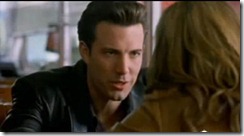 Jose also let us know that Frank's was featured in the 2003 flop Gigli, but I scanned through the movie yesterday while doing research for this post and did not see it anywhere. I did, however, spot it briefly in the flick's trailer, so the scene that was filmed at Frank's appears to have been left on the cutting room floor.
That scene can be viewed at the 2:18 mark when Larry Gigli (aka Ben Affleck) tells Ricki (aka Jennifer Lopez), "I got a confession. I think we're good together."
Fellow stalker Jason also let me know that Frank's Restaurant was featured in Chris Daughty's "No Surprise" music video.
Chris Daughty–"No Surprise" Video Filmed at Frank's Coffee Shop & Restaurant in Burbank
You can watch that video by clicking above.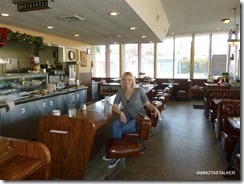 Jose also told us that Frank's Coffee Shop and Restaurant was featured in the A&E Network mini-series Stephen King's Bag of Bones, but I scanned through it yesterday and did not spot the restaurant anywhere. He also told us that Criminal Minds had filmed on the premises recently, but I scanned through all of the Season 7 episodes that have aired so far and did not see it, so I am guessing that it will pop up in an upcoming episode in the very near future.
Until next time, Happy Stalking!

Stalk It: Frank's Coffee Shop and Restaurant, from Larry Crowne, is located at 916 West Olive Avenue in Burbank.
44296