L'Orangerie – aka Chez Quis Restaurant from "Ferris Bueller's Day Off"
Jan 12th, 2012 | By
Lindsay
| Category:
Movie Locations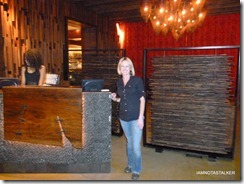 Back in 2010, this stalker became just a wee-bit obsessed with tracking down the restaurant interior which was used as the fictional Chez Quis French eatery in the iconic 1986 movie Ferris Bueller's Day Off.  I knew from listening to director John Hughes' DVD commentary that the restaurant was somewhere in the Los Angeles area, but try as I might, I just could not seem to locate it.  Because I feared that the place had most likely long since closed down and, as such, any hope of finding it would be extremely difficult, I enlisted fellow stalker Chas, of the It'sFilmedThere website, to contact a few crew members on my behalf.  Amazingly enough, Chas was somehow able to get his hands on the email address of Jonathan Schmock, the actor who played the Chez Quis Maitre D' in the movie.  Even more amazing, though, was the fact that Jonathan wrote him back almost immediately and let him know that the Ferris Bueller's Day Off restaurant was none other than L'Orangerie in West Hollywood, an incredibly famous French eatery which had sadly closed it doors in 2006 and had been remodeled and re-imagined as Nobu shortly thereafter.  I cannot express how heartbreaking it was to learn this information as I had moved to LA in 2000, six full years before the restaurant, which I would have given my eye-teeth to stalk, closed down.  I added Nobu to my "To-Stalk" list regardless, with the hope that some remnant of L'Orangerie might still exist on the premises.  And this past Saturday evening, I finally, finally made it out there to investigate.
Before arriving at Nobu, I was nervous that the place would be extremely hoity-toity and not allow photographs of any kind, but I am very happy to report that nothing could have been further from the truth!  The staff was not only exceedingly friendly and let me take all of the pictures that I wanted, but everyone that I spoke with was beyond excited to learn that their place of work was the site of the famous Ferris Bueller restaurant scene.  Upon leaving, the manager even told me that he could not wait to start informing people of Nobu's famous cinematic connection.  AND, much to the Grim Cheaper's delight, the eatery offers a very reasonable Happy Hour every single night (even Saturdays and Sundays!) in the bar and lounge area.  This obviously goes without saying, being that the restaurant is known for being a culinary giant, but the food there was absolutely incredible!  To say that the GC and I are in love with the place would be a gross understatement.  And the cherry on top of my evening was when I discovered that the main body and layout of Nobu is exactly the same as that of L'Orangerie, so the place is still somewhat (albeit very, very remotely) recognizable from Ferris Bueller.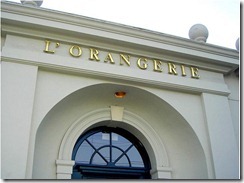 A couple of months back, I happened to find a Flikr photo album featuring pictures of L'Orangerie that a foodie blogger named Abby, from the Pleasure Palate website, had posted online.  I contacted Abby and asked if she would be willing to let me feature her photographs in this post and she not only wrote me back immediately, but graciously agreed.  A HUGE, HEARTFELT thank you goes out to her.  All of the pictures of L'Orangerie which appear in this post were taken by her, unless otherwise noted.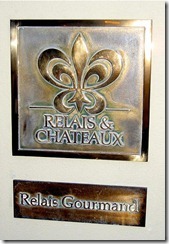 According to the book Hollywood & the Best of Los Angeles Alive!, L'Orangerie was one of only two L.A.-area eateries that counted itself as a member of Relais & Chateaux, an extremely exclusive luxury hotel and gourmet restaurant group whose mission is to spread its "unique art de vivre across the globe by selecting outstanding properties with a truly unique character".  Alive!, which was published in 2002, also states, "The only restaurant in Los Angeles that is more expensive than L'Orangerie is Ginza Sushi-Ko in Beverly Hills, a sushi place that is the most expensive restaurant in the US, at around $300 a person."  Can you imagine if the GC and I had actually had a chance to stalk L'Orangerie when it was still in operation?  One glance at the menu and he would have had a full-blown heart attack on the spot!  L'Orangerie, which is French for "the orangery" – a beautifully-constructed greenhouse- or conservatory-type structure that was popular in Europe from the 17th to the 19th centuries and was used to house orange trees during the cold winter months – was originally founded in 1978 by native French couple Gerard and Virginie Ferry.  The restaurant quickly became one of Los Angeles' most premiere and exclusive eateries and remained so until it closed on December 31st, 2006, at which point the Nobu Group took over and an extensive remodel was begun.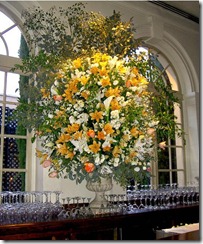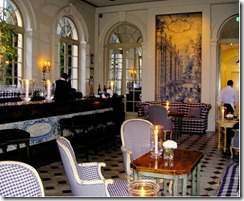 Nobu opened in the Spring of 2008 and, while the dark, sleek, modern design is completely different from L'Orangerie's bright, white, terraced-look, the overall shape and layout of the structure remains exactly the same.  L'Orangerie was composed of four dining areas – the bar and lounge;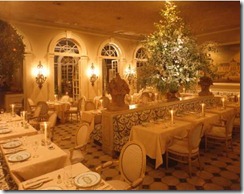 the main dining room (the picture above is from Mariani's Virtual Gourmet Newsletter, but I believe it originally came from the now-defunct L'Orangerie website);
the outdoor terrace;
and the central courtyard . . .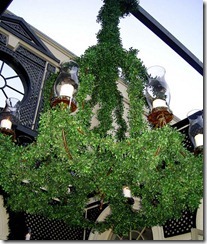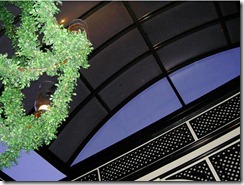 which featured a retracting roof.
Nobu is also comprised of those same four dining areas – the bar and lounge;
the main dining room, which is on the northern side of the restaurant;
the terrace, which has since been enclosed and is now where one enters the restaurant;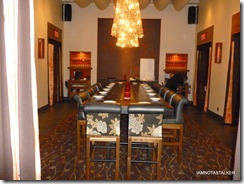 and the central courtyard, which still features a retractable roof.  If you will notice above, the room has six curtained doorways which are in the same spot where the French doors which opened to the courtyard were located when it was L'Orangerie.  So incredibly cool!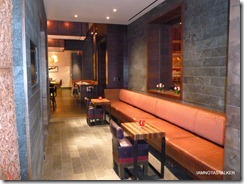 There is also an additional lounge area which links all of the rooms together.  That lounge area is the former L'Orangerie lobby, aka the spot where Ferris Bueller (aka Matthew Broderick) famously had his girlfriend, Sloane Peterson (aka Mia Sara), call Chez Quis to ask for Abe Froman, the Sausage King of Chicago.
In Ferris Bueller's Day Off , Ferris, Sloane, and Ferris' best friend, Cameron Frye (aka Alan Ruck), dine at Chez Quis while playing hooky from school.  And while the exterior of the restaurant was actually the exterior of a private home located at 22 West Schiller Street in Chicago . . .
. . . all of the interiors were shot on location at L'Orangerie.
Including, I believe, the bathroom scene, in which Ferris delivers a long narrative to the camera while his father is, unbeknownst to him, using a nearby stall.  I am kicking myself right now that I did not send the GC into Nobu's men's room to see if at all resembled the shape and size of the Ferris Bueller bathroom.  Ah well, next time.
Because L'Orangerie was so incredibly picturesque, it saw more than its fair share of filming over the years.  In the Season 1 episode of The Colbys titled "A House Divided", L'Orangerie played itself as the spot where Sable Scott Colby (aka Beverly Hills, 90210's Stephanie Beacham) had lunch with Zach Powers (aka Ricardo Montalban).  As you can see in the second screen capture above, the entryway area looks exactly the same in The Colbys as it did in Ferris Bueller. Even the podium is a perfect match. Love it!
In the Season 3 episode of Hart to Hart titled "Blue and Broken-Harted", L'Orangerie was where Jonathan Hart (aka Robert Wagner) and Jennifer Hart (aka Stefanie Powers) had lunch and ran into gossip columnist George Christy, who played himself.  While there, Jennifer confronts Jonathan about her fear that he is having an affair.  In 1982, when the episode was filmed, L'Orangerie did not have a front patio area, but one was later built, along with a large cement wall which surrounded it.
In the "Blue and Broken-Harted" episode, Jonathan and Jennifer dined in pretty much the same spot where the Ferris Bueller gang dined.
In 1982's Bare Essence, L'Orangerie popped up as "the chicest restaurant in town" where clothing designer Matt Phillips (aka Joel Higgins) took New-York-newcomer Tyger Hayes (aka Genie Francis) for lunch.
In the 1983 made-for-television movie Making of a Male Model, L'Orangerie stood in for the supposed New York restaurant where Kay Dillon (aka Joan Collins) met male model Tyler Burnett (aka Jon-Erik Hexum) upon his return to Manhattan.
In 1985's St. Elmo's Fire, L'Orangerie stood in for the supposed Washington, D.C.-area restaurant where Kirby Keger (aka Emilio Estevez) and Dale Biberman (aka Andie MacDowell) went on a very brief date.
In 1985's Brewster's Millions, L'Orangerie was where Montgomery Brewster (aka Richard Pryor) took hundreds of random people for lunch immediately after inheriting $30 million.
In 2003's Intolerable Cruelty, L'Orangerie was featured as the spot where Miles (aka George Clooney) met Marylin (aka Catherine Zeta Jones) for an introductory dinner.
Most recently, L'Orangerie appeared in the Season 2 episode of The Closer titled "Aftertaste" as L'Amboise, the eatery where Walter LaSalle (aka Francois Giroday) was arrested and where restaurant critic Tom Newman (aka John Billingsley) confessed to the murder of Karen Bevis (aka Julie Wagner).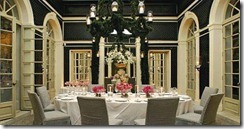 I also spotted L'Orangerie pop up in a movie or television show that I watched a few months back, but, for whatever reason, I failed to write the information down in my stalking notebook and now, for the life of me, I cannot remember what it was.  I have been wracking my brain for the past two weeks trying to figure it out, all to no avail.  Ironically enough, while I had mentioned the movie or television show to Mike, from MovieShotsLA, back when I spotted it, he also cannot remember what it was.  He has spent countless (and I do mean countless) hours over the past few weeks trying to help me figure it out, though.  At one point, he texted me that he was looking through the 60th page of L'Orangerie search results on Google.  The 60th page!!!!!  All of the information in this post actually came from his extensive research.  So thank you, Mike!  All that work, though, and neither of us did ever figure it out.  L'Orangerie's courtyard (a photograph of which – one that I got off of the EaterLA website, who in turn got it from the Relais & Chateaux website – is pictured above) is the room that I remember appearing in the production.  Does it look familiar to anyone?  I know the answer will come to me as soon as I stop thinking about it, and when it does, I will update this post.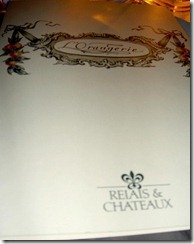 Fellow stalker Gilles in France also let me know that L'Orangerie was featured in both the pilot episode of L.A. Law and the 1982 Danielle Steele made-for-television movie Secrets, but unfortunately neither of those productions are available for rent or download anywhere, so I was unable to make screen captures of them for this post.
I can say with certainty, though, that L'Orangerie was not the restaurant that appeared in Some Kind of Wonderful, as some websites have stated.  Some Kind of Wonderful was filmed just down the street at the former L'Ermitage restaurant, now Koi, located at 730 North La Cienega Boulevard.
There have also been some online reports that The Blues Brothers was filmed at the same restaurant as Ferris Bueller, but, as you can see above, that information is incorrect, as well.  The Blues Brothers was actually filmed at Chez Paul, the legendary French establishment that was formerly located at 660 North Rush Street in Chicago, Illinois.  You can read more about that location on The Blues Brothers Central website here.
Besides being a filming location, L'Orangerie was also a major celebrity hotspot.  Motley Crew's Vince Neil and former Playboy Playmate Heidi Mark were married there on May 28th, 2000, as were Fred Savage and Jennifer Stone on August 7th, 2004.  Rob Lowe's 40th birthday party was held at the restaurant.  Teri Hatcher and Ryan Seacrest once had a date there, Ronald and Nancy Reagan were regulars, and Brad Pitt and my girl Jen Aniston shocked fellow patrons by cuddling during a three-hour candlelit dinner just a few weeks after announcing their separation.  Brad also supposedly took Angelina Jolie to L'Orangerie for a meal during the filming of Mr. and Mrs. Smith, which I, of course, was not especially happy to hear.
L'Orangerie- the Ferris Bueller restaurant
You can watch a video which shows the interior of the former L'Orangerie restaurant by clicking above.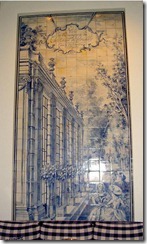 Big THANK YOU to Chas, from the It'sFilmedThere website, for finding this location and an even BIGGER THANK YOU to Mike, from MovieShotsLA, for going above and beyond the call of duty (of both stalking and friendship) by spending countless hours doing research for me and reading through 60-plus pages of search results on Google while trying to figure out what movie it was that I had seen recently that had been filmed at L'Orangerie.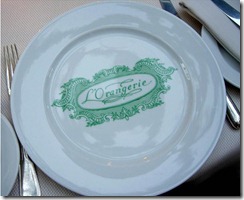 And a HUGE thank you to Abby, of the Pleasure Palate website, for so graciously allowing me to feature her photographs of L'Orangerie restaurant on my website.  This post would not have been the same without her fabulous pictures!  You can read Abby's write-up on her dining experience at L'Orangerie here.
Until next time, Happy Stalking! 
Stalk It: Nobu, aka the former L'Orangerie restaurant, aka the interior of Chez Quis from Ferris Bueller's Day Off, is located at 903 North La Cienega Boulevard in West Hollywood.  You can visit the restaurant's official website here.
45007