George's Childhood Home from "Blow"
Jan 25th, 2012 | By
Lindsay
| Category:
Movie Locations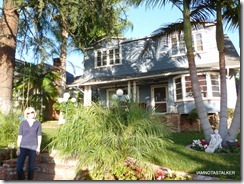 This past Saturday morning, after waking up to a torrential downpour and then waiting a few hours for it to pass, the Grim Cheaper suggested that we head south to the city of Whittier to do some stalking of Whittier High School, aka Hill Valley High School from Back to the Future, which, amazingly enough, in all my years of stalking I had yet to visit.  And I should mention here that while I do absolutely love me some BTTF and have stalked quite a few of its locales, I have yet to blog about any of them as The Big Waste of Space Photologue features a Back to the Future Tour in which each and every one of the movie's sites is painstakingly documented.  I have long been of the opinion that, unless I have something to add to the mix, there is no reason to blog about places that have already been reported on and since BTTF has been done, and done quite well, I figure my stalking "talents" are best left to more uncharted territory.  Anyway, the GC and I had an absolute blast stalking Whittier High School and while I might do a blog on my experiences there sometime in the future, for now I thought I would write about the other places we visited, one of which was the childhood home of George Jung (Johnny Depp) from the 2001 movie Blow.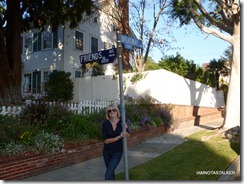 While doing some stalking on Painter Avenue in the Whittier Historic Neighborhood Association area, I happened to run into a homeowner who informed me that one of the properties on a nearby street had been used as George's childhood home in Blow.  And while she did not remember the exact property used, she pointed me in the right direction.  From there, I contacted Mike, from MovieShotsLA, to see if he would email me some screen caps of the residence in question so that I could attempt to track it down while I was in the area.  Mike's response?  "Oh, I know where that house is – it's at 6216 Friends Avenue."  LOL  I really should have known – if a property has anything to do with filming and is located anywhere in the vicinity of greater Los Angeles, chances are Mike is going to know about it.  So, with the address firmly in hand, I immediately dragged the GC right on over there.  On our way, I just had to pull over and take a picture with the Friends Avenue street sign – for reasons that should be imminently clear to all of my fellow stalkers. 

LOVE IT!
George's childhood home, where he lives with parents Ermine Jung (Rachel Griffiths) and Fred Jung (Ray Liotta) and which is said to be located in Weymouth, Massachusetts, shows up quite a few times in Blow.  It first pops up at the very beginning of the movie in the scene in which George is describing his background to the audience.
It is next featured in the scene in which George skips bail to go see his parents after the death of his girlfriend, Barbara Buckley (Franka Potente).  While there, Ermine calls the police on him and he winds up being rearrested.
It later appears in the scene in which George visits his parents yet again in order to tell them that he is going on the lam and might not be in touch for a while.
And it lastly pops up towards the end of the movie in the scene in which Fred listens to a message that George has tape-recorded for him.
In real life, the Blow house, which was originally built in 1924, boasts 4 bedrooms, 3 baths, and 2,734 square feet of living space.  And while it does look similar to how it appeared onscreen, I actually much prefer the color scheme from the movie to the colors it is currently painted.
And while I am fairly certain that the real life interior of the residence was also used in the filming, I was unable to find any interior photographs of the house online with which to verify that hunch.
Big THANK YOU to Mike, from MovieShotsLA, for telling me about this location! 

Until next time, Happy Stalking! 

Stalk It: George's childhood home from Blow is located at 6216 Friends Avenue in Whittier.
46236