La Villa Consolata – The Day Spa from the "Driven" Episode of "CSI: Miami"
Feb 2nd, 2012 | By
Lindsay
| Category:
TV Locations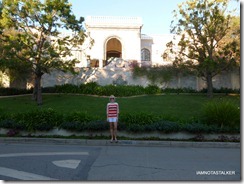 Back in January, a fellow stalker named Brandi left a comment on my post about the mansion from The Beverly Hillbillies movie informing me that the property's indoor spa had not actually been used in the Season 4 episode of CSI: Miami titled "Driven", as I had originally presumed, but that that spa could actually be found at a different ostentatious estate, this one on Mapleton Drive in Beverly Hills.  One quick online search and I discovered that Brandi was, indeed, correct and I immediately added the residence to my "To-Stalk" list.  As fate would have it, just a few days later, the Grim Cheaper and I happened to be watching the 2001 romantic comedy Good Advice (for about the hundredth time, mind you – it is one of our favorite movies EVER!) and I just about fell off the couch when I spotted the very same spa from CSI: Miami!  So I decided that I just HAD to stalk the estate as soon as possible and dragged the GC right on out there this past Saturday afternoon.
As you can see above, in real life, the "Driven" mansion is absolutely GINORMOUS and actually looks more like a palace than a private residence.  In fact, according to the Wikinfo website, the property is one of the largest single family homes in all of the United States!  Ironically enough, while we were stalking the dwelling, a Hollywood tour van happened to pull up and the guide announced that the estate had once been leased by Donatella Versace, to which the GC yelled out, "It was also featured in an episode of CSI: Miami!"  Thanks for having my back, honey! 

And while I cannot find any information online to back up the Donatella Versace claim, it does look like exactly the sort of place that I would imagine her living.  There are also a few internet reports floating around that the home was lived in (at different times, of course) by both Janet Jackson and Tommy Hilfiger, but I believe that information is incorrect.  According to CurbedLA, the residence was originally built in 1993 by Pacific-Brokerage-Services-founder Steven Wallace and was awarded to his ex-wife, Jo-Anne, in their divorce shortly thereafter.  Current property records show that Jo-Anne still owns the mansion to this day, although it is possible she rented it out to various celebrities over the years.
As you can see in the above photographs from the home's MLS listing, the 6-bedroom, 7-bath, 27,816-square-foot abode, which sits on 1.15 well-manicured acres of land, is nothing short of unbelievable!  The property, dubbed "La Villa Consolata", features a whopping eight fireplaces!, a domed entryway, a gourmet kitchen, formal gardens, a gym, an indoor and an outdoor pool, a massage room, a game room, a two-level library (which I would give anything to have in my own home!), a master bedroom wing, three elevators!, staff quarters, three family rooms, a detached theater, a guard house, a wine cellar, and a three-level underground disco named "Atlantis"!  Who knew that those kinds of amenities were even available in homes?!?!  And while the residence has been on and off the market for a couple of years now, it seems to currently be back on again at the bargain price of $27.5 million.  You can check out the dwelling's real estate website and see more photographs of it in all of its ornate grandeur here.
In the "Driven" episode of CSI: Miami, La Villa Consolata stood in for a supposed Dade-County-area day spa where a group of wealthy women are robbed at gunpoint.
The mansion's indoor lap pool was used extensively in the episode.
That pool area is pictured above and I have to say that it is pretty darn magnificent!
The interior of La Villa Consolata also masqueraded as a second location in "Driven".  Towards the end of the episode, the mansion stood in for the residence belonging to Cynthia Gilmore (Jacqueline Pinol), where a home-invasion robbery took place.
In Good Advice, La Villa Consolata's indoor pool is where Cathy Sherman (Rosanna Arquette) attends a yoga class and gets interrupted by a phone call from her husband, Barry Sherman (Jon Lovitz).  I SO love that Cathy has a coffee with her while practicing yoga, by the way!  SO something I would do! 

In the Season 1 episode of Charmed titled "The Wedding from Hell", La Villa Consolata's front exterior;
interior;
and backyard stood in for the mansion where Mrs. Grace Spencer (Barbara Stock) lived.
Oddly enough, though, the mansion grounds shown in the beginning of the episode are unmistakably those of The Huntington Library and Botanical Gardens in San Marino, which I blogged about way back in October of 2008.  I have no idea why two different locations would be used to stand in for the same backyard, but I am guessing that it was some sort of a timing issue in which La Villa Consolata was not available for the entire stretch of time that was needed to film "The Wedding from Hell", so producers found a similar-looking spot to double for it in certain scenes.
Big THANK YOU to fellow stalker Brandi for finding this location! 

Until next time, Happy Stalking! 

Stalk It: La Villa Consolata, aka the mansion from Good Advice, the "Driven" episode of CSI: Miami and "The Wedding from Hell" episode of Charmed, is located at 330 South Mapleton Drive in the Holmby Hills section of Los Angeles.  The home used for all of the backyard scenes in Mommie Dearest is located across the street at 355 South Mapleton Drive.
46714