Charlie Babbitt's Apartment from "Rain Man"
Feb 9th, 2012 | By
Lindsay
| Category:
Movie Locations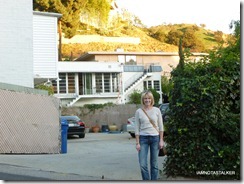 A couple of weeks ago, I read on fellow stalker Lisa's Finding the Famous blog that the apartment building where Charlie Babbitt (Tom Cruise) lived in the 1988 movie Rain Man was located somewhere in the Hollywood Hills.  I, of course, immediately started trying to track down the building's exact location and fairly quickly found the information I was seeking thanks to my buddy E.J. over at The Movieland Directory.  E.J.'s website has actually been on a "hiatus" since January 8th of this year, while it is being updated from its previous database of 20,000 movie locales and celebrity addresses to one of over 90,000.  And while that all sounds well and good, this stalker has been simply lost without the website, as I use it almost daily as a resource.  When I emailed E.J. to tell him of my plight, he immediately sent over an extremely large Excel spreadsheet containing all 90,000 of his extensively-researched addresses for me to refer to at will.  Um, how do I even begin to say thank you for that???  Needless to say, the gesture was GREATLY appreciated.  And while I have to admit that I am, for whatever reason, supremely Excel-challenged, I have been using his database regularly and was able to find the location of the Rain Man apartment building with sufficient ease.  Thank you, "Ctrl-F" and thank you, E.J.!  So I dragged the Grim Cheaper right on out there to stalk the place this past weekend.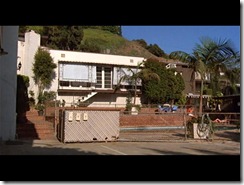 Charlie Babbitt's apartment building shows up only once, and very briefly, towards they end of Rain Man, in the scene in which Charlie brings his newly-found autistic brother, Raymond Babbitt (Dustin Hoffman), home to Los Angeles after a long road trip across America.  It is at the building that Raymond freaks out after setting off the fire alarm while attempting to cook Eggo Waffles in a convection oven.
The area of the apartment building shown in Rain Man is not the front exterior, but the west side, which, thankfully, still looks much the same today as it did when the movie was filmed in 1988, despite the fact that almost two and a half decades have since passed.  The only difference I could spot is that the chain link fence which once surrounded the pool has since been replaced with a wooden fence.  But otherwise, the place looks exactly the same in person as it did onscreen.  So incredibly cool!
The front exterior of the building is pictured above.  According to fave website Zillow, the dwelling was originally constructed in 1926 and measures 3 bedrooms, 3 baths, and 2,201 square feet.  And while I could not find much information about the place online, I am guessing that it is comprised of 3 separate apartment units.  I also learned from E.J.'s extensive files that actor Brad Pitt once lived on the premises sometime during the '90s, so the property has quite an extensive claim to fame!
I am fairly certain that the real life interior of the building was also used in the filming of Rain Man, although I, unfortunately, could not find any interior photographs of the place online with which to verify that hunch.  And, legend has it that a lithograph of Tom Cruise, that was given to him during the production, still hangs in the property's laundry room to this day.  Oh, what I wouldn't give to get in there to see that!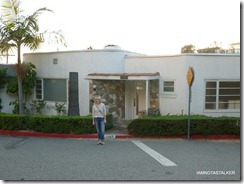 Big THANK YOU to fellow stalker Lisa, from the Finding the Famous blog, for informing me of this location and to my friend E.J., of The Movieland Directory website, for tracking it down. 

Until next time, Happy Stalking! 

Stalk It: Charlie Babbitt's apartment building from Rain Man is located at 8800 Evanview Drive/1599 Sunset Plaza Drive in the Hollywood Hills.  The area of the building that was shown in the movie can be seen from Evanview Drive, just west of where it intersects with Sunset Plaza Drive.
47170