Oliver's Palm Springs House from "The O.C."
Feb 15th, 2012 | By
Lindsay
| Category:
TV Locations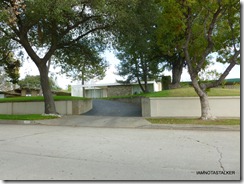 As I mentioned a few weeks ago, the Grim Cheaper and I have just recently started watching fave series The O.C. over again from the beginning and one location that popped up during the first season that I have been absolutely dying to find and stalk was the supposed-Palm-Springs-area house that belonged to troublemaker Oliver Trask (Taylor Handley) in the episode titled "The Links".  So imagine my surprise when fellow stalker Geoff, of the 90210Locations website, randomly emailed me last week, after seeing my post on Café-Club Fais Do-Do (which stood in for a Tijuana nightclub in one of The O.C.'s early episodes), to let me know that he had tracked down a few of the show's more elusive locales, one of which was Oliver's Palm Springs residence!  I kid you not!  As you can imagine, I was absolutely bowled over by this information and, as I told Geoff, would have run out to stalk the place right then and there had it not been pouring at the time.  When the rain finally did subside the following morning, I, of course, rushed right on over to the house to finally stalk it.  Yay!
In "The Links" episode of The O.C., Oliver invites the Newport gang – Ryan Atwood (Ben McKenzie), Seth Cohen (Adam Brody), Marissa Cooper (Mischa Barton), Luke Ward (Chris Carmack), Summer Roberts (Rachel Bilson), and Anna Stern (Samaire Armstrong) – to spend the weekend with him at his parents' mid-century-modern-style home in Palm Springs, which he states is located "right on PGA West".  And while Geoff originally thought that the property was in Huntington Beach, near the Seacliff Country Club where the group played golf in the episode, he came up completely empty-handed after searching the area.  Then, a few months later, while trying to track down a different locale in South Pasadena, he spotted a house on Arroyo Drive that looked vaguely familiar.  He was unsure of where he had seen the residence before, but made a note of the address.  It was not until a couple of weeks afterwards that he happened to re-watch "The Links" episode of The O.C. and realized that the house that had looked so familiar was Oliver's.  Nicely done, Geoff!
In real life, the 3-bedroom, 3-bath, 3,032-square-foot home, which was originally built in 1959 and sits on almost half an acre of land, is pretty darn spectacular!  In fact, the main reason that I wanted to stalk the property so badly, besides the fact that it appeared on The O.C. of course, was that I had fallen in love with its mid-century-style architecture pretty much as soon as it had appeared on my TV screen.  And I am very happy to report that, in person, the place did not disappoint.
As you can see above, the residence most definitely does look like a Palm-Springs-area home, so it is not very hard to see why producers chose to use it in "The Links" episode.
The real-life interior of the property, and even some of the real-life furniture – both of which you can see photographs of here – were also used in the episode.
I am fairly certain, though, that the bedrooms where Ryan, Marissa, Seth, and Anna stayed were just sets that were built inside of a soundstage at Raleigh Studios Manhattan Beach where the series was lensed, as they do not seem to match the real-life interior of the house.
Big THANK YOU to fellow stalker Geoff, from the 90210Locations website, for finding this location! 

Until next time, Happy Stalking! 

Stalk It: Oliver's Palm Springs house from "The Links" episode of The O.C. is located at 534 Arroyo Drive in South Pasadena.
47417