Barb's Quickie Grill from "Pretty Woman"
Feb 24th, 2012 | By
Lindsay
| Category:
Movie Locations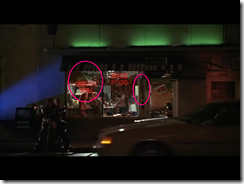 Another Pretty Woman location that I spent countless hours trying to track down recently was the tiny café where Vivian Ward (Julia Roberts) and Edward Lewis (Richard Gere) had dinner towards the end of the classic 1990 flick.  And while the name of the establishment – "Barb's Quickie Grill" – and a street number – "7006" – were clearly visible in the scene, and a quick Google search had provided me with an address – 7006 Santa Monica Boulevard in Hollywood – this particular locale actually turned out to be quite the difficult find.  Thanks to a January 2008 Los Angeles Times article, I knew that the restaurant had closed its doors in 1999, but was shocked to discover, when searching on Google Street View, that the structure that had once housed it was nowhere to be found.  The place had seemingly just disappeared right off the sidewalk.  So I immediately dragged the GC right on out to Hollywood to do some in-person investigating, but when we got there, the mystery only deepened.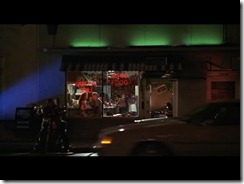 In Pretty Woman, Barb's Quickie Grill did not appear to be flush with the gray façade seemingly located behind it, so I made the assumption that the eatery was a small structure situated in the space in front of it.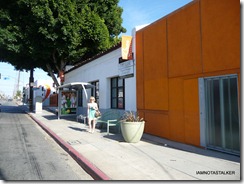 As you can see above, the vertical grooves running down the orange building currently located at 7006 Santa Monica Boulevard clearly match up to those of the gray building visible behind Barb's Quickie Grill in Pretty Woman.  But, as you can also see above, the sidewalk in front of the orange building is nowhere near big enough to have once housed a restaurant, even one as tiny as Barb's.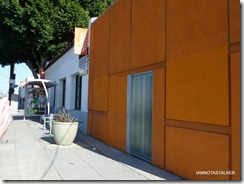 Perplexed, I returned home, whereupon I enlisted the help of fellow stalkers Mike, from MovieShotsLA, and Scott, from the FindaDeath website, and for the next few days the three of us put in quite a bit of elbow grease doing research on the former eatery.  I even purchased a copy of the book Fantastic Dives, in which the diner had been featured, hoping it would provide some clarity.  Sadly, it did not.  It was not until Mike found this image on the Scotty Moore website that we realized that the lighting and camera angles of Pretty Woman had created an optical illusion and that Barb's was not a structure that had been located in front of the orange building, but that it actually was the orange building!  Doh!  You can check out some fabulous historic pictures of the eatery that were just added to The Bruce Torrence Hollywood Photograph Collection website here, here, and here.
The history behind the eatery is almost as heart-warming as the movie in which it once appeared and was actually the main reason I was so darn intent on finding the place.  The establishment was originally founded as "Lou's Quickie Grill" by Lou Shulkin and his wife, Anita, at a storefront on the corner of Santa Monica Boulevard and Highland Avenue in 1954.  A young L.A.-transplant from Oklahoma City named Barbara Knox started working, first as a dishwasher, then as a waitress, at the short-order café just a short time later.  In 1960, the Grill moved a few blocks west to 7006 Santa Monica Boulevard, directly next door to Radio Recorders (pictured above), the then-largest recording studio in the country.  It did not take long for the legendary vocalists working at RR, as well as countless celebrities filming at other nearby studios, to discover Lou's.  Just a few of the luminaries who frequented the 12-stool diner throughout its 54-year history include Drew Barrymore, Denzel Washington, James Garner, Ronald Reagan, The Lennon Sisters, Orson Welles, Martin Sheen, Richard Crenna, Bill Cosby, Herb Albert, Buddy Ebsen, Mel Blanc, Jack Benny, and Lawrence Welk.  And while Elvis never actually set foot inside of the establishment, he is said to have ordered deliveries from Lou's each time he recorded music at RR.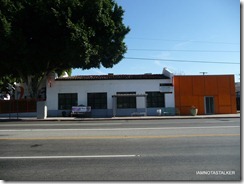 Amazingly enough, when Lou and Anita decided to retire in August of 1987, they handed the Grill over to Barbara AT NO COST, despite the fact that they had been offered "tremendous" money for the place over the years.  The Shulkins had come to view Barbara as a daughter and, because their own children had established careers in areas outside of the restaurant business, they could think of no better person to endow their beloved café to.  So, in late August, Lou, Anita, and Barbara headed down to the Los Angeles County Hall of Records and Lou signed the restaurant over to his long-time waitress.  The following morning he had the metal "Lou's Quickie Grill" sign taken off of the roof of the building and replaced with a new neon window sign which read "Barb's Quickie Grill".   According to a January 17th, 1988 Lakeland Ledger article, of the incredible gift, Barbara said, "Lou couldn't give me a gold watch and a handshake and just walk way, like anybody else would.  He's not that kind of man."  Barbara continued to run the restaurant successfully, with frequent visits from her benefactors, until 1999, when she regrettably had to close the doors due to an ongoing battle with Alzheimer's.  She sadly passed away in 2008, at the age of 74.  Sometime after the Grill was closed, the space was taken over by Studio 56, which had replaced Radio Recorders, and was completely remodeled.  You can read an August 18th, 1987 Los Angeles Times article about the Grill here and a January 12, 2008 Los Angeles Time article about Barbara's passing here.
In Pretty Woman, Barb's Quickie Grill appeared very briefly during the montage scene in which Edward takes the day off of work to spend time with Vivian.
Barbara Knox was even featured in the background of the scene.  So incredibly cool!
Finding this location was definitely a group effort, so a big THANK YOU goes out to Mike, from MovieShotsLA, and Scott, from the FindADeath website, for their help. 

Until next time, Happy Stalking! 

Stalk It: Barb's Quickie Grill, from Pretty Woman, was formerly located at 7006 Santa Monica Boulevard in Hollywood.  The location now houses the offices of a CPA and is virtually unrecognizable from its onscreen appearance.
48292