George Valentin's Duplex from "The Artist"
Mar 6th, 2012 | By
Lindsay
| Category:
Movie Locations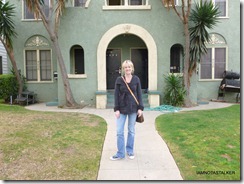 As I mentioned way back in early 2010 in my post about Julia Child's childhood home, one of the best parts about being in the Screen Actors Guild is the fact that all Guild members are sent several "For Your Consideration" DVDs just prior to the SAG Awards each year.  One of the DVDs that I received this particular year was The Artist and I have to say that I thoroughly enjoyed it.  Out of all of the movies nominated, I definitely think it deserved to win the Best Picture Oscar for 2012.  The concept was completely novel, the cinematography beautiful, the acting stellar, and best of all, in my opinion at least, was the fact that it featured numerous Los Angeles-area locations.  It was actually My Week with Marilyn, though, that knocked my socks off and won my SAG vote for "Outstanding Performance by a Female Actor in a Leading Role".  Michelle Williams was absolutely PHENOMENAL in it and not only managed to capture Marilyn's walk, voice and mannerisms, but also that quality that MM had of not being able to take your eyes off of her.  How that characteristic can be acted is absolutely beyond me, but Michelle did it, and seamlessly at that.  I honestly cannot say enough good things about My Week with Marilyn or Michelle's performance in it and I am beyond saddened that she did not take home the Academy Award!  I mean, honestly, how many does Meryl Streep really need?  But I digress.  Anyway, as soon as I finished watching The Artist, I, of course, immediately started searching for the many locales featured in it, the most important of which was the duplex where silent film actor George Valentin (Jean Dujardin) lived towards the end of the flick.  Thankfully, Mike, from MovieShotsLA, was able to track it down fairly quickly for me, and the two of us dropped by to stalk it while in the area a couple of weeks ago.
In The Artist, George Valentin sees his career falter during the advance of "talking" pictures, much like real-life silent film actor Douglas Fairbanks, on whom the character of George seems to be loosely based.  After divorcing his wife Doris (Penelope Ann Miller), George is forced to move out of his ornate Hollywood estate – which is located inside of the gated Fremont Place neighborhood in Hancock Park, just a few doors down from the Taken mansion, which just so happens to be where Peppy Miller (the absolutely adorable Berenice Bejo) lived in The Artist – and into the duplex pictured above.  It is while living in the duplex that George (SPOILER ALERT) burns copies of his former films, accidentally setting fire to the property and almost killing himself in the process.
I sent screen captures of George's duplex to Mike shortly after I first watched The Artist and, like me, he was convinced that the property was located somewhere in Hancock Park.  And while we spent more than a few fruitless hours looking for it there, we both came up completely empty-handed.  It was not until Mike expanded his search a couple of miles to the south that he finally found the right place, just a few blocks north of the 10 Freeway.  And I am very happy to report that the building, which in real life was originally built in 1924, looks exactly the same in person as it did onscreen.
As does the sidewalk in front of the duplex, which also appeared in the movie.
Because the interior of George's residence was very non-descript and because the ceilings were abnormally high, I am fairly certain that a set was used and not the actual duplex.
Big THANK YOU to Mike, from MovieShotsLA, for finding this location! 

Until next time, Happy Stalking! 

Stalk It: George Valentin's duplex from The Artist is located at 4056 West 21st Street in the Mid-Wilshire area of Los Angeles.
48503