The Self-Realization Fellowship Lake Shrine Temple
Mar 9th, 2012 | By
Lindsay
| Category:
This and That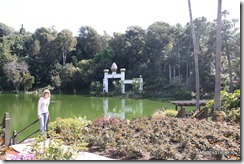 Another location that I stalked while my good friend Nat was in town a few weeks ago was the Self-Realization Fellowship Lake Shrine Temple – a ten-acre public oasis located on Sunset Boulevard in Pacific Palisades that was established by spiritual leader/Kriya Yoga guru Paramahansa Yogananda in 1950.  Because Nat is a dedicated yogi, I thought she would love visiting the site.  Little did I know how much the Grim Cheaper and I would enjoy it, too.  And while the Lake Shrine is not actually a filming location, because it is located on the site of a former movie studio, I thought my fellow stalkers might be interested in it, as well.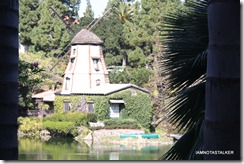 I first learned about the Lake Shrine Temple from Laura Randall's fabulous book Peaceful Places Los Angeles: 100 Tranquil Sites in the City of Angels, which I gifted to the GC for Christmas a few years back.  In the tome, Randall states, "Among my collection of peaceful places, this may be the most famous one in all of Los Angeles."  How was it possible, then, that this stalker had never before heard of it?  As it turns out, the Lake Shrine is one of Southern California's best kept secrets.
The site where the Lake Shrine Temple now sits was originally part of an 18,460-acre plot of land that made up Inceville – Hollywood's first modern movie studio, which was established by producer Thomas Ince in Santa Ynez Canyon in 1912.  For the next four years, hundreds upon hundreds of silent western-style films were shot on the lot.  Sadly, in January 1916, a few days after Thomas had opened a second studio in Culver City, a fire ravaged Inceville, destroying numerous sets.  That fire was the first of many and, by 1922, the lot was rendered virtually useless.  In 1927, after the land had changed hands several times, a real estate developer named Alphonzo Bell, Sr. began hydraulically grading a portion of the site in the hopes of building a new residential community there.  As fate would have it, Bell ran out of money mid-excavation and walked away from the project, leaving a large vacant basin that, thanks to the many underground springs in the area, ended up filling with water.  The basin was neglected until 1940 when H. Everett "Big Mac" McElroy, an assistant superintendent of construction at 20th Century Fox studios, and his wife stepped in and purchased the ten-acre parcel.  Because construction materials were in short supply due to World War II, the couple then had their Mississippi-style houseboat, Adeline, moved to the property and they resided on it for the next few years.  That houseboat still sits on the lake to this day (pictured above).
Mac and his wife eventually built themselves a new residence – one that was modeled after a mill house and which featured a two-and-a-half ton, fifteen-foot working waterwheel that irrigated the land.  The mill house now serves as the Lake Shrine's museum and gift shop.
With their new home completed, the couple then began construction on a three-story replica of 16th-Century Dutch windmill (which has since been transformed into the Shrine's chapel) . . .
. . . as well as a neighboring boat dock and landing.  As you can see above, the grounds are so idyllic they look like they were created by Walt Disney!
In the late 1940s, the McElroy's sold their enchanting lakeside oasis to an oil magnate, who promptly moved into the windmill and set about making plans to build a hotel on the premises.  According to the Lake Shrine's official website, fate stepped in when the magnate had several dreams about his property becoming a "Church of All Religions".  Those dreams prompted him to sell his acreage to Paramahansa Yogananda, founder of the Self-Realization Fellowship, who further landscaped the area and turned it into an open-air shrine dedicated to all religions.  Today, thousands of people each year stop by the Lake Shrine in order to meditate, pray, or simply just sit and appreciate its vast beauty.  According to Seeing Stars, not only was Elvis Presley a frequent visitor to the site, but the memorial service for former Beatle George Harrison was also held on the premises.
The Self-Realization Fellowship Lake Shrine currently consists of the Golden Lotus Archway, which was designed by Paramahansa Yogananda;
the Mahatma Gandhi World Peace Memorial – a "wall-less temple" which houses a portion of the Indian spiritual leader's ashes (the only portion of his ashes to be interred outside of India, in fact);
picturesque waterfalls;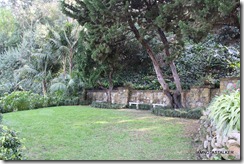 sprawling lawns;
verses from various religious texts displayed on plaques;
statues of Jesus Christ, Saint Francis of Assisi, Bhagavan Krishna, Buddha, and the Madonna and Child;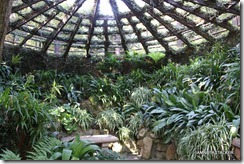 a sunken garden and grotto;
and various animals, including swans;
and, my personal favorite, turtles!  Hard to believe that all of that tranquility is situated on a busy stretch of Sunset Boulevard!  The Self-Realization Fellowship Lake Shrine is an absolutely AMAZING sanctuary that is a must-see for both visitors to the city and longtime Angelinos alike.  I honestly cannot more highly recommend stalking the place!
Until next time, Happy Stalking! 

Stalk It: The Self-Realization Fellowship Lake Shrine Temple is located at 17190 Sunset Boulevard in Pacific Palisades.  You can visit the official Lake Shrine website here.  The site is open to the public Tuesday through Saturday from 9 a.m. to 4 p.m. and both parking and admission are free.
48882