The "Three's Company" Apartment Building
Mar 23rd, 2012 | By
Lindsay
| Category:
TV Locations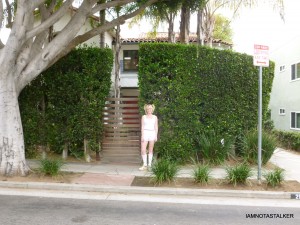 This past Tuesday afternoon, while I was in the hospital awaiting my dad's surgery, I received an email from fellow stalker Owen, from the When Write Is Wrong blog, and I just about jumped out of my chair with excitement. The opening sentences of his email stated, "I'm actually trembling a bit as I type this. I think – think! – I may have found the elusive Three's Company apartment!" Well, let me tell you, as I read those words I literally began to tremble myself! Owen had been on the hunt for the Three's Company apartment building for over two years and the place had long been one of his top five most-wanted-to-find locations. So to receive that email and read those words was BEYOND thrilling. And I took the news as a positive sign that my dad's surgery would go well. Which it did.
Thank you to all of my fellow stalkers for their many well wishes and kind words over the past couple of days, by the way. Anyway, had I not been in Palm Springs at the time, I would have rushed right out to Santa Monica to stalk the place and confirm that it was, in fact, the Three's Company building that very day. But, alas, I had to wait until yesterday afternoon, after I had returned home.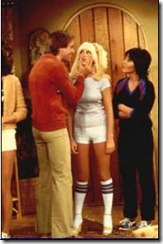 Because the building is such an iconic television location, I decided that I just had to dress up like Chrissy Snow (Suzanne Somers) for the occasion of stalking it, which the GC was none too happy about! And, yes, I know that I am a complete and total dork, but this stalker never, EVER passes up an opportunity to dress in costume. Sadly though, my pictures ended up pretty washed out, but, let me tell you, I had Chrissy's above outfit down to a T!
The story of the search for the Three's Company apartment building is a long one. A while back Owen had found a blurb in Come and Knock on Our Door: A Hers and Hers and His Guide to Three's Company written by Chris Mann which stated, "The only exterior shot of the apartment building – a brief glimpse of the Ropers' apartment – hardly matched the studio version of the apartment exterior. Still, [associate producer Mimi] Seawell had to get clearance to use it from the building's owner in Santa Monica." And while Owen could not find contact information for Mimi Seawell, he did manage to track down Chris Mann last May. Sadly though, when asked if he was aware of the building's address, Chris had this to say, "I wish I knew!!! Nobody I interviewed seemed to remember the exact location of this footage. Such a bummer, because I lived in Venice for three years (just a half mile or so from Santa Monica) and tried to find it on occasion. I really wish I could help here. My best guess is that it's not too far from Rose Avenue, where they took the aerial shots of the boardwalk."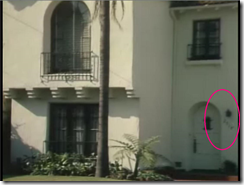 Owen had surmised that the address number barely visible on the Three's Company building was "2314" (the actual number would turn out to be 2912) and immediately set about searching aerial views of all of the 2000 blocks near Rose Avenue in Santa Monica. This proved to be a time-consuming and taxing hunt. As I asked Owen shortly after he had sent me the email saying that he had found the place, how he had done so, he replied, "I found it 'cause I treat searches for a handful of locales I want to find as a challenge and – and this will be a shocker, I know – I hate losing, at anything. I search on and off for the sites on my list. When I saw the reference on your "Challenge Lindsay" page, it inspired me to put the search "on" again today. Found it after about a half hour of Street View searching. What gets me is that you know the apartment dwellers have no clue they live in a place with big-time television history."
Amazingly enough, in real life, the property, which was built in 1928, is not an apartment building at all, but a single-family home that measures 4 bedrooms, 2 baths, and 3,204 square feet. Pretty crazy that one of the most famous apartment buildings in television history is actually a house! As you can see above, the residence is surrounded by a large hedge and gate, which I am sure is why it remained unfound for so long.
And even more amazing still, despite said hedge, the place still looks almost exactly the same today as it did onscreen in Three's Company, over 36 years later! Love it, love it, love it! Gone is Chrissy, Jack, and Janet's round brown door, but otherwise the place has remained mostly untouched.
The Three's Company apartment building showed up briefly each week in the show's opening credits during Seasons 1 through 3. Interestingly enough, according to a Three's Company message board on the SitcomsOnline website, in the unaired pilot episode of the show, a different apartment building, one named "Hacienda Palms", was used. Oh, Owen, I think you have another search on your hands! 😉
A big, HUGE THANK YOU to fellow stalker Owen, of the When Write Is Wrong blog, for finding this location!
Until next time, Happy Stalking!
Stalk It: The Three's Company apartment building is located at 2912 4th Street in Santa Monica.
49966