Fig & Olive Restaurant from the 2012 "Matthew's Day Off" Honda CR-V Super Bowl Commercial
Apr 3rd, 2012 | By
Lindsay
| Category:
This and That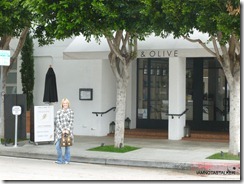 Ever since I first saw the ingenious "Matthew's Day Off" Honda CR-V commercial that premiered during the 2012 Super Bowl on February 6th, I have been absolutely itching to track down the restaurant that appeared in it.  Especially since, a few weeks beforehand, I had stalked and blogged about L'Orangerie, the eatery that stood in for Chez Quis in Ferris Bueller's Day Off, the 1986 movie upon which the two-minute-and-twenty-five-second television spot was based.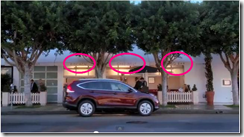 Thankfully, this location was a fairly easy find.  While watching the ad, I had spotted the name "Chez Neuz" painted on the awning of the restaurant – "neuf" being French for "nine", which is, of course, the number of times Ferris Bueller was absent from school in Ferris Bueller's Day Off. ("Nine times?"  "Nine times!" "I don't remember him being absent nine times!"  LOL)  And while the establishment's tongue-in-cheek moniker was obviously a fake, I figured that the other words – "kitchen" and the partially hidden "–ing bar", which I guessed to be "tasting bar" – that were also visible on the awning were most likely real.  And I was right!
Inputting the words "restaurant", "Los Angeles", "kitchen", and "tasting bar" into Google led me to a website for a fairly new eatery in West Hollywood named Fig & Olive.  One quick scan of the photographs pictured there proved that it was a match to what had appeared in "Matthew's Day Off".  Yay!  So I dragged the Grim Cheaper right on out there to stalk the place this past weekend.  Fig & Olive, which was originally founded on the East Coast and has several outposts in Manhattan, first opened its West Hollywood location in March 2011 in an 8,000-square-foot, two-story venue on the corner of Melrose Place and La Cienega Boulevard.  The bright and airy establishment features a 50-foot tasting bar, two patios, a lounge area and a Mediterranean-inspired menu that is brought to life each night by Executive Chef Pascal Lorange, a man who was once the personal chef to both singer Julio Iglesias and former President Bill Clinton.
Thanks to its trendy location, fab menu and chic interior, Fig & Olive became an overnight sensation and has served the likes of Amanda Seyfried, Robert Downey, Jr., Jennifer Aniston, Justin Theroux, Jason Bateman, Elizabeth Banks, Hilary Duff, Rebecca Gayheart, Julianne Hough, Ryan Seacrest, Jimmy Kimmel, John Stamos, Bob Saget, Ryan Gosling, Lea Michele, Ty Burrell, Jesse Tyler Ferguson, Reese Witherspoon, Leonardo DiCaprio, Kevin Connolly, John Krasinski, Emily Blunt, Ryan Phillipe, Kellie Martin, Mila Kunis, Molly Sims, Zac Efron, Drew Barrymore and even President Obama.  Oh, and me and the GC

, who both absolutely fell in love with the place.  Before we arrived there, I had been convinced that Fig & Olive would be extremely snooty, but I am very happy to report that that was not at all the case.  The entire staff was BEYOND nice, especially our bartender who loved the fact that we were only dining there because of the "Matthew's Day Off" commercial.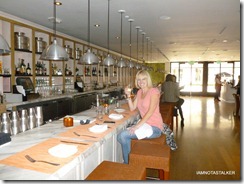 Because the establishment is on the pricy side, the GC and I opted to only grab drinks and a cheese plate appetizer, all of which were uh-ma-zing!  I cannot wait to go back to there for a full meal sometime (ear muffs, GC!).
Fig & Olive was featured three times in the "Matthew's Day Off" commercial, which was directed by The Hangover's Todd Phillips.  The tasting bar area first popped up in the scene in which Walter Linder, Matthew's agent, is shown eating lunch in front of a TV that just so happens to be airing the parade in which Matthew is singing.
Fig & Olive's tasting bar is pictured above and, as you can see, the television set and the wall it was affixed to are not actually there in real life.
The exterior of Fig & Olive then appeared as Chez Neuf, the restaurant where Matthew dropped off his Honda CR-V with a valet, who then, of course, made off with it.
And the restaurant lastly popped at the very end of the commercial, in the scene in which Matthew reenacted his famous "You're still here?" bit from Ferris Bueller.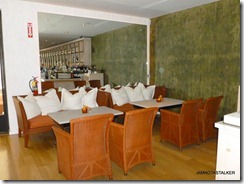 Our bartender informed us that an episode of The Real Housewives of Beverly Hills was also shot at Fig & Olive, but I scanned through both Season 1 and Season 2 of the series earlier today and did not spot it anywhere, so I am guessing that the scene wound up on the cutting room floor.
"Matthew's Day Off" Super Bowl Commercial Filmed at Fig & Olive in West Hollywood
You can watch the 2012 "Matthew's Day Off" Honda CR-V Super Bowl commercial by clicking above.  Apparently, the team at RPA, the advertising agency that created the ad, hid over two dozen references to Ferris Bueller's Day Off in the spot – some obvious, some more subtle.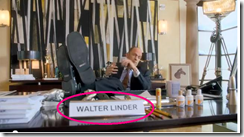 Here are a few that I spotted (and I swear I could sit here all day doing this!) – 1. In the commercial, Matthew's agent is named "Walter Linder".
That same name was listed in the Chez Quis reservation book directly above "Abe Froman" in the movie's iconic restaurant scene.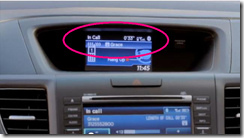 2. The woman that Matthew spoke with using his CR-V's built-in Bluetooth in the commercial was named "Grace" – a nod to Ed Rooney's dimwitted secretary Grace, who was played to perfection by Edie McClurg in the film.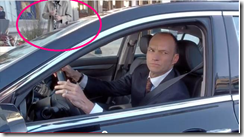 3. In the scene in which Walter Linder spots Matthew driving, a man is pictured behind Walter playing a clarinet.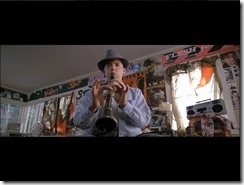 Ferris also played a clarinet in the 1986 film.
The trench coat that the clarinet player is wearing in the commercial is also a reference to the outfit Ferris wore when he picked up his girlfriend, Sloane Peterson (Mia Sara).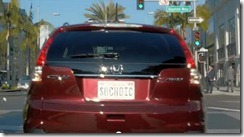 4. In the commercial, the CR-V license plate reads "SOCHOIC", which is a nod to Ferris' line, "I must admit, I love driving it.  It is so choice." about the pilfered Ferrari.  If you are not into searching for the ad's many Ferris Bueller's Day Off references, or "Easter eggs" as they are called, yourself, Entertainment Weekly scored a complete list of them from RPA, which you can check out here.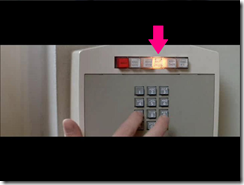 On a Ferris Bueller's Day Off side-note – while making screen captures for today's post, I happened to notice the number 652-9770 (as well as several other variations of it) on the phone Ferris used to call the police while at Chez Quis.  On a hunch, I typed that number into Google, adding an area code of 310, and, sure enough, (310)652-9770 was the actual former number of the now-shuttered L'Orangerie restaurant where that scene was filmed.  Oh, if only I had spotted those digits sooner, I not only would have bypassed countless hours of searching, but I also might have been able to stalk the place while it was still in business.  Ah well!  Hindsight is 20/20, as they say.
Until next time, Happy Stalking! 

Stalk It: Fig & Olive restaurant, from the 2012 "Matthew's Day Off" Honda CR-V Super Bowl commercial, is located at 8490 Melrose Place in West Hollywood.  You can visit the restaurant's official website here.
50832