Poquito Mas on the Sunset Strip
May 14th, 2012 | By
Lindsay
| Category:
This and That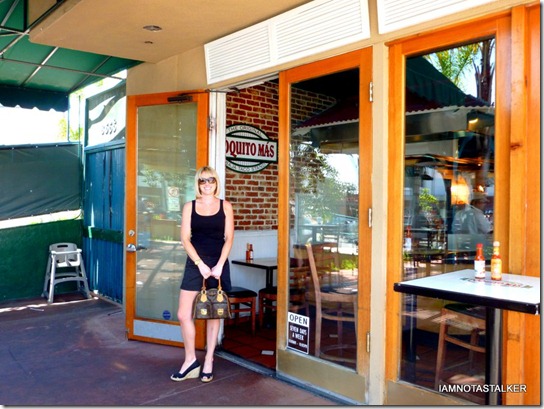 Last month, fellow stalker Ashley, from The Drewseum website, wrote a comment on my Pinches Tacos post which stated that her girl, Miss Drew Barrymore, was often spotted at another West Hollywood-area taqueria, this one named Poquito Mas.  So, because I am always on the lookout for celeb hangouts, and good Mexican food, I immediately added the eatery to my To-Stalk list and dragged the Grim Cheaper right on over there for lunch a few weekends ago.
Poquito Mas, which has the look and feel of a Baja Fresh, but with better food, actually boasts ten locations in the Southern California area – including one on the Warner Bros. lot in Burbank, which Wil Wheaton was apparently thrilled to no end about.  (And I would be remiss if I did not mention here that the WB lot also has a Starbucks onsite.  Um, yes please!  Count me in!  But I digress

). Drew Barrymore's favorite branch, though, is the one located right on the Sunset Strip in West Hollywood.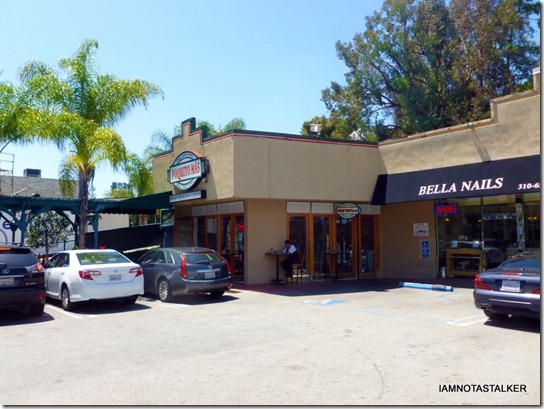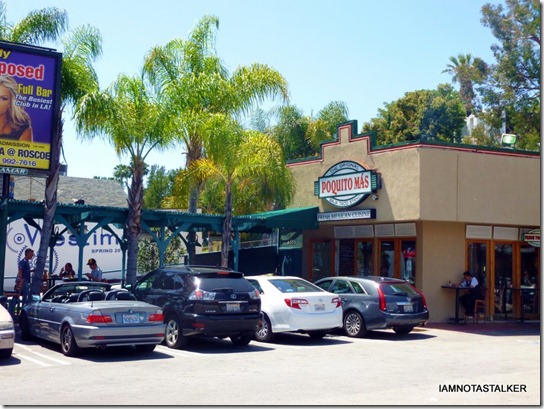 I have to say that Ashley's recommendation was spot on, because Poquito Mas serves up some FABULOUS food!  I ordered a World Famous Chicken Tostada, which I absolutely loved (and, as I have mentioned before, I am very picky about my chicken), while the GC opted for a Classic Chicken Taco and a Classic Steak Taco, both of which he devoured.  While we were dining, we sat on the eatery's patio area, which is situated facing the Sunset Strip, and had an absolute blast counting the numerous Hollywood tour buses that drove by.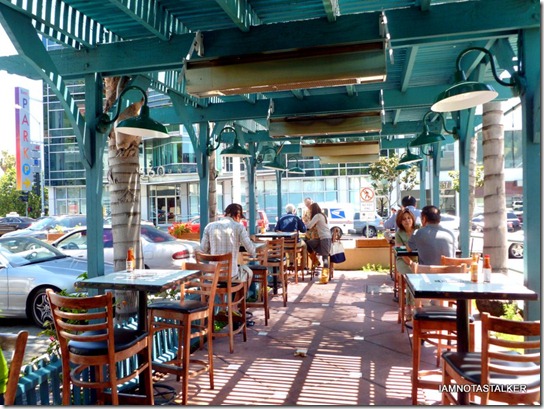 Besides Drew Barrymore, just a few of the stars who have dined at the West Hollywood Poquito Mas include Bonnie Hunt, Kelly Brook, Jonah Hill, Sean "P. Diddy" Combs, Nicky Hilton, Britney Spears, Keanu Reeves, Kris Allen, Adam Lambert, Rebecca Gayheart, and Eric Dane.  And Ashley has spotted Fred Durst, Dyan Cannon, Kelly Osbourne, and Art Alexakis from Everclear during her various visits.  The chain is such a celebrity hotspot, in fact, that the outposts in Thousand Oaks and Westwood post signs that read, "Please no autographs.  No photographs.  Cameras, videotaping, filming & recording devices of any kind are prohibited from use on these premises."  WOW!  "No shirts, no shoes, no service" is one thing, but no autographs?  Puh-leeze!  The place is a fast food taco stand, not The Ivy! 

I did not spot any such "no photography" signs at the Sunset Strip branch, though, so I happily snapped away while I was there.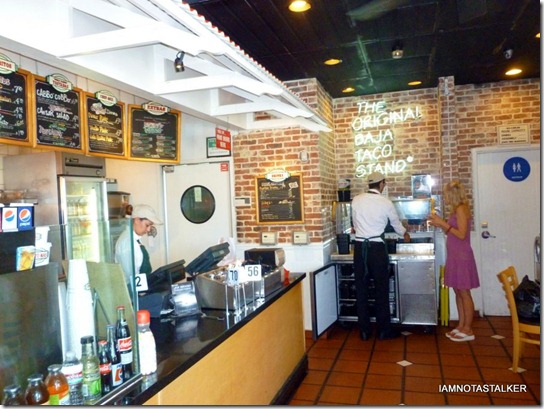 We did spot the sign pictured below, though, which I cannot even being to understand.  10:05?  Really?  Why not 10:07 or 10:09?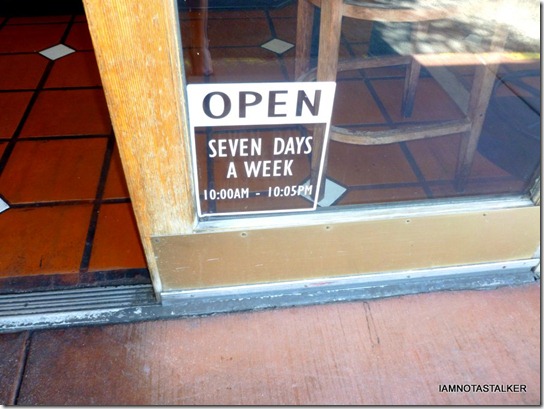 Be sure to "Like" IAMNOTASTALKER on Facebook here and "Friend" me on my personal page here.  You can also check out the IAMNOTASTALKER About Me page here.  And you can follow me on Twitter at @IAMNOTASTALKER.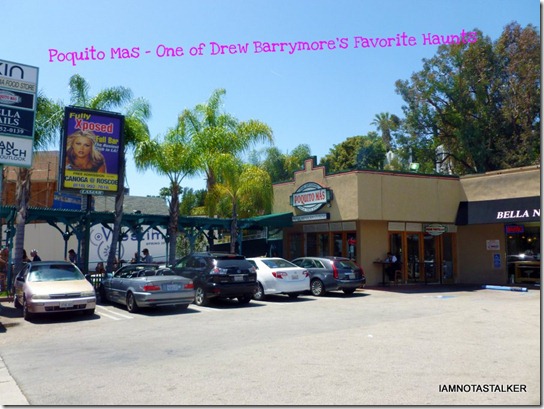 Big THANK YOU to Ashley, from The Drewseum website, for telling me about this location. 

Until next time, Happy Stalking! 

Stalk It: Poquito Mas is located at 8555 West Sunset Boulevard in West Hollywood.  You can visit the restaurant's official website here.
52832