Pinches Tacos from "The Hills"
Apr 10th, 2012 | By
Lindsay
| Category:
The Hills Filming Locations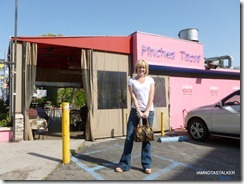 As always seems to happen when Mike, from MovieShotsLA, and I get together, while out doing some stalking in West Hollywood this past Thursday afternoon, the two of us stumbled upon a filming location without even meaning to do so.  After stopping by the Sunset Strip's new Pink Taco to grab some lunch and finding it inexplicably closed, we headed across the street to a different pink-hued Mexican eatery named Pinches Tacos.  Upon ordering our food, we made our way to the restaurant's patio area and, as I am apt to do when dining at a new place, I started doing some iPhone research to see if, on the off chance, Pinches had ever been used as a filming location.  Well, let me tell you, I just about fell off my chair when I came across some behind-the-scenes footage of my girl Kristin Cavallari shooting an unspecified Season 5 episode of fave show The Hills in the very spot where I was then sitting!  How I had missed that tidbit when the episode originally aired is beyond me, but needless to say I was absolutely floored over the information and promptly grabbed my camera and ran inside to snap some pics and speak with the manager.
The Sunset Strip Pinches Tacos was first founded in 2007 by brothers Miguel, Jorge and Javier Anaya – nephews of Jose Prado, the former longtime chef of The Ivy turned restaurateur who established The Original Cha Cha Cha in Silverlake, Cocina Primavera in Beverly Hills, Prado Restaurant in Larchmont Village, and Cha Cha Chicken in Santa Monica and Northridge.  Everything that the fast-fix hot spot serves – from the salsa to the tortillas – is homemade daily using hundred-year-old secret family recipes from the Anaya brothers' hometowns of Guadalajara and Jalisco.  Thanks to its extremely reasonable prices, fresh fare, and late-night hours (Pinches is open until 3 a.m. each Thursday through Saturday), the eatery became insanely popular virtually overnight and three more outposts have since been launched.  Besides West Hollywood, the chain currently boasts restaurants in Culver City and Santa Monica, all of which are family-owned and operated.  And Alabama native Ty Taylor loved the place so much that he convinced the Anaya brothers to partner with him in founding an annex in Taylor's hometown of Homewood.  That restaurant opened in January of 2011 and is doing so well that the group is already looking to establish another outpost in Birmingham.
And for those wondering where the name "Pinches" came from, while a note on the eatery's door states that the term is Spanish slang for "kitchen boy", Google translate dug up a far more interesting (and far more NSFW) meaning, which you can take a look at here.  All I can say is LOL.
While the interior of Pinches Tacos is quite adorable, the patio area, which overlooks the Sunset Strip, is where most people choose to eat, including Mike and me.  I cannot tell you how cool it was to sit there, just feet from the bustling Strip, and watch all of the cars zipping by, not to mention the countless Hollywood tour buses – one of which you can see in the background of the above picture.  Love it!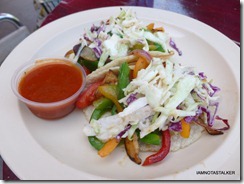 Because I am extremely picky about my meat, I opted to order Pinches vegetarian tacos and not only were they bursting with flavor – not something one expects from vegetables – and FABULOUS, but, at $2.95 a piece, were less expensive than a Starbucks latte!  I am so going to have to bring the Grim Cheaper back there for lunch. 

Oddly enough, the behind-the-scenes footage of The Hills that Mike and I watched while at Pinches did not look at all familiar to me, so when I got home I popped in my DVDs of the series and scanned through each and every Season 5 episode. As it turns out, the Mexican eatery appeared in the episode titled "It's On Bitch" as the spot where Brody Jenner, Jayde Nicole, Stephanie Pratt, Lo Bosworth, Stacie the Bartender (I so love that she was never referred to by her full name), Justin "Bobby" Brescia, and my girl Kristin Cavallari celebrated Frankie Delgado's birthday.  "It's On Bitch" was actually the very first episode of The Hills that KCav appeared in, so I am extremely embarrassed that I failed to recognize it.  I must be losing my mojo or something! 

Besides being a filming location, Pinches Tacos is also something of a celebrity hotspot.  Just a few of the stars who have been spotted there include Kat Von D, Jesse James, Leonardo DiCaprio, Emma Roberts, Megan Fox, Brian Austin Green, Australian celebrity chef Curtis Stone, Gabriel Aubry, Balthazar Getty, Isabel Lucas, Jonathan Rhys Meyers, and Top Chef's Padma Lakshmi.
Until next time, Happy Stalking! 

Stalk It: Pinches Tacos, from the "It's On Bitch" episode of The Hills, is located at 8200 West Sunset Boulevard in West Hollywood.  You can visit the restaurant chain's official website here.
51277