Chris' Apartment from "Parks and Recreation"
Jul 10th, 2012 | By
Lindsay
| Category:
TV Locations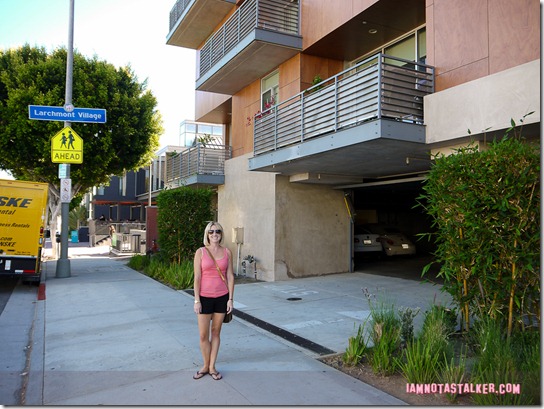 I realize that I am on serious Parks and Recreation overload here, but today's location is one that I could not not blog about being that I am absolutely OBSESSED with it!  What is the location you ask?  The supposed Indianapolis-area ultra-modern loft that Chris Traeger (Rob Lowe) owns on the series.  I became just a wee bit consumed with the pad the first time it popped up during Season 3 of P&R.  One look at its high ceilings, open floor plan and towering staircase and I literally went weak in the knees and started drooling.  Oddly enough, though, I did not recognize the place even though I had once previously stalked it.  There I go having yet another blonde moment!
Way back in December of 2008, Mike, from MovieShotsLA, and I went on a quest to track down the liquor store from L.A. Confidential, which we had heard was located on Larchmont Boulevard.  (As it turns out, it wasn't – the L.A. Confidential liquor store is actually on South Cochran Avenue.  You can read my post on it here.)  During the hunt, we spent hours driving back and forth down Larchmont looking for the store's facade and also stopping in to speak with several different area shop owners, trying to gather some intel.  And while no one had any information on the liquor store, one helpful person informed us that the movie Funny People had recently spent several weeks filming at the Larchmont Lofts on the corner of Larchmont Boulevard and Melrose Avenue.  So Mike and I, of course, went to take a look at the building and snap some pics.  We did not venture inside, though, nor did I ever see Funny People, so I had no idea what the interior of the actual apartment units looked like.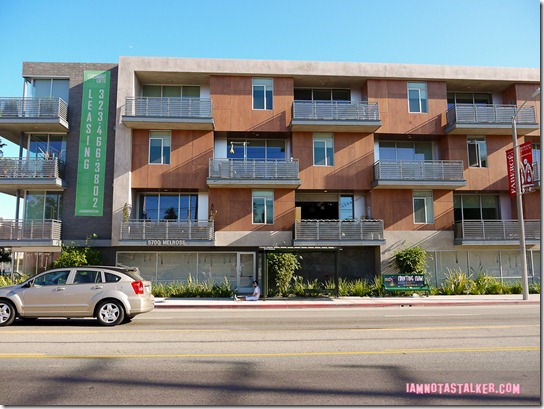 Flash forward to a couple of weeks ago when fellow stalker Justin asked me to track down some Parks and Recreation locales, one of which was Chris Traeger's apartment building.  At the time, I was not even sure if the location was a real one.  Chris's loft is so darn sleek and shiny that I figured it might just be a set.  But I started to do some digging anyway and eventually discovered (thanks to fave website OnLocationVacations) that Chris' pad was real and that it was located in none other than the Funny People building!  Talk about a small world!  Once I found out that information, I, of course, immediately began searching for rental rates being that Chris' apartment is pretty much my dream home.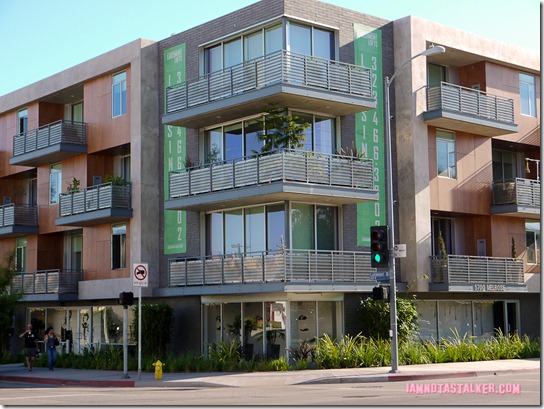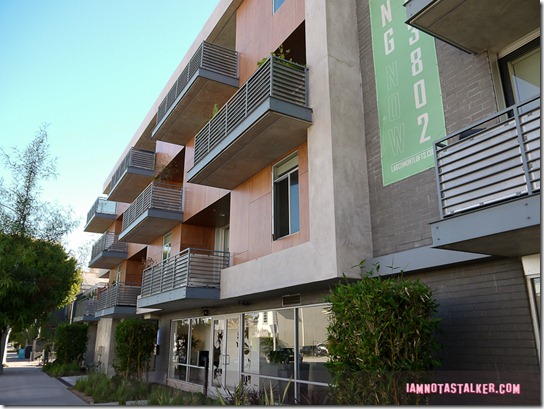 The three-story, ultra-modern Larchmont Lofts building was first completed in 2008.  Its 21 loft-style units were originally slated to be sold as condominiums for $750,000 to $1.25 million a piece.  Not a' one of 'em was purchased, though, according to fave website CurbedLA, and the spaces were eventually leased out as apartments.  Rates currently start at a whopping $3,000 a month for a 1-bedroom, 1-bath, 1,200-square-foot flat.  Um yeah, like the Grim Cheaper would ever go for that!  What I wouldn't give to live there, though!  Sigh!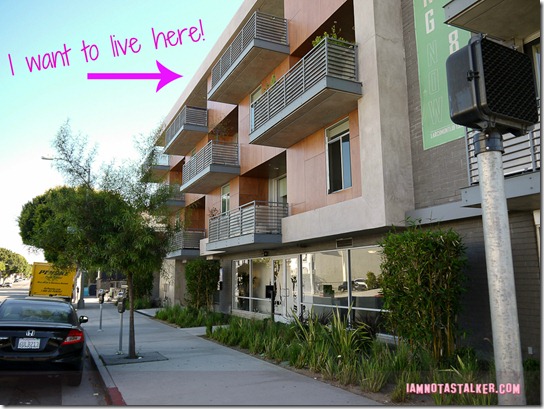 Chris Traeger's apartment first popped up in the Season 3 episode of Parks and Recreation titled "Indianapolis".  Interestingly enough, though, while the front entrance and interior of one of the units were used in the episode, the exterior establishing shot was of a different location altogether, one that is no stranger to the screen.  The exterior of Chris' building is actually the exterior of the residence where Mitch Hiller (Billy Campbell) lived in the 2002 movie Enough, which Mike, from MovieShotsLA, stalked a while back.  You can take a look at his photos of the property here.
In the "Indianapolis" episode, Leslie Knope (Amy Poehler) and Ron Swanson (Nick Offerman) travel from Pawnee to Indianapolis to accept a special commendation on behalf of the Parks Department.  While there, they meet up with Chris, who, at that point in the show, lived in the area.  A brief scene from the episode was filmed in the Larchmont Lofts lobby, which you can see behind me in the photograph below.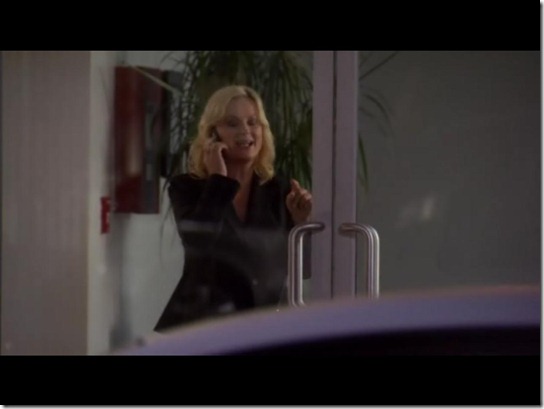 In "Indianapolis", Chris is shown to live in Unit #207, which is one of the Larchmont Lofts' three-story townhomes.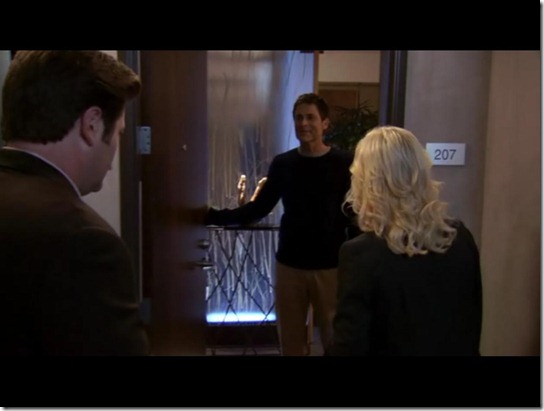 As you can see below, the interior of his apartment is nothing short of STUNNING!  Love, love, LOVE it!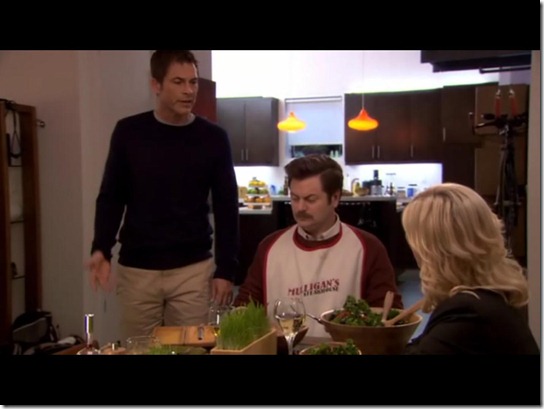 Especially the large, open-air staircase.  Sigh!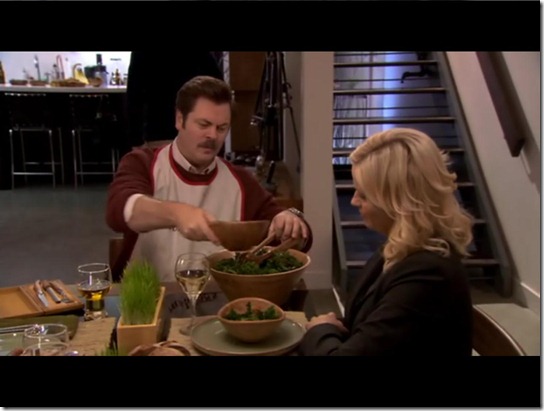 Chris' apartment also appeared in the Season 3 episode of Parks and Recreation titled "Road Trip", in the scene in which Chris hosts Leslie and Ben Wyatt (Adam Scott) on an overnight at his home.  You can check out some interior photographs of the Larchmont Lofts building – including a three-story townhouse unit like Chris' – on Curbed LA here.
And I, of course, just had to pretend to buzz Chris from the intercom while I was there.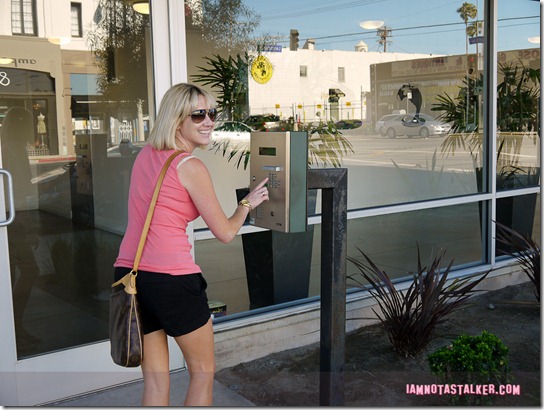 In Funny People, Larchmont Lofts is the building where Ira Wright (Seth Rogen), Leo Koenig (Jonah Hill), Mark Taylor Jackson (Jason Schwartzman), and Daisy Danby (Aubrey Plaza, who, ironically enough, plays April Ludgate on Parks and Recreation) live.  The exterior of the building shows up quite a few times in the flick.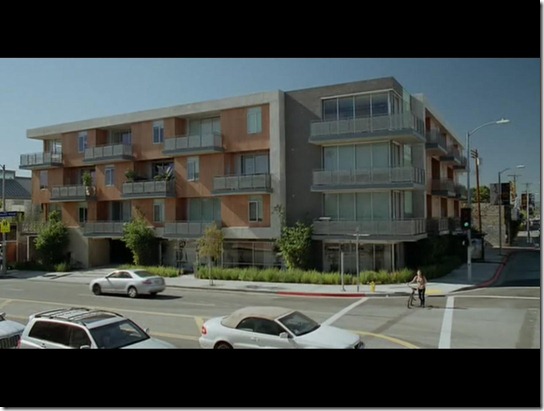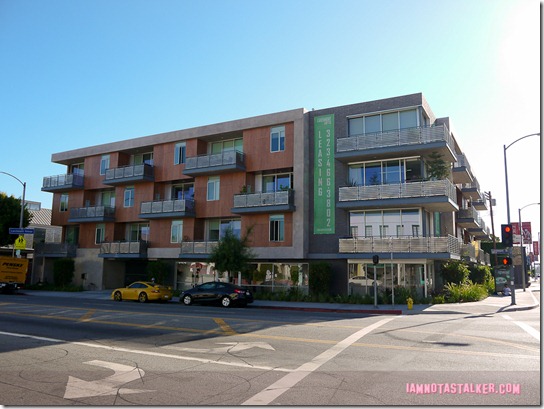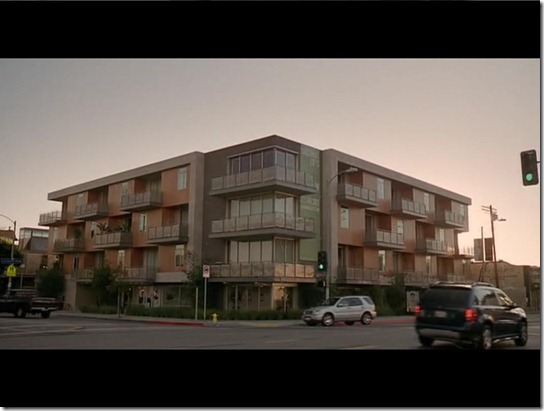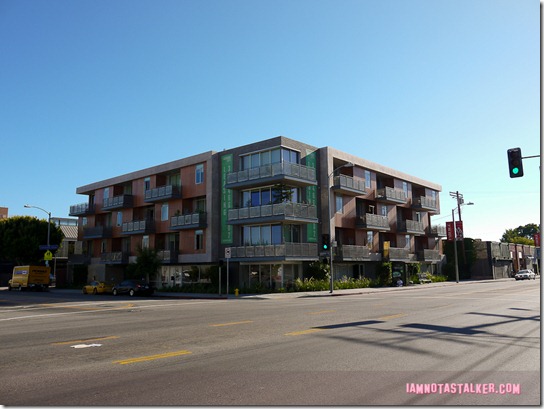 As does the interior of one of the building's two-bedroom flats.  As you can see below, the inside of Ira, Leo and Mark's apartment in the flick closely resembles that of Chris' apartment on Parks and Recreation – minus the awesome staircase, which is only a feature of the building's three-story townhomes.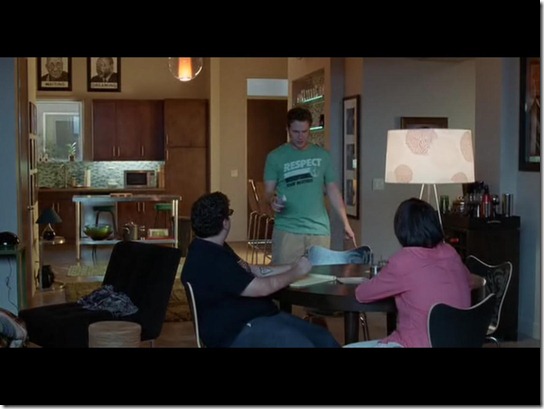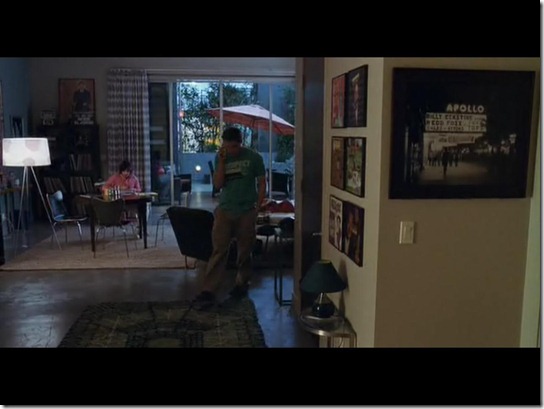 Be sure to "Like" IAMNOTASTALKER on Facebook here and "Friend" me on my personal page here.  You can also check out the IAMNOTASTALKER About Me page here and you can follow me on Twitter at @IAMNOTASTALKER.  And you can check out my latest post – about low-carb tacos – on my other blog, The Well-Heeled Diabetic, here.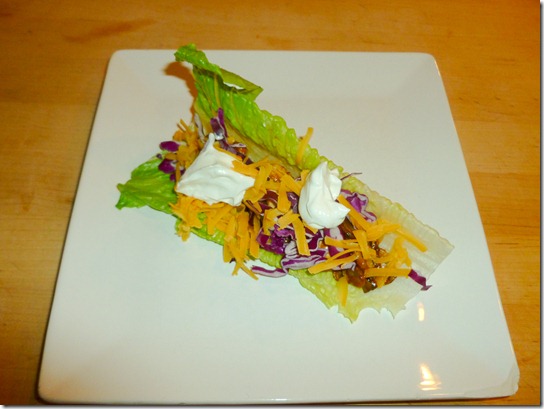 Until next time, Happy Stalking!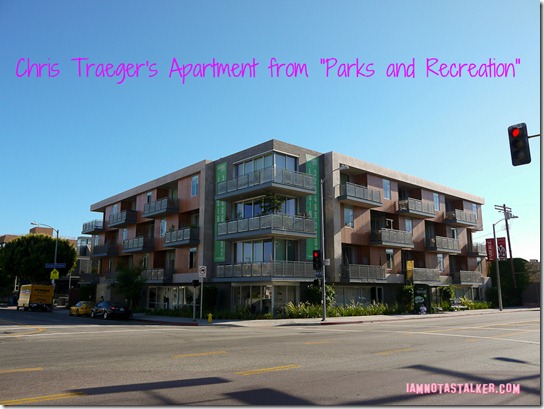 Stalk It: Chris Traeger's apartment building from Parks and Recreation is actually the Larchmont Lofts, which is located at 5700 Melrose Avenue in the Larchmont Village area of Los Angeles.  You can visit the complex's official website here.  And to contribute to the Lindsay-Wants-to-Live-at-the-Larchmont-Lofts fund, you can click here.  Ha ha, just kidding. 

54985