Perino's Restaurant
Aug 14th, 2012 | By
Lindsay
| Category:
Movie Locations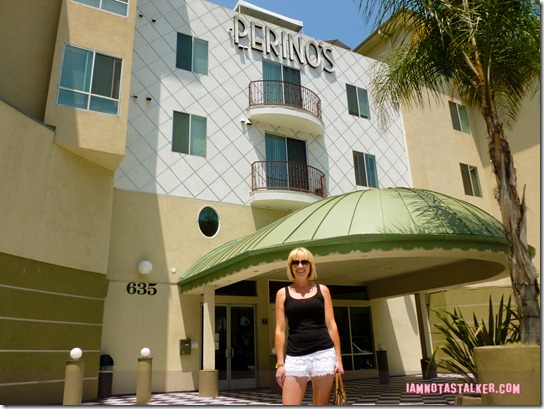 Today's post is going to be a long one, my fellow stalkers, so brace yourselves!  I hope that it makes up for the fact that I was on vacation for the past week. 

  Last October, while doing research on Mommie Dearest locations for my annual Haunted Hollywood postings, I came across a page on Scott Michaels' FindADeath website about the now-defunct, but still legendary Perino's restaurant.  While the historic eatery was sadly razed in 2005 to make way for an apartment building, Scott posted a fabulous write-up of his visit there prior to the demolition.  Amazingly enough, I had not ever heard of the place before reading his post and became just a wee bit devastated that I never had the chance to see it in person.  So imagine my surprise when Mike, from MovieShotsLA, mentioned that, while doing some cyberstalking, he discovered that the eatery's legendary façade was still standing just around the corner from its original location!  The two of us were absolutely floored to learn this information and went right on over there just a few days later.  And, as luck would have it, the stalking gods were definitely smiling down upon us while we were there because it turned out to be one of our best stalks yet!
Alex Perino originally founded his eponymous restaurant at 3927 Wilshire Boulevard in 1932.  The highly exclusive eatery became an instant hotspot, drawing many of Hollywood's elite through its gilded doors.  In February 1950, Perino moved the establishment to a new, larger location two blocks west at 4101 Wilshire Boulevard, where he commissioned legendary architect Paul Revere Williams to re-design a former Thriftimart grocery store into a New Orleans-inspired restaurant.  The new $200,000 masterpiece was even more successful than its predecessor and attracted such luminaries as Bugsy Siegel, Cole Porter, Bette Davis, Frank Sinatra, my girl Marilyn Monroe, Joe DiMaggio, Richard Nixon, Ronald Reagan, Nancy Reagan, Sid Grauman, Dean Martin, Howard Hughes, Frank Capra, Billy Wilder, Eleanor Roosevelt, Margaret O'Brien, Tyrone Power, Cary Grant, Charlie Chaplin, and Elizabeth Taylor.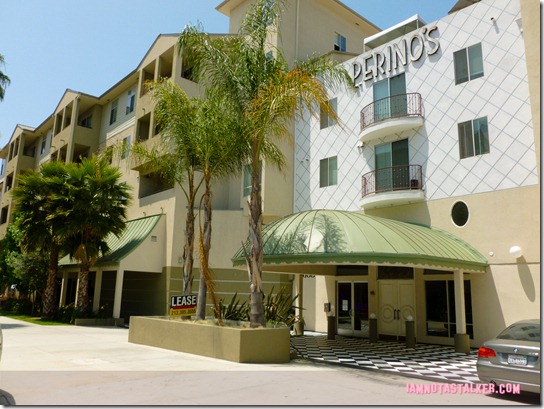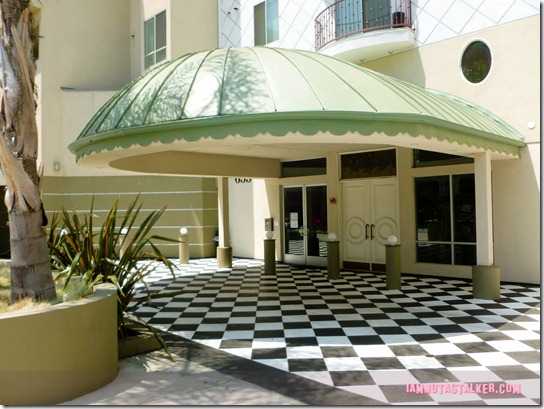 In 1969, Perino retired and sold his legendary eatery to a man named Frank Esgro.  And while the place continued to enjoy massive popularity for the next decade-and-a-half, in July 1983 Esgro decided to open a second Perino's in the Wells Fargo Building in downtown L.A. and inexplicably and misguidedly stopped serving meals at the original location, which was turned into a special events venue.  The downtown restaurant, which closed in December 1984, was a massive failure and Esgro wound up losing $7.5 million on it, causing him to declare bankruptcy.  A court removed him from operating the original Perino's shortly thereafter and despite a few false starts thanks to the efforts of new owners, the historic eatery never regained its original success and its doors were closed for good in 1986.  The structure sat vacant for the next nineteen years, occasionally being used as a filming location and for private parties.  Then, sadly, in 2002, Perino's was sold to a real-estate developer named Tom Carey, who auctioned off most of its interior décor in 2004 before finally razing the place to the ground in 2005.  Today a 4-story, 47-unit apartment building stands in its place.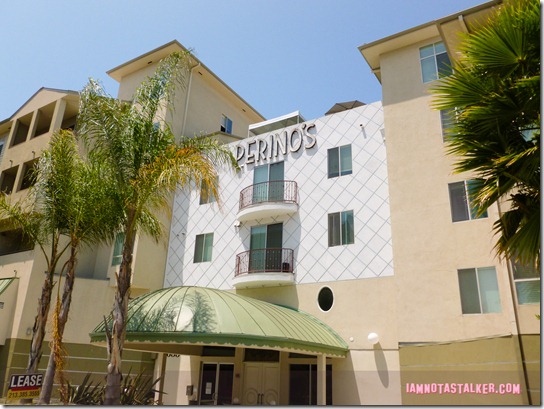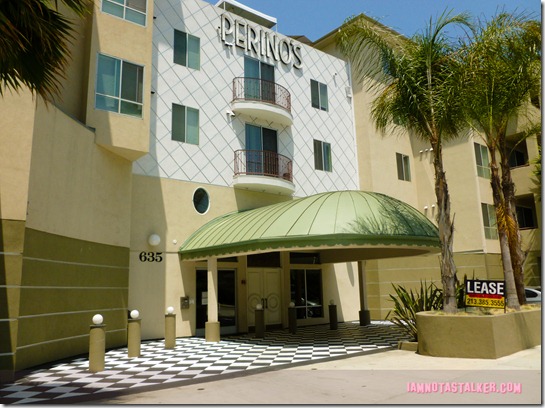 Thankfully though, Carey decided to keep intact Perino's famous porte-cochere;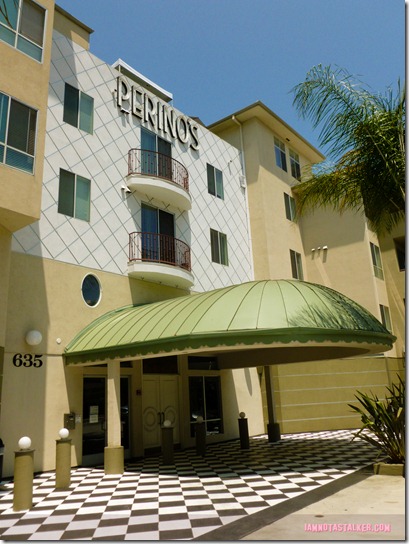 its front doors;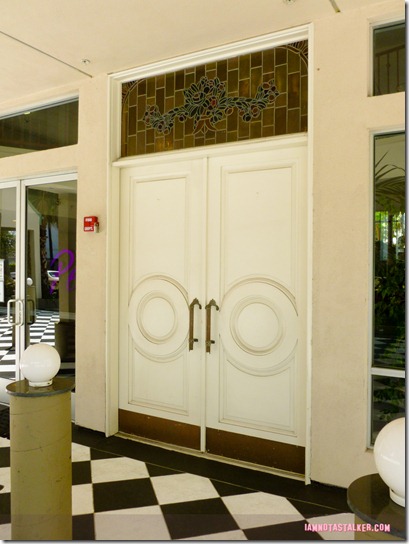 its entryway awning;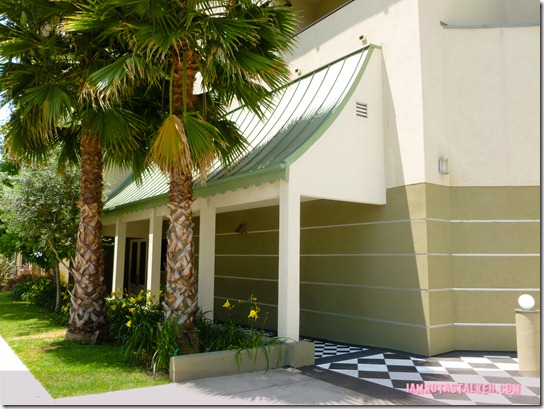 and its main entrance, which were all then incorporated into the design of the apartment building.  So incredibly cool!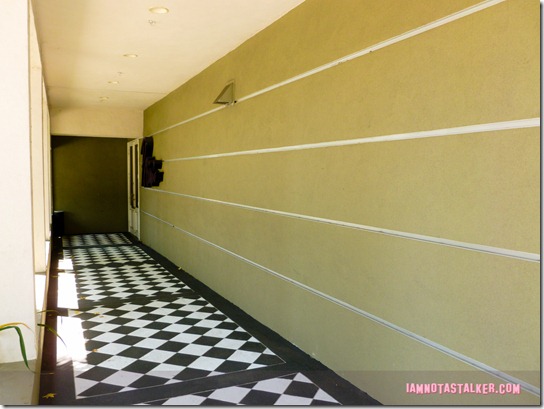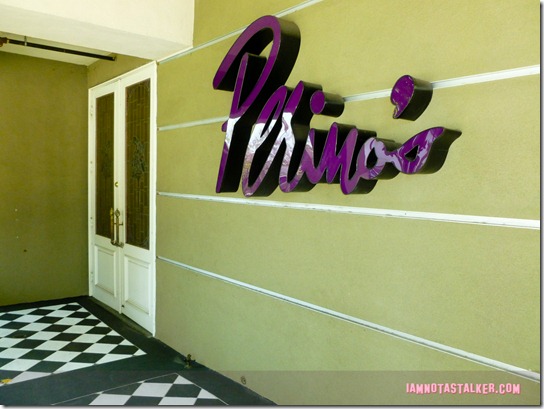 While Mike and I were peeking through the front windows of Perino's Luxury Apartments . . .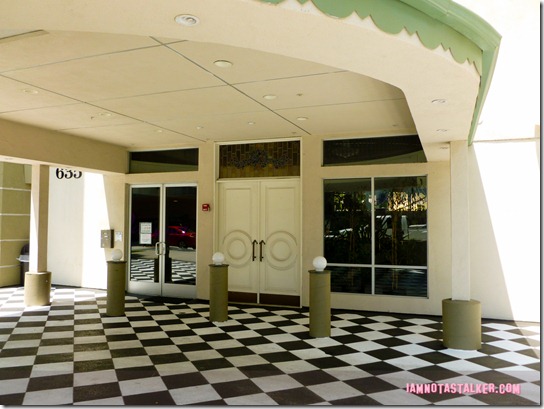 . . . into the main lobby area, the super-nice and super-knowledgeable property manager happened to see us and inquired as to what we were doing.  As fate would have it, when we told him about our love of filming locations and that Mike was a location manager, he invited us inside to take a look around, at which point we both just about died!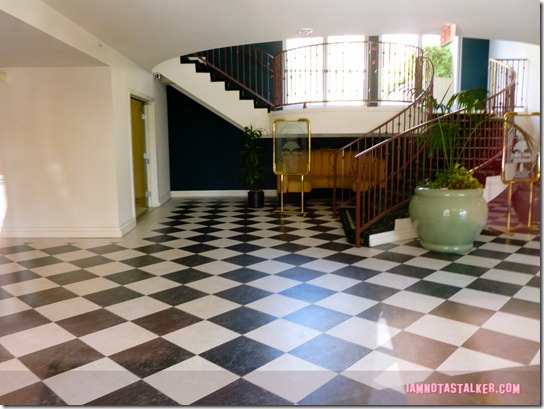 Several items from the original Perino's are on display in the main lobby, including one of the restaurant's famously peach-hued booths (according to the Los Angeles Times, the "warm glow" of the eatery's peach and pink interior "always seemed to give diners a radiant look");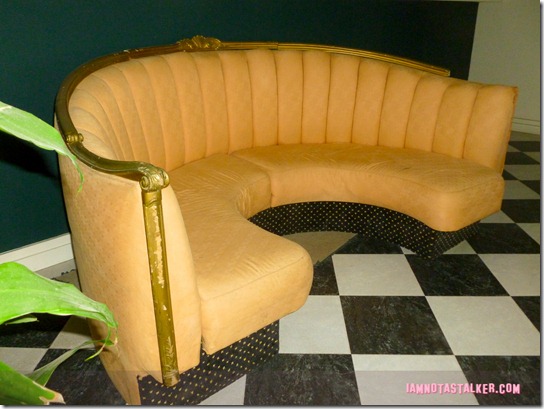 one of the gilded chandeliers;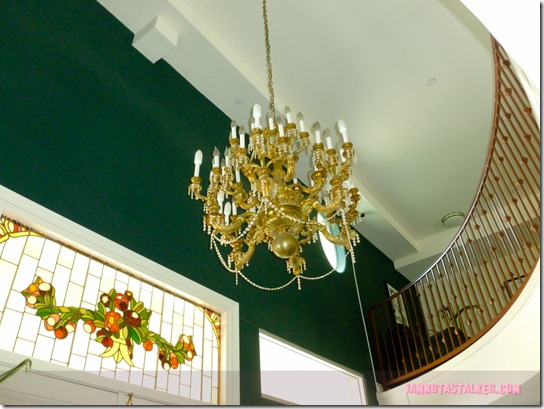 and an etched glass sign from the Palm Court Ballroom.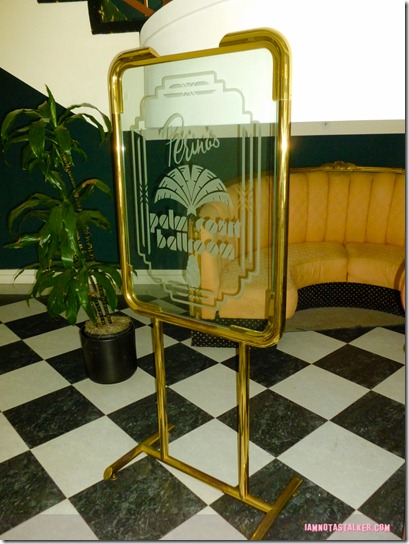 Mike and I just about had a heart attack, though, when the property manager informed us that Perino's bar area had been rebuilt in its entirety on the first floor of the building – especially when he unlocked its doors (which are original!) and invited us inside for a closer look!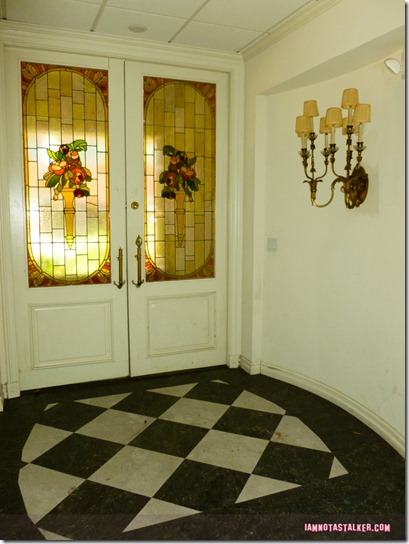 The bar area, which is now named the "Remembrance Room", is reached through Perino's former main entrance.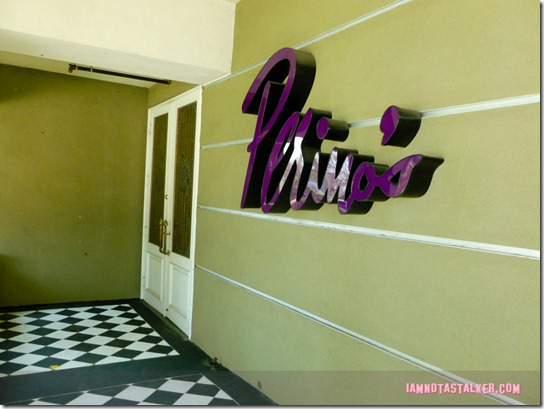 Just inside the doors, the actual wall paneling from Perino's original front foyer has been authentically reconstructed.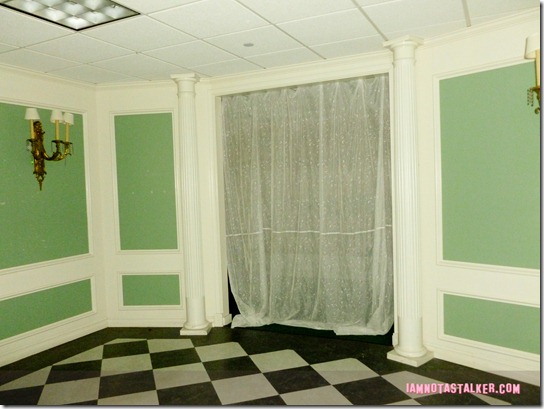 Just to the right of the foyer sits the Remembrance Room, which features the original bar;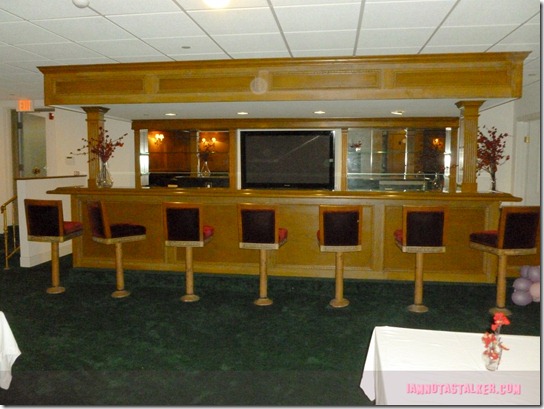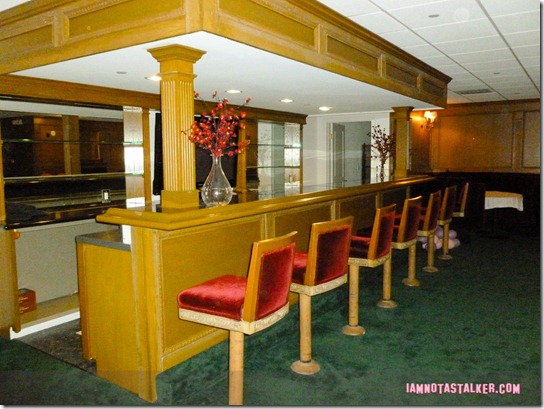 bar stools;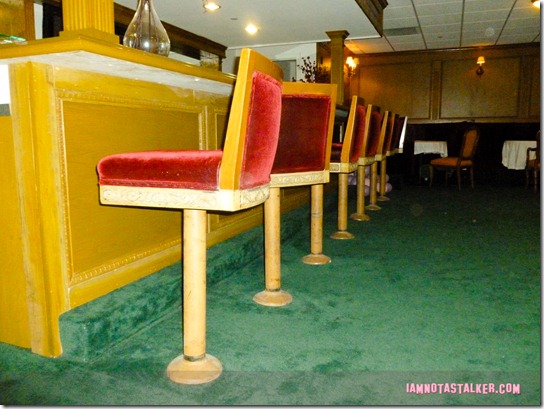 (check out the incredible detailing!);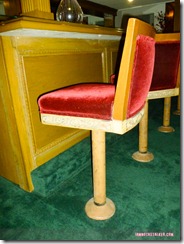 wood paneling;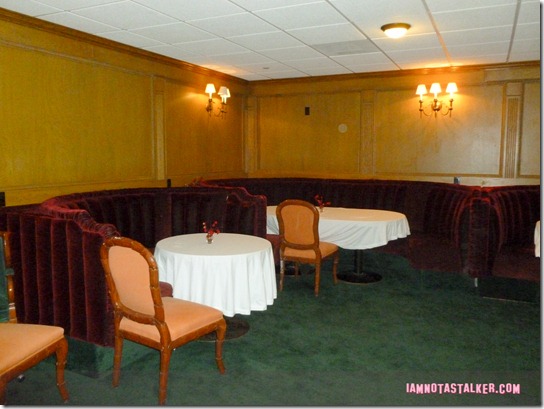 red velvet booths;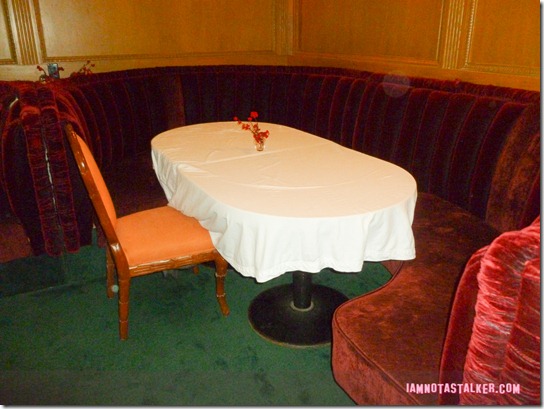 wall sconces;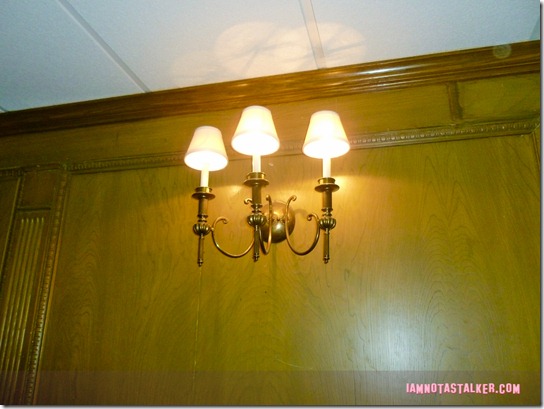 fireplace;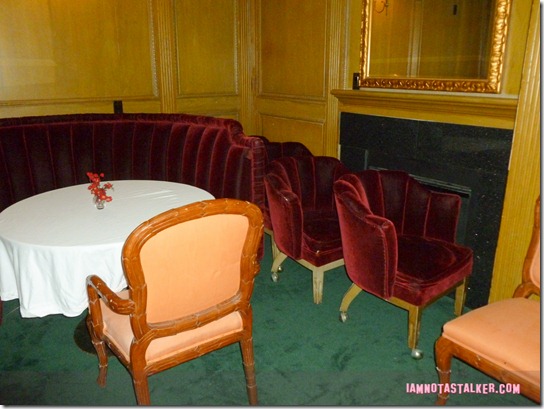 chairs;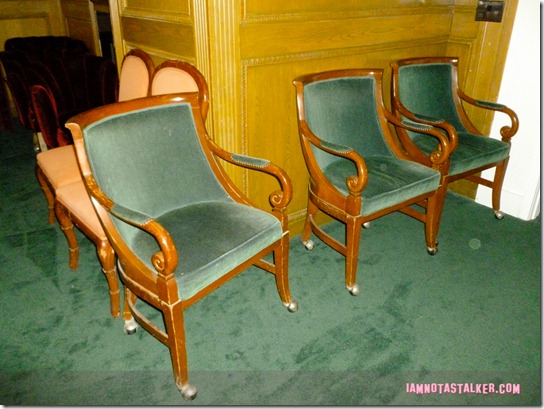 beams;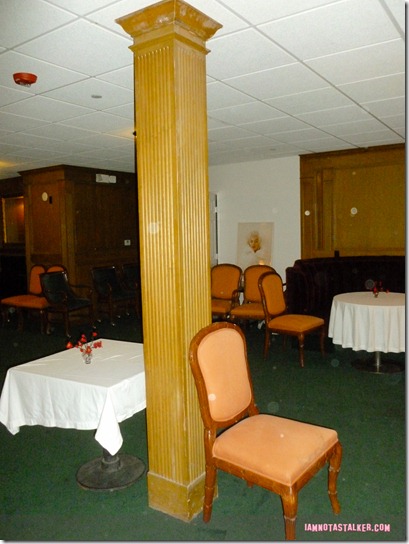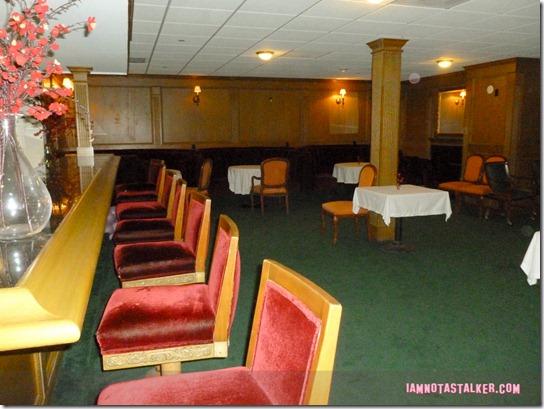 and stair railing.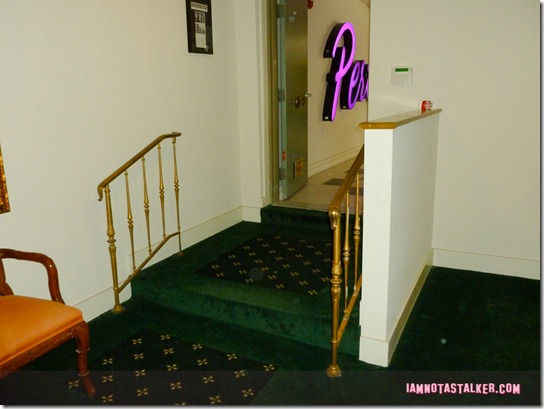 I cannot in a million years express how exciting it was to be able to explore, photograph and see in person such a legendary piece of Los Angeles' history.  I was literally pinching myself the whole time!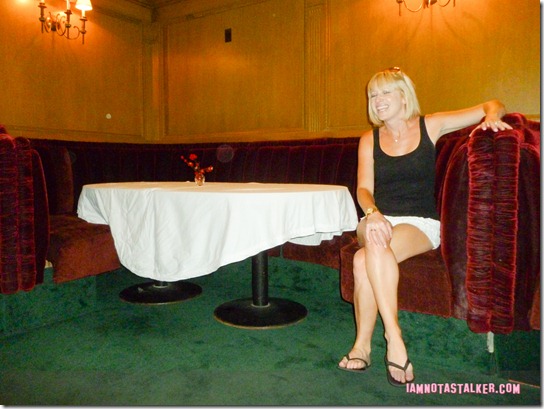 As I mentioned above, Perino's is no stranger to the screen.  In the Season 7 episode of Columbo titled "Murder Under Glass", which first aired in 1978, Perino's was the eatery where the ritzy "Restaurant Writers Dinner" was held.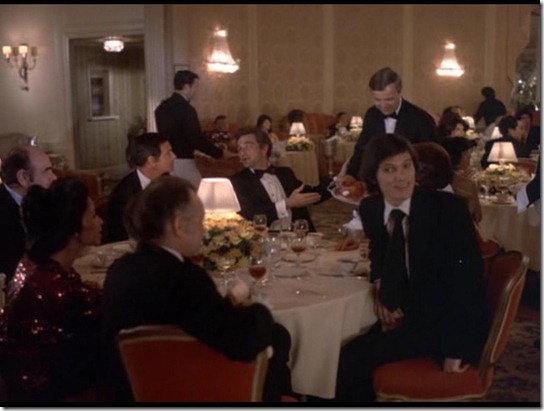 In 1980's American Gigolo, Perino's popped up as the restaurant where Julian (Richard Gere) asked Anne (Baroness van Pallandt Nina) for help.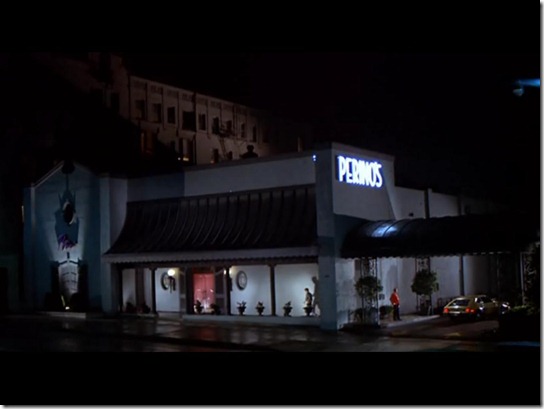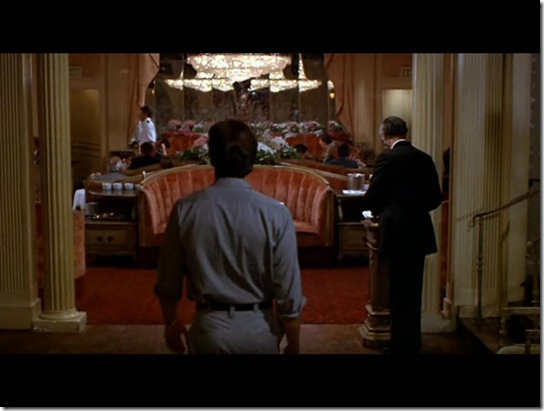 In 1981, the eatery was featured as the spot in Mommie Dearest where (in a scene I still do not entirely understand) Joan Crawford (Faye Dunaway) gets mad at boyfriend Greg Savitt (Steve Forrest) for taking her to dine at the table of studio head Louis B. Mayer (Howard Da Silva) like "some picked-up floozy", after which she screams the famous line, "Damn it, Perino's is MY place!"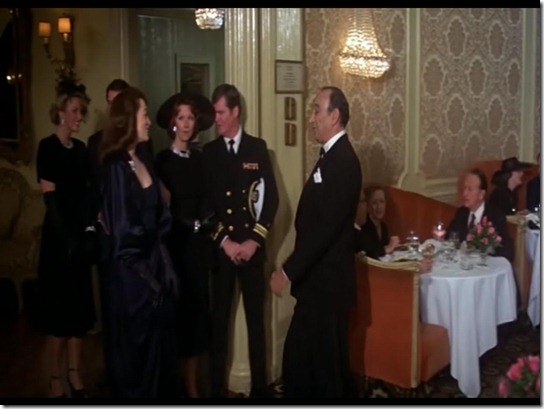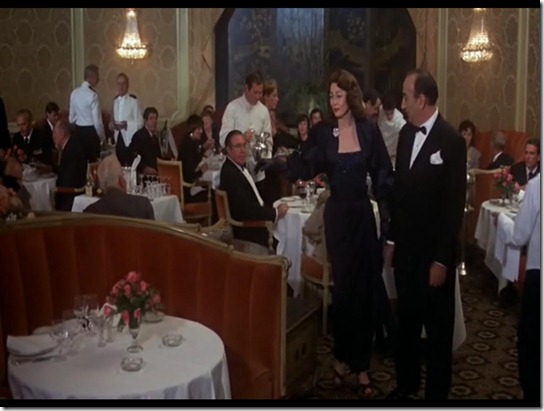 In the scene, fans are shown waiting outside of Perino's to gather autographs from the many stars who dined there regularly, which was apparently the case in real life, too.  Oh, if only the restaurant was still open!  My girl Pinky Lovejoy, from the Thinking Pink blog, and I would probably be there every night!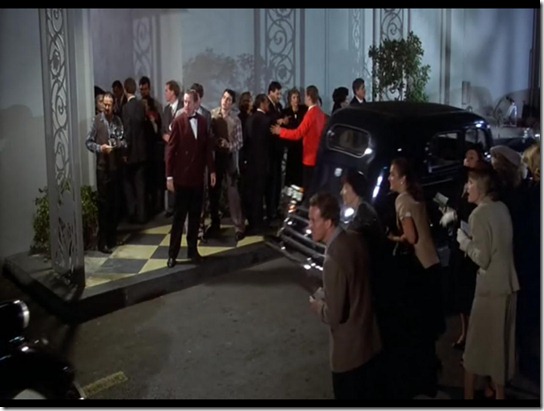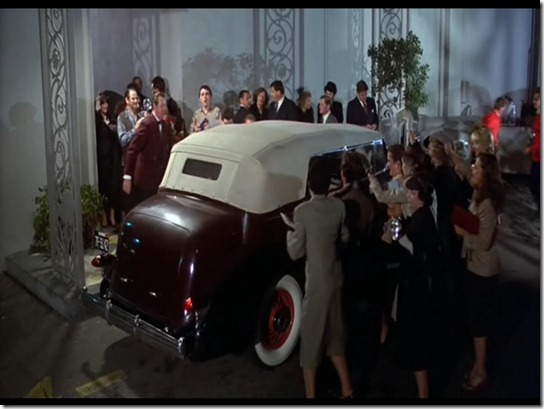 Perino's shows up a second time in Mommie Dearest as the eatery where Joan takes her daughter Christina (Diana Scarwid) and gets viciously mad at her over the fact that she has not yet completed her "Christmas card list".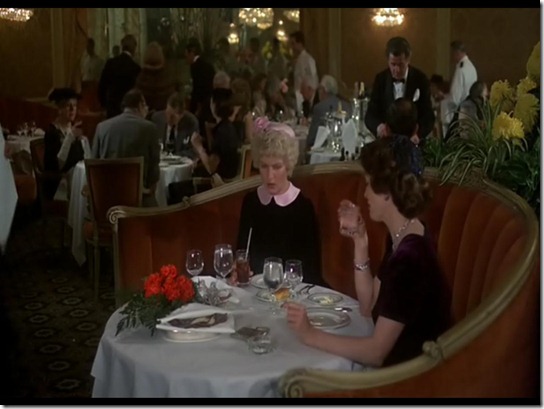 In the 1982 made-for-television movie Bare Essence, the interior of Perino's stood in for the supposed Manhattan-area restaurant where Ava Marshall (Lee Grant) threw a party for the fashion industry.  The exterior party scenes were shot at the legendary Tavern on the Green in New York, though, which I blogged about here.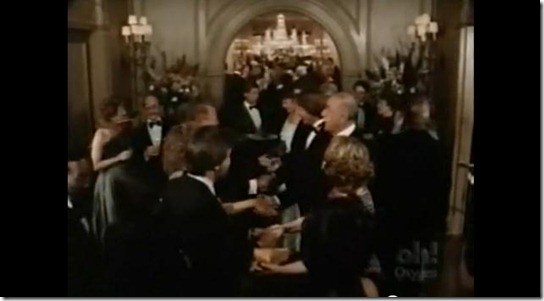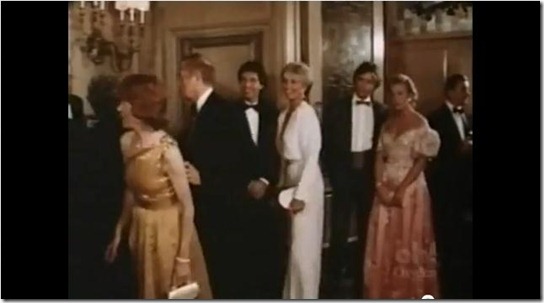 In 1983, Perino's appeared as the restaurant where Tony Montana (Al Pacino) and his wife, Elvira Hancock (Michelle Pfeiffer), got into a screaming match while at dinner in Scarface.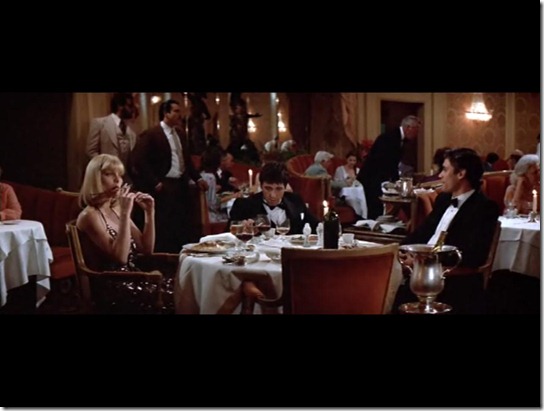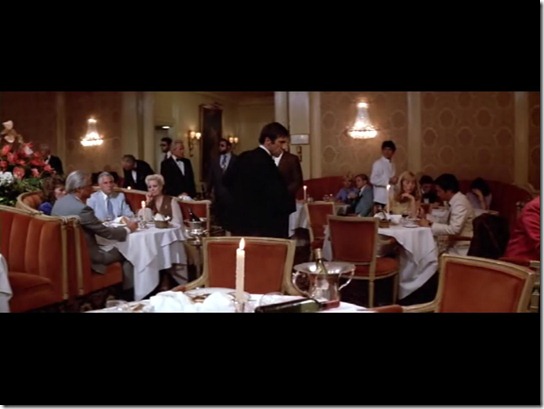 Also in 1983, Perino's popped up as the supposed Washington, D.C.-area eatery where James Deland (Paul Shenar) took an undercover Mrs. Amanda King (Kate Jackson) in the Season 1 episode of Scarecrow and Mrs. King titled "Service Above and Beyond".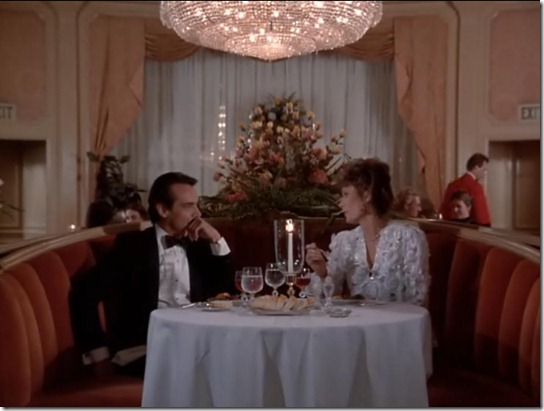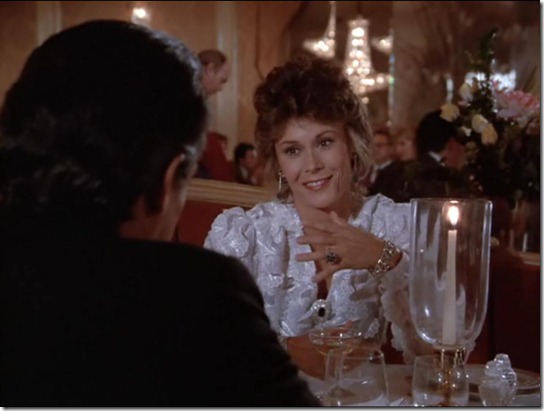 In the Season 5 episode of Hart to Hart tiled "Max's Waltz", which aired in 1984, Perino's was where Jonathan Hart (Robert Wagner) and Jennifer Hart (Stefanie Powers) posed as an oil baron and a French dancer, respectively, in order to entrap two crooks.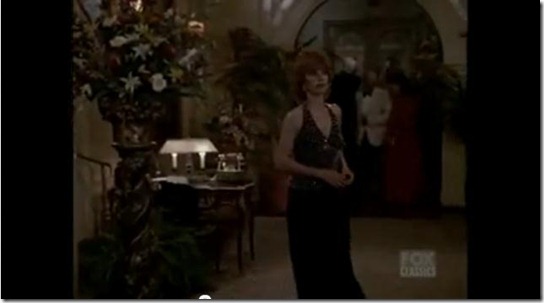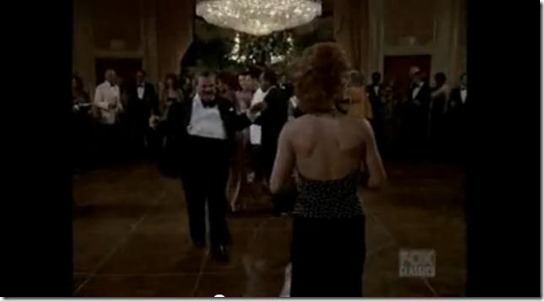 The bar area was also featured in the episode.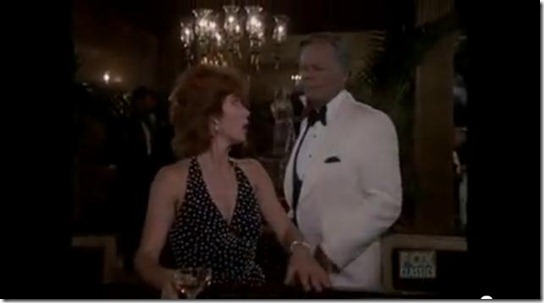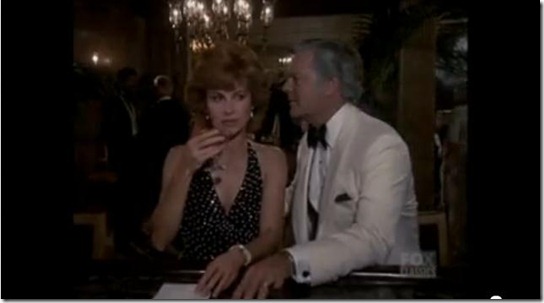 In 1985, Perino's was featured in the Season 1 episode of The Colbys titled "The Family Album" as the restaurant where Blake Carrington (John Forsythe) dances with Fallon Carrington Colby (Emma Samms), after which he begins to suspect that she might be his long-lost daughter.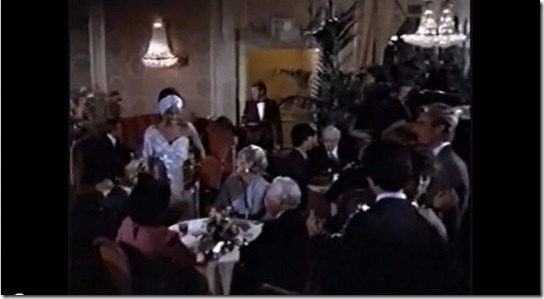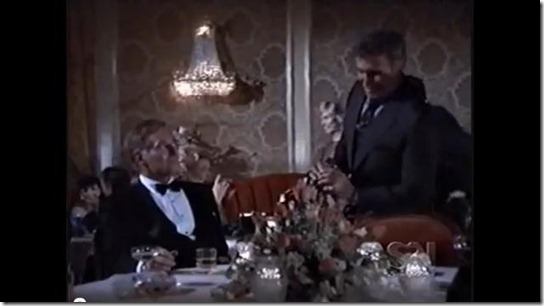 Perino's bar area was also featured in that episode.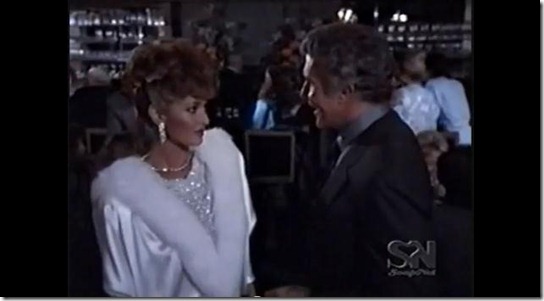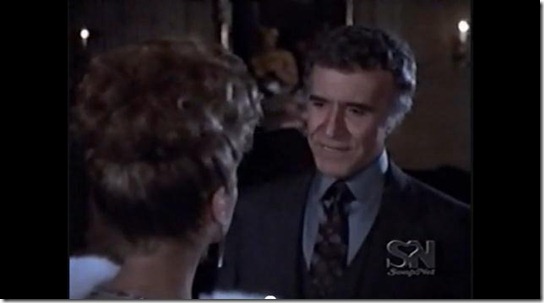 In the Season 3 episode of Scarecrow and Mrs. King titled "Welcome to America, Mr. Brand", which aired in 1985, Amanda grabbed dinner once again at Perino's (which was masquerading as Washington, D.C.'s tony Bennington Club) – this time with a klutzy English accountant named James Brand (Harvey Jason).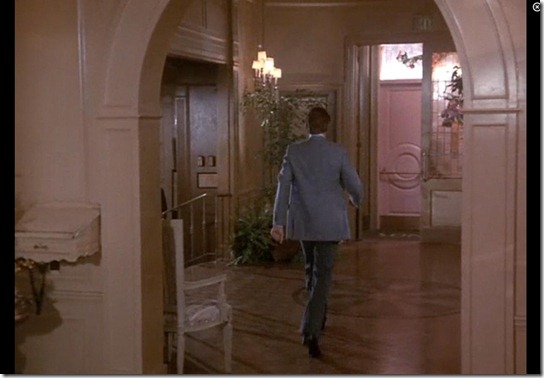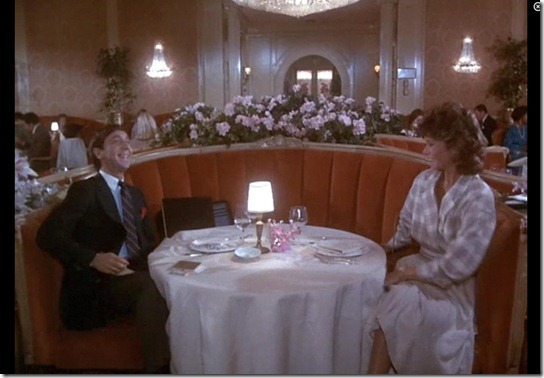 In the Season 1 episode of L.A. Law titled "The Douglas Fur Ball", which aired in 1987, Perino's was used as the eatery where Andrew Putnam (Grant Heslov) took Roxanne Melman (Susan Ruttan) for dinner and was refused a bottle of champagne due to the fact that he had forgotten his I.D. and did not appear to be of drinking age.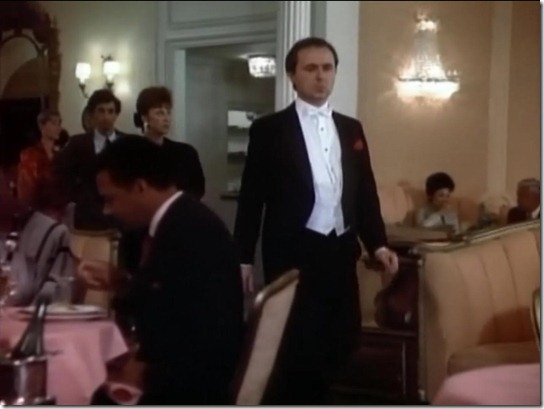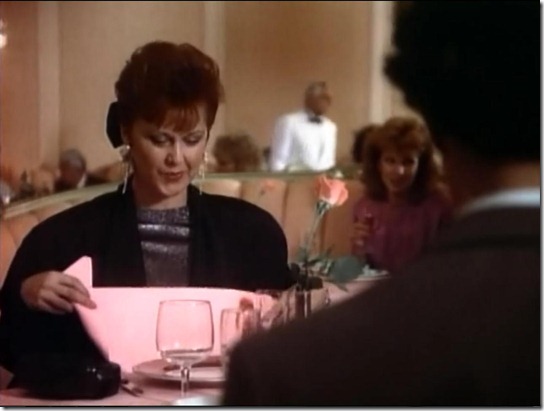 In that same episode, I am fairly certain that Perino's bar area was also used twice (although not very visibly) – first as the eatery where George Cromwell (Sandy McPeak) took Ann Kelsey (Jill Eikenberry) out for dinner and asked her to be his lawyer.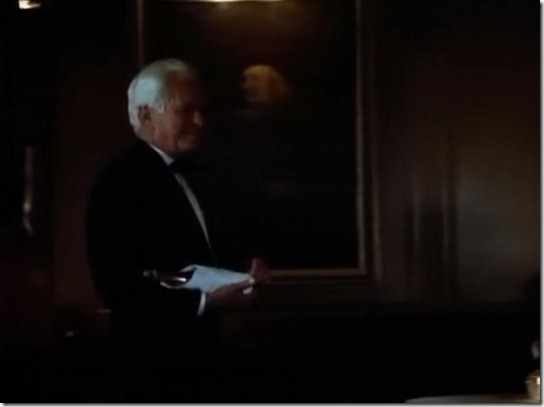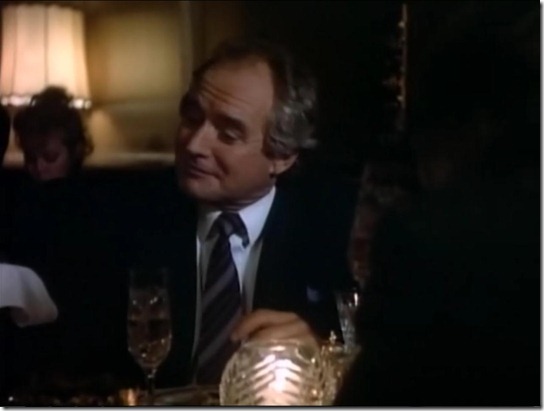 And second as the restaurant where Judge Morris (Milton Selzer) begged Leland McKenzie (Richard Dysart) for a job.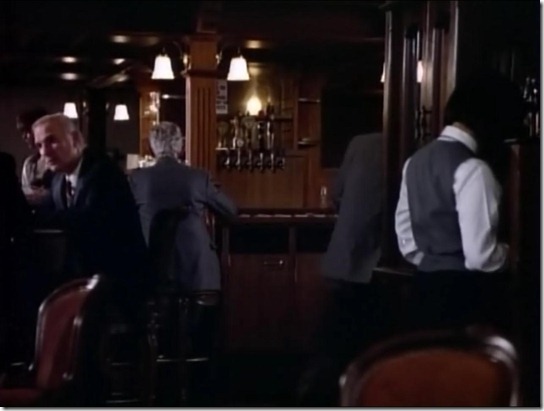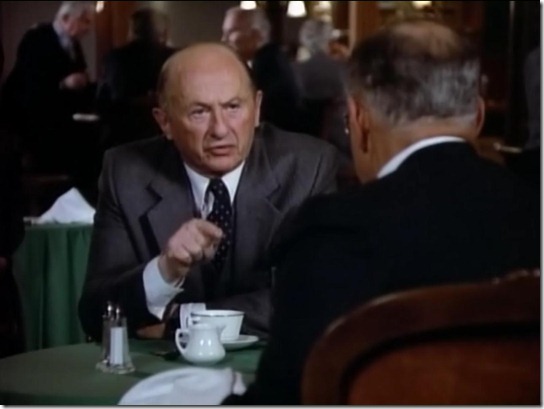 In the Season 12 episode of Dallas titled "The Way We Were", which aired in 1989, Perino's stood in for the supposed Dallas, Texas-area "Café Espana", where J.R. Ewing (Larry Hagman) and April Stevens (Sheree J. Wilson) had lunch.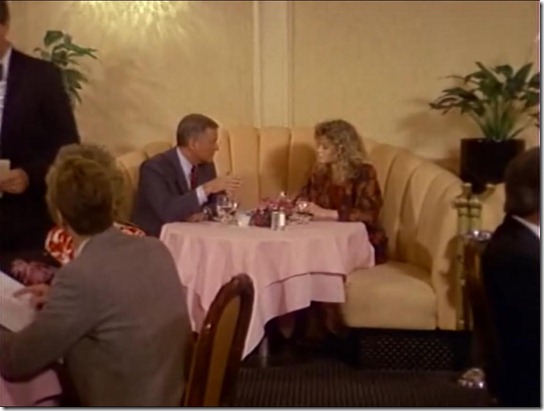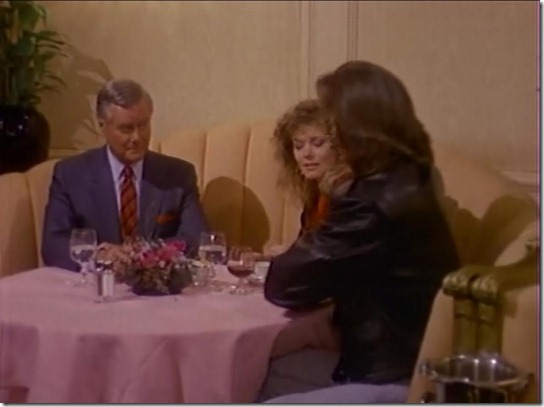 Also in 1989, Perino's stood in for the supposed San Francisco restaurant where Angela Channing (Jane Wyman) had lunch with Melissa Agretti (Ana Alicia), who was impersonating Samantha Ross, in the Season 8 episode of Falcon Crest titled "Grand Delusions".  Thank you to fellow stalker Gilles for the screen captures from the episode!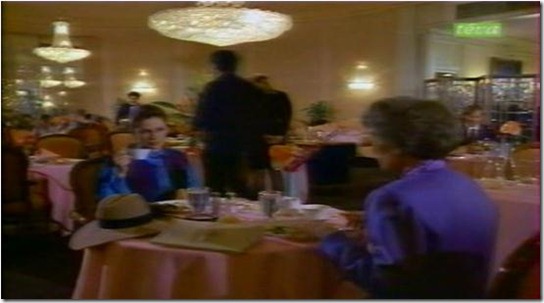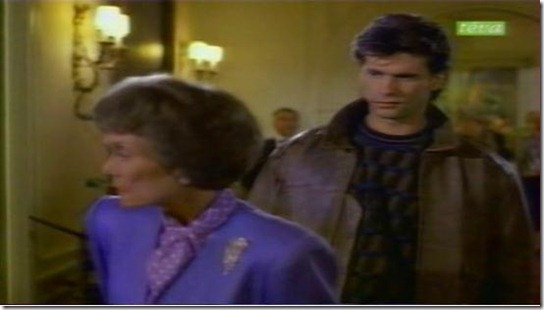 In 1991's Dead Again, Perino's masqueraded as Syd's, where Roman Strauss (Kenneth Branagh) took Margaret Strauss (Emma Thompson) for their first date.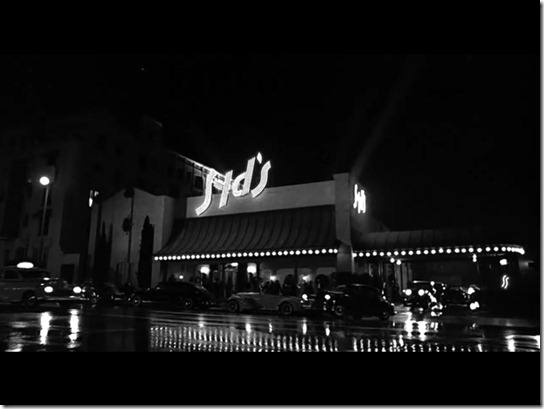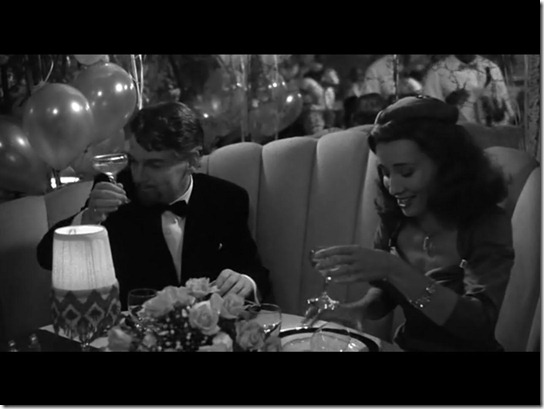 In 1992's Chaplin, Charles Spencer Chaplin (Robert Downey Jr.) took the newly-brunette Paulette Goddard (Diane Lane) to Perino's, also for their first date.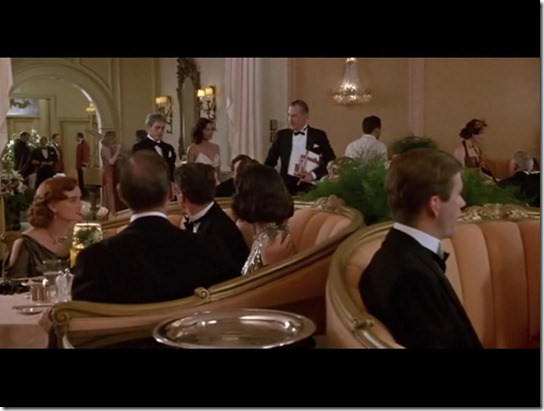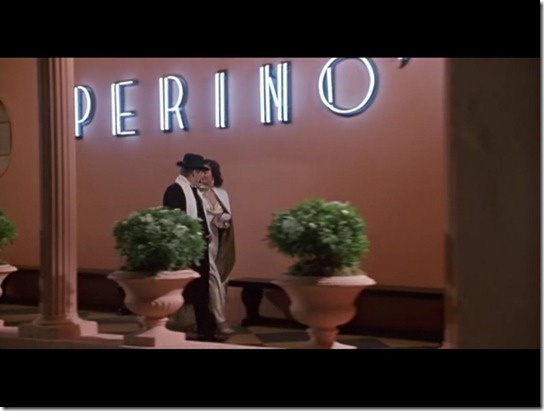 In the Season 3 episode of Melrose Place titled "Breakfast at Tiffany's, Dinner at Eight", which aired in 1995, Perino's is the supposed Manhattan-area restaurant where Dr. Michael Mancini (Thomas Calabro) tried to kiss Amanda Woodward (Heather Locklear).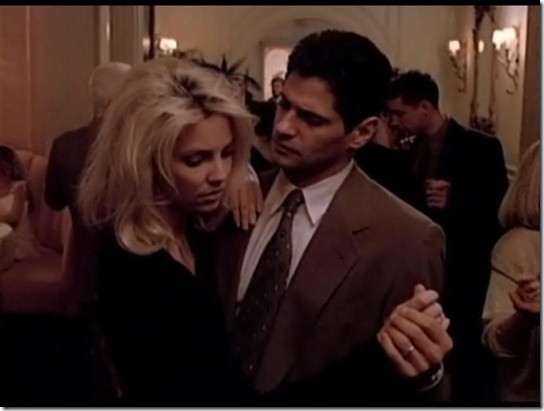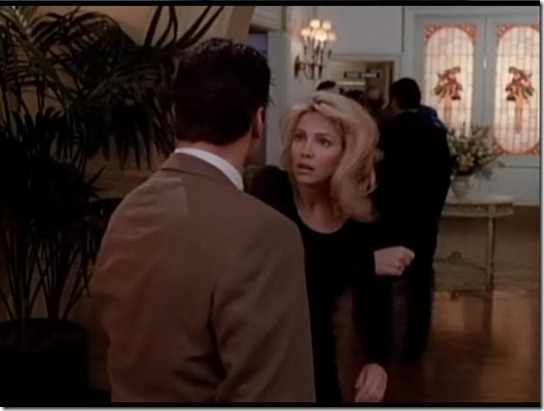 In that same episode, Perino's bar area masked as The Bistro Garden, where Allison Parker (Courtney Thorne-Smith) told a client that Amanda Woodward (Heather Locklear) was sick.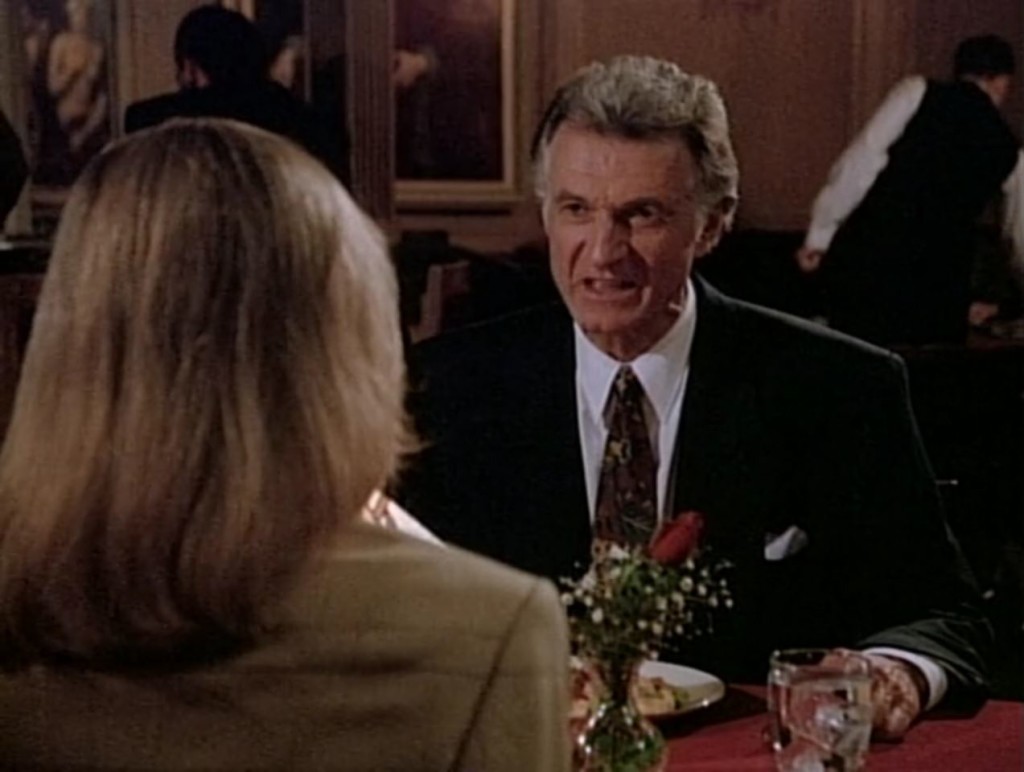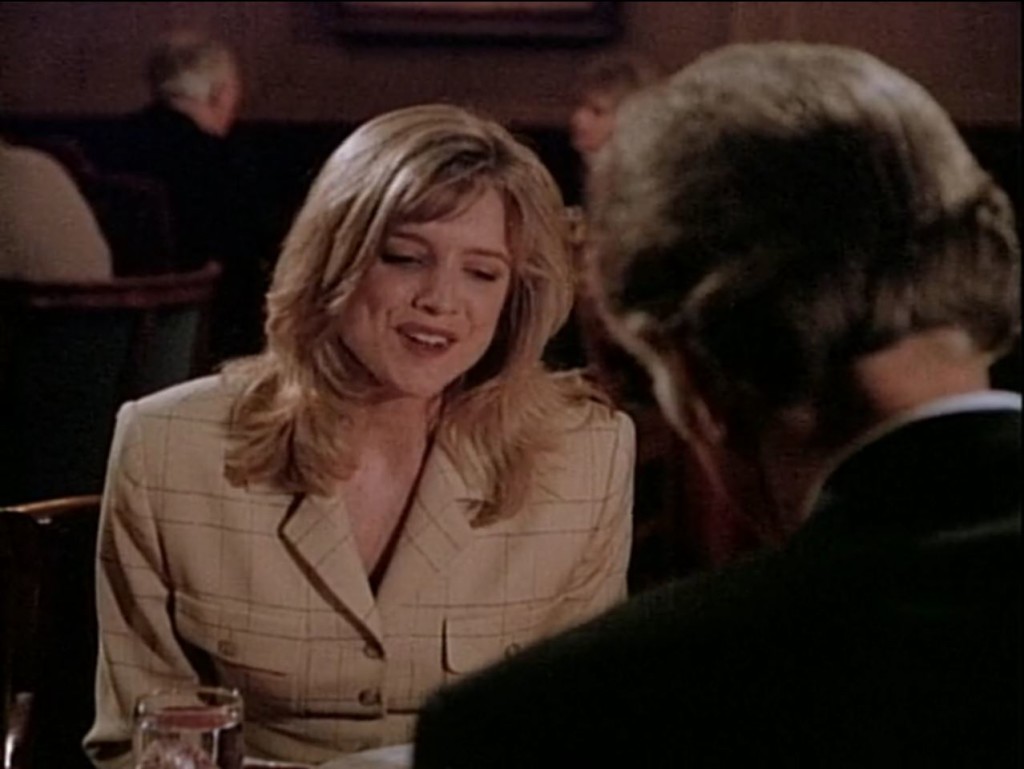 At the very beginning of 1996's Mulholland Falls, Perino's is where Max Hoover (Nick Nolte) beats up mobster Jack Flynn (a very young William Petersen from CSI).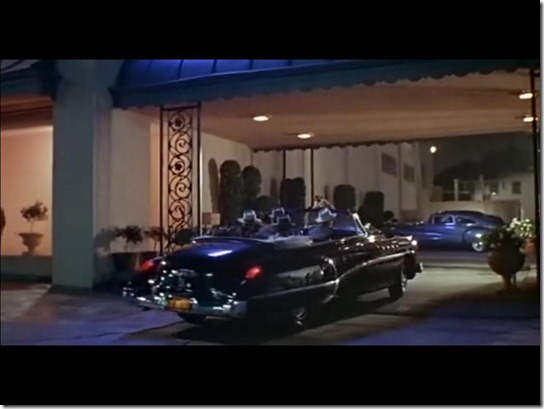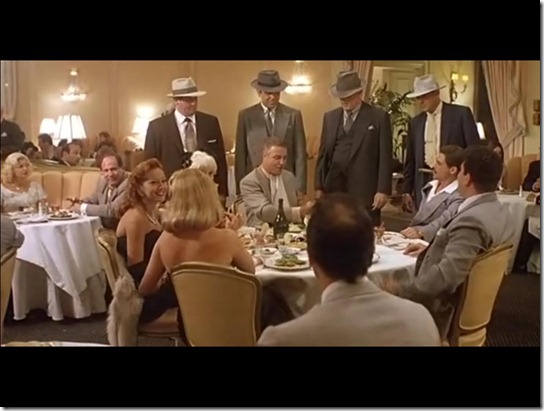 In the scene, the bar area is briefly visible.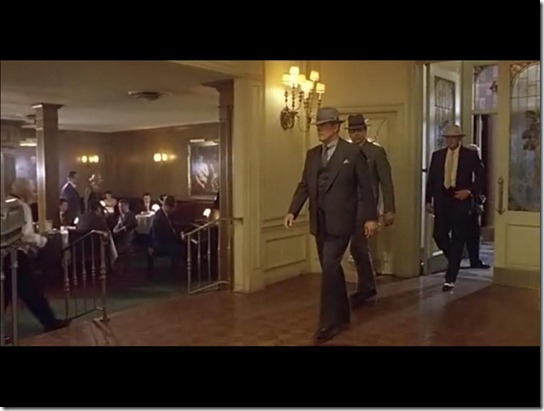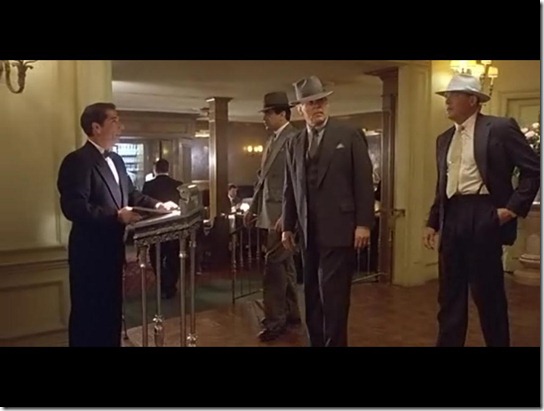 And in 1950's Sunset Blvd., the original Perino's location was visible in the background of the scene in which Norma Desmond (Gloria Swanson) takes Joe Gillis (William Holden) shopping for new clothes.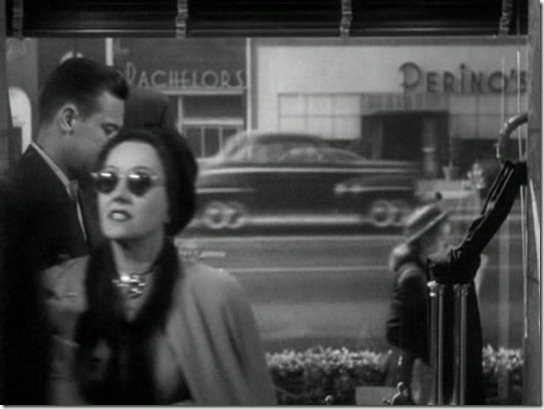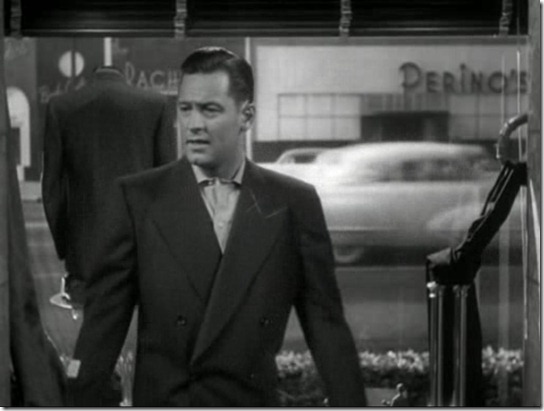 And while Perino's supposedly appeared in Bugsy and The Two Jakes, I scanned through both of those flicks yesterday and did not see it pop up anywhere.  According to IMDB, Perino's was also used in the TV movies Liz: The Elizabeth Taylor Story and Sinatra: Dark Star, and the film Grilled, but I, unfortunately, could not find copies of any of those productions with which to verify that information.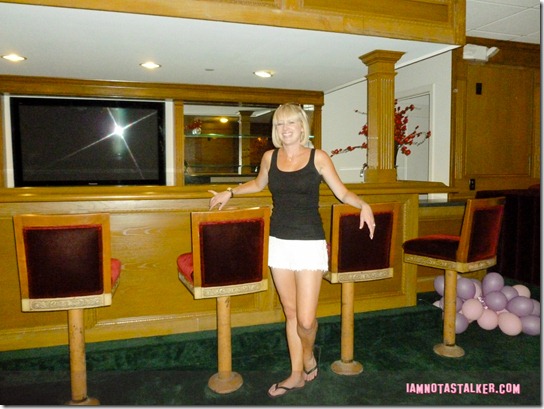 Be sure to "Like" IAMNOTASTALKER on Facebook here and "Friend" me on my personal page here.  You can also follow me on Twitter at @IAMNOTASTALKER and you can take a look at my other blog, The Well-Heeled Diabetic, here.
Big THANK YOU to Mike, from MovieShotsLA, for finding this location!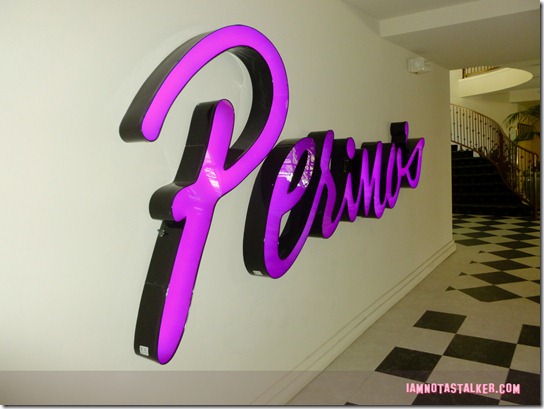 Until next time, Happy Stalking! 

Stalk It: Perino's Restaurant was formerly located at 4101 Wilshire Boulevard in Los Angeles.  Its famous façade can still be seen just around the corner at 635 South Bronson Avenue.  You can visit the official Perino's Luxury Apartments website here.
56332