Earthbar – One of Kristin Cavallari's Favorite Haunts
Aug 28th, 2012 | By
Lindsay
| Category:
Celebrity Sightings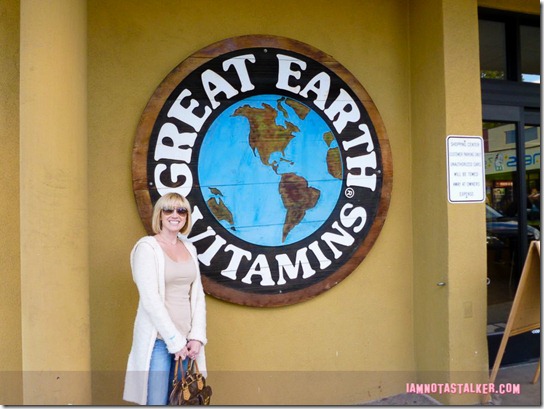 Way back in mid-April, I stumbled upon some recently-published photographs of my girl Kristin Cavallari grabbing a smoothie at the Earthbar health market/juice bar on Santa Monica Boulevard in West Hollywood.  After spending a few minutes oogling her ensemble, which was comprised of an amazing tangerine dress and Kate Middleton-esque nude heels, I came to the conclusion that The Hills star was quite easily the cutest, most stylish pregnant woman I had ever laid eyes on.  I, of course, promptly added Earthbar to my To-Stalk list – and then ran right out to buy myself a similar pair of nude heels, much to the Grim Cheaper's chagrin. 

  And while the GC and I ended up stalking Earthbar later that same week – and even had a celebrity sighting while there! – for whatever reason it has taken me this long to blog about the place.  So without further ado . . .
The Earthbar in West Hollywood, which is the company's flagship store and premiere location, was originally opened in 2007 and was the brainchild of Bernie Bubman, the registered pharmacist who also founded the highly-popular Great Earth vitamin store chain in the 1970s, and his son, Noah.  Earthbar became an immediate success and the father-son team have since opened nine sister locations in and around the L.A. area.  (And I apologize for the horrible exterior photograph below.  The sun was in the worst possible spot for picture-taking when we showed up to stalk the place.  Boo!)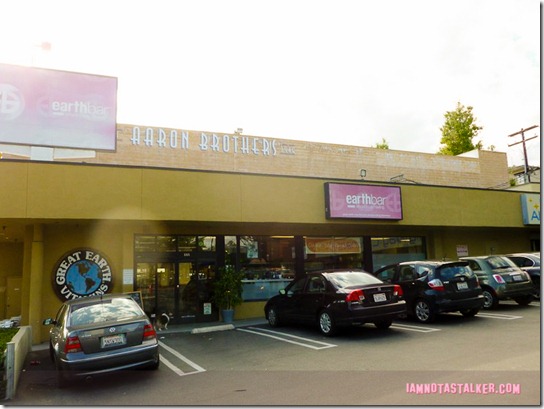 According to its website, Earthbar's mission is "to provide people with hand-crafted nutrient-rich drinks along with state-of-the-art supplements for optimum whole body health and wellness."  And I have to say that the place definitely delivers!  When I ordered an iced green tea, the cashier asked me what kind of iced green tea I wanted as there were several different varieties to choose from, each infused with its own special mixture of vitamins and minerals.  Um, LOVE IT!  The green tea that I ended up ordering was absolutely fabulous, as was the GC's.  So it is no surprise that Earthbar has long been a draw for health-conscious celebs.  Just a few of the stars who have been spotted at the WeHo location include Russell Brand, Penn Badgley, Mila Kunis, Jaime King, Kelly Osbourne, Justin Long, Selma Blair, and Dexter's Desmond Harrington.  And while doing research for this post, I came across some photographs taken of KCav there back in November 2009, so apparently she has been an Earthbar patron for quite some time.  (I wish I looked that good in leggings and tennis shoes, by the way!)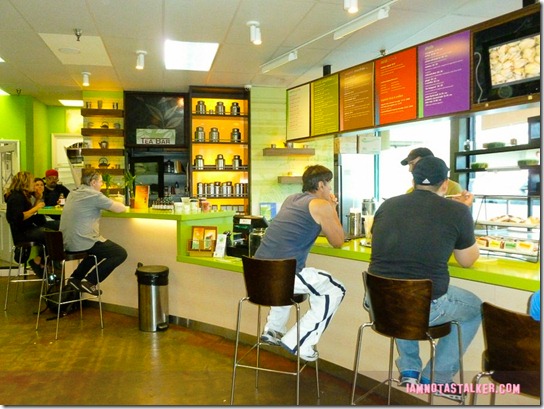 While we were in line waiting to order our drink, I happened to spot actor Ben Savage standing just a few people ahead of us.  And while the GC was absolutely adamant that I was mistaken and that the man I was pointing to was most-definitely not Ben Savage, as it turns out my "spot" was spot-on.  After I finished ordering, I approached Ben to ask for a picture and I am happy to report that he could NOT have been sweeter.  He spent quite a while talking to us and, of course, asked where we were visiting from.  Due to my massive incapability to be anything other than completely star-struck, celebrities invariably think I am from Iowa or Ohio and are always shocked to learn that I live in L.A.  If I had a nickel for every time a star asked where I was from, let me tell you, I would be one very rich stalker! 

  When Ben inquired as to how I had wound up at the West Hollywood Earthbar when I live in Pasadena, I (embarrassedly) explained about my Kristin Cavallari fandom and was shocked when he told me that he and KCav are good friends!  He then said, "I can tell you exactly what she orders when she comes here so that you can order it, too, if you want.  Oh, wait, that would be a little weird, huh?"  LOL  Such a genuinely nice guy!  It was also incredibly cool to be able to tell him that, to this day, I cannot drive by Topanga Canyon Boulevard without thinking of him and Boy Meets World.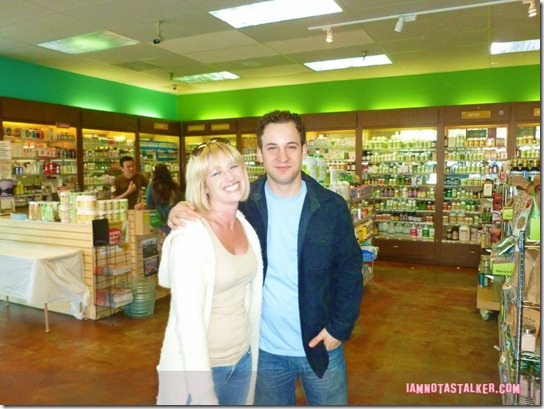 You can find me on Facebook here and on Twitter at @IAMNOTASTALKER.  And be sure to check out my my other blog, The Well-Heeled Diabetic.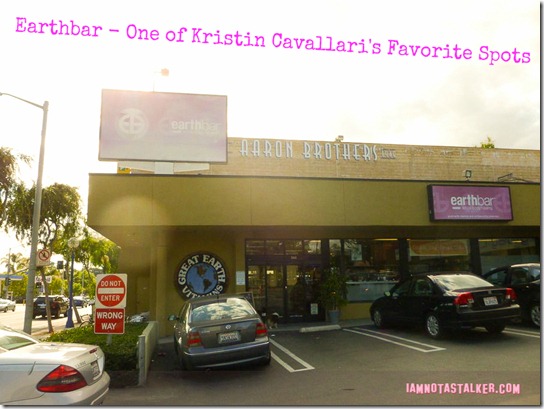 Until next time, Happy Stalking! 

Stalk It: Earthbar is located at 8365 Santa Monica Boulevard in West Hollywood.  You can visit the store's official website here.
56913