Molly Malone's from "Patriot Games"
Sep 4th, 2012 | By
Lindsay
| Category:
Movie Locations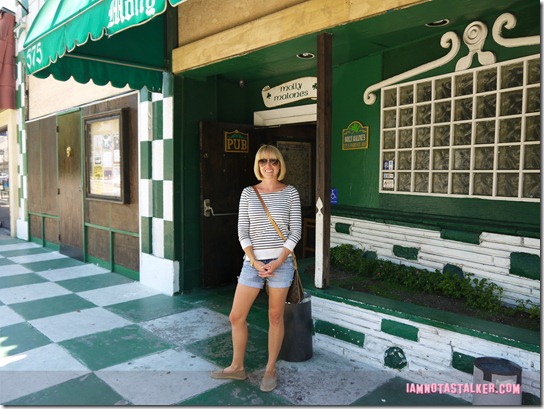 Way back in mid-June, while trying to track down the Irish pub that masquerades as Scully's bar on fave show Parks and Recreation (a location that I still have, maddeningly, yet to find, by the way), I came across a website for a Fairfax District-area watering hole named Molly Malone's.  The website mentioned that the historic establishment had been featured in several movies over the years, including Patriot Games, Leaving Las Vegas and Life Without Dick.  And even though I am not particularly a fan of any of the three flicks, I just about died of excitement upon reading the news and immediately added the place to my To-Stalk list.  Why, oh why, do more bars and restaurants not post similar such information on their websites?  It would make my job so much easier! 

  And while I was not able to drag the Grim Cheaper out to stalk Molly's until two Saturdays ago, I have to say that the place was most-definitely well worth the wait.
Molly Malone's, which is located at 575 South Fairfax Avenue, was originally founded sometime (I believe) during the 1960s.  In 1970, the place was taken over by a Dublin-born homemaker named Angela Hanlon, who had come to Los Angeles via Baltimore with her entertainer husband.  Finding herself homesick for her native land, Hanlon one day ventured in Molly's and quickly became a regular.  And although there are several differing reports as to how Hanlon came to own the watering hole, the story I like best, which was chronicled in a 1997 Los Angeles Times article, is that, on one very fateful day, Hanlon loaned Molly's then-owner money and when he skipped town shortly thereafter, the place wound up in her hands.  Molly Malone's has been owned and operated by the Hanlon family ever since.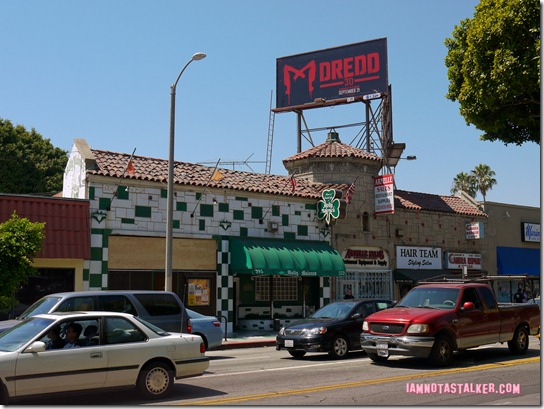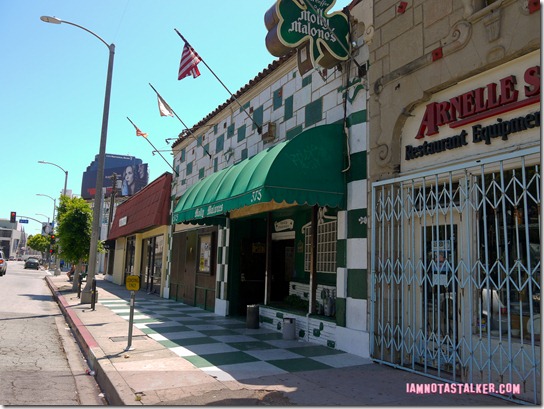 The space at 575 South Fairfax housed bars long before Molly Malone's was ever founded, though.  According to a 1995 Los Angeles Times article by Hillary Johnson, legend has it that the 575 Club, one of the many watering holes to precede Molly's, was actually one of the first to be given an alcohol license after Prohibition.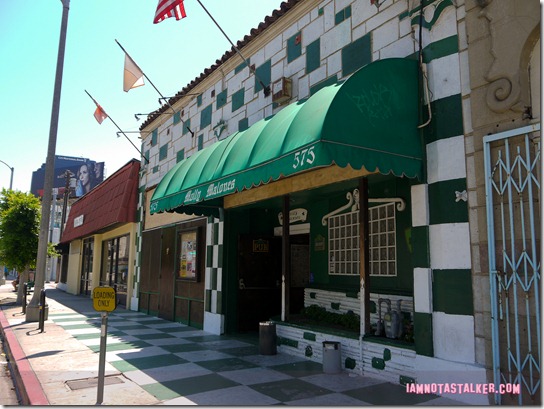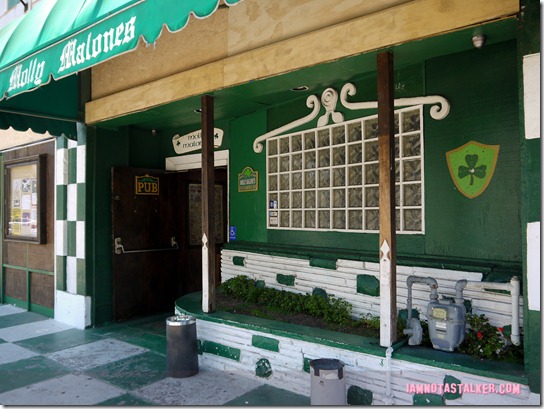 Molly Malone's dark walls are covered with over seventy original paintings – almost all of them renderings of the bar's regular customers – created by legendary oil painter Neil Boyle, who was a loyal patron of the drinkery for decades until he passed away in 2006.  Lorraine Devon Wilke writes in a 2011 Huffington Post article, "For an artist whose pieces command phenomenal fees, who was always in demand for murals and commissioned work, and whose work hangs in galleries and museums around the country, the prestige of showcasing such valuable art was undeniable to Molly's.  Some patrons came in simply to view Neil's paintings.  It was a draw.  Literally."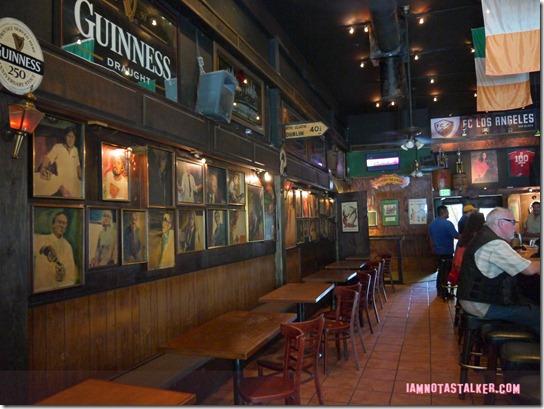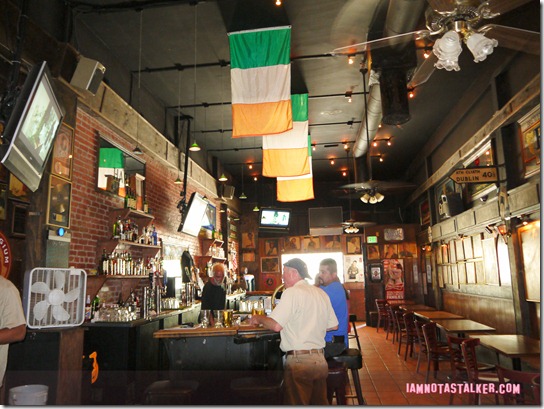 In the 1995 LA Times article that I mentioned above, author Hillary Johnson states, "A sign on the wall says, 'Dublin, 40 km.'  Some would say it's closer."  And I would have to agree with that sentiment. As soon as we walked through Molly Malone's dark wooden front door, we were welcomed like old friends.  And when I asked the bartender on duty about the various movies filmed on the premises, he came out from behind his post, grabbed me by the hand and proceeded to take me on a tour of the place.  And he even introduced me to Molly's former longtime manager, who just happened to be on site that day, to see if he could answer any more of my questions!  Talk about hospitality!  Love it!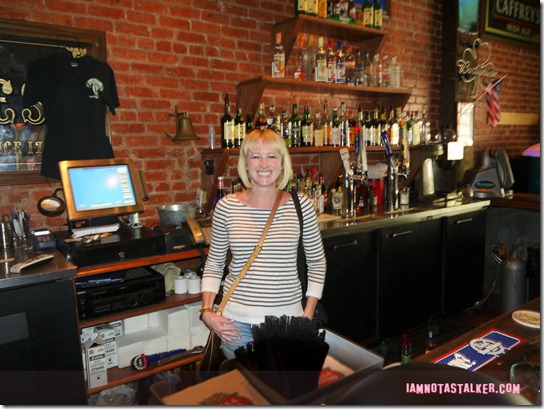 Besides being a filming location, Molly Malone's has also long been popular with the Hollywood set.  According to the former manager that I spoke with, Lenny Kravitz, Daniel Day-Lewis, Liam Neeson, Mickey Rourke, and Ralph Fiennes have all been spotted there.  The place is also a live music venue and boasts a large back room, complete with a stage, where many young musicians have gotten their start.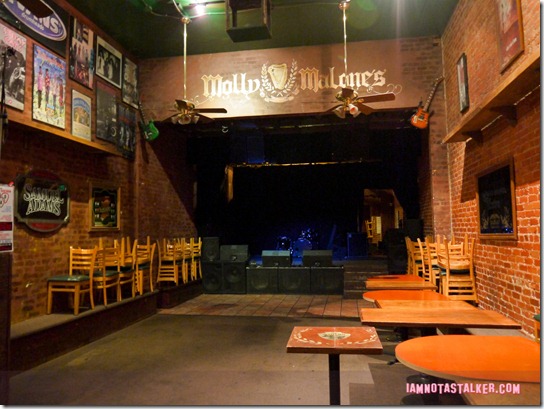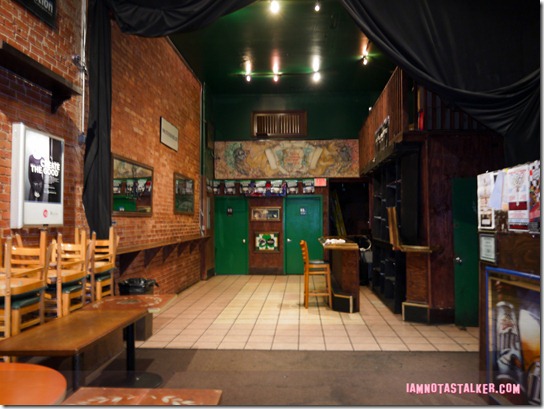 The band Flogging Molly not only cut their teeth at the bar, but named themselves in honor of it.  Of the name, front-man Dave King said, "We used to play there every Monday night and we felt like we were flogging it to death, so we called the band Flogging Molly."  Love it!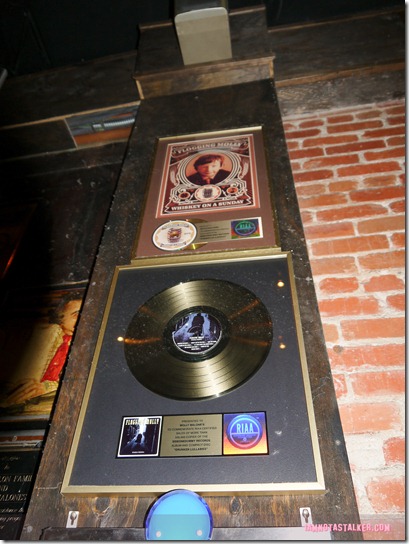 In 1992's Patriot Games, Molly Malone's was the Irish pub where Jack Ryan (Harrison Ford) threatened to destroy Paddy O'Neil (Richard Harris) after O'Neil refused to tell him the whereabouts of Sean Miller (Sean Bean) and Kevin O'Donnell (Patrick Bergin).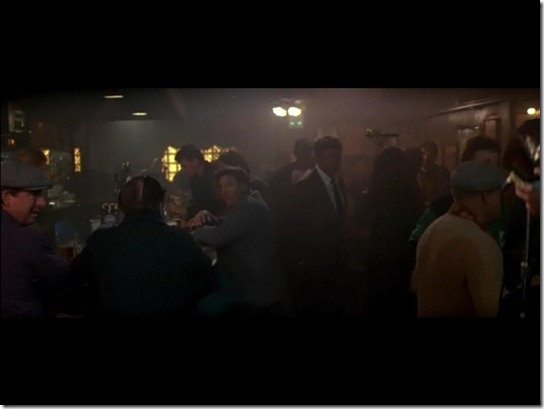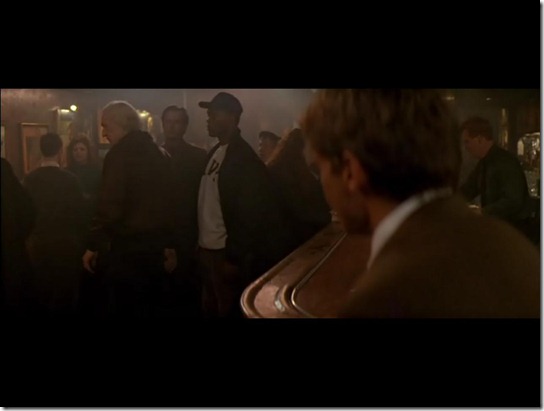 While numerous websites state that either Boardner's of Hollywood (which I blogged about here) or Cock 'N Bull British Pub in Santa Monica was the bar featured in the opening scene of 1995's Leaving Las Vegas, that information is actually incorrect.  The bar in question was actually Molly Malone's and it popped up twice in the flick, first in the scene in which Ben Sanderson (Nicolas Cage) rather aggressively purchases  a random woman named Terri (Valeria Golino) a drink before inviting her home with him.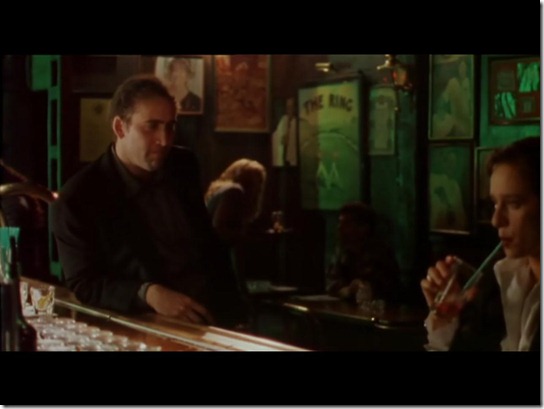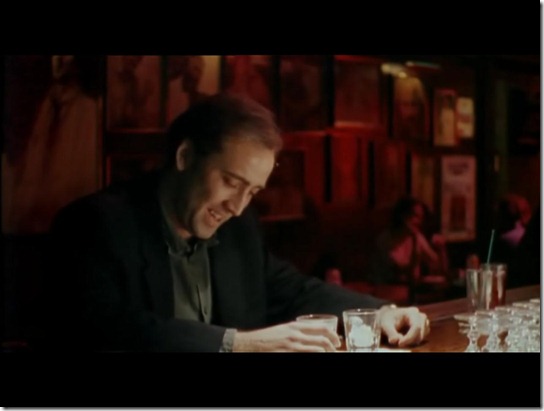 It next appeared in the scene in which the "L.A. Bartender" (Graham Beckel) urged Ben to stop drinking once and for all.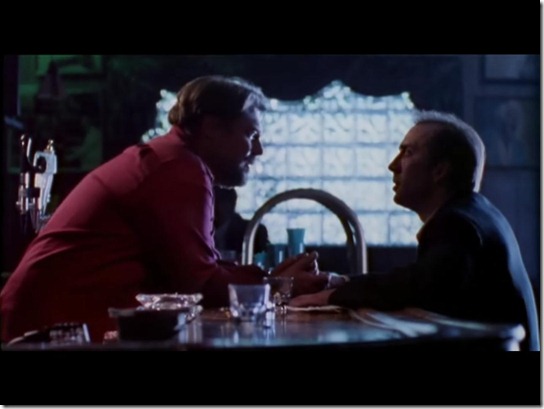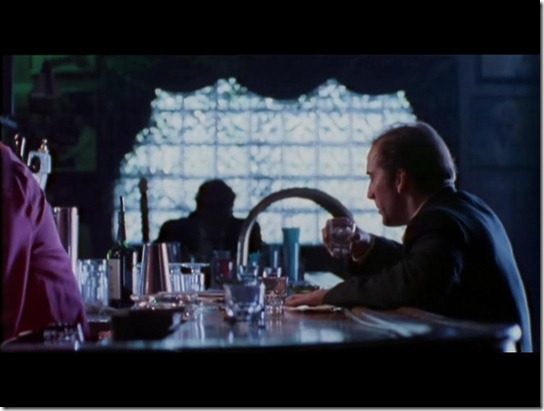 Molly Malone's also popped up twice in 2002's Life Without Dick.  It first appeared in the scene in which hitman Daniel Gallagher (Harry Connick Jr.) asked his friend Rex (David Cross) to get rid of a gun.  Both the exterior . . .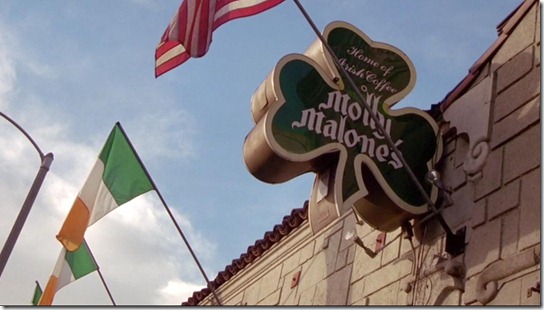 . . . and the interior were used in that scene.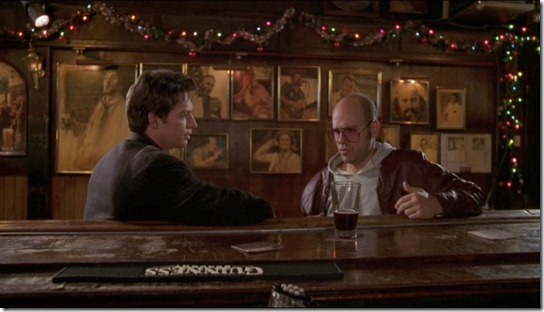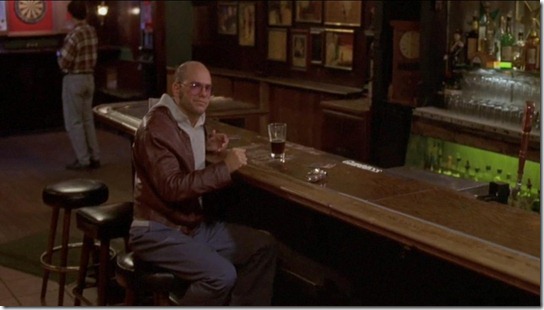 Molly's next popped up in the scene in which Daniel finally admitted to his new girlfriend, Colleen Gibson (my girl Sarah Jessica Parker), that he was a hitman.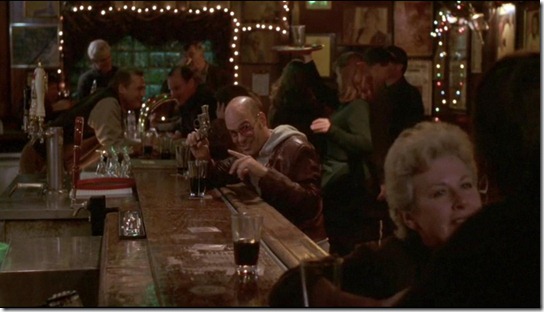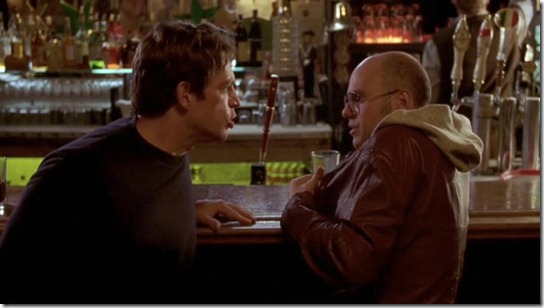 The exterior of Molly's also appeared in that scene, as well.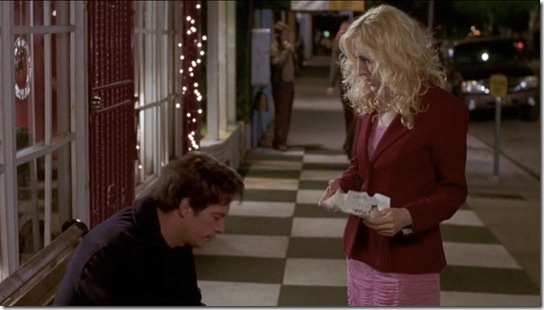 You can find me on Facebook here and on Twitter at @IAMNOTASTALKER.  And be sure to check out my latest post – about a nightmare experience at the DMV – on my other blog, The Well-Heeled Diabetic.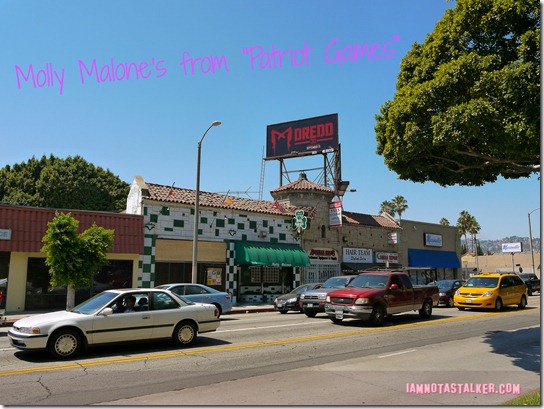 Until next time, Happy Stalking! 

Stalk It: Molly Malone's, from Patriot Games, is located at 575 South Fairfax Avenue in the Fairfax District of Los Angeles.  The bar is a 21-and-over establishment, so, if you are going to stalk it, you will have to leave the kiddies at home.  You can visit Molly Malone's official website here.
57177