Alfred Hitchcock's Second L.A. Home
Oct 5th, 2012 | By
Lindsay
| Category:
Celebrity Homes
,
Haunted Hollywood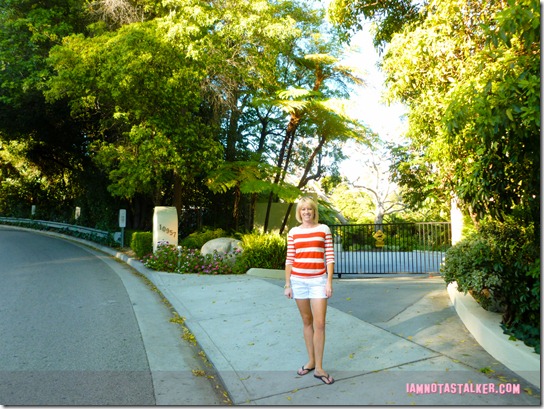 As I mentioned in yesterday's post (which you can read here), in the Spring of 1942, Alfred Hitchcock, his wife, Alma, and their daughter, Pat, moved out of their first Los Angeles-area home (a Bel Air rental that was previously lived in by Carole Lombard) and into a new one, which they purchased, that was located just a few miles away at 10957 Bellagio Road.  I learned of this location, once again, thanks to the book Dial H for Hitchcock, the fifth installment of author Susan Kandel's Cece Caruso mystery series, which I am a HUGE fan of.
Hitch's new story-and-a-half Colonial-style residence, which was originally constructed in 1942 (I am guessing that he was the home's first owner), boasts 7 bedrooms, 5 baths, and 7,258 square feet of living space.  It sits on a well-hidden 0.64-acre plot of land that backs directly up to the golf course of the Bel Air Country Club, near the fifteenth hole.  According to the 1999 book Hitchcock & Selznick, the Master of Suspense would snatch up any errant golf balls that made their way into his yard and give them to his dogs.  LOL  The legendary director lived on the premises from 1942 until his death, which took place inside of the home, on April 29th, 1980.  Alma passed away two years later on July 6, 1982.  And it appears as though whomever purchased the residence from the Hitchcock estate still owns it to this day.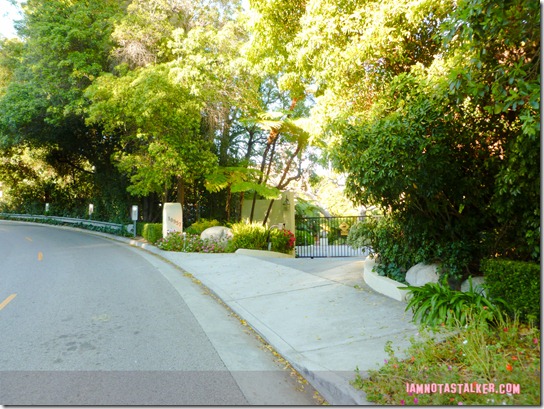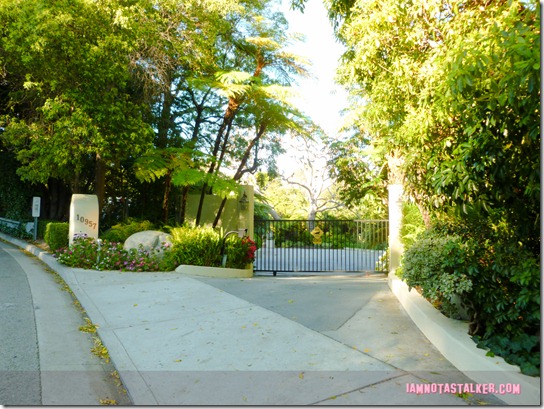 The Hitchcock & Selznick book also states that, while he was searching for his new home, Hitch told a reporter, "All I need is a snug little house with a kitchen, and the devil with a swimming pool."  Alfred, an avid cook, failed to mention that it would have to be a spectacular kitchen.  According to Dial H for Hitchcock, the director apparently spent a whopping TWENTY YEARS redesigning the kitchen of the Bellagio road home.  As Kandel states, "For Hitchcock, eating was serious business.  His father, a grocer in London's East End, insisted on potatoes at every meal.  The habit stuck.  Hitch wolfed them whole, halved, diced, sliced, boiled, baked, fried, sautéed, cottage-fried, double-baked, and, in his waning years, mashed.  At age twenty-seven, he weighed two hundred pounds; at forty, he weighed close to four hundred.  At forty-four, by his own admission, his ankles hung over his socks and his belt  reached up to his necktie.  Not that he particularly minded.  His weight was his armor, his insulation.  Which makes it doubly odd that in his work food is so unfailingly gruesome: the milk poisoned, the eggs scrambled to resemble brains, the ketchup explosive.  Murder victims are baked into pies, then devoured.  Corpses are concealed in sacks of potatoes.  Chickens have necks meant to be strangled."  See why I love Kandel's books so much?   Each provides a plethora of fascinating historical information.  I always prefer my mystery novels with a side of history.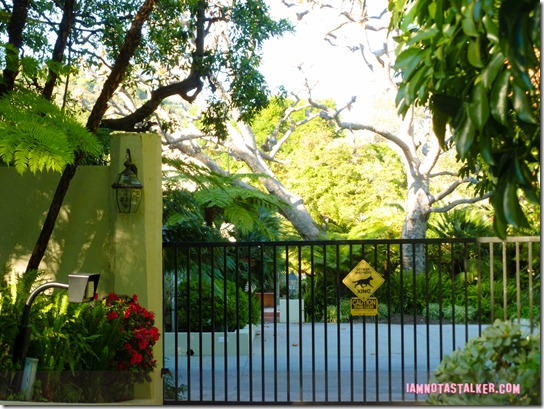 Besides a great kitchen, Hitch also sought privacy and, as you can see below, his former Bellagio Road home is extremely well-covered with lush foliage and, unfortunately, not at all visible from the road.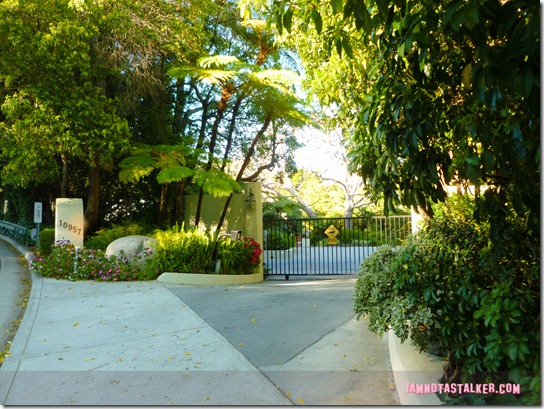 But as I've said before, that's why God created aerial views.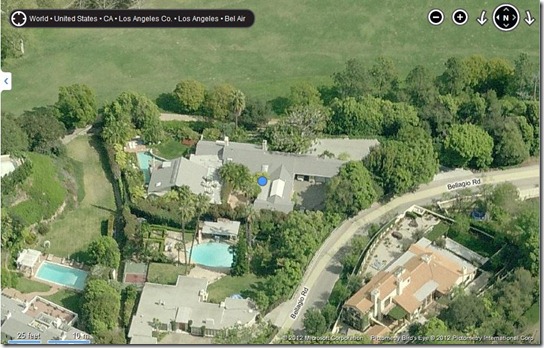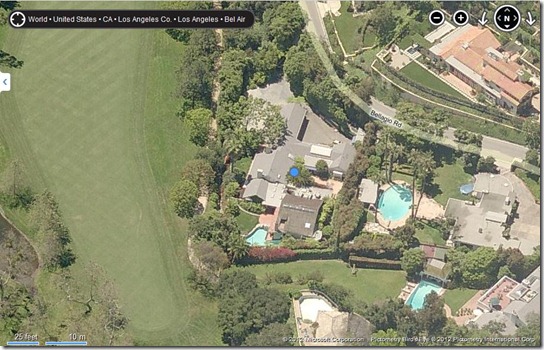 You can find me on Facebook here and on Twitter at @IAMNOTASTALKER.  And be sure to check out my other blog, The Well-Heeled Diabetic.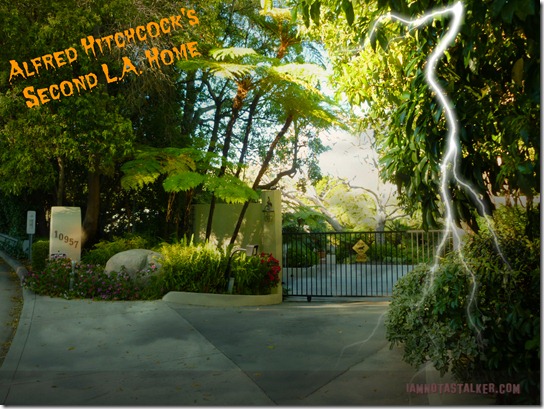 Until next time, Happy Stalking! 

Stalk It: Alfred Hitchcock's second L.A. home is located at 10957 Bellagio Road in Bel Air.
58942