Merv Griffin's Former House – and Some Big News!
Nov 28th, 2012 | By
Lindsay
| Category:
Celebrity Homes
The Grim Cheaper and I had a fabulous time in Palm Springs last week celebrating Thanksgiving with my parents – so much so that we have decided to move there permanently!  We have been seriously considering a move to the Desert for a few months now, but finally decided to pull the trigger while driving back to Pasadena last Saturday afternoon and called up our landlord to officially give our 60 days notice.  While I will miss my beloved L.A. more than words can express, I think our being in the desert will do wonders for my dad's health (not to mention my poor mom's sanity).  The fact that our new apartment (which we LOVE) is half the price of our current apartment – and twice the size! – AND features a HUGE walk-in closet only sweetens the deal.  (My current closet situation is absolutely pitiful, but I digress.)  And not to worry, my fellow stalkers, my blog is not going anywhere.  We own a condo in Santa Monica that is only rented out part time and we will be staying in it whenever it is free so that I will be able to stalk.  IAMNOTASTALKER is most-definitely here to stay, I promise. 
  And now, on with the post!
A couple of months ago, my mom mentioned that she had seen a real estate listing for Merv Griffin's former 39-acre estate in La Quinta.  The listing did not cite an address, though, and my mom was desperate for me to track the place down because she could not imagine where an almost forty-acre property could possibly be located in the LQ.  Thankfully, I was able to find the abode fairly quickly via a Google search and, as it turns out, the pad is pretty darn close to my parents' house.  So I dragged the GC right on out to stalk the place Thanksgiving morning.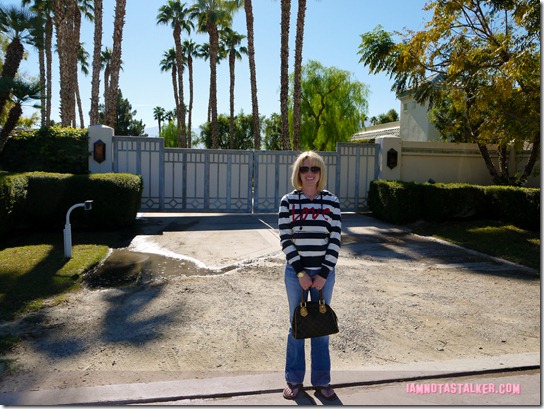 Merv, who had been a frequent Desert visitor in the past, purchased the land for his La Quinta estate while in town for a tennis tournament sometime during the 1980s.   According to a 2006 Palm Springs Life article, he said, "I looked around and thought this would be a great place to bring my horses.  I bought the first and only 80-acre parcel I saw.  It was a disaster — nothing but sand, cactus, a little old motel, and a small lake.  My son asked me, 'What are you going to do with this?'  And I said, 'See if I can make Kentucky out of it.'"  Griffin bought up several adjacent plots of land in the following years, eventually amassing a whopping 240-acre compound.  He built a private home for himself on the site in 1986 and the surrounding acreage was transformed into Griffin Ranch, an exclusive equestrian-themed gated community that formally opened in 2007.  And while the Ranch was originally expected to feature 393 custom estates, according to Brad Schmett's La Quinta real estate website, new construction was halted in 2009 and the fate of future development there is currently unknown.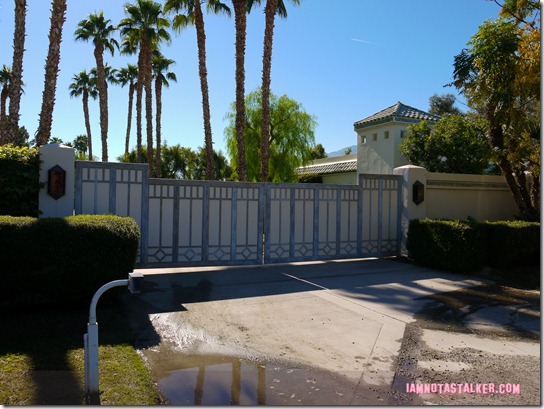 Griffin's ginormous Moroccan-style residence was inspired in part by clothing designer Yves Saint Laurent's home in Marrakech, which Merv claims to have once snuck into while on a visit to Morocco  (a man after my own heart, I swear
).  He commissioned famed interior decorator Waldo Fernandez (who is/was the go-to designer for such stars as Elizabeth Taylor, Sean Connery, and Jennifer Aniston and who handled the 1980s remodel of the Beverly Hills Hotel, which was also owned by Griffin at the time) to style the interior.  Sadly, Merv's home was gutted in an electrical fire in 1987, not long after it was first constructed, and had to be completely rebuilt.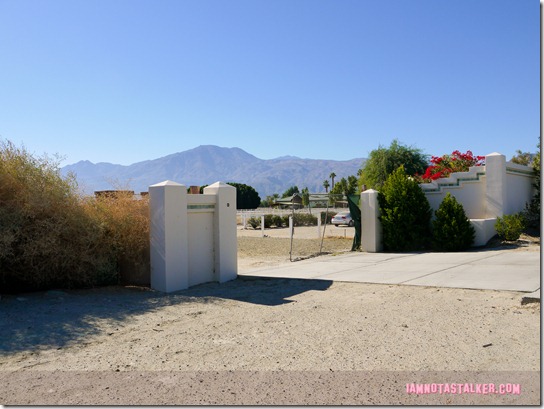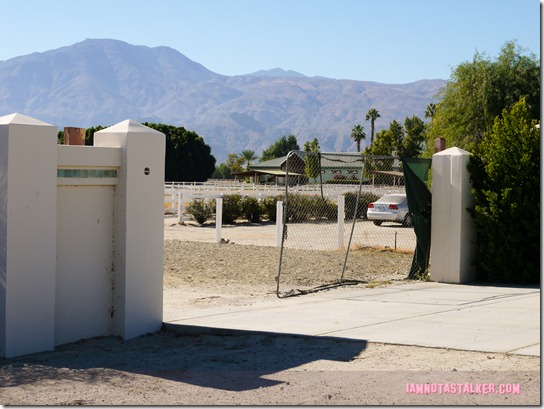 Griffin's former estate, not much of which is visible from the road, is nothing short of spectacular, as you can see in the aerial views below.  In fact, when I first saw the below images I thought I was looking at a resort!  The estate boasts a 5,483-square-foot main house with a 2000-square-foot living room, retractable dome skylight, 20-foot ceilings, and two master suites with Moroccan-style steam showers.  The property also features four detached circular-shaped casitas, a 1,712-square-foot guest house (with three bedrooms and two baths!), separate staff quarters, an equestrian center with a 16-stall stable, a barn, a regulation-sized racetrack (apparently the only one in the entire Coachella Valley), an infinity pool, and a 2.5-acre(!) pond complete with a swan paddle boat.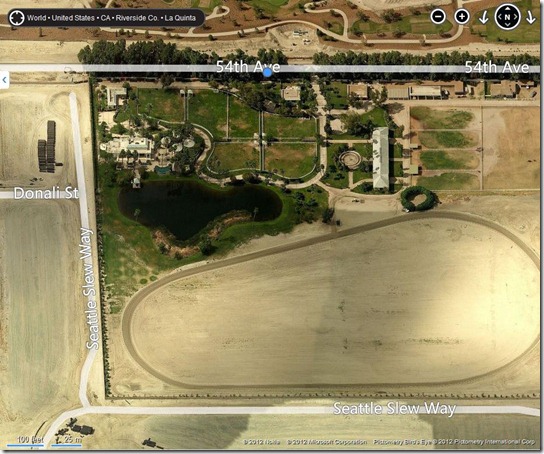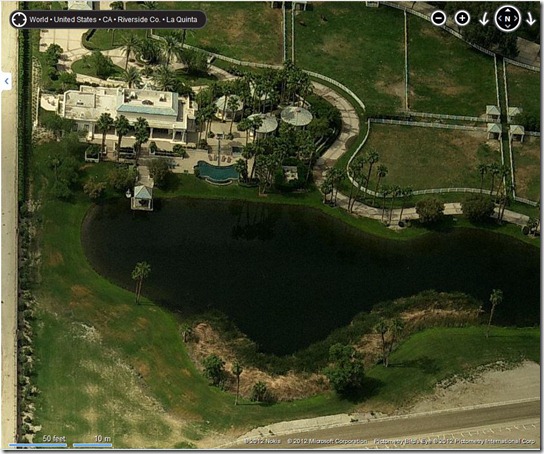 Upon Griffin's passing in 2007, the home became a vacation rental and was then put up for sale this past March for a whopping $14.5 million.  It was relisted in June for $9.5 million and appears to still be on the market today.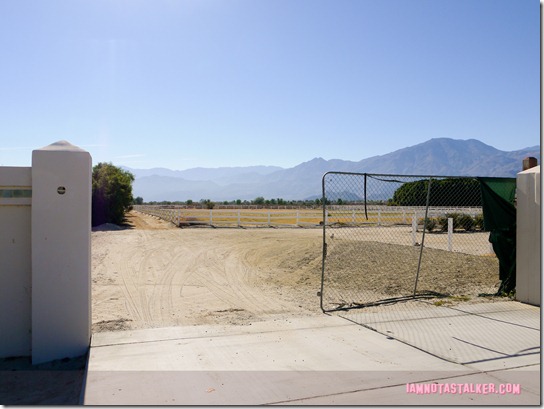 Thanks to fave website The Real Estalker, I learned that Griffin's former house is also a filming location!  The dwelling was where Slade Smiley and Gretchen Rossi vacationed with Gretchen's parents, Brenda and Scott, in the Season 5 episode of The Real Housewives of Orange County titled "Let's Bow Our Heads and Pray".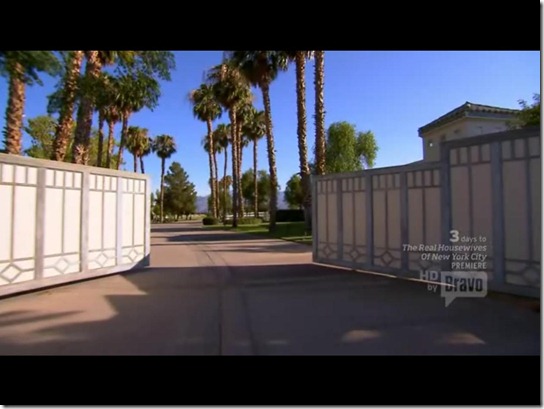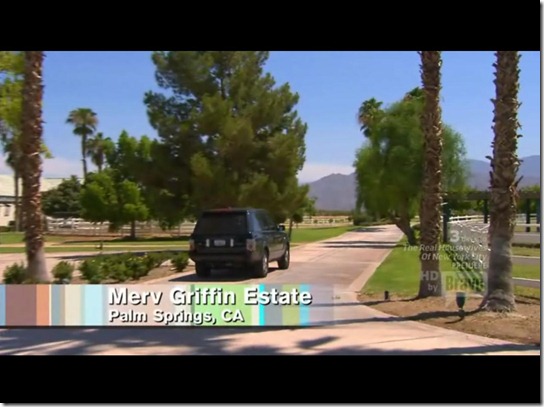 Um, can you say "product placement"?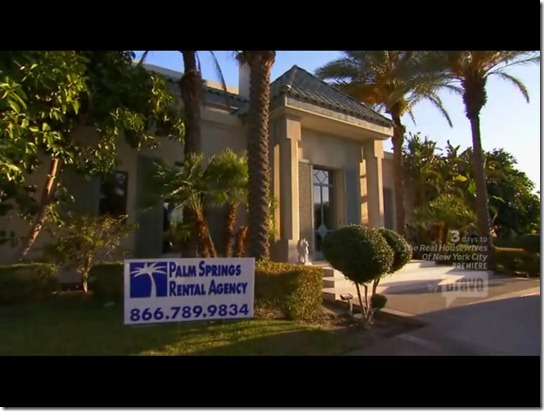 The interior of the home was also shown in the episode.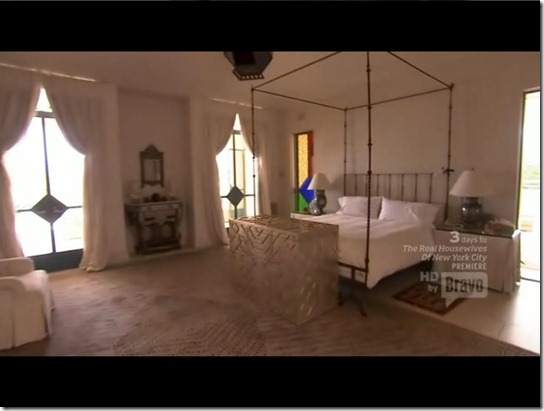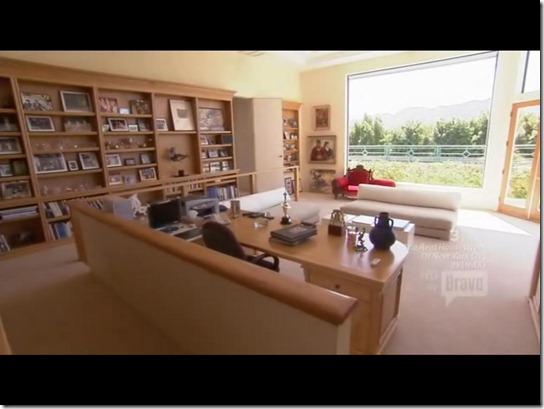 You can find me on Facebook here and on Twitter at @IAMNOTASTALKER.  And be sure to check out my other blog, The Well-Heeled Diabetic.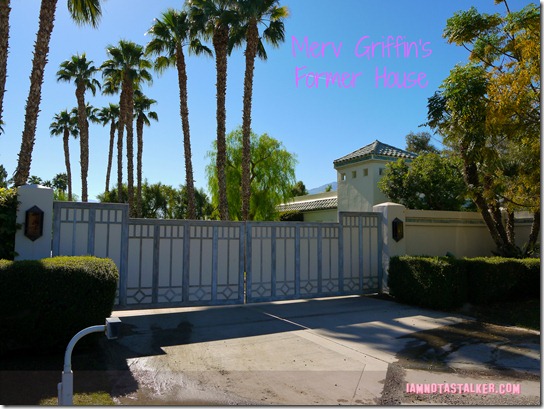 Until next time, Happy Stalking! 
Stalk It: Merv Griffin's former house is located at 81345 Avenue 54 in La Quinta.
62929