Judy's House from "Bridesmaids"
Dec 5th, 2012 | By
Lindsay
| Category:
Movie Locations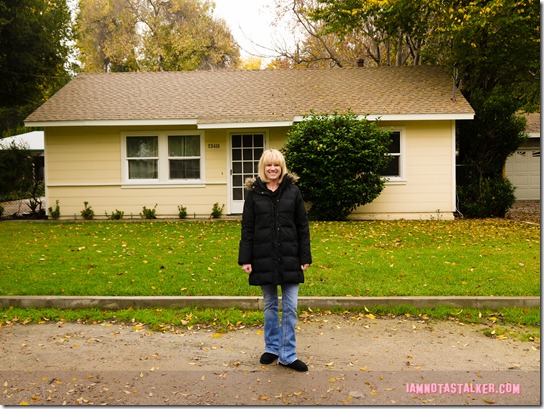 The one location from Bridesmaids that I was most determined to track down – the one that I would not stop bugging poor Mike, from MovieShotsLA, about – was the yellow ranch-style dwelling where Annie's (Kristen Wigg's) mom, Judy (Jill Clayburgh, who was ABSOLUTELY ADORABLE in the role, which was, sadly, her last), lived in the 2011 flick.  Thankfully, once Mike managed to find Officer Rhodes' (Chris O'Dowd's) house, which I blogged about yesterday, tracking down Judy's was a snap because, in an odd twist, the two properties are located right across the street from one another.  While I had told Mike when we first began the search that I had a hunch that the residences would most likely be found in the same vicinity, perhaps even the same town, never in a million years did I think that they would be directly across the street from each other!
Mike had an inkling that they would be, though.  While scanning through Bridesmaids, he noticed that the fake address numbers that producers had given the properties for the filming – 8409 and 8410 – were sequential, which would, in fact, put the two structures across the street from one another.  He figured that the residence's actual addresses had most likely just been shortened – from 28409 to 8409 and from 28410 to 8410, perhaps – for the shoot.  So, when he ended up finding the locations, we were both absolutely flabbergasted to learn that the real life numbers – 23418 and 23425 – are not actually in any sort of sequence.  Why on earth producers would give two homes that are not supposed to be located anywhere near each other random, but sequential address numbers is absolutely beyond me!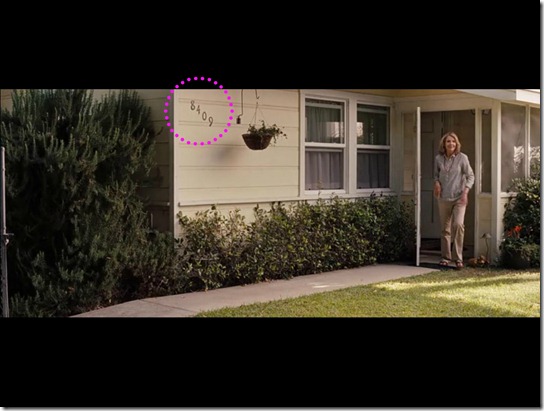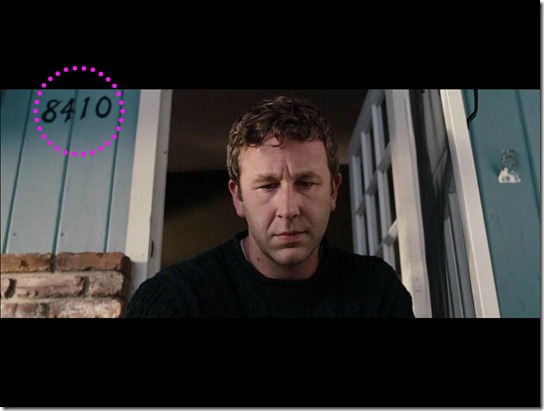 Judy's house shows up numerous times throughout Bridesmaids, especially towards the end of the movie when Annie moves in with her mother.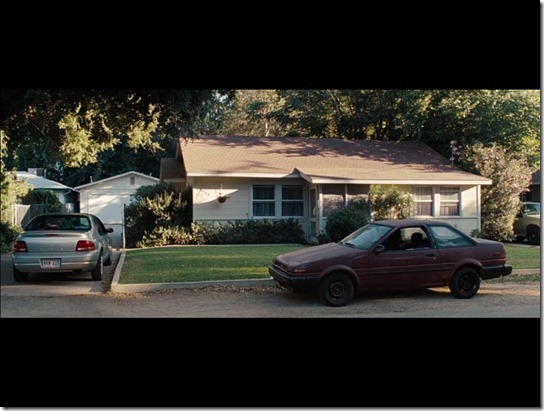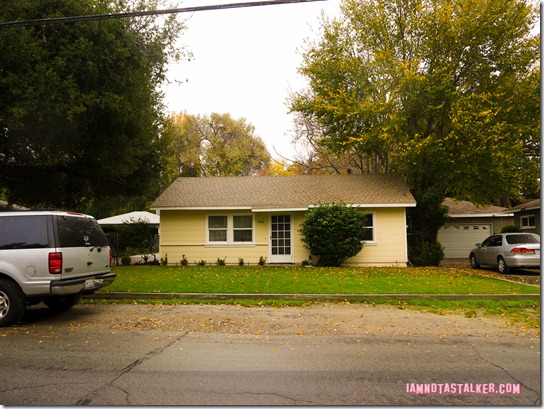 As you can see below, the abode looked quite a bit different onscreen than it does in real life.  While I figured that the pad had most likely been remodeled in recent months, a super-nice neighbor informed us that the enclosed front porch area that appeared in Bridesmaids was actually a fake that had been built specifically for the filming.  I actually think the front porch makes the house much more appealing, which is most likely why it was added.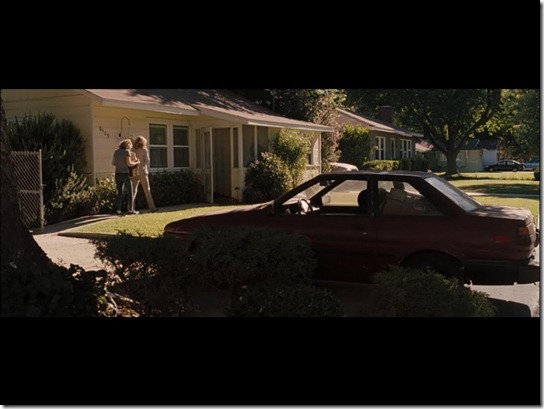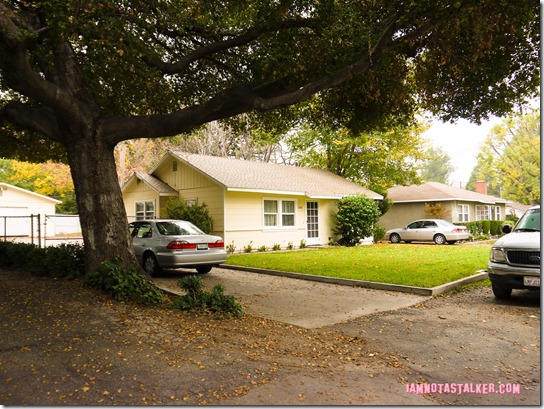 You can see the home's real life front door behind Judy, inside of the fake enclosed front porch, in the screen capture below.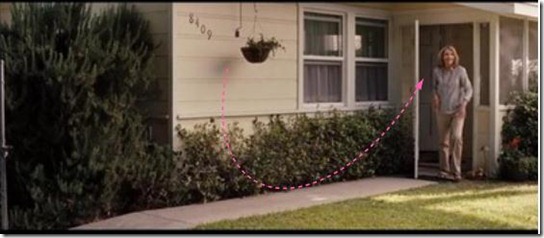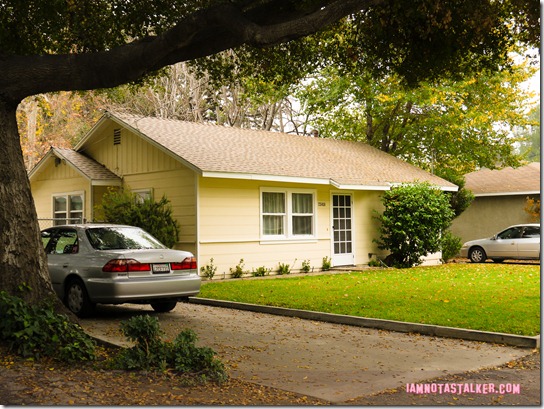 The exterior of the home is actually quite deceiving as it looks to be fairly moderate in size.  In reality, though, the property, which was originally built in 1948, boasts two bedrooms, one bath, a scant 882 square feet of living space, and a 0.21-acre plot of land.  It's teensy!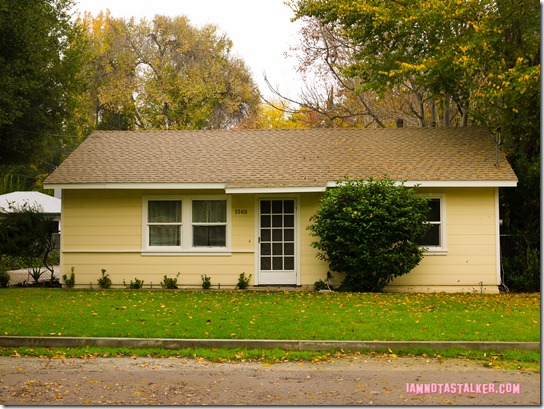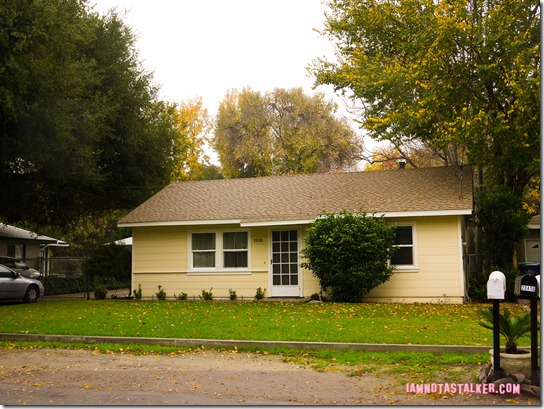 And while I originally thought that the residence's actual interior was used in the filming, that does not seem to be the case.  You can check out some photographs of the home's real life interior here.  As you can see, it looks nothing at all like Judy's wood-paneled, 70s-style abode.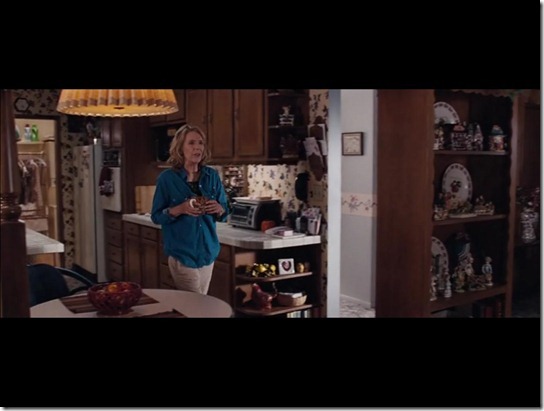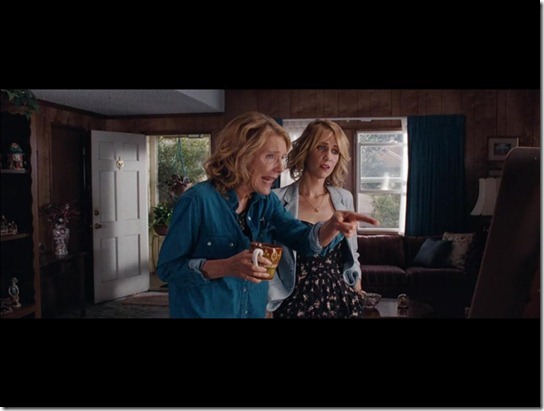 You can find me on Facebook here and on Twitter at @IAMNOTASTALKER.  And be sure to check out my other blog, The Well-Heeled Diabetic.
Big THANK YOU to the world famous Mike, from MovieShotsLA, for finding this location!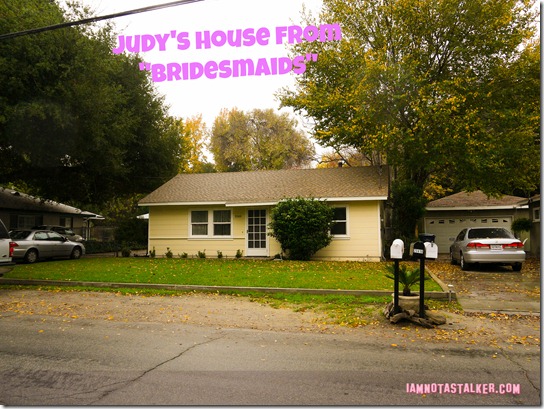 Until next time, Happy Stalking! 

Stalk It: Judy's house from Bridesmaids is located at 23418 8th Street in Santa Clarita.  Officer Rhodes' house is located directly across the street at 23425 8th Street.  Note – these properties cannot be reached via Calgrove Boulevard, as that street is blocked just east of Creekside Drive.  To gain access to the sites, you can take either Apple or Valley Street south off of Lyons Avenue to 8th Street.
63233