The House from Rihanna's "Take a Bow" Video
Dec 11th, 2012 | By
Lindsay
| Category:
This and That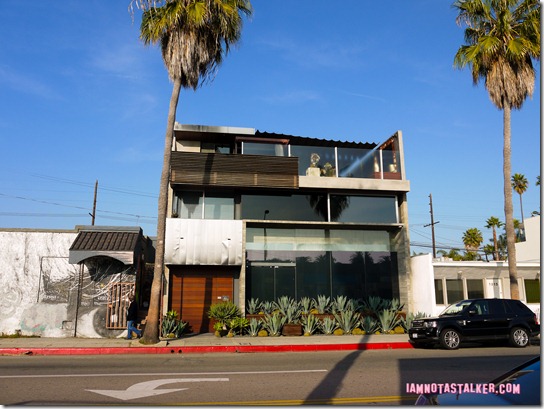 Way back in April 2010, fellow stalker Virginie (who lives in Belgium!) contacted me to let me know that she had tracked down the Venice-area home featured in Rihanna's 2008 "Take a Bow" music video.  And while I had never seen said video, nor am I a particularly big fan of Rihanna, I did absolutely love the Glee version of the song, so after receiving Virginie's email, I decided to take a gander.  And, let me tell you, I fell head over heels in love with the gorgeous "Take a Bow" house on sight.  To be honest, I was practically foaming at the mouth!   So I immediately added the place to the very top of my To-Stalk list, but because I do not often find myself in the Venice area, the residence, sadly, remained un-stalked until two weeks ago.  I am very happy to report, though, that it was well worth the wait because the dwelling is nothing short of spectacular in person!
The 7,456-square-foot property, which houses both a private loft-style residence and a 40-foot by 40-foot art gallery, was originally built in 2007 by du Architects for Steve Shaw, a prominent Los Angeles fashion photographer who drew up the floor plans himself.  The structure, which was constructed out of wood, concrete, glass, and steel, boasts five bedrooms (the master bedroom suite features an eight-foot movie screen!), five baths, a rooftop infinity pool (with a special sensor that drains excess water whenever it rains!), an atrium, a terrace, and a sunken living room with a built-in custom sofa, gas fire pit and 11-foot movie screen (yes, the place has not one, but TWO movie screens!).  Not bad for a house that sits on a miniscule 0.09-acre plot of land.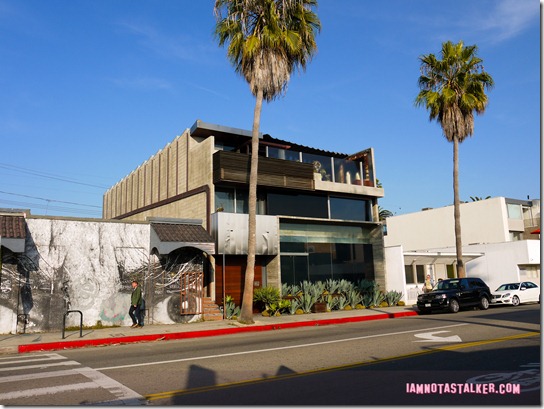 In 2009, Shaw sold the abode (how anyone could ever bear to part with this house is beyond me!) for a cool $5.6 million to none other than Robert Downey Jr. and his wife, Susan, who are now using the property as their production offices.  You can check out some interior photographs of the spectacular pad here, here, here, and here.  Warning – have a drool cloth ready!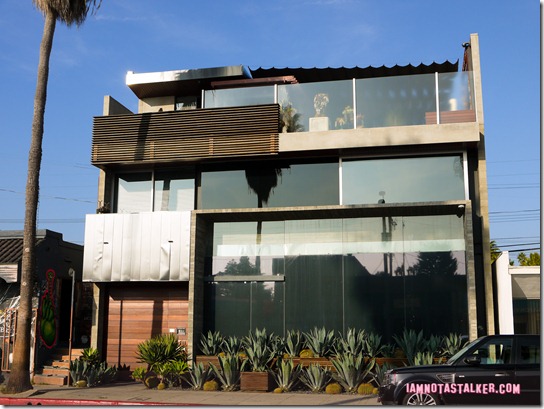 The interior of the house was used extensively in "Take a Bow".  (See what I mean?  Definitely drool-worthy!  Sigh.)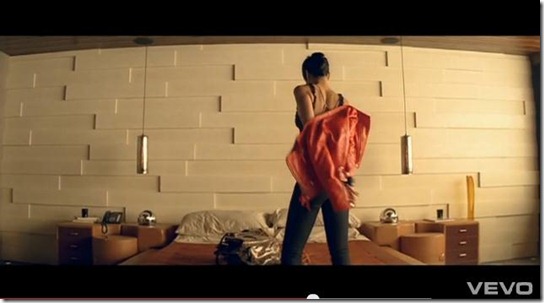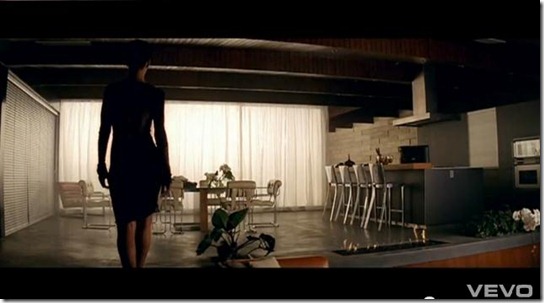 The front entrance also made a brief appearance.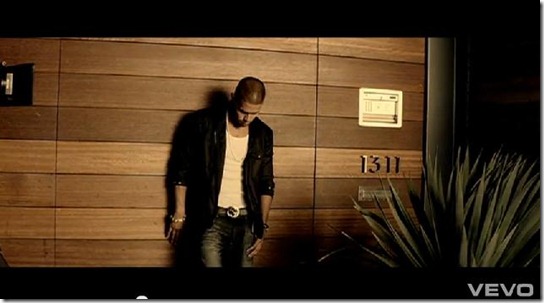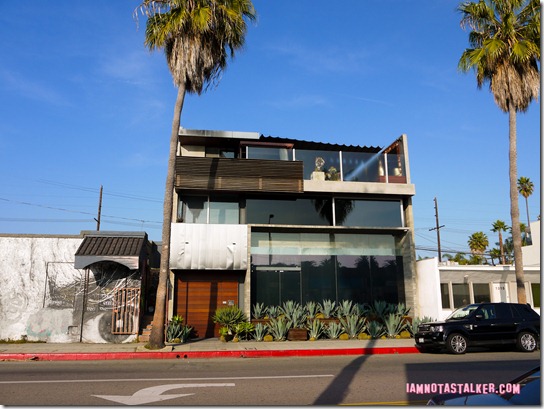 As did the three-car garage area.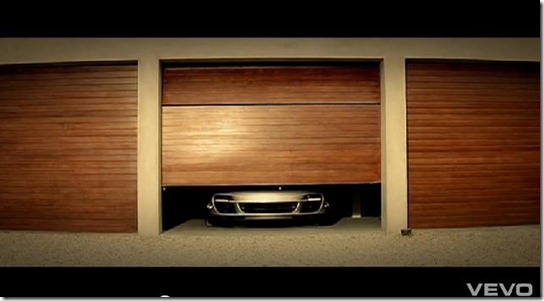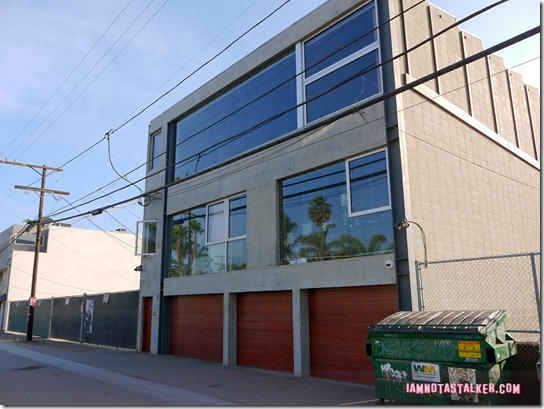 The video's driving sequence was shot just one block south of the home, in front of the residence located at 1309 Cabrillo Avenue . . .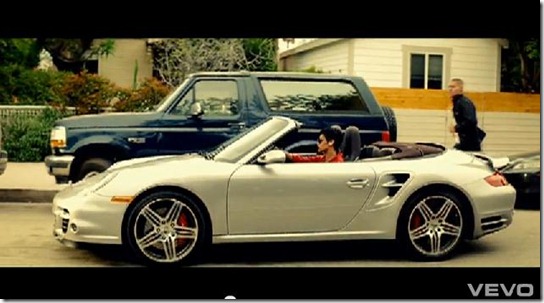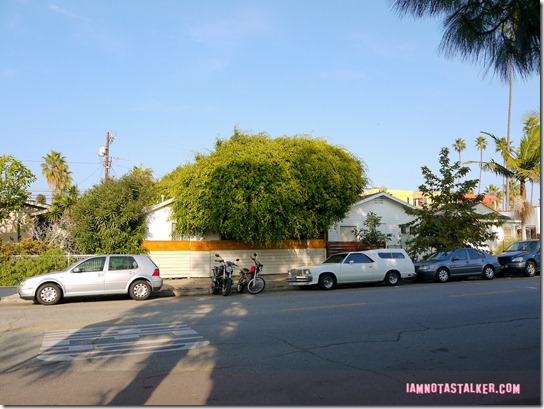 . . . which was apparently for rent at the time of the filming.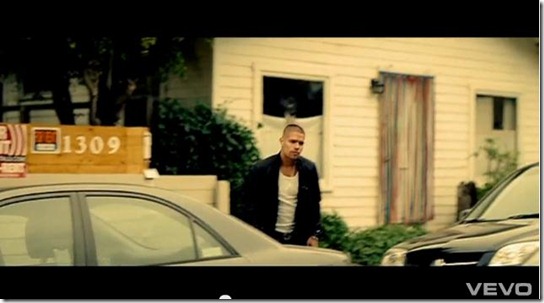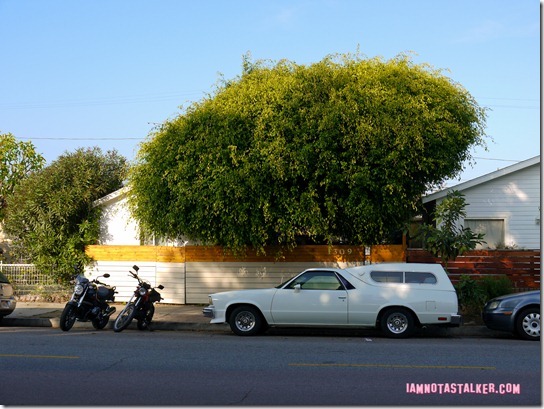 You can watch Rihanna's "Take a Bow" video by clicking below.
While doing research on the property, I was absolutely FLOORED to discover that the interior had been used as the supposed San Francisco-area residence where Brad (Vince Vaughn) and Kate (Reese Witherspoon) lived in the 2008 flick Four Christmases.  I am ashamed to admit that I had been trying to track down this particular locale for years, but because the place was so much brighter in Four Christmases than it appeared to be in "Take a Bow", I failed to recognize it!  D'oh!  (I am still on the hunt for the exterior of Brad and Kate's house, which is apparently located somewhere in San Francisco's Twin Peaks.)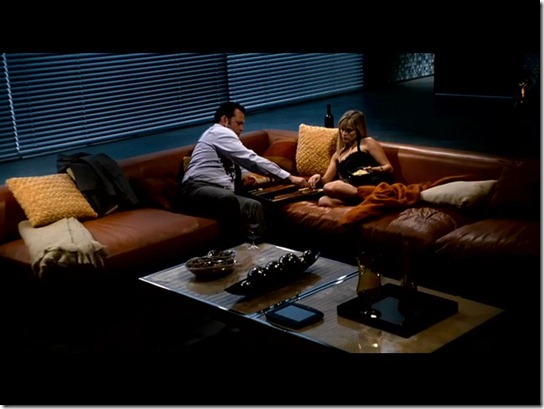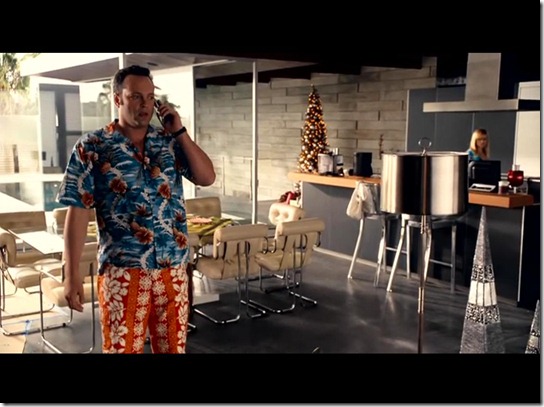 You can see the home's movie screen (complete with curtain!) in the background behind Vince Vaughn below.  So incredibly cool!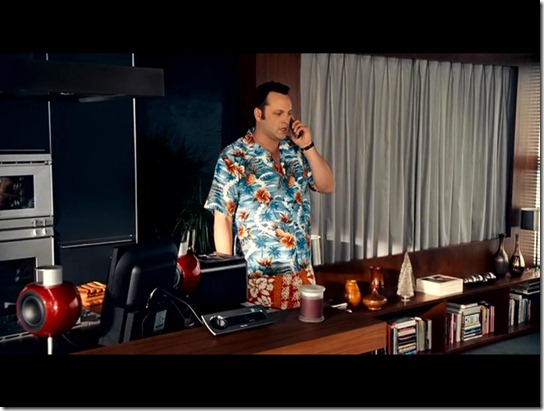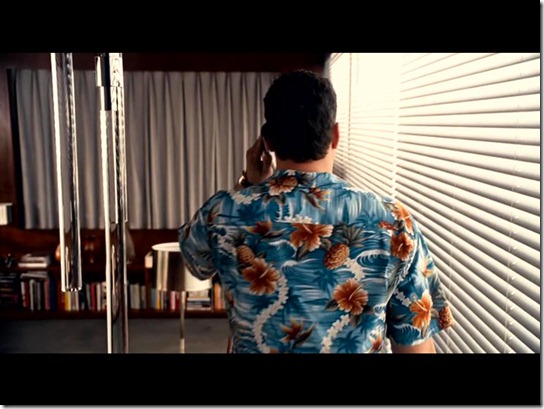 The red-tiled bathroom that appeared in the flick, which you can see a real life photograph of here, is absolutely amazeballs!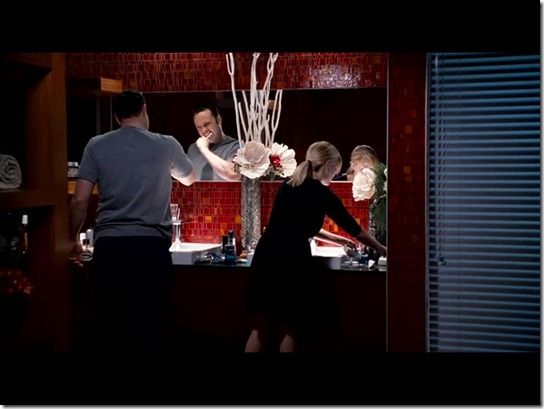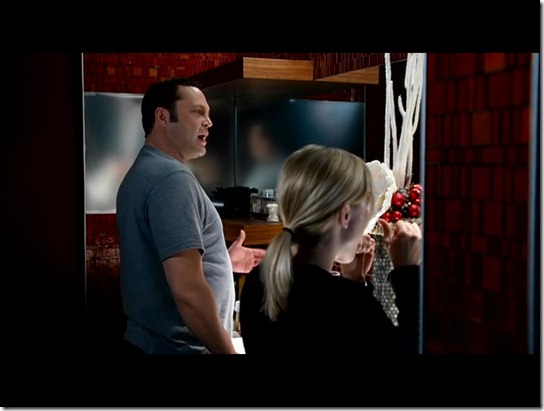 The video for Usher's 2008 song "Trading Places" was also filmed at the abode.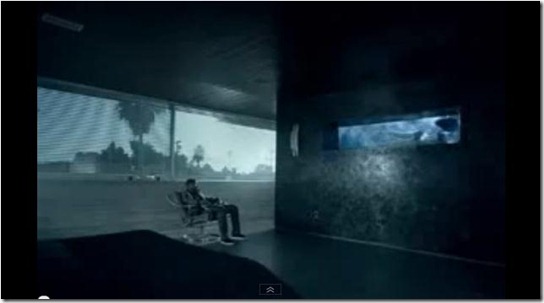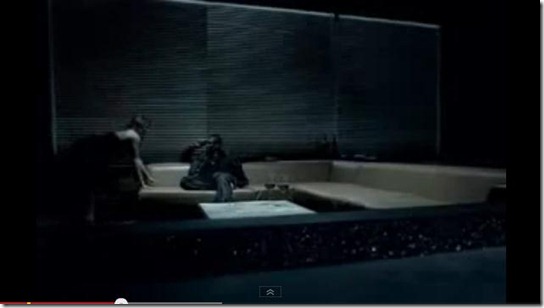 You can watch that (NSFW!) video by clicking below.
Thanks to fellow stalker Geoff, from the 90210Locations website, I learned that the dwelling was also used as the office of celebrity psychiatrist Dr. Henry Carter (Kevin Spacey) in the 2009 flick Shrink.  Both the exterior . . .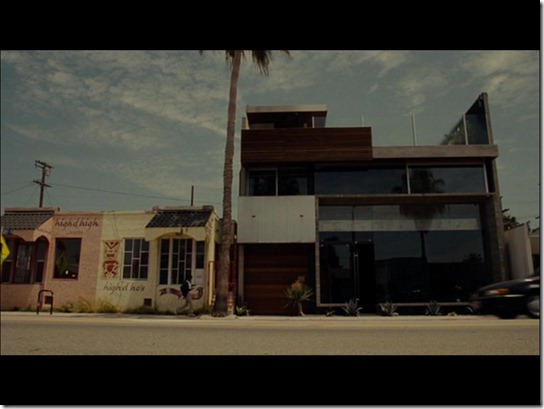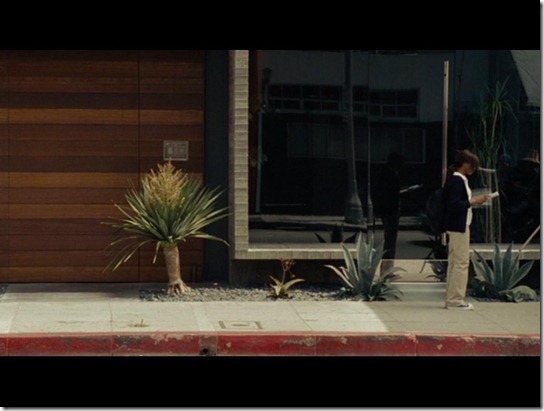 . . . and the interior of the property were used extensively throughout the flick.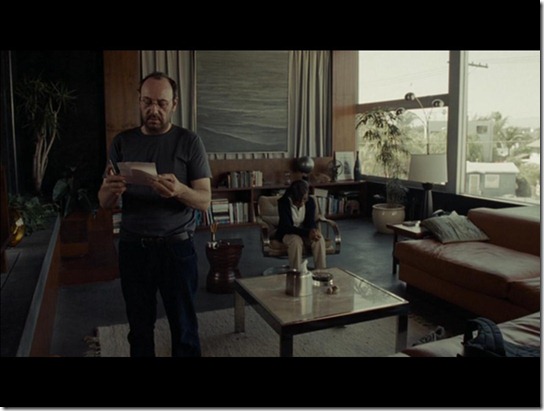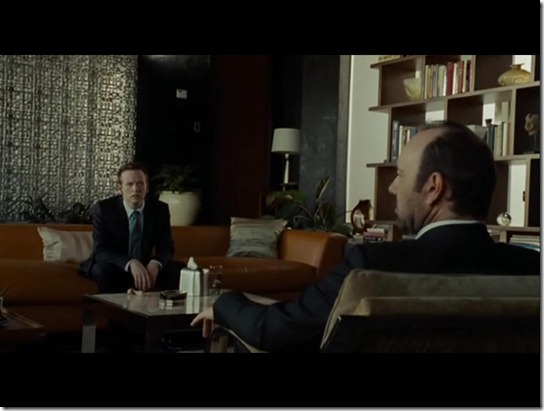 And, when he owned the place, Steve Shaw conducted a photo shoot on the premises with actress Evan Rachel Wood (which you can check out some pictures from here).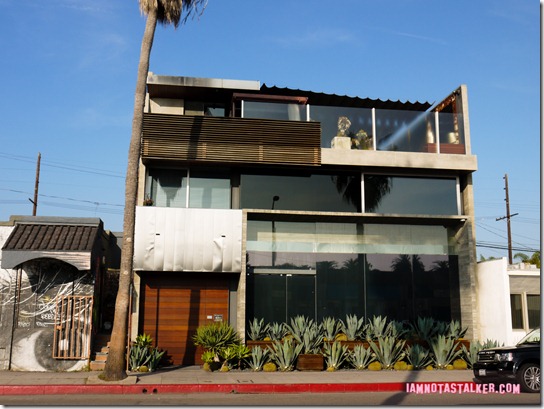 Speaking of music videos, have y'all seen the John Travolta and Olivia Newton-John jewel "I Think You Might Like It"?  The thing actually rendered me speechless!  All I can say is "LOL!"
You can find me on Facebook here and on Twitter at @IAMNOTASTALKER.  And be sure to check out my other blog, The Well-Heeled Diabetic.
Big THANK YOU to fellow stalker Virginie for finding this location!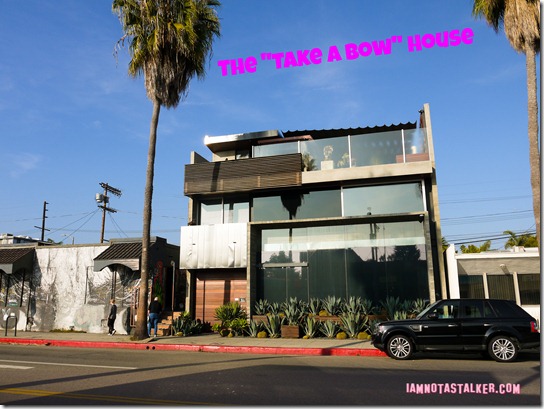 Until next time, Happy Stalking! 

Stalk It: The house from Rihanna's "Take a Bow" music video is located at 1311 Abbot Kinney Boulevard in Venice.  The garage area that appeared in the video can be viewed from the opposite side of the residence on the 1300 block of Electric Avenue.  And the driving scene was filmed just around the corner, in front of the home located at 1309 Cabrillo Avenue.
63449