San Francisco Saloon from "The Ugly Truth"
Feb 21st, 2013 | By
Lindsay
| Category:
Movie Locations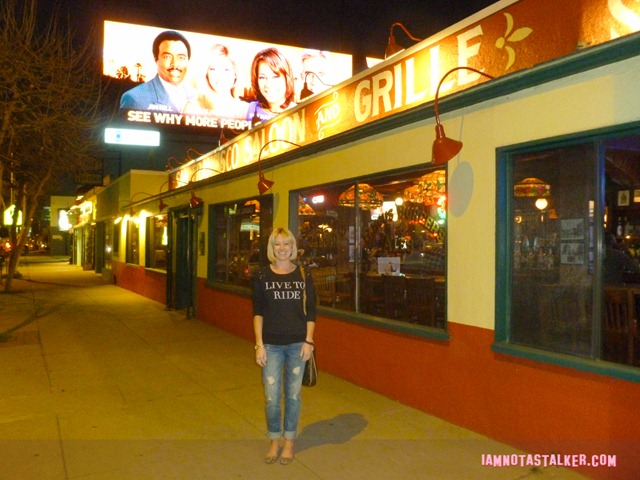 Before we moved in together in 2008, the Grim Cheaper lived on the West Side of Los Angeles and, consequently, the two of us spent the majority of our time out there.  During those years, when driving back and forth from his condo, I would often pass by a bar named San Francisco Saloon.  The place had always intrigued me (most likely because I grew up in the Bay Area), but, for whatever reason, I never stopped in.  Then, back in 2009, I just about fell off my chair when I spotted the watering hole pop up in fave rom-com The Ugly Truth.  We were living in Pasadena by then, though, so after I finished watching the movie, San Francisco Saloon pretty much slipped from my mind.  Flash forward to this past weekend, when, while driving back to the GC's boss' loft in Santa Monica (our L.A. weekend crash pad), we passed by the eatery and I suggested we stop in for a spontaneous stalk and a bite to eat.  Thankfully, the GC was game and, in a fortuitous twist, we ended up absolutely LOVING the place.
Oddly enough, while the San Francisco Saloon website states that the establishment has been "serving spirits since 1934," I could find virtually no other historical information about the place anywhere.  The only scoop that I did come across was this Yellow Pages listing which claims that the bar was named in honor of San Francisco's oldest watering hole, The Saloon.  You can check out some photographs of The Saloon, which was founded in 1861, here.  The place definitely does have the same look and feel as its Los Angeles counterpart.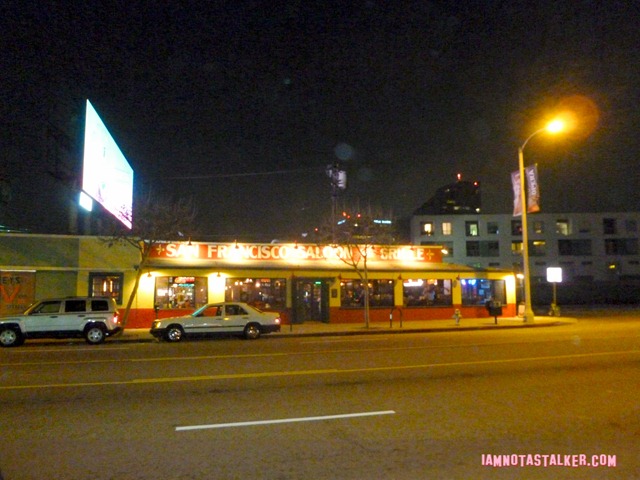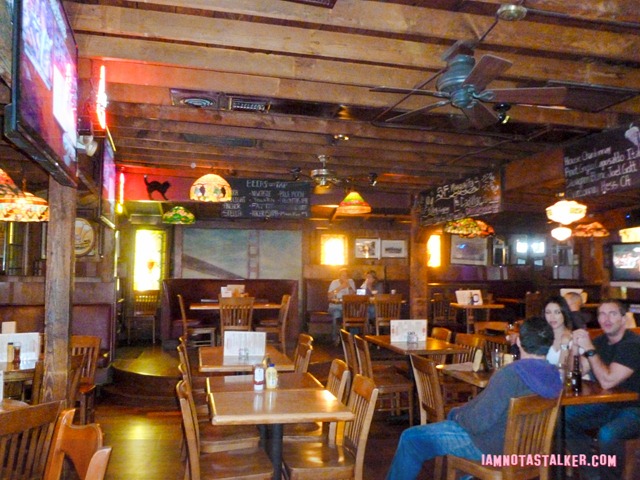 Because I am pretty much the pickiest eater known to man, I was floored to discover that the San Francisco Saloon menu offered countless options.  And when I saw that I could substitute a crispy chicken breast for a ground beef patty on any hamburger order, I thought I had died and gone to heaven.  I wound up creating my own crispy chicken burger with jack cheese, mushrooms, bacon, and ranch dressing, and, while I am sure that it goes without saying, the thing was uh-ma-zing!  My "burger" came with a massive side salad full of mixed greens that was also fabulous – and made me feel a bit less guilty about my bacon/cheese/fried chicken-filled main portion. 

  The GC dined on the Saloon's 49er Burger, with a regular beef patty, blue cheese crumbles, grilled onions, and mushrooms, and also absolutely loved it.  And the prices were incredibly reasonable, too, which made him happy to no end.  My favorite part of the evening, though, was when I ordered champagne and the bartender explained that the Saloon did not actually serve sparkling wine, but that he could make me some mock-bubbly by mixing white wine with seltzer water.  How incredibly cool is that?  While I have found myself in countless bars that do not serve champagne, never once have I had a bartender offer to make me a substitute.  And his concoction turned out to be fabulous, to boot!  On a sparkling wine side-note – my good friend Julia, creator of the fabulous Bunnies in L.A. jewelry line, recently asked me if I liked white wine.  When I told her that I did not, she responded, "Exactly!  It's basically just flat champagne, so what's the point?"  Um, LOVE IT!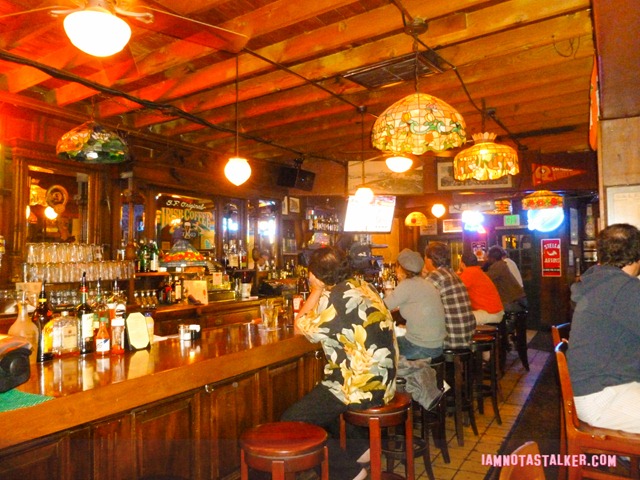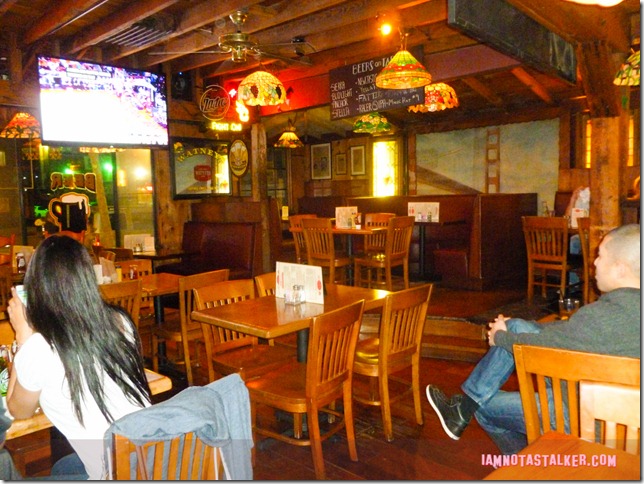 San Francisco Saloon popped up once in The Ugly Truth, in the scene in which co-workers/frenemies Abby (Katherine Heigl) and Mike (Gerard Butler) discuss Abby's upcoming trip to Lake Tahoe with her new boyfriend, Colin (Eric Winter).  Both the exterior . . .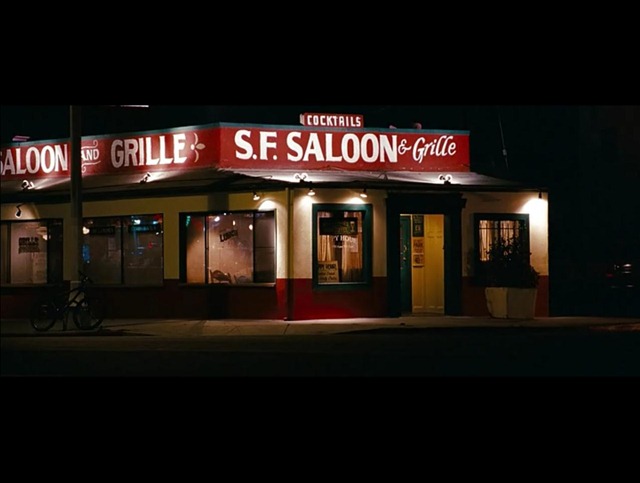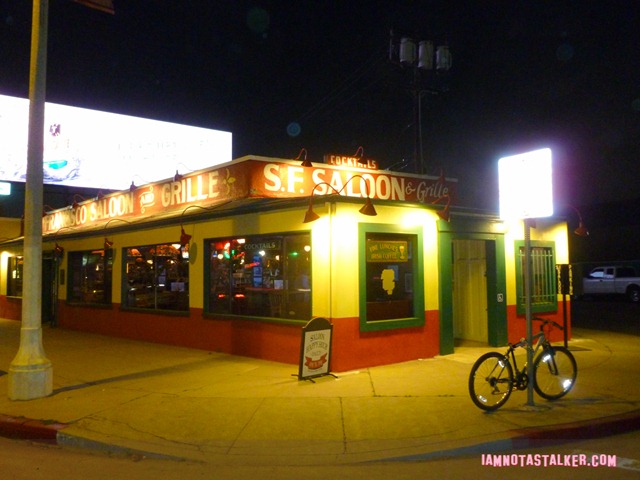 . . . and the interior of the bar were used.  According to one of the super-nice servers that I spoke with, several other scenes from the movie (all of which apparently wound up on the cutting room floor) were also filmed at San Francisco Saloon, as was an episode of Wilfred, but I was, unfortunately, unable to figure out exactly which episode.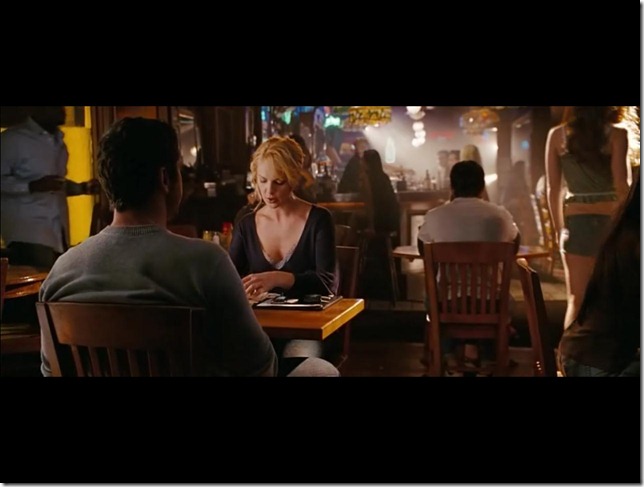 You can find me on Facebook here and on Twitter at @IAMNOTASTALKER.  And be sure to check out my other blog, The Well-Heeled Diabetic.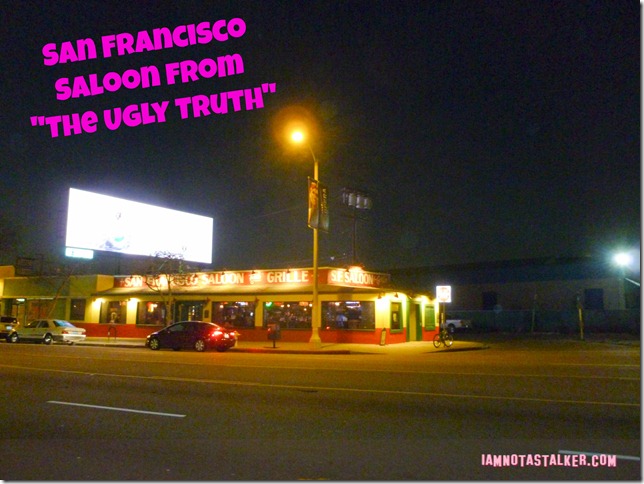 Until next time, Happy Stalking! 
Stalk It: San Francisco Saloon, from The Ugly Truth, is located at 11501 West Pico Boulevard in West Los Angeles.  You can visit the restaurant's official website here.
65557