Brandi Glanville's Former House
Apr 3rd, 2013 | By
Lindsay
| Category:
Celebrity Homes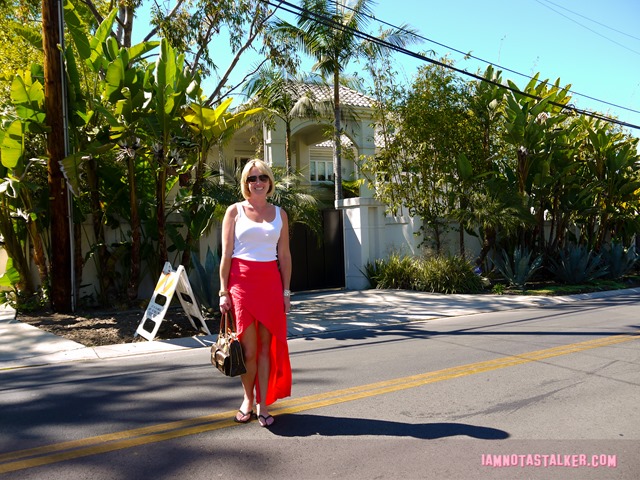 After watching the latest season of The Real Housewives of Beverly Hills, I can say that Brandi Glanville is, without a doubt, my favorite cast member.  I absolutely ADORE her.  (I also love Lisa Vanderpump and Yolanda Foster.  As for the rest of the Housewives?  Well, to borrow one of my grandma's catch-phrases, they can go take a long walk off a short pier for all I care. 

)  So I was practically chomping at the bit to get my hands on a copy of her new autobiography, Drinking & Tweeting: and Other Brandi Blunders, which I finally did two weeks ago.  I then promptly devoured the thing in two sittings.  My favorite part of the book was the chapter dealing with the pitfalls of social media, in which Brandi says, "Just ask yourself how many times you have interrupted a wonderful night with friends and family to post on Facebook or Twitter that you're having a wonderful night.  How many times have you stopped midsentence to ask a waiter to take a photo and then spent the next five minutes f*cking with filters to post it on Instagram?"  #sotrue  Besides being a good read, Drinking & Tweeting also, of course, provided a few stalking locations, which I was over the moon about.  And while the residence that Brandi referred to most often throughout the tome is, unfortunately, unstalkable due to the fact that it located inside of the gated Mountain View Estates community in Calabasas, I did manage to track down (via fellow stalker E.J. of The Movieland Directory website) and stalk the Encino residence where the reality star lived with her philandering husband, Eddie Cibrian, just prior to that.
Eddie and Brandi purchased the 8,560-square-foot abode pictured below in May 2002, a year after their wedding, for $2,020,000.  The dwelling, which was originally built in 1992 and was renovated at some point during the couple's tenure there, boasts a 0.48-acre plot of land, six en-suite bedrooms, including two master suites (one with two walk-in closets and dual showers), eight bathrooms, a chef's kitchen, a banquet-sized formal dining room, a professional theatre with bi-level seating for 15 people, a rooftop sundeck, four fireplaces, a pool, a library, travertine and hardwood flooring throughout, a porte-cochere, and a three-car garage.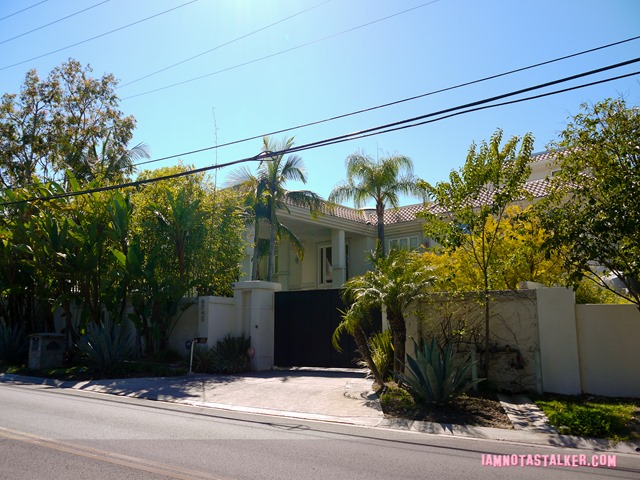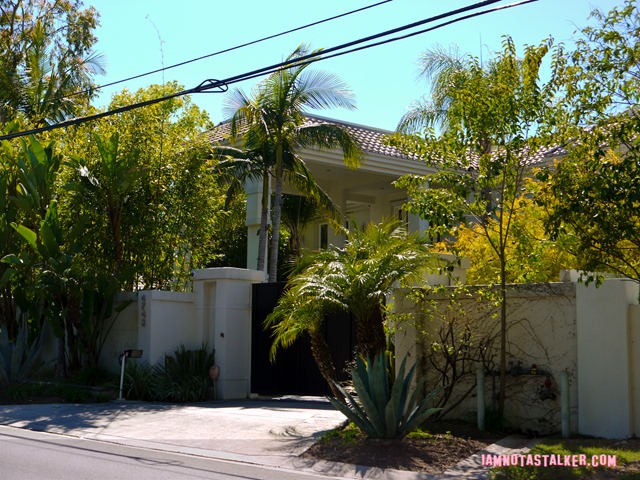 The then happy couple put the property, which was dubbed "Rancho Estate", on the market in 2007 for a whopping $4,395,000.  You can check out the real estate listing from that time here.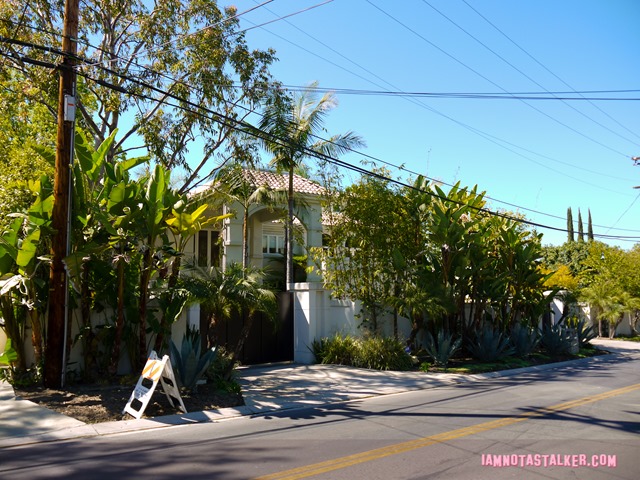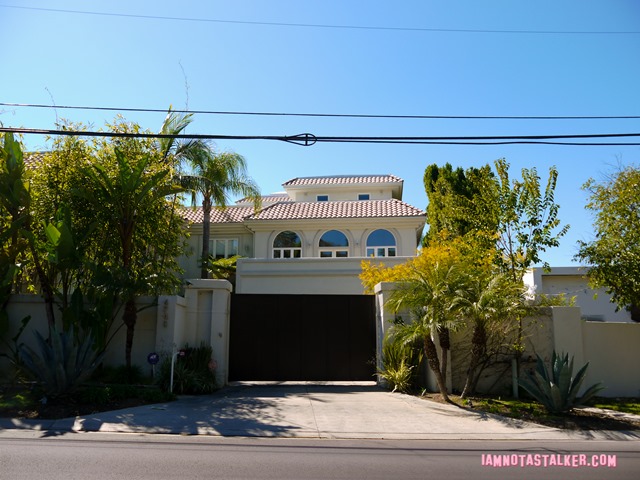 Your Mama, from the Real Estalker website, ripped the home apart in a November 2007 post, saying, "Oh dear.  Somebody please get Your Mama a silver spike that we can drive through the heart of the decorating demon who is responsible for this Encino mess that luscious looking actor Eddie Cibrian and his model wifey Brandi (with an "i," of course) call home.  Dear Jeezis in heaven, Your Mama just prefers not to know that there are people in the world who actually want to live in houses with porte-cocheres meant to make the house look elegant and grandiose but really just make it look like a damn Ramada Inn."  And while Your Mama is absolutely right about the porte-cochere, I have to say that I rather like the interior of the residence, especially the open entryway, the curving staircase, and the wood-beamed ceilings.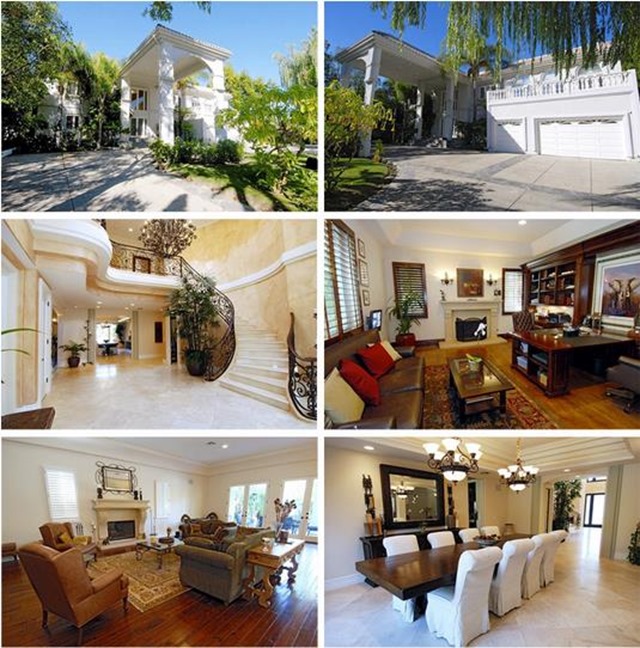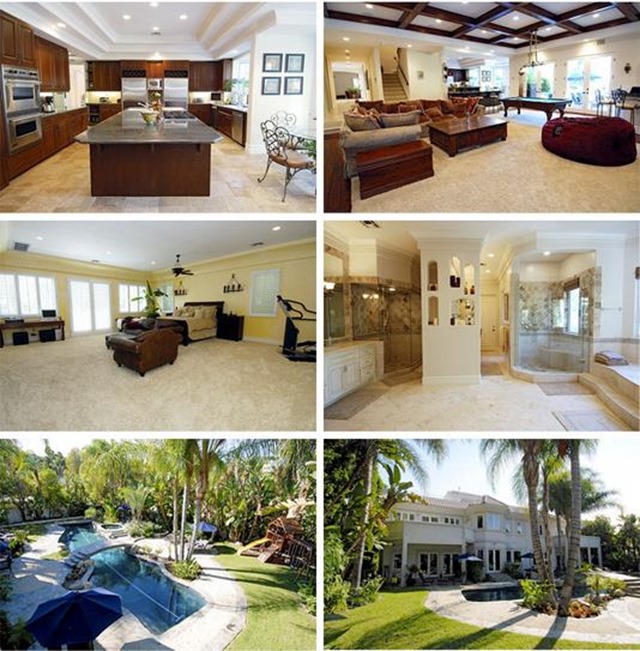 Brandi and Eddie wound up selling the home to comedian Carlos Mencia in January 2008 for $4.3 million – well over two times what they had paid for it just five and a half years prior.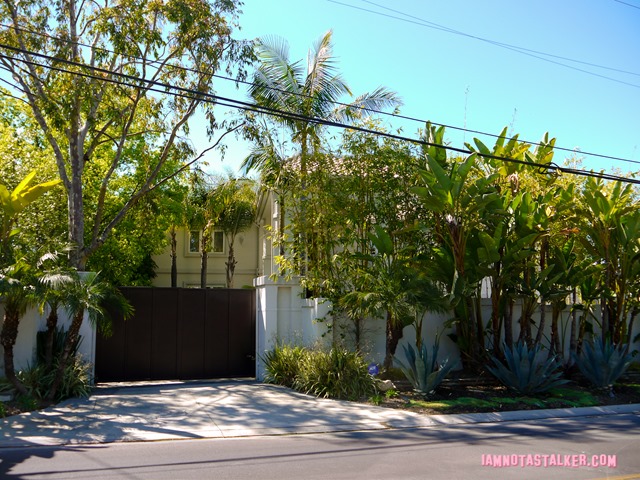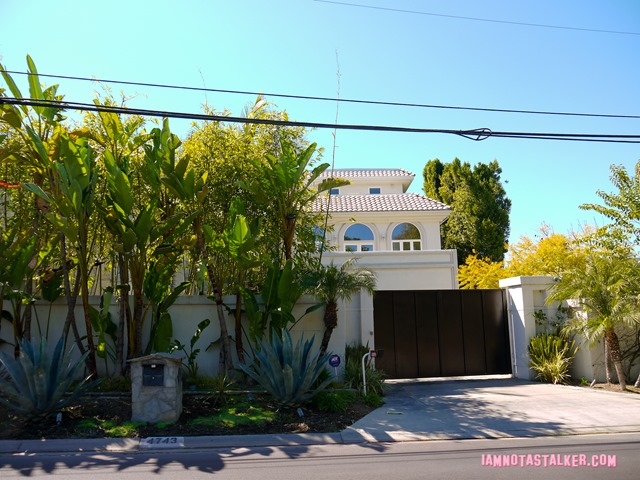 That same month they purchased their Mountain View Estates residence for $2.5 million.  That home, which was originally built in 1994, features six bedrooms, seven baths (including his-and-her baths in the master bedroom), 6,610 square feet of living space, a 0.83-acre plot of land, custom-built closets (yes, please!), covered patios, and a pool with a slide and multiple waterfalls.  Two years later, in early 2010, Brandi and Eddie put the home on the market for $2,349,000 as part of their divorce proceedings and eventually sold it in June for $2.2 million.  The photographs below are from the real estate listing during that time.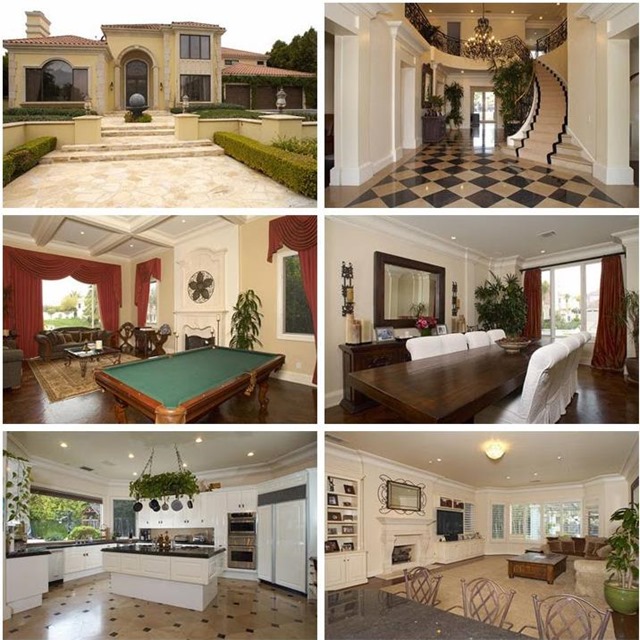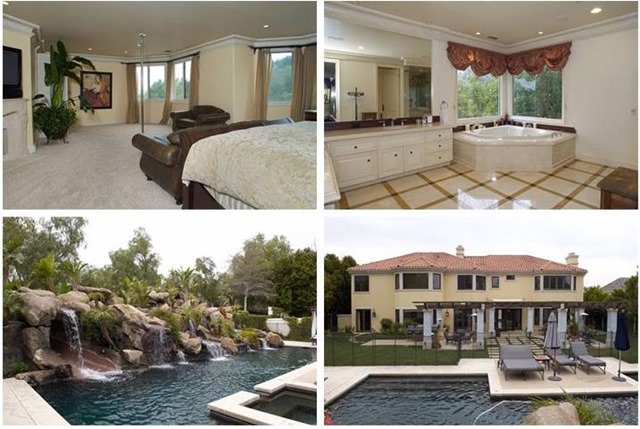 And yes, that is a stripper pole in the master bedroom (classy!), of which the Real Estalker's Your Mama said in a February 2010 post, "Listen babies, we're all for folks getting down, dirty and fuh-reeky in the bedroom, but let Your Mama offer all you married ladeez a word to the wise: Iffin your man wants to install a stripper pole in your marital bedroom, you can be pretty damn sure he's going to want to see scantily clad beehawtchas who are not you working that thing.  Don't believe Your Mama?  Install a damn stripper pole and let us know what happens."  True dat!  Notice that the pole was removed (either digitally or physically) for some of the real estate photos.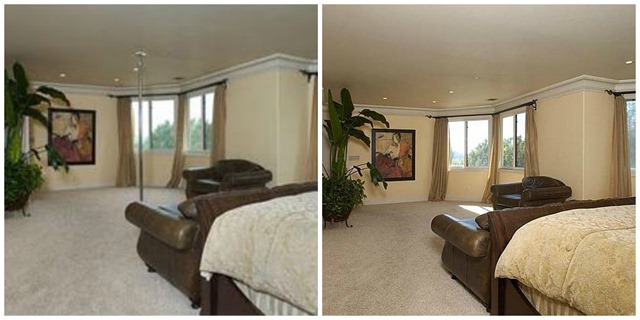 It was as Brandi was driving up to the "ostentatious neighborhood gates" of the Mountain View Estates community that she learned, via a text message from a friend, of her husband's affair with LeAnn Rimes.  So while I knew that I could not stalk her actual former home there, I dragged the Grim Cheaper out to Calabasas to do a little drive-by of those gates.  I was so hoping to see an "open house" sign displayed out front, but, alas, that was not to be.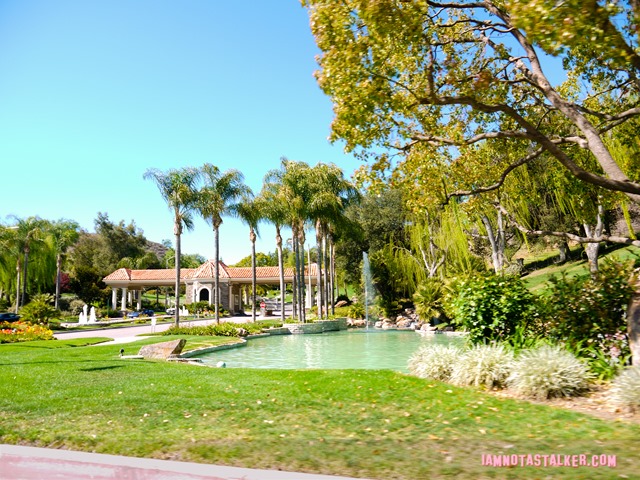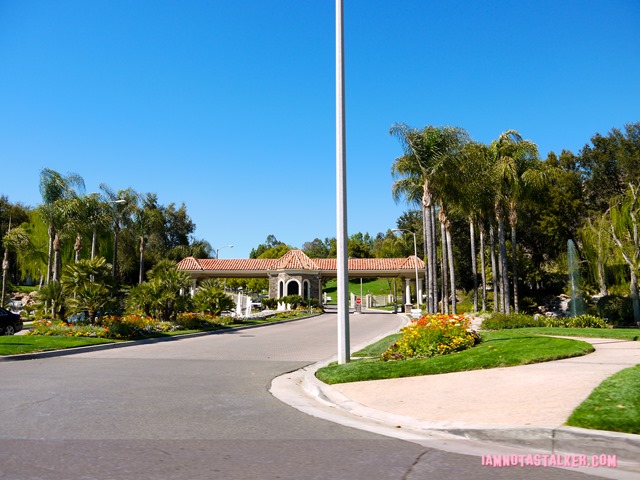 You can find me on Facebook here and on Twitter at @IAMNOTASTALKER.  And be sure to check out my other blog, The Well-Heeled Diabetic.
Big THANK YOU to my buddy E.J., from The Movieland Directory, for finding these locations.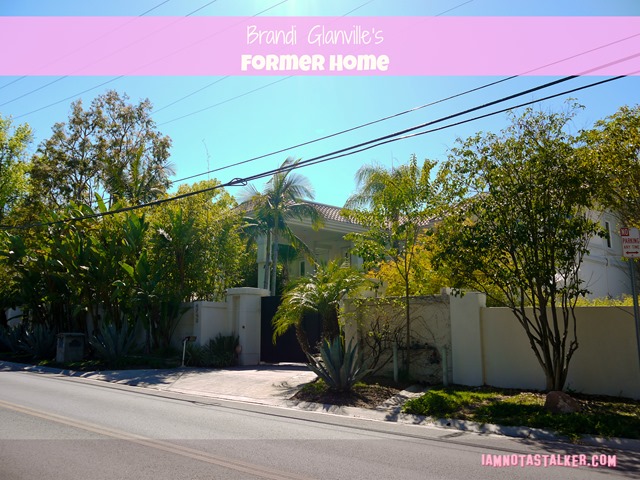 Until next time, Happy Stalking! 

Stalk It: Brandi Glanville's former home is located at 4743 White Oak Avenue in Encino.  Her other former house is located at 5497 Amber Circle, inside of the gated Mountain View Estates community, in Calabasas.
67209