The California Colonic Institution from "L.A. Story"
May 3rd, 2013 | By
Lindsay
| Category:
Movie Locations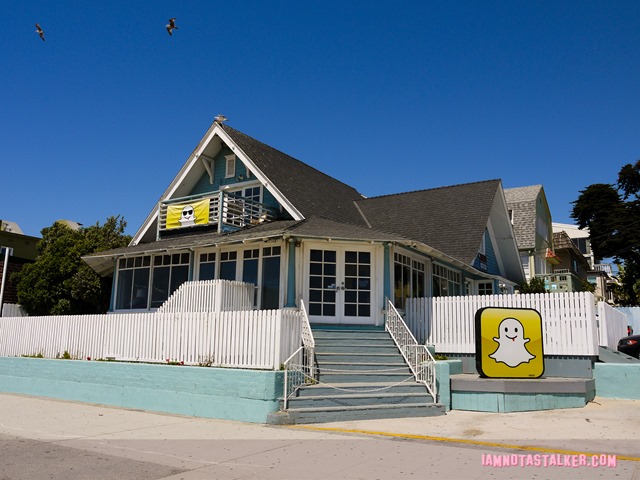 When I began my search for all of the missing L.A Story locations a few weeks back, I emailed about a million-and-a-half screen captures to fellow stalker Mike, from MovieShotsLA, in the hopes that he would be so inclined to help me out with the hunt.  Thankfully, he was.  One locale that we found at the exact same time (we literally texted each other with the address at the same moment!) was the California Colonic Institution, where SanDeE* (my girl Sarah Jessica Parker) took Harris K. Telemacher (Steve Martin) for a high colonic, aka an enema, in the 1991 flick.  While I had known that the site was located somewhere along Venice Beach and had tracked it down by looking up and down the coastline using Google Maps, Mike had actually recognized the place immediately thanks to the fact that, unbeknownst to me, it had also appeared in the 1993 thriller Point of No Return.  How random is that?  So, while in SoCal this past weekend, I ran right out to stalk it.  (I am amazed that I was able to snap the above photograph sans any people, by the way!  Anyone who has ever experienced the hustle and bustle of Venice Beach knows what a feat that was!)
In real life, the California Colonic Institution from L.A. Story is known as the Blu House (or the Nike Blu House, as Nike, Inc. used the site as office space for many years) and, at over a century old, is one of the most historic residences still standing in Venice Beach.  The two-story bungalow was originally built in 1901 and since that time it has served as everything from an event venue (one fete was even hosted by Jerry Springer, apparently!) to a clothing store to an art gallery to a medical marijuana facility.  And while several websites have also stated that both Jim Morrison and Charlie Chaplin lived on the premises at different points in time, I believe that information is actually incorrect.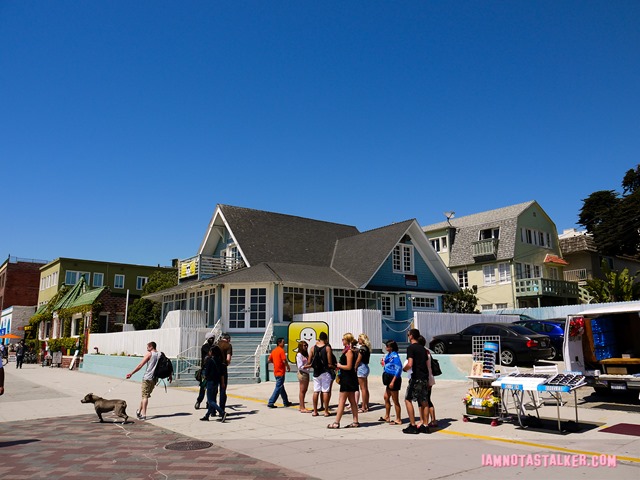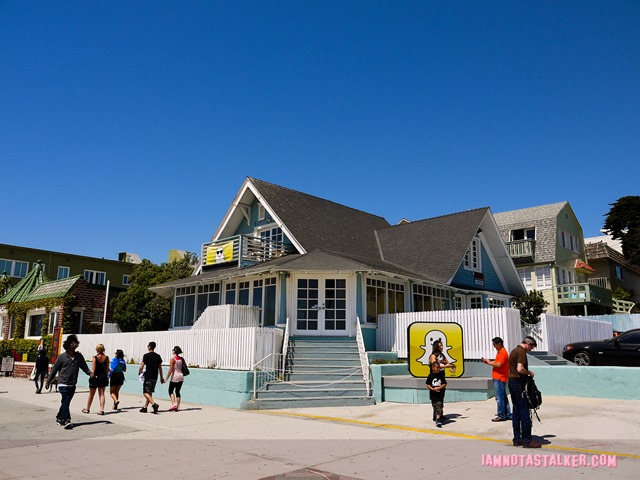 The beachfront house, which boasts three bedrooms, one bath, 2,656 square feet of living space, a 1,500-square-foot deck, and a tiny 0.10-acre plot of land, currently serves as the headquarters for Snapchat – at what is apparently a rate of $20,000 a month!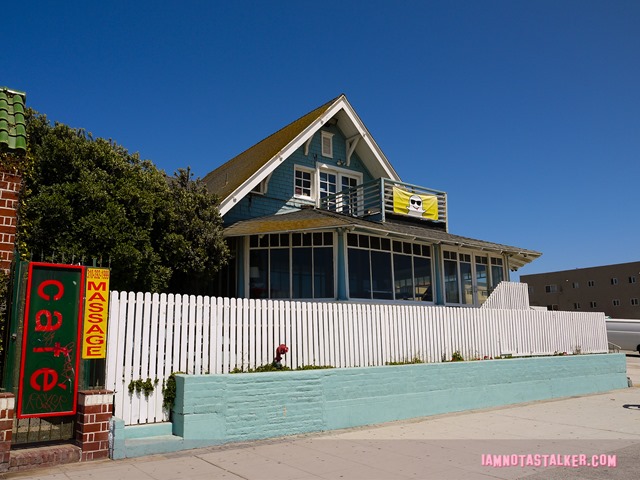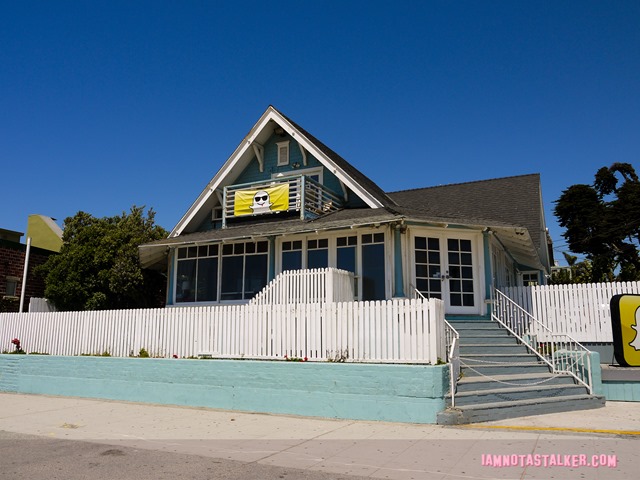 The California Colonic Institution only shows up once in L.A. Story and very briefly at that, in the scene in which SanDeE* takes Harris on a date . . . for an enema.  Romantic, huh?  It is there that SanDeE* says of the experience, "God, it really clears out your head!"  To which Harris says, "Head?  Head?  You should go back in there and tell them they're doing it wrong."  LOL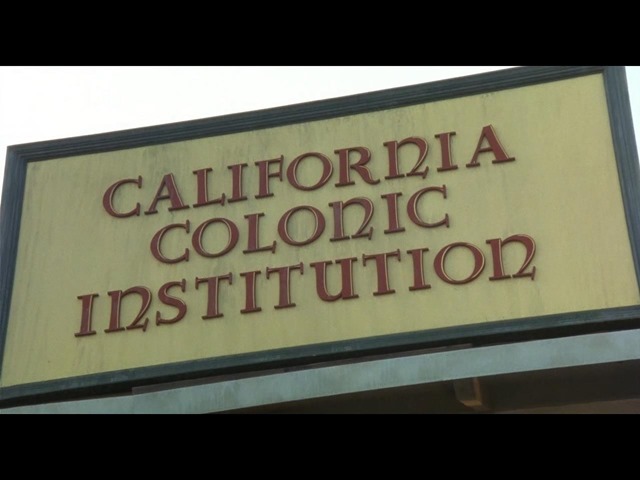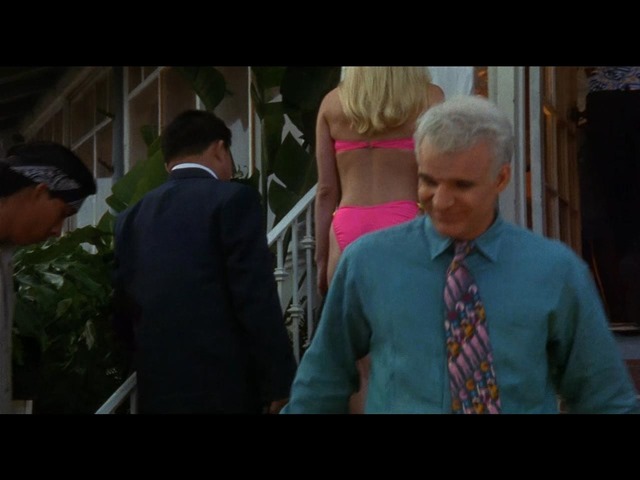 Only a very tiny portion of the property, namely the front porch area, was shown during the scene.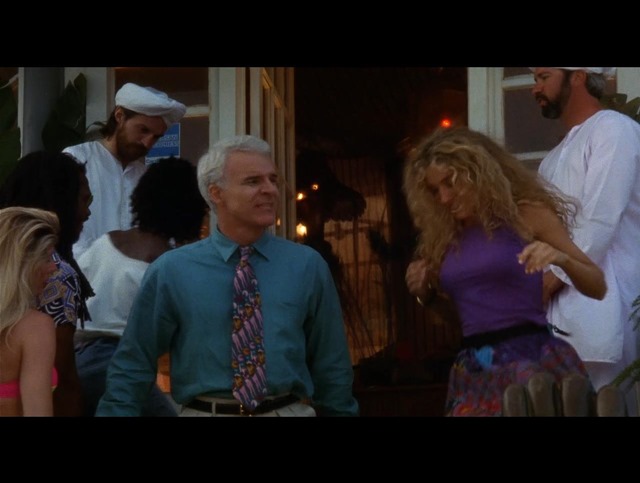 That front porch in its current state is pictured below.  As you can see, while the front doors have changed from a single door to double doors, the site still looks pretty much exactly the same today as it did in 1991 when L.A. Story was filmed.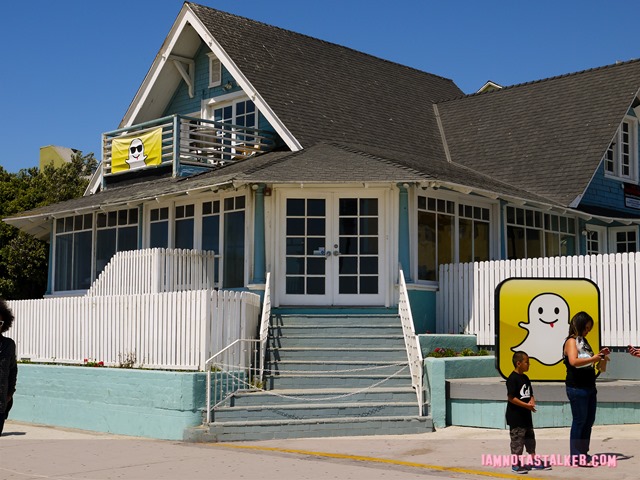 Because so little of the residence was shown, I was only able to pinpoint its location due to the fact that it was apparent from the filming that the front door was situated at an angle diagonal to the boardwalk, as you can see below.  Thankfully, only one property in Venice fit that description.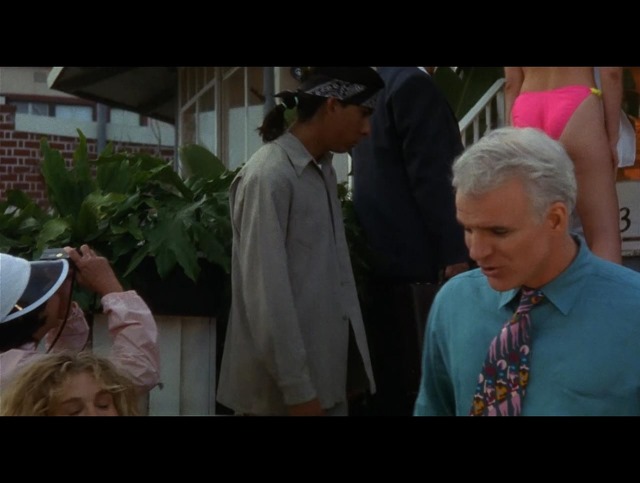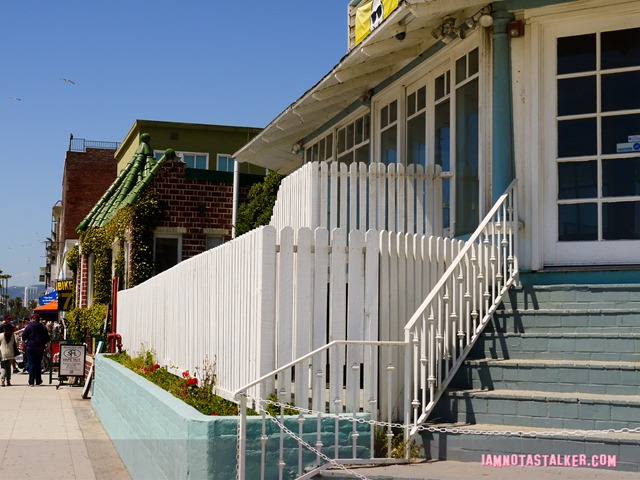 I also matched up the buildings that were visible in the background of the scene.  Ironically enough, while doing research on the Blu House, I learned that the brick building located just north of it is known as Gingerbread Court and was apparently built by none other than Charlie Chaplin.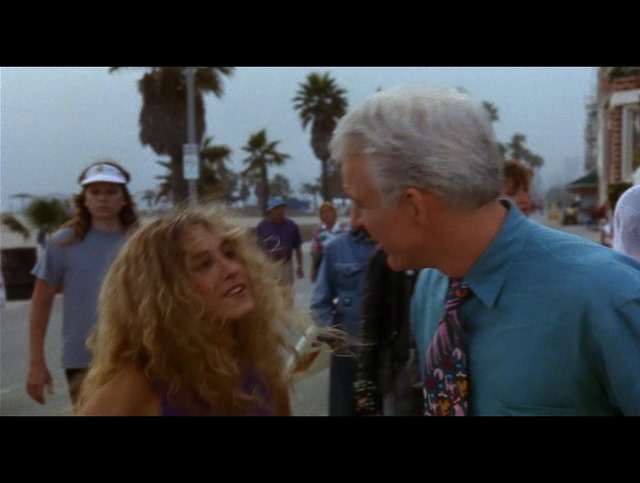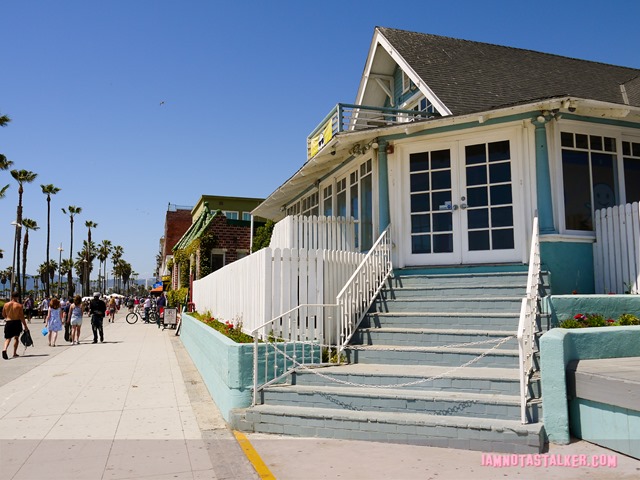 It was not until making screen captures for today's post that I spotted an address number of 523 behind Steve Martin in the scene.  D'oh!  Would have made my search so much easier had I realized that earlier!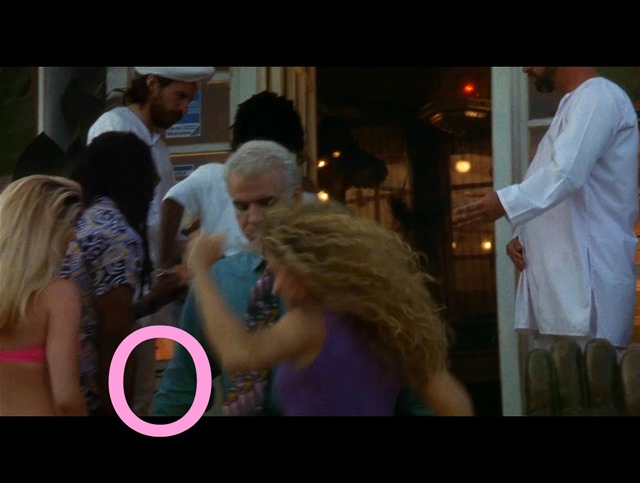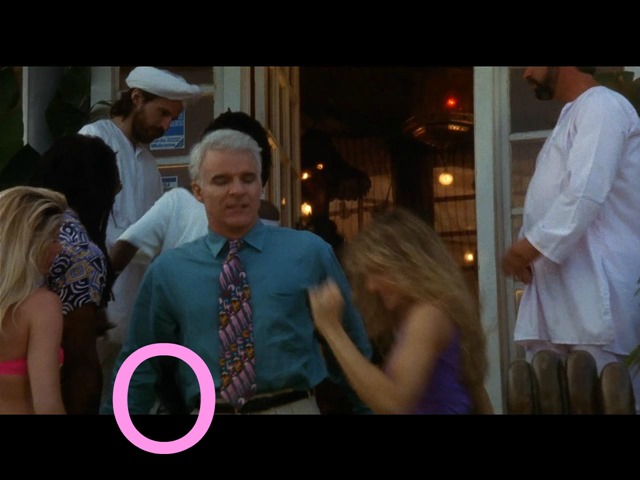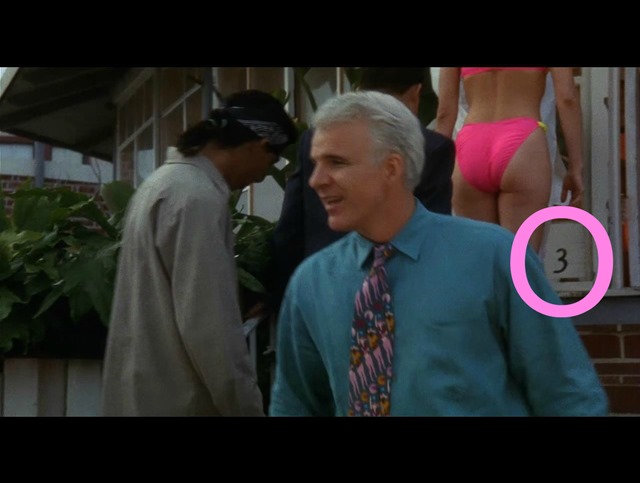 I am fairly certain that the same location was used for the brief montage scene in which SanDeE* attended a spokesmodel class in the movie.  The palm trees visible through the windows and the framing of the interior French doors seem to match up to those of the Blu house.  That is just a hunch, though.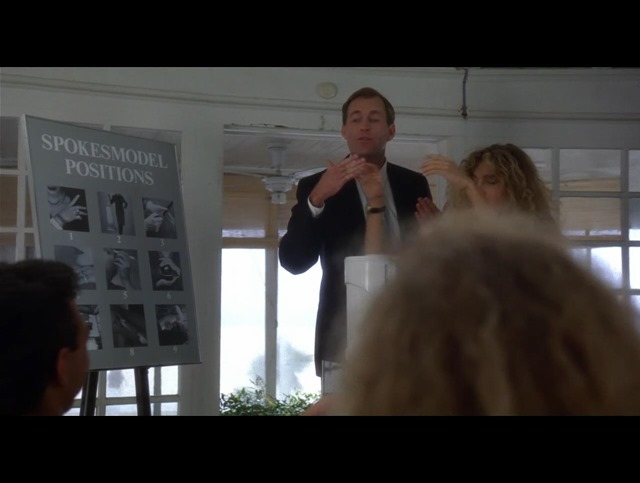 In Point of No Return, the Blu House was where assassin Maggie Hayward (Bridget Fonda) rented an apartment upon arriving in Venice Beach.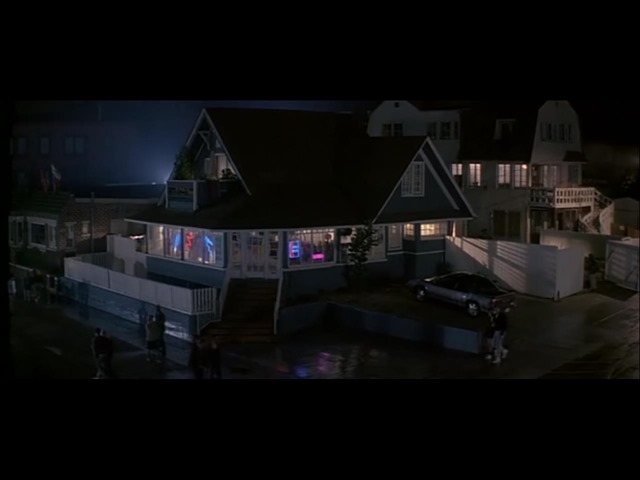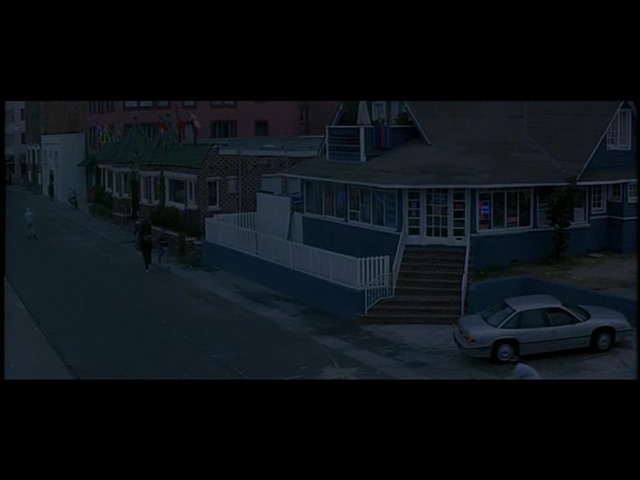 As you can see below, the property still had a single front door at the time of the filming.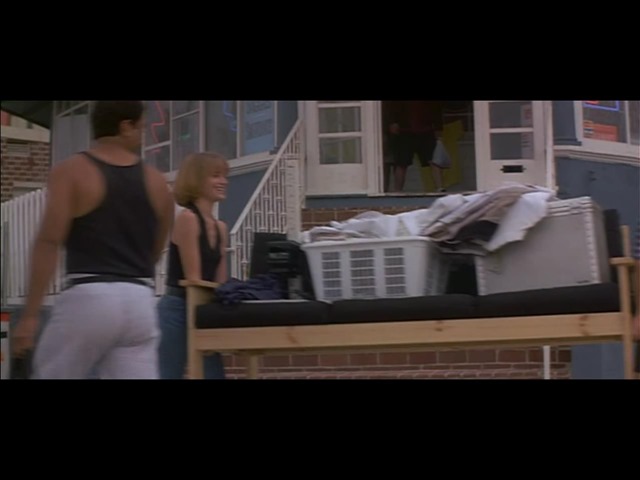 I am guessing that the interior of Maggie's apartment was just a set and not the actual interior of the Blu House.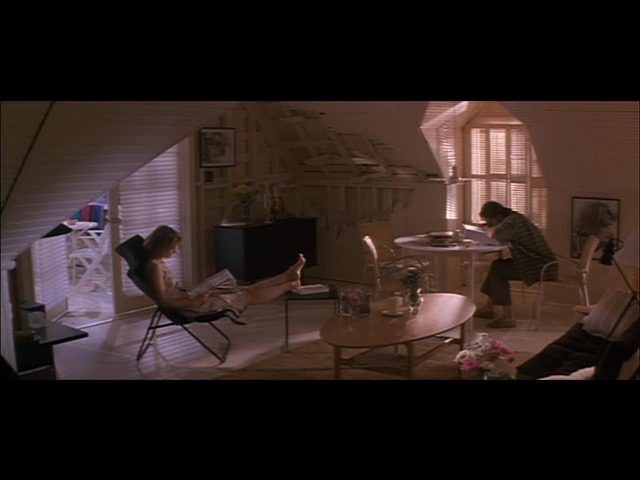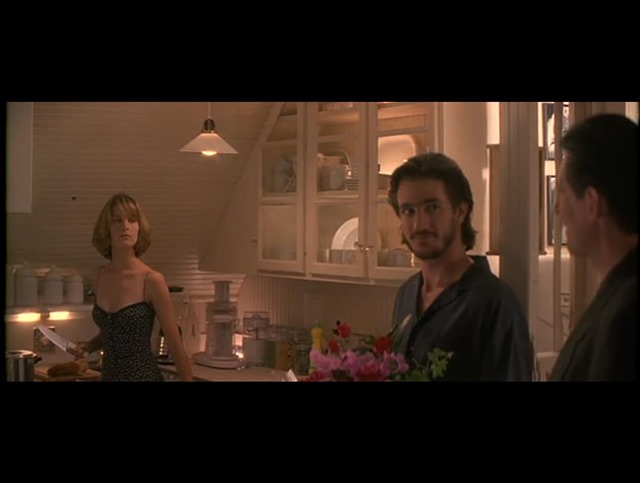 According to the Venice-Mar Vista Patch, the Blu House was also the setting of an MTV summer reality series, although I am unsure of which one.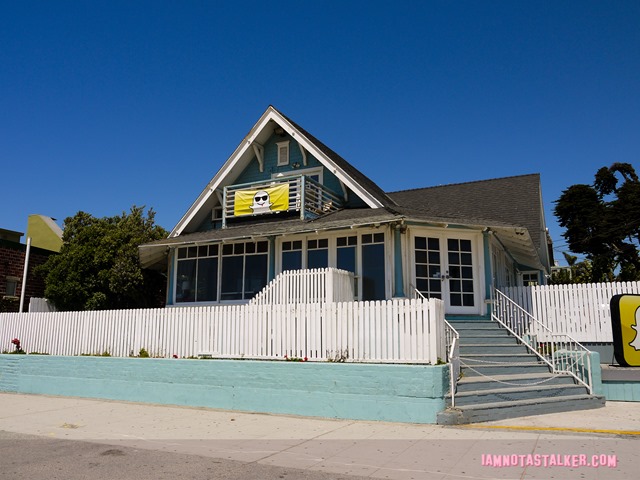 You can find me on Facebook here and on Twitter at @IAMNOTASTALKER.  And be sure to check out my other blog, The Well-Heeled Diabetic.
Big THANK YOU to Mike, from MovieShotsLA, for helping me to find this location!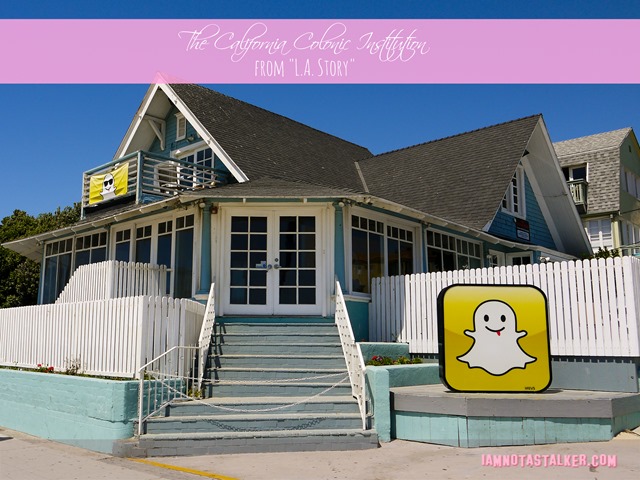 Until next time, Happy Stalking! 

Stalk It: The Blu House, aka the California Colonic Institution from L.A Story, is located at 523 Ocean Front Walk in Venice Beach.
68950