Rent-A-Swag from "Parks and Recreation"
May 29th, 2013 | By
Lindsay
| Category:
TV Locations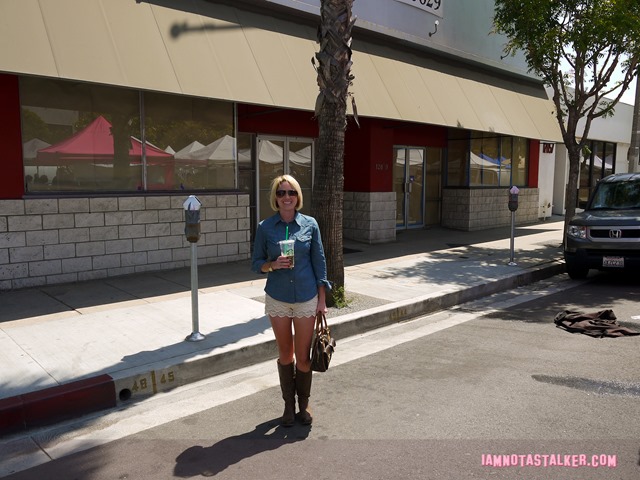 Back in early May, fellow stalker Owen, of the When Write Is Wrong blog, emailed me to let me know that he had just tracked down Rent-A-Swag – the supposed Pawnee, Indiana-area high-fashion rental store for teenagers owned by Tom Haverford (Aziz Ansari) on fave show Parks and Recreation. So I dragged the Grim Cheaper right on out to stalk it – Starbucks in hand (but to be fair when do I not have a Starbucks in hand?

) – while visiting Los Angeles this past Memorial Day weekend.
While watching the Parks and Rec Season 5 finale, which was titled "Are You Better Off?", Owen had spotted an address number placard with a missing digit (120-9) on the exterior of the Rent-A-Swag storefront. His eye was immediately caught by that missing digit and his interest piqued, so he decided to begin searching for the locale. Thankfully, the hunt was an easy one and he wound up finding the shop at 12059 Ventura Place in Studio City.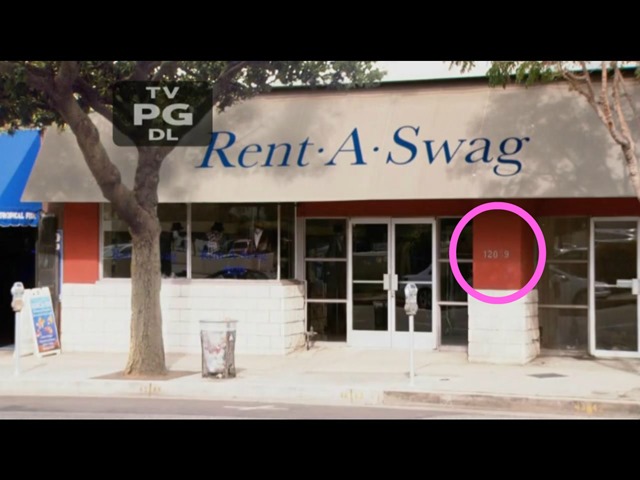 And while Owen and I had both assumed that the 5 had been removed during the Parks and Rec shoot in order to thwart the efforts of us stalkers, that does not appear to have been the case. As you can see below, the digit is missing in real life, too, which I was shocked to discover!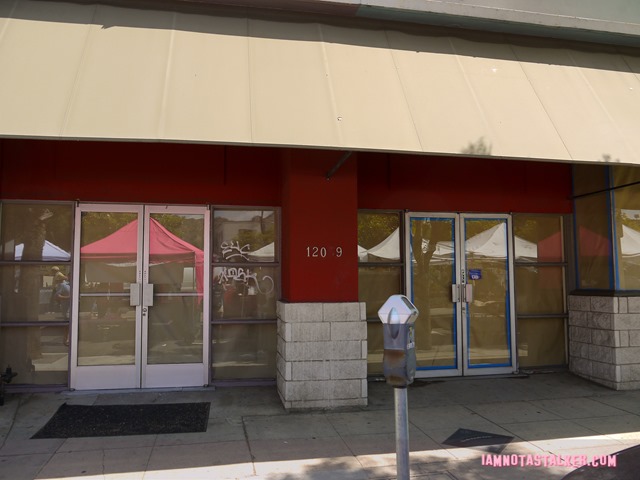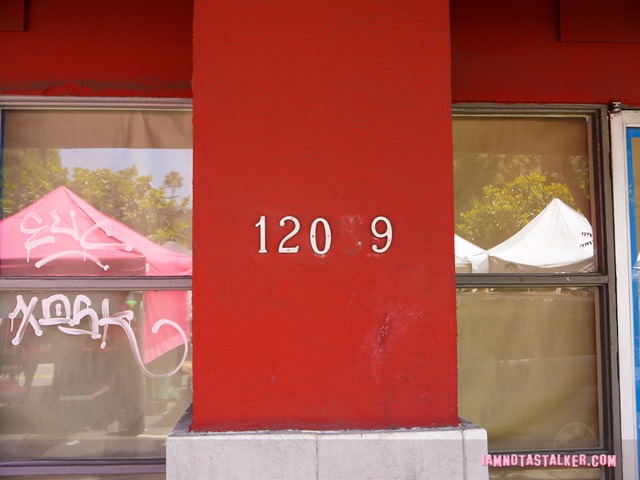 In real life, the Rent-A-Swag storefront is vacant and looks to have been so for some time, which is probably how it came to be used on Parks and Recreation. The 4,000-square-foot space, which is currently divided into two separate units, most recently housed a branch of the US Postal Service. In January, EaterLA reported that the property was rumored to be the site of the future Valley outpost of the popular mid-city restaurant Joan's on Third. And while Joan's founder Joan McNamara did talk about opening a cafe in a former post office on Ventura Place in this April 2012 Los Angeles Times article, as you can see below, the site is still presently available for lease, so that venture appears to have fallen through.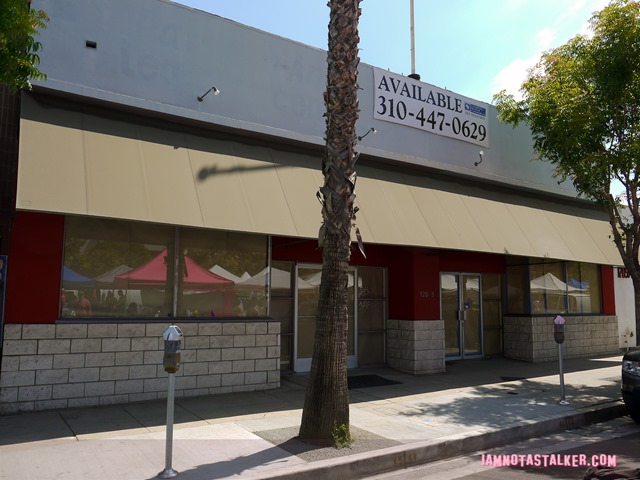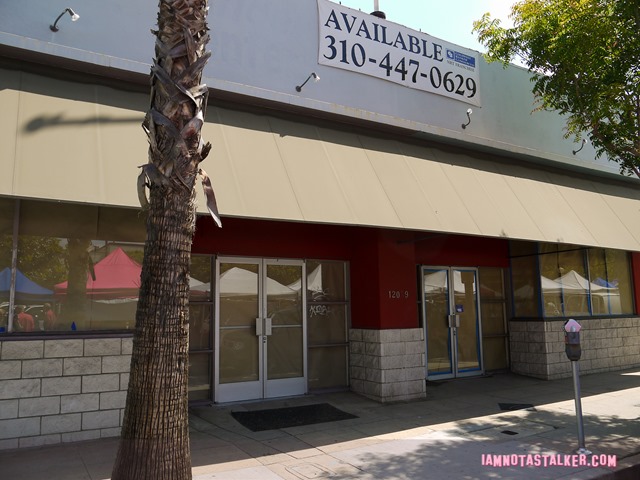 Unfortunately, the GC and I showed up to stalk the site on Sunday morning, smack-dab in the middle of the highly-popular Studio City Farmers Market which takes place directly in front of Rent-A-Swag, so I was not able to get the greatest of photographs.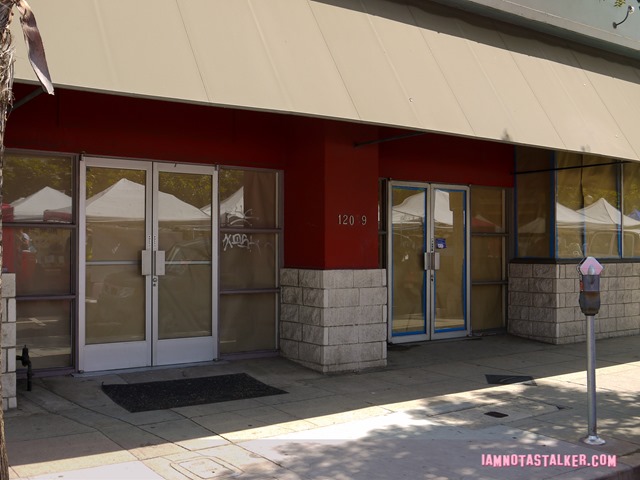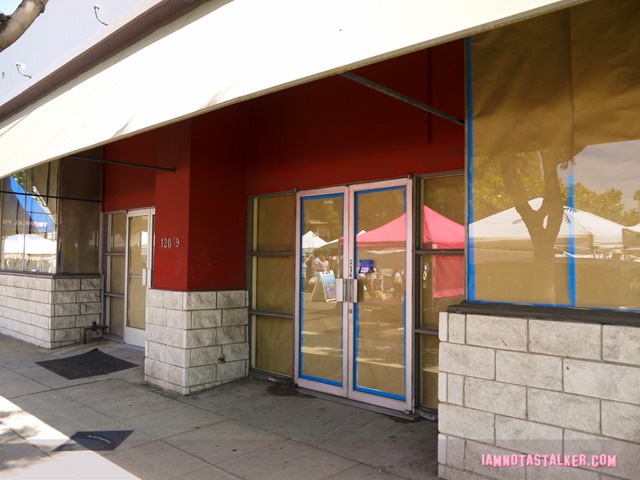 Rent-A-Swag first showed up in the Season 5 episode of Parks and Recreation titled "Pawnee Commons" and has been featured fairly regularly ever since.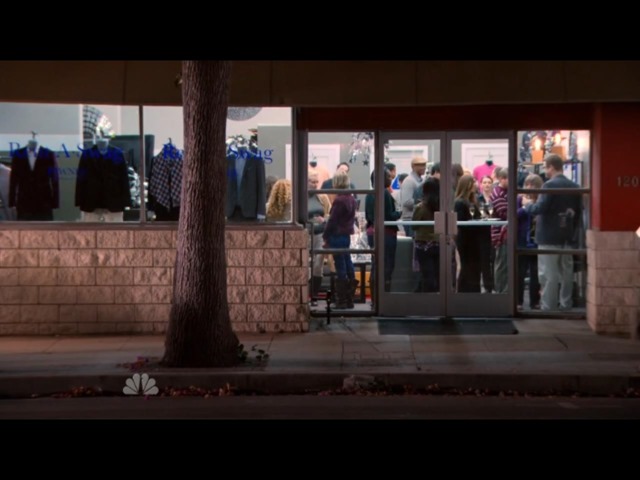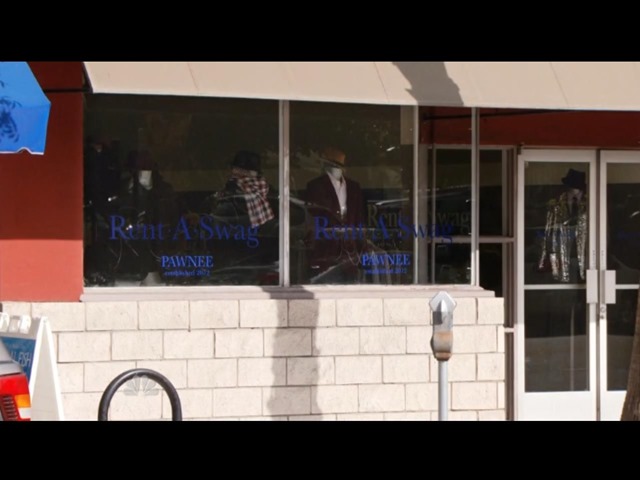 In "Pawnee Commons", Tom rents out a space, which he states in a later episode is located on Durham Avenue, to house his latest brainchild – a store in which he will lease his expensive threads to tweens. Of the new venture, he says, "I started a business where I rent my fancy clothes to teens so their parents don't have to buy them nice things they'll just grow out of. So if you see a 14-year-old kid wearing a Louis Vuitton cravat, you know who to thank – me . . . and Louis Vuitton, for making some dope-a*s cravats." LOL In "Pawnee Commons", Tom enlists his Parks and Recreation Department co-workers to help him get the space, which is in pretty dire straits, ready for the grand opening. The real life interior of the store, which you can see pictures of here, was also used in the episode, as well as in several episodes since.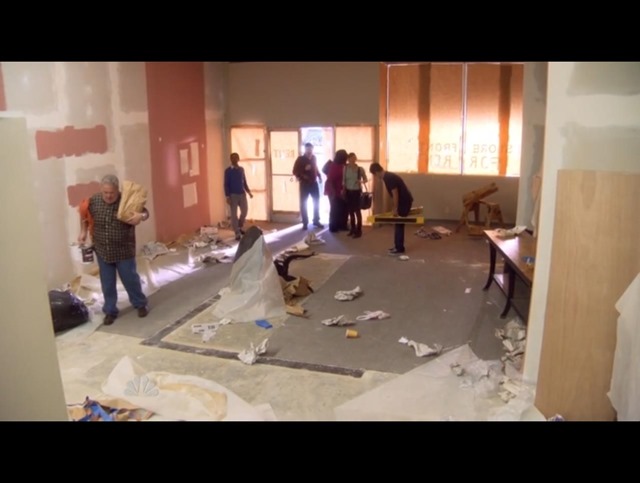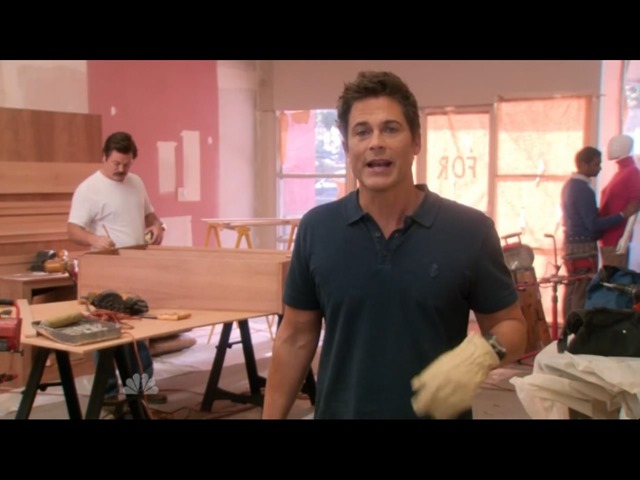 The group's first go at the renovation turns out rather dire, as well, so they wind up remodeling it twice in the episode.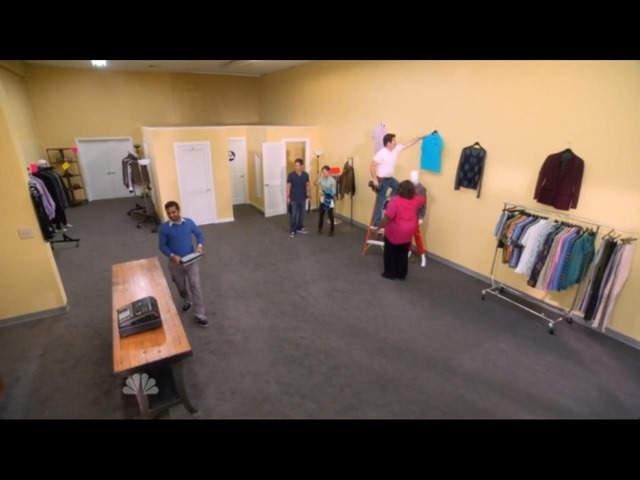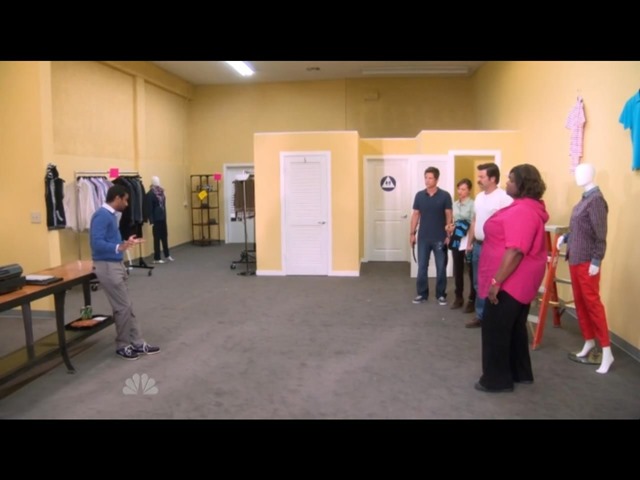 The final result is pictured below.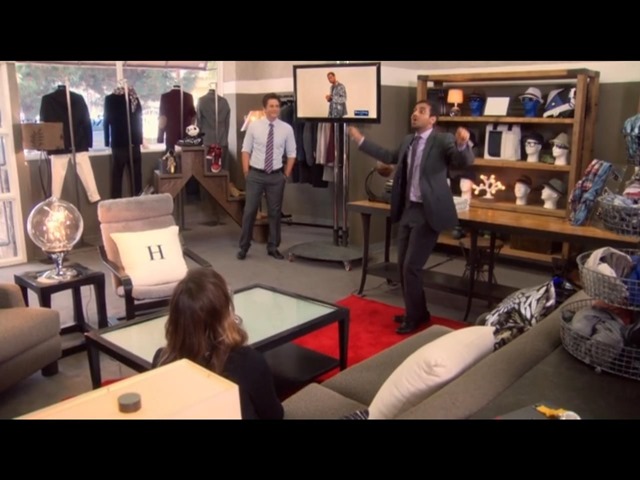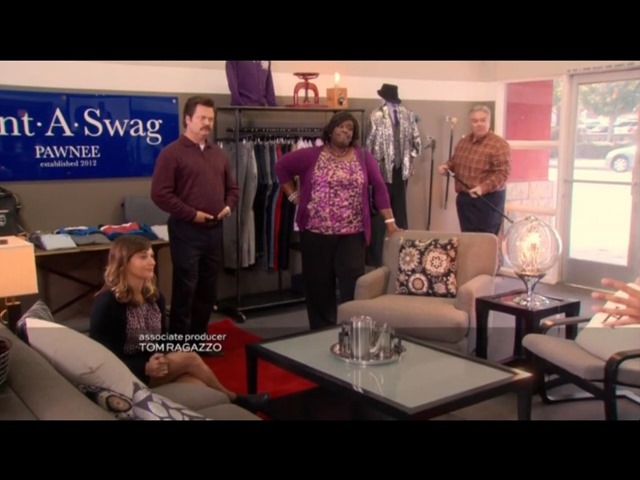 In an odd twist, while scanning through Season 5 episodes of Parks and Recreation to make screen captures for this post, I discovered that the other side of the Rent-A-Swag storefront (as I mentioned earlier, the space is currently divided into two separate units) was used as the Pawnee VideoDome/XXX Adult DVD Emporium in the episode titled "Bailout".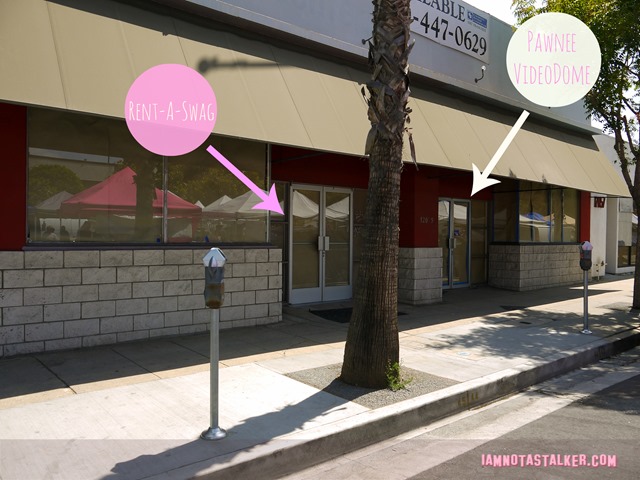 In "Bailout", Councilwoman Leslie Knope (Amy Poehler) petitions the city council to declare Pawnee's local video store, Pawnee VideoDome, a historical landmark to prevent its impending closure. Leslie succeeds, but the site winds up re-opening as a pornographic video shop – owned in part by the government. LOL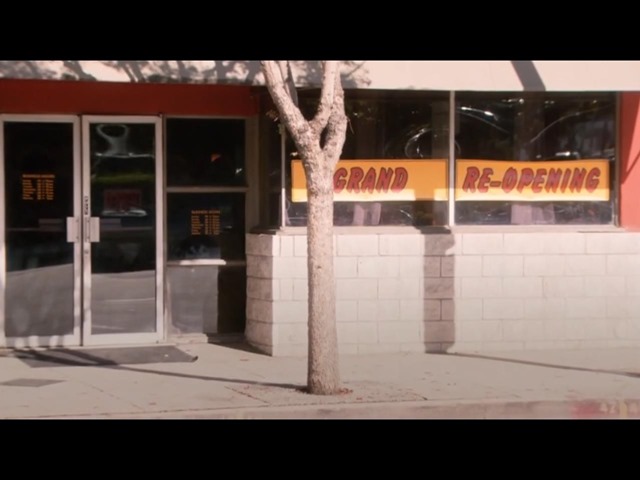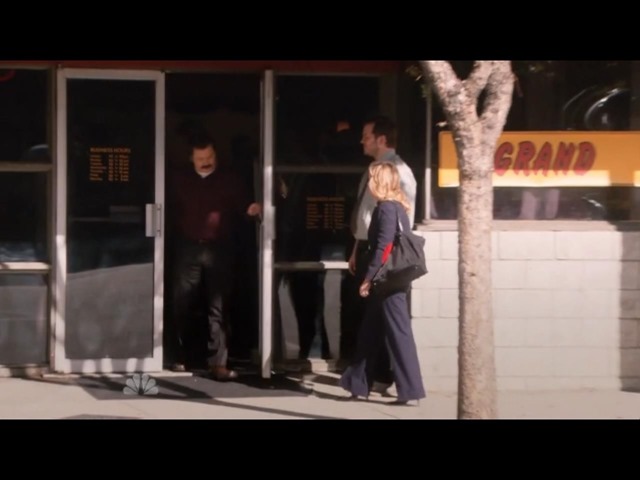 The real life interior of the space was also used in the episode.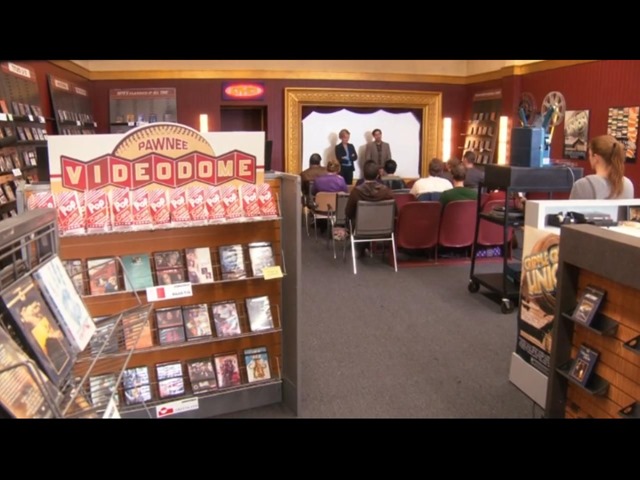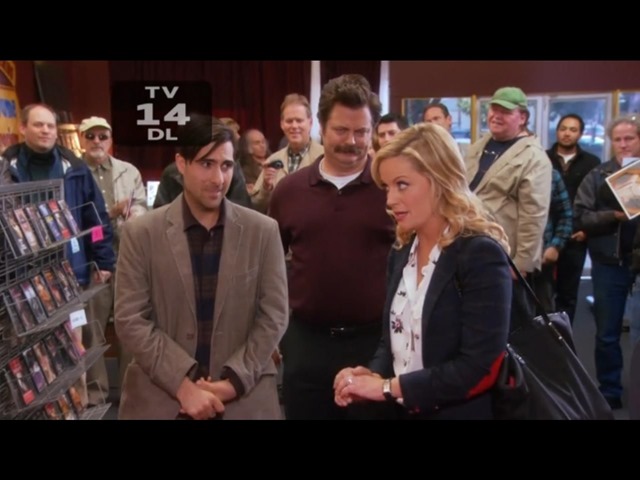 I was shocked to learn, while doing research for this post, that the very same location was used in another of Owen's favorite shows – Seinfeld. The Rent-A-Swag storefront popped up briefly in the Season 4 episode titled "The Trip (2)", which aired in 1992, as the spot where Jerry Seinfeld (Jerry Seinfeld) and George Costanza (Jason Alexander) watched as two policemen arrested a man for attempted robbery. At the time, the space housed the Bicycle Shack bike store and looked quite a bit different than it does today. Although, structurally still the same, since the time that Seinfeld was filmed, a large awning has been added, significantly altering the look of the place.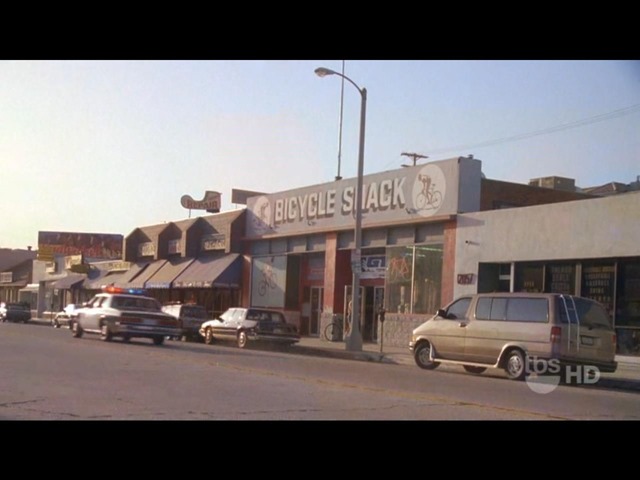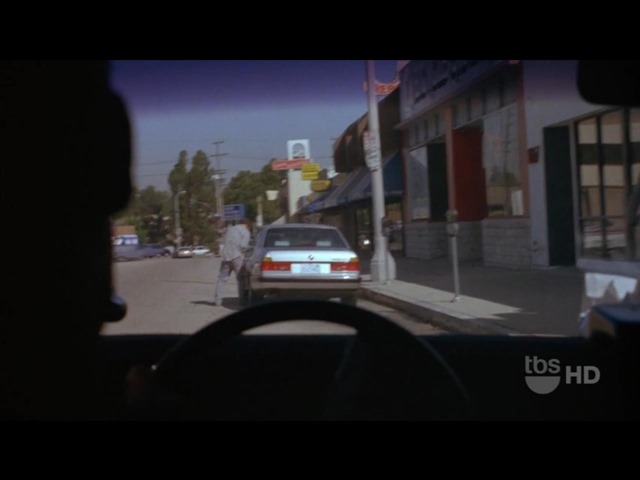 The location also appeared in 1994's Beverly Hills Cop III, in the background of the scene in which Det. Axel Foley (Eddie Murphy) jumps out of a car to escape from Jon Flint (Hector Elizondo).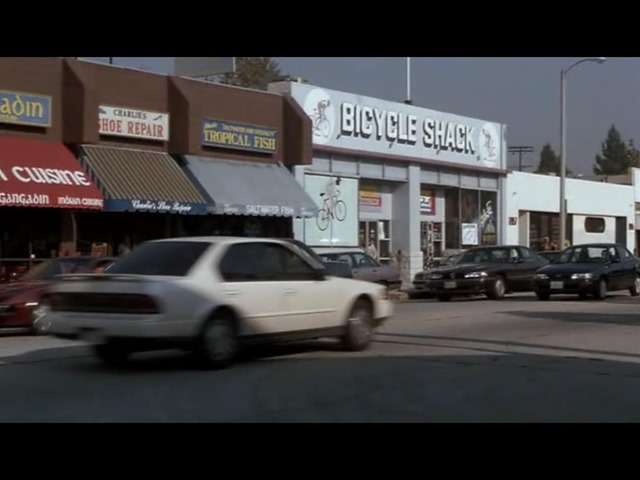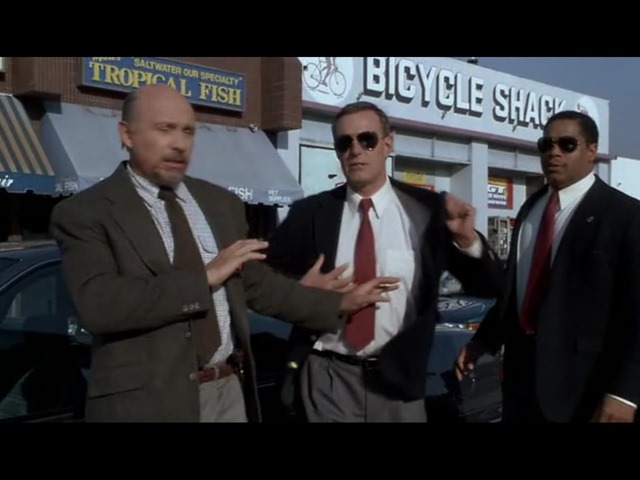 You can find me on Facebook here and on Twitter at @IAMNOTASTALKER. And be sure to check out my other blog, The Well-Heeled Diabetic.
Big THANK YOU to Owen, from the When Write Is Wrong blog, for finding this location!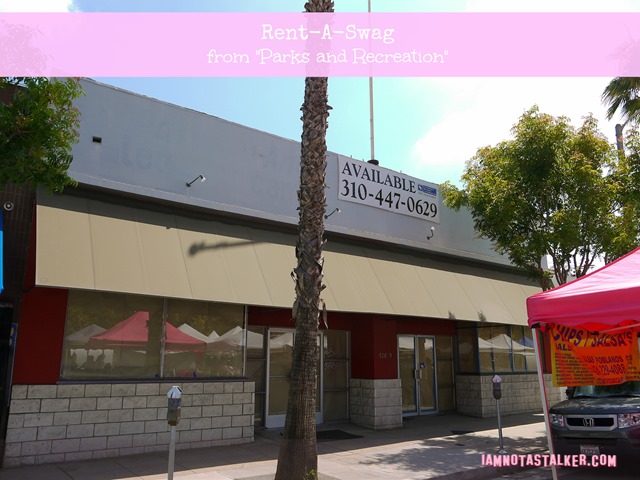 Until next time, Happy Stalking!

Stalk It: Rent-A-Swag from Parks and Recreation is located at 12059 Ventura Place in Studio City.
70002